A new month has arrived, and during January several Arctic sea ice metrics have been drifting towards the bottom of their respective decadal ranges. To begin with here is AWI's high resolution AMSR2 extent graph, which is currently very close to being lowest for the date in the AMSR2 record: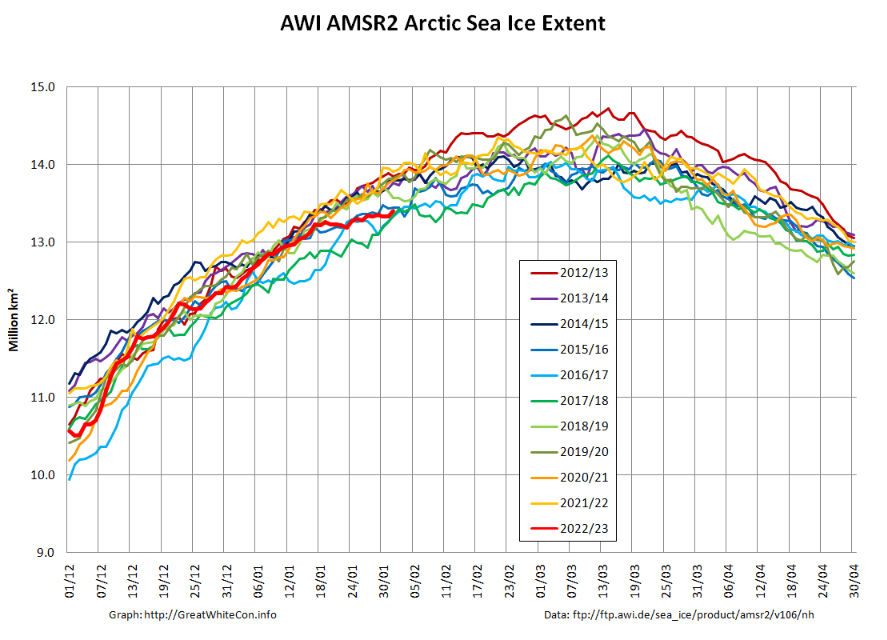 However that is less the case for area: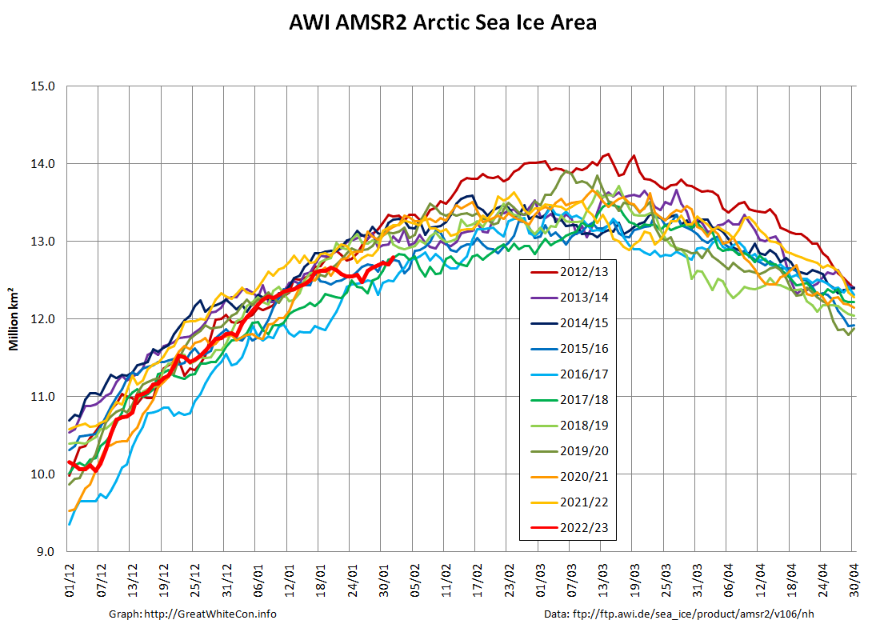 Taylor is keen to see the PIOMAS volume data for January, but whilst we wait for the latest Polar Science Center update here is the CryoSat-2/SMOS volume graph, which now includes a couple of month's worth of reanalysed results as well as more recent near real time numbers: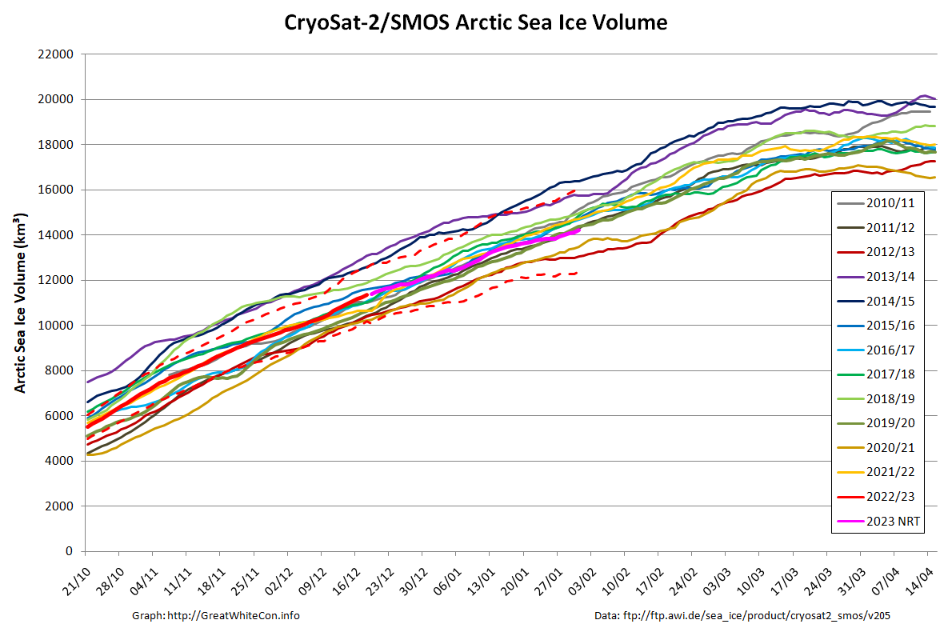 Here too is the start of month CS2/SMOS thickness map: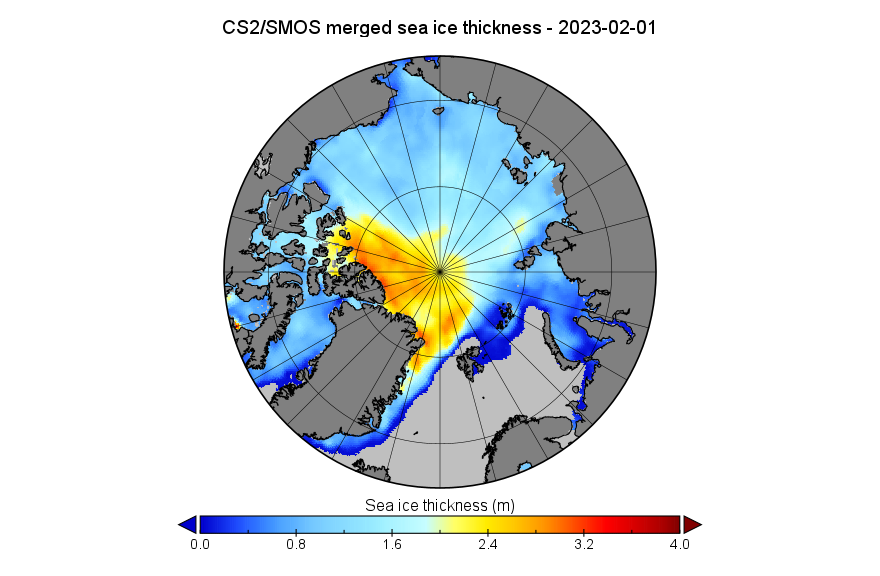 There is still plenty of thicker ice queuing up for the Fram Strait exit from the Central Arctic.

Finally, for the moment at least, Northern Hemisphere snow cover is also very close to the bottom of its recent range at the moment: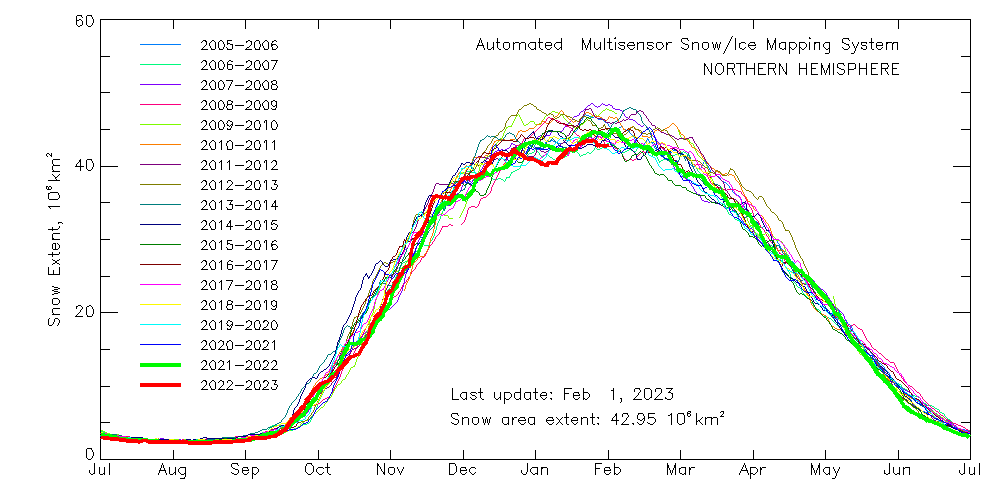 [Edit – February 6th]
The latest edition of the NSIDC's Arctic Sea Ice News has just been published:
The January 2023 average Arctic sea ice extent was 13.35 million square kilometers (5.15 million square miles), the third lowest January in the satellite record: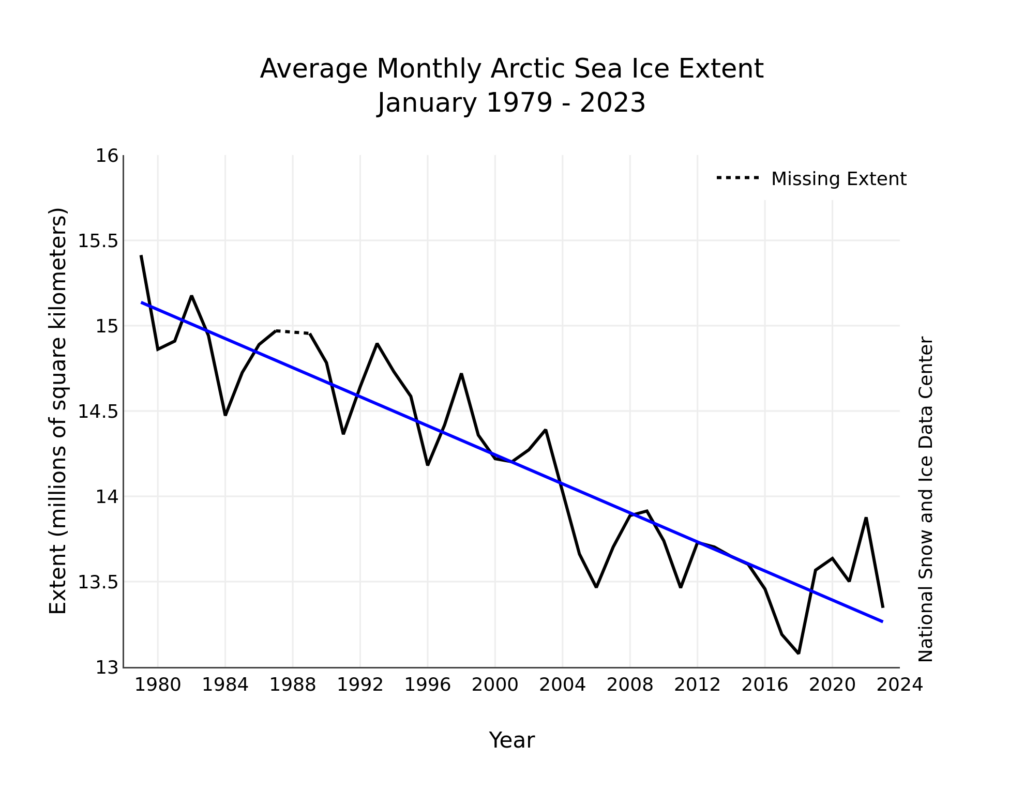 The sea level pressure pattern for January featured high pressure over the Pacific sector of the Arctic Ocean. This feature is known as the Beaufort High and is common in winter and spring: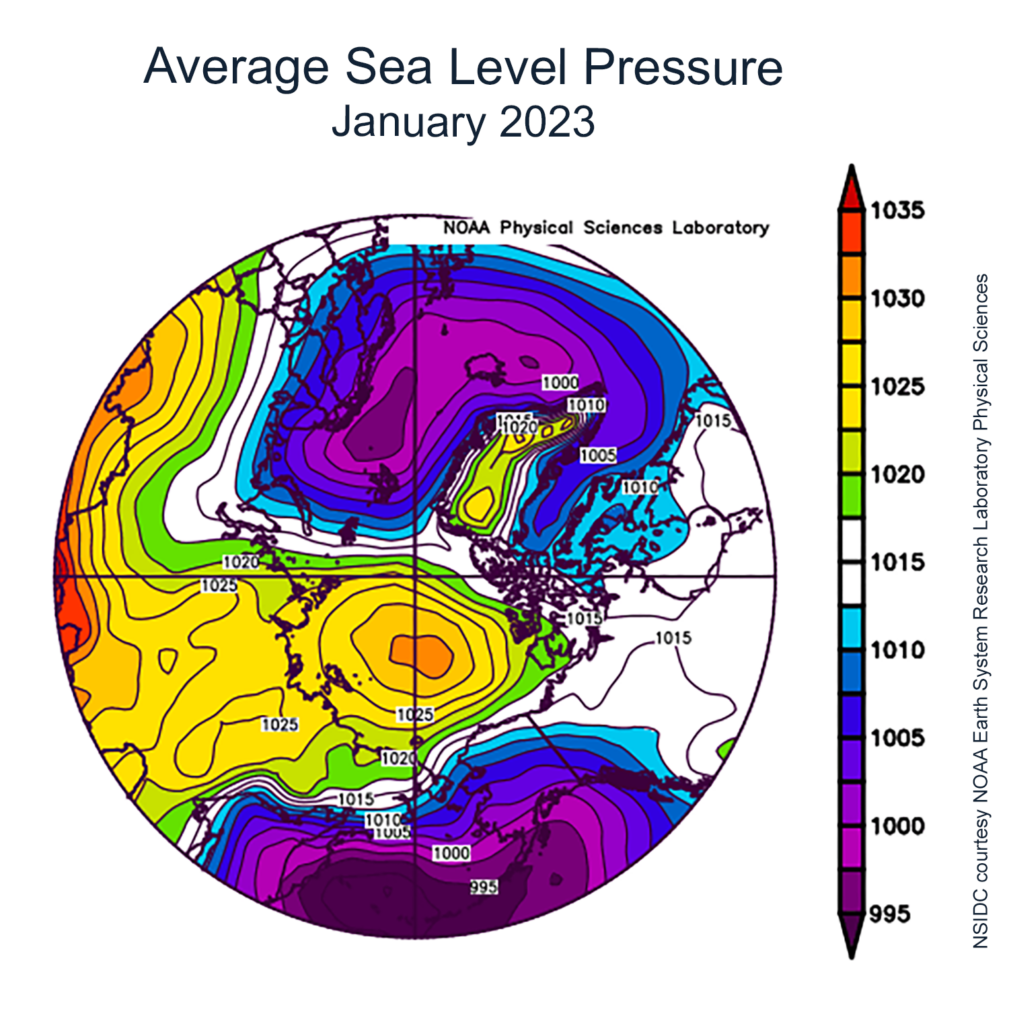 By contrast, over on the Atlantic side of the Arctic, low pressure dominated in the Barents Sea region. As a result, relatively warm air from the south moved into the Barents Sea region, leading to air temperatures at the 925 millibar level (approximately 2,500 feet above the surface) more than 6 degrees Celsius above average near Svalbard: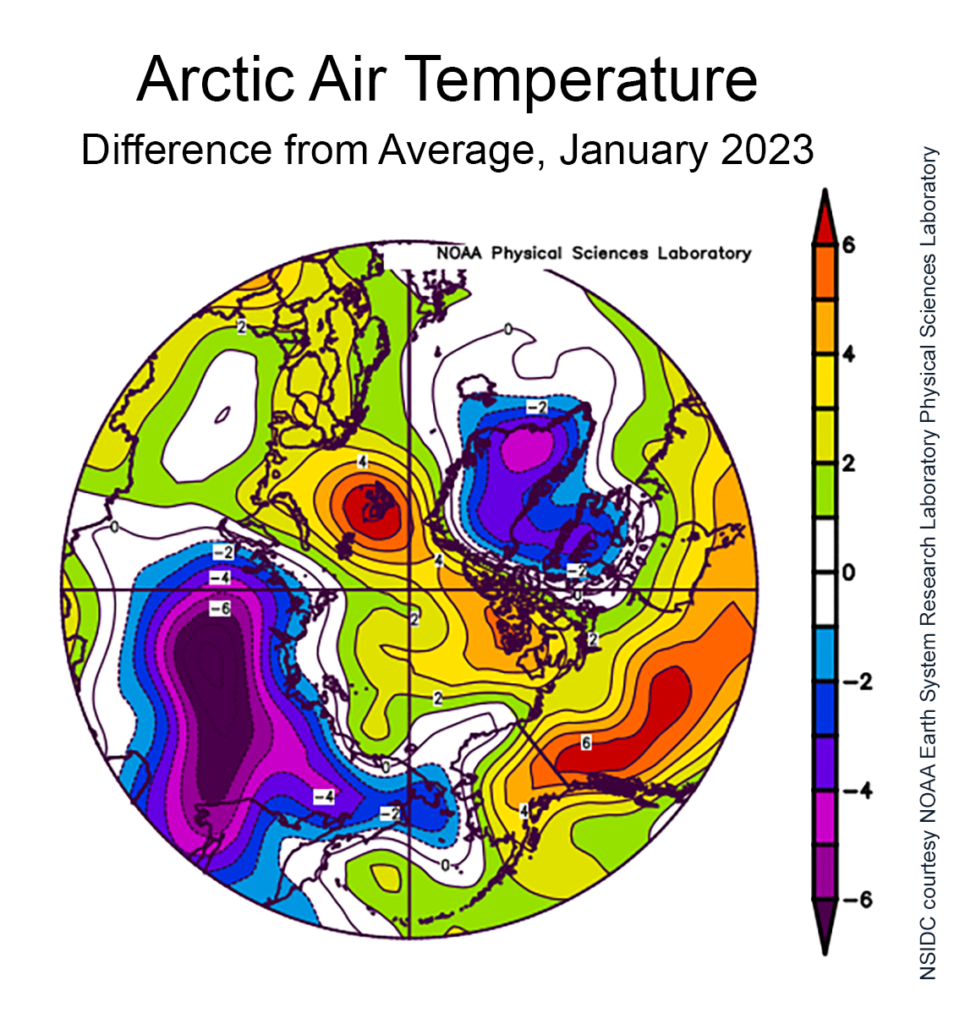 Here too is an animation of sea ice motion on the Atlantic periphery for the winter of 2022/23 so far:
See in particular the waxing and waning of the area of open water north of Svalbard. Note also that the current GFS forecast includes a 944 hPa MSLP cyclone hovering over the Fram Strait tomorrow morning UTC: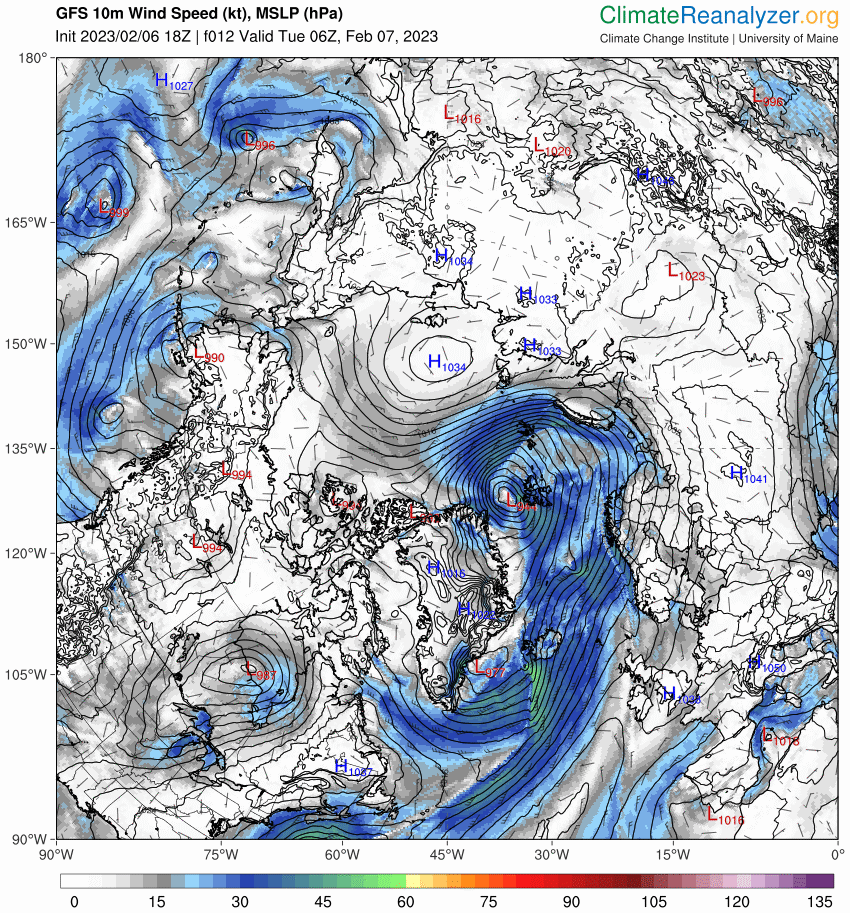 Watch this space!