After the briefest of stops in Elson Lagoon behind Point Barrow Northabout is on the move once again: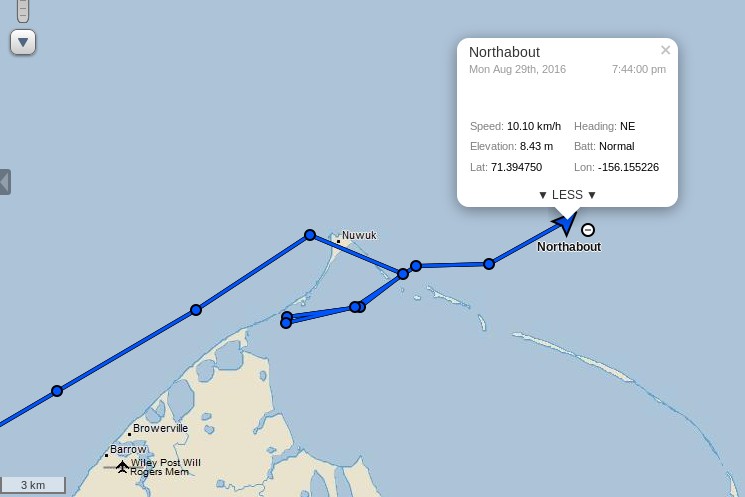 She's currently heading out into the Beaufort Sea before following in the giant footsteps of the cruise liner Crystal Serenity in the direction of the Amundsen Gulf and the Canadian Arctic Archipelago. Here's the United States National Weather Service's current ice chart for Alaskan waters: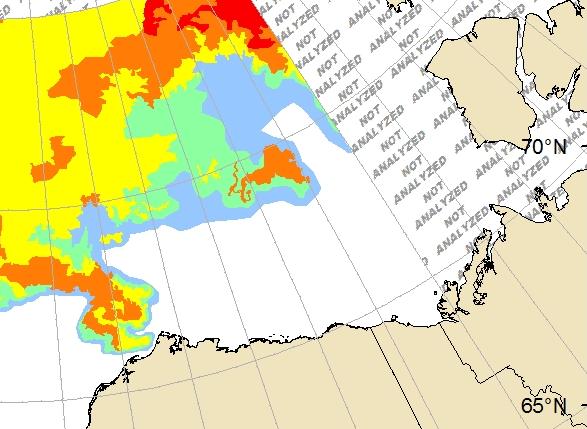 There looks to be far less to worry about ice wise on the next leg of the Polar Ocean Challenge than on the previous one! The weather forecast isn't too bad either, with high pressure over the Beaufort Sea and a fair bit of sunshine. Here's the Weather Underground forecast for Ulukhaktok, Crystal Serenity's first port of call in the CAA: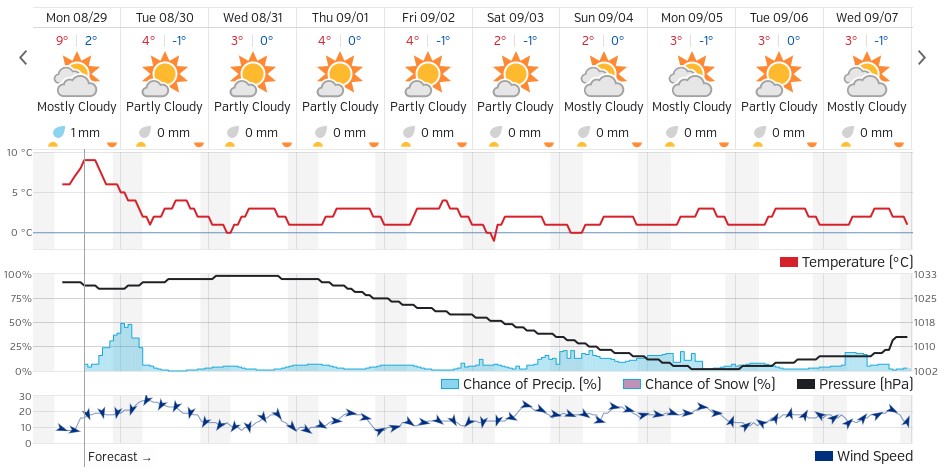 There is currently a "small craft advisory" warning in effect for the Beaufort Sea coast:
CAPE HALKETT TO FLAXMAN ISLAND-
207 PM AKDT MON AUG 29 2016

…SMALL CRAFT ADVISORY IN EFFECT FROM TUESDAY MORNING THROUGH
TUESDAY AFTERNOON…

TONIGHT
E WINDS 20 KT. SEAS BUILDING TO 4 FT.

TUE
E WINDS 25 KT. SEAS 5 FT.

TUE NIGHT
E WINDS 20 KT. SEAS 6 FT.

WED
E WINDS 20 KT. SEAS 6 FT.

WED NIGHT
E WINDS 20 KT. SEAS 5 FT.

THU
NE WINDS 20 KT. SEAS 4 FT.

THU NIGHT
NE WINDS 15 KT. SEAS 4 FT.

FRI
N WINDS 10 KT. SEAS 2 FT.

SAT
N WINDS 15 KT. SEAS 3 FT.
All in all it looks like fairly plain sailing for the foreseeable future, with only occasional moderate headwinds to contend with.
It seems my "fairly plain sailing" conclusion was overly hasty. According to the latest "Ship's Log":
The weather forecast is pants. A 30/35 knot headwind along the coast . No one has the appetite for it, so we are heading North, slacker winds, staysail out, still a choppy sea and uncomfortable, but not as bad as 30 knots. Hopefully no ice tonight on my watch.
This is the end result: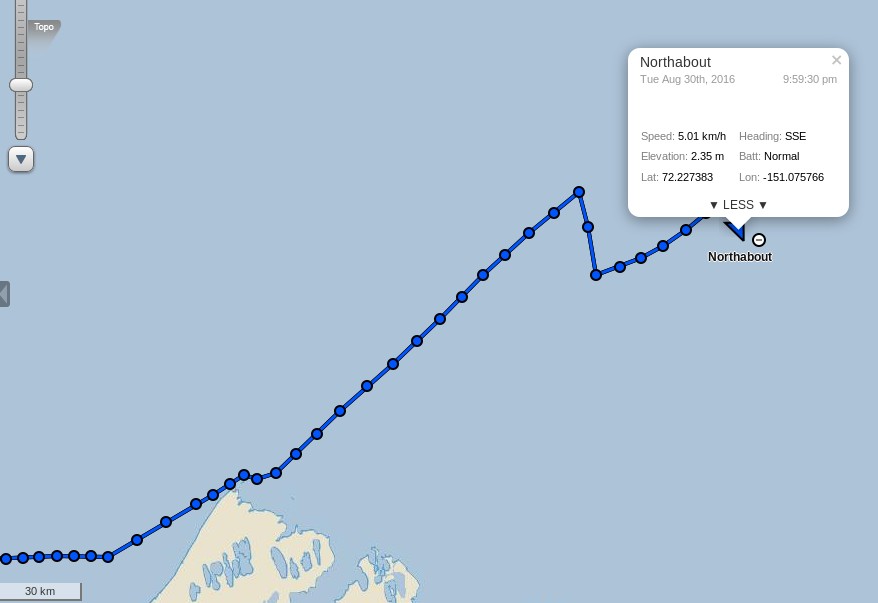 As Phil points out below:
Our next stop along the North West Passage is Tuktoyaktuk. That's when we can use a pontoon, get rid of our rubbish, fill the tanks, do the laundry and have a shower. 500nm away.
The Polar Ocean Challenge team report via Twitter:
Finally found our GROOVE 🙂 #sailing to #Tuktuyaktuk pic.twitter.com/n4yqrMjy5z

— PolarOceanChallenge (@PolarOceanChall) August 31, 2016
Last night Northabout reached Tuktoyaktuk near the delta of the great Mackenzie River: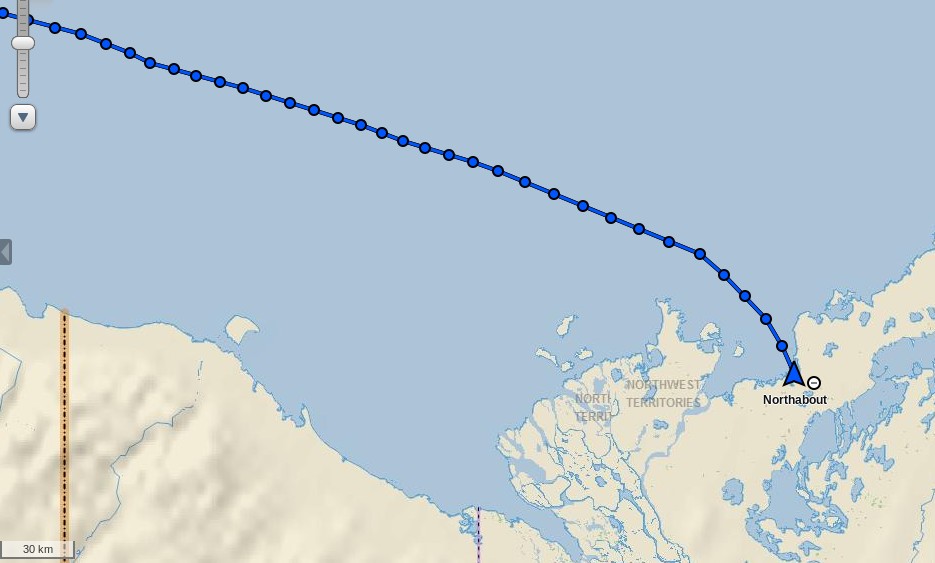 The Polar Ocean Challenge team have had some repairs to do after the stormy start to their trip from Barrow:
Barbara & Johan with the spare sliders (not suspenders!) after successful mission to fix the sail! pic.twitter.com/UGwZJhlXA7

— PolarOceanChallenge (@PolarOceanChall) September 2, 2016
They have some more to carry out in Tuk too. Despite the great "groove" displayed above Ben Edwards reports that:
Joy of joys, the auto-helm's stopped working. Dad (Steve Edwards, crew), thinks he knows why so we'll hopefully be able to fix it in Tuk. In the meantime we're back to helming by hand. This is a mixed blessing, on the one hand it's really irritating to have to helm in large swells and with a strong headwind because any movement you make is at first ignored, and then exaggerated by, the wind. So it's hard to keep a decent track and it makes it harder to look out for ice. On the other hand, moving and putting effort into the steering keeps you warm which is nice and it means you don't have to put as many clothes on which is also nice because when you go down stairs and it's twenty four degrees it can get quite uncomfortable.
Northabout has just left Tuktoyaktuk: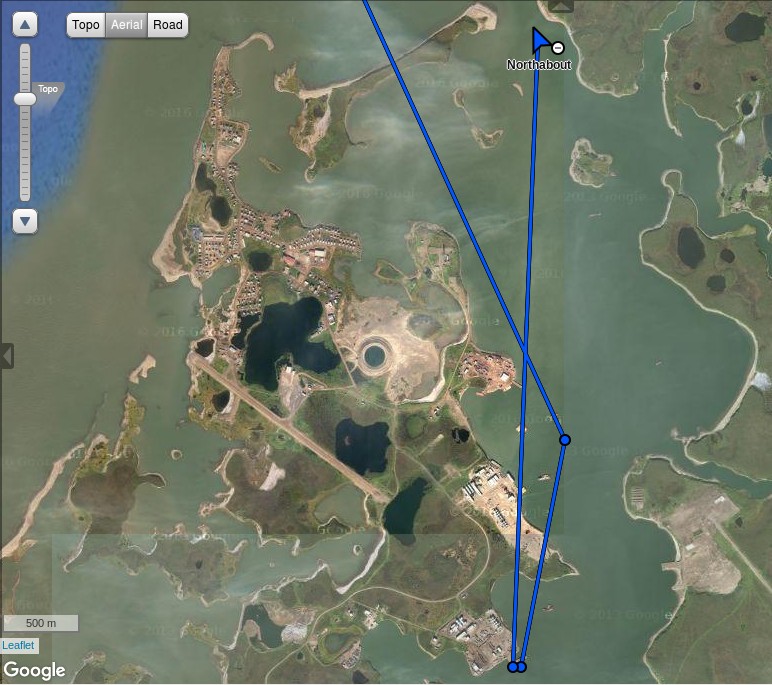 Her crew have been refreshed and her auto-helm has been repaired with the assistance of numerous people from Tuk:
We all had our job lists, ice lights, bilge pumps, laundry, shopping but the man who gets the Vodka Salute is unquestionably Steve.

I dropped him off wth Willard. Two peas in a pod. They made a broken Pilot Spigot. That sounds quite easy but it took the whole day in a machine shop in a container, working to fine tolerances, and many modifications. Fitting it in the bowels of the Lazzerette in cold weather and driving rain. It worked first time. Brilliant effort.
Here's the current weather forecast for the area:
Issued 07:00 AM MDT 04 September 2016
Today Tonight and Monday

Wind – Northwest 15 knots diminishing to light late this morning then becoming northwest 15 Monday morning.
Waves

Seas – 1 metre.

Weather & Visibility – Chance of showers changing to periods of rain near noon then to chance of showers tonight and Monday. Fog patches dissipating early this evening.
My famous last words? Plain sailing by the look of it!
Northabout has just rounded Cape Bathurst, the northernmost point of mainland Northwest Territories: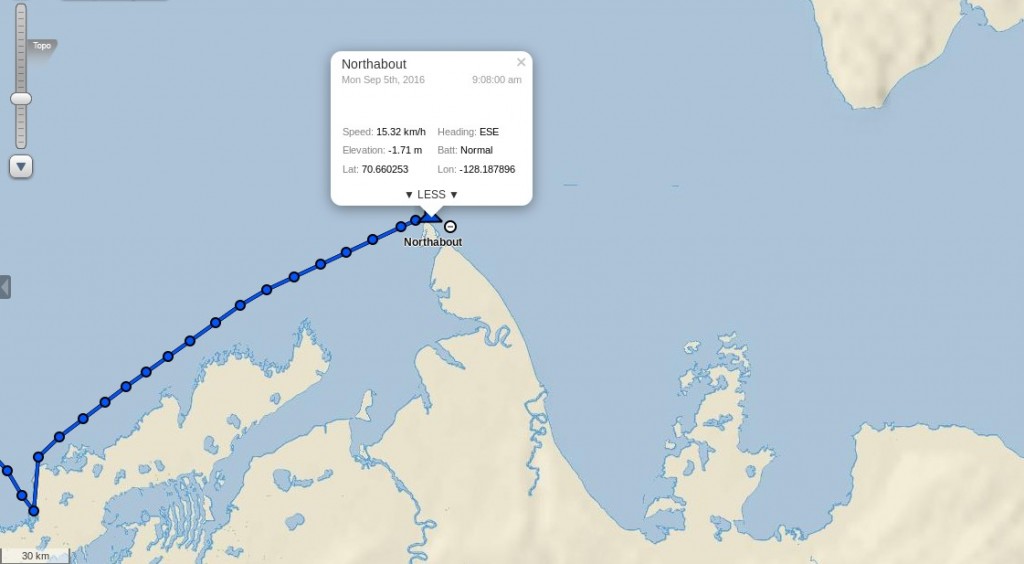 I wonder if her crew will take a close look at the nearby Smoking Hills?
Northabout gave the Smoking Hills a miss and headed strait for Cape Parry. She has already crossed the Amundsen Gulf and is heading into the Dolphin & Union Strait: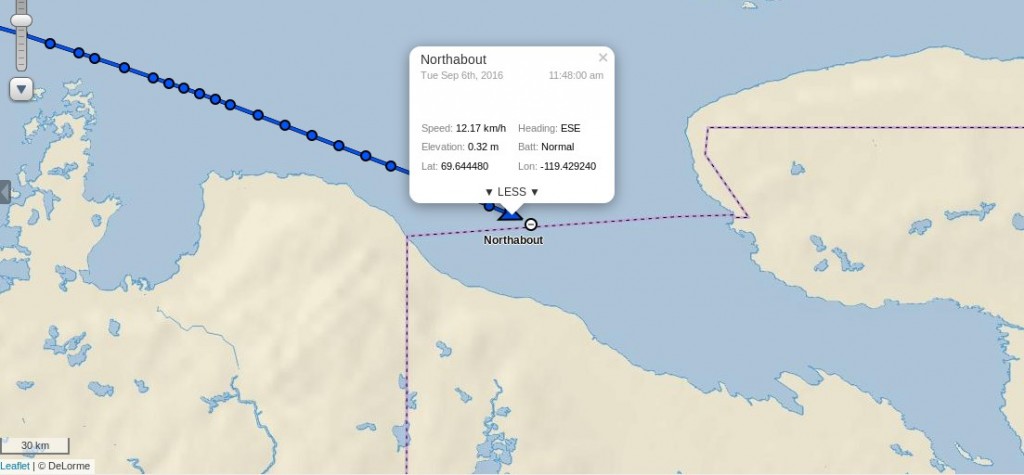 According to Ben Edwards' latest blog post:
In light of the lack of ice and in the spirit of saving time we've decided not to stop in Cambridge Bay or Pond Inlet and go straight on to Upernavik in Greenland before doing our crew change. Looking at the ice maps at the moment it seems we'll be able to get through with little or no trouble, though this is almost bound to change, if it stays that way we'll reach Upernavik in about fourteen days. I'm looking forward to it!
Northabout has reached Coronation Gulf this morning (UTC):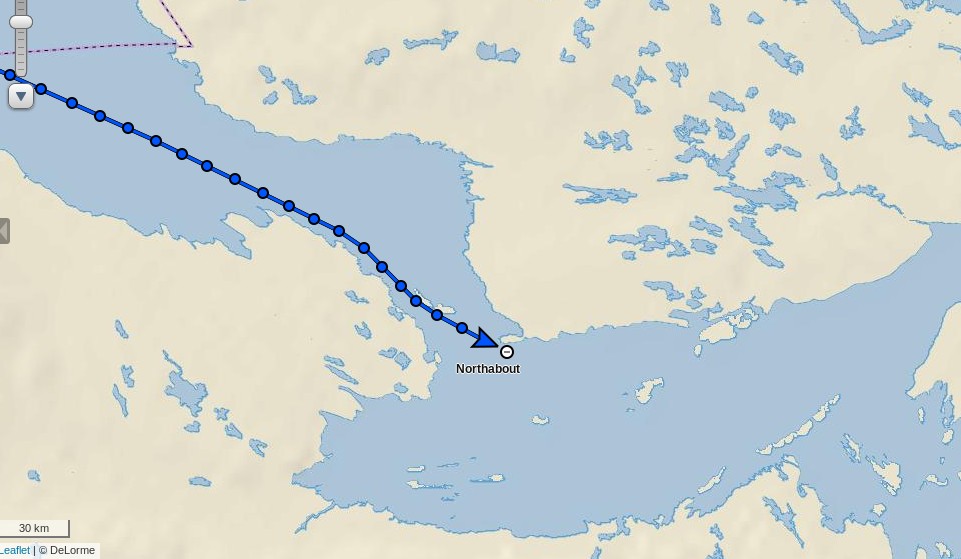 According to their recent reports the plan is to pass Pond Inlet without stopping. The weather up there is starting to look rather wintry: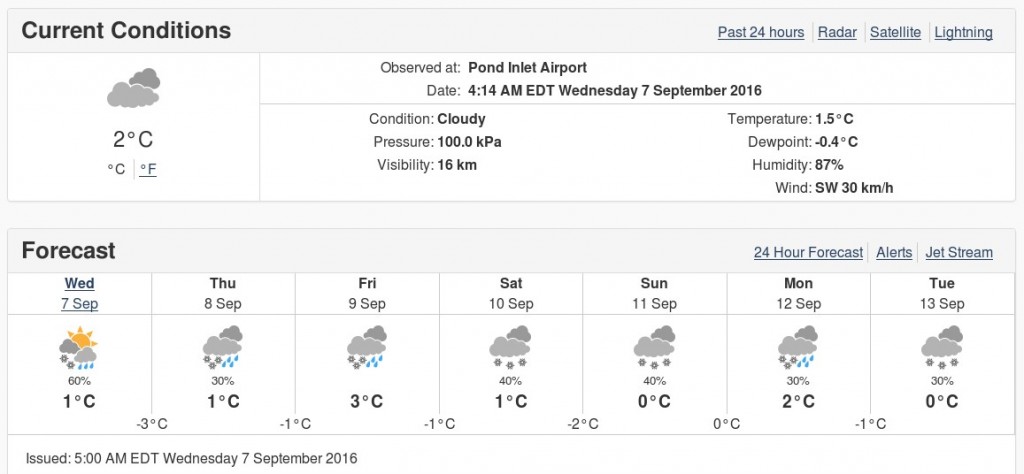 The Polar Ocean Challenge team report via Twitter that they have seen and chatted to David Scott Cowper:
Breakfast in #CambridgeBay? Sorry we're in race against time before refreeze & to get to #BaffinBay before big storm pic.twitter.com/tre5EvcETr

— PolarOceanChallenge (@PolarOceanChall) September 9, 2016
as well as spotting some more ice:
#seaice Victoria Strait 2pm UTC 9 Sept #NWpassage https://t.co/l9PME6K27e pic.twitter.com/QAtelzpLmR

— PolarOceanChallenge (@PolarOceanChall) September 10, 2016
This morning Northabout is rapidly approaching the western entrance to Bellot Strait: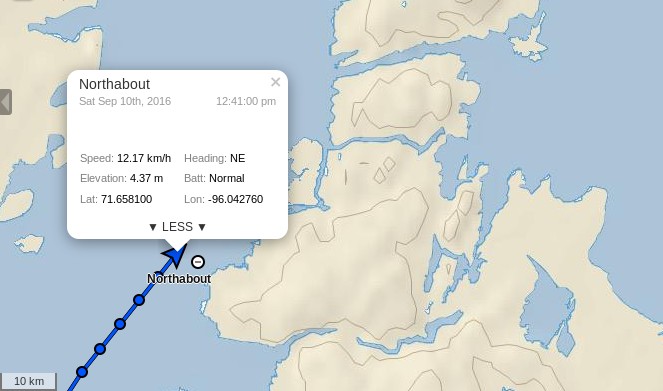 Their stated intentions are to head past Pond Inlet and across Baffin Bay to Upernavik in Greenland. Assuming they initially follow the same route as Crystal Serenity they will soon to need to pick their way past some bergy bits in Prince Regent Inlet before negotiating some currently "wispy" areas of sea ice as they enter Lancaster Sound. Here is the current Canadian Ice Service chart for the area: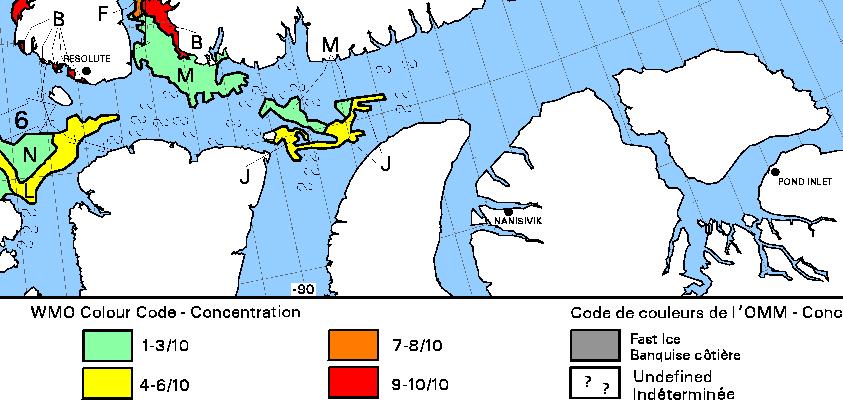 plus a rather cloudy "visual" image: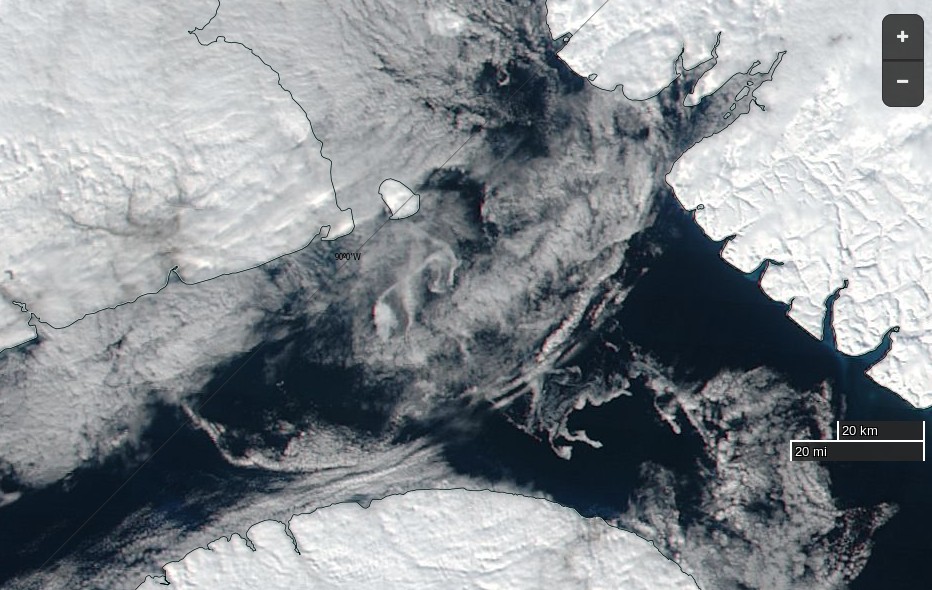 The current weather forecast for Pond Inlet doesn't suggest the parts of the Northwest Passage still on Northabout's route are going to start refreezing just yet: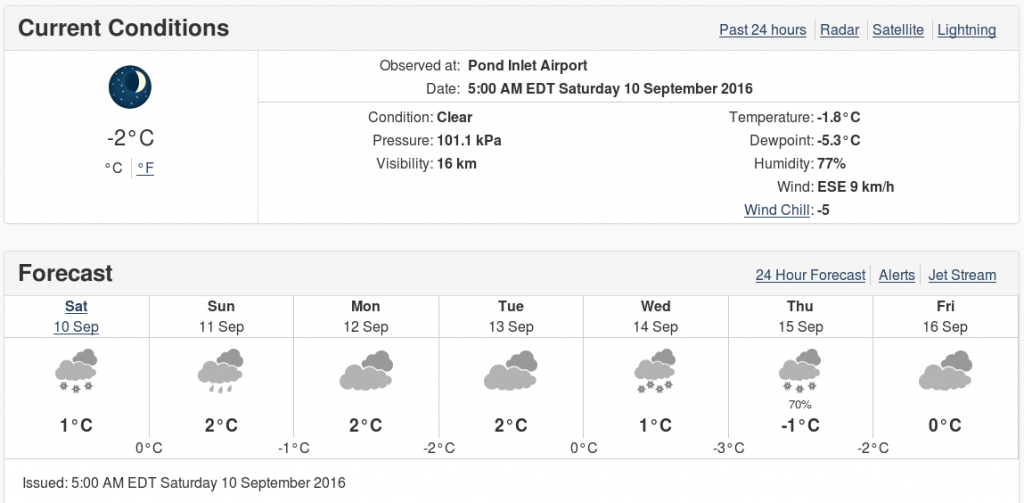 Currently there is an obvious passage past the existing ice, but that may of course have changed by the time Northabout gets there.
Northabout has just emerged safely from the eastern end of Bellot Strait: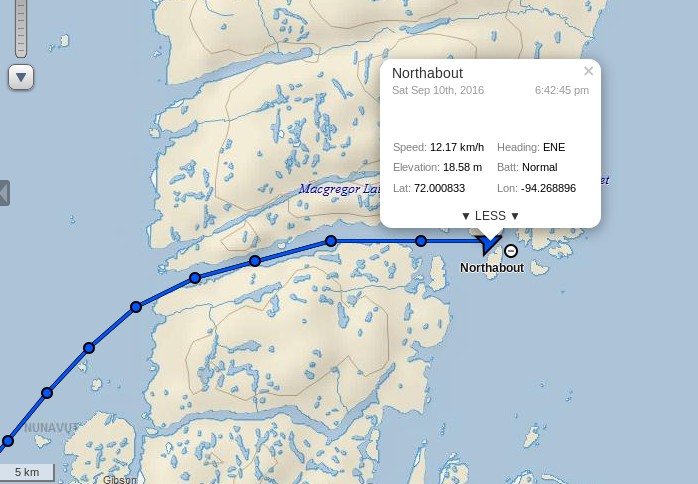 I wonder if her crew will stop to make a new entry in the visitors book at Fort Ross?
Here's the latest CIS ice chart:
The gap between the coast and the yellow area of 4-6/10 concentration ice has closed considerably, and there's now a broad expanse of 1-3/10 ice which Northabout may be forced to try and wend her way through. A change in wind direction would come in very handy, and that's just what the ECMWF forecast at Windyty is suggesting for Sunday 11th: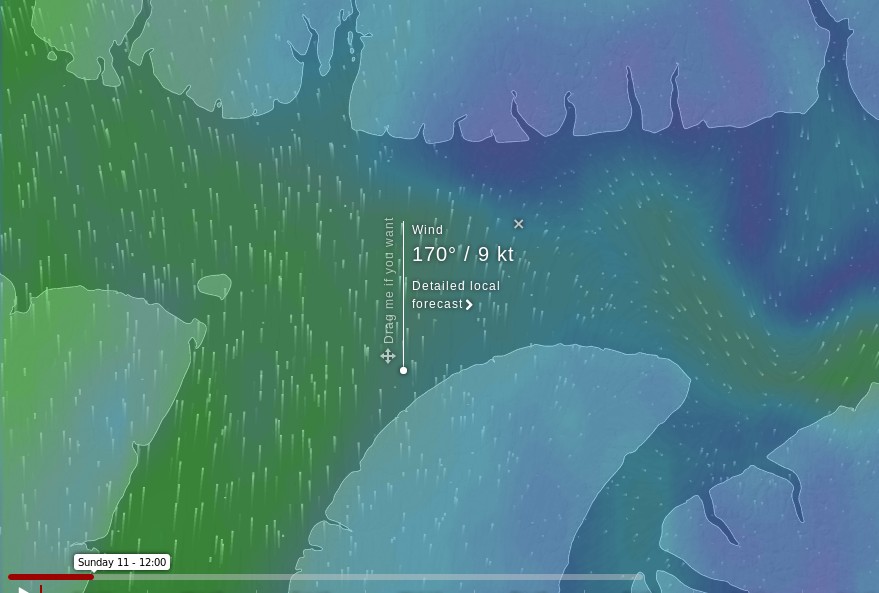 Just what the doctor ordered?
Video shot from Northabout's drone of her ice-free passage through Bellot Strait:
However the passage from Prince Regent Inlet into Lancaster Sound has not proved to be ice-free!
Forced 6 miles off track 2 hours ago #PrinceRegentInlet by this #seaice https://t.co/MH3zBhEv6M #Nunavut #Arctic pic.twitter.com/5BuNUA5Xqs

— PolarOceanChallenge (@PolarOceanChall) September 11, 2016
[Edit – September 11th 20:30 UTC]
Northabout is obviously endeavouring to skirt around the eastern edge of the 4-6/10 old ice in her path: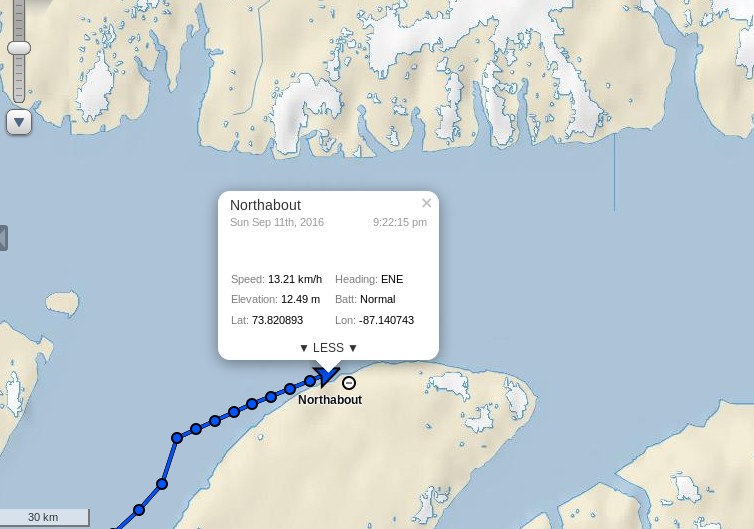 Today's CIS ice concentration chart suggests there isn't much room to spare: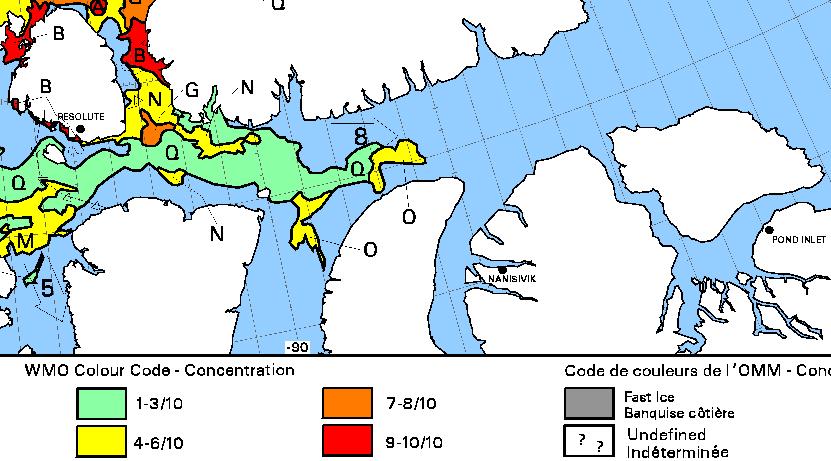 The stage of development chart does reveal some new ice, but it's well to the north of Northabout's route through Lancaster Sound to Pond Inlet: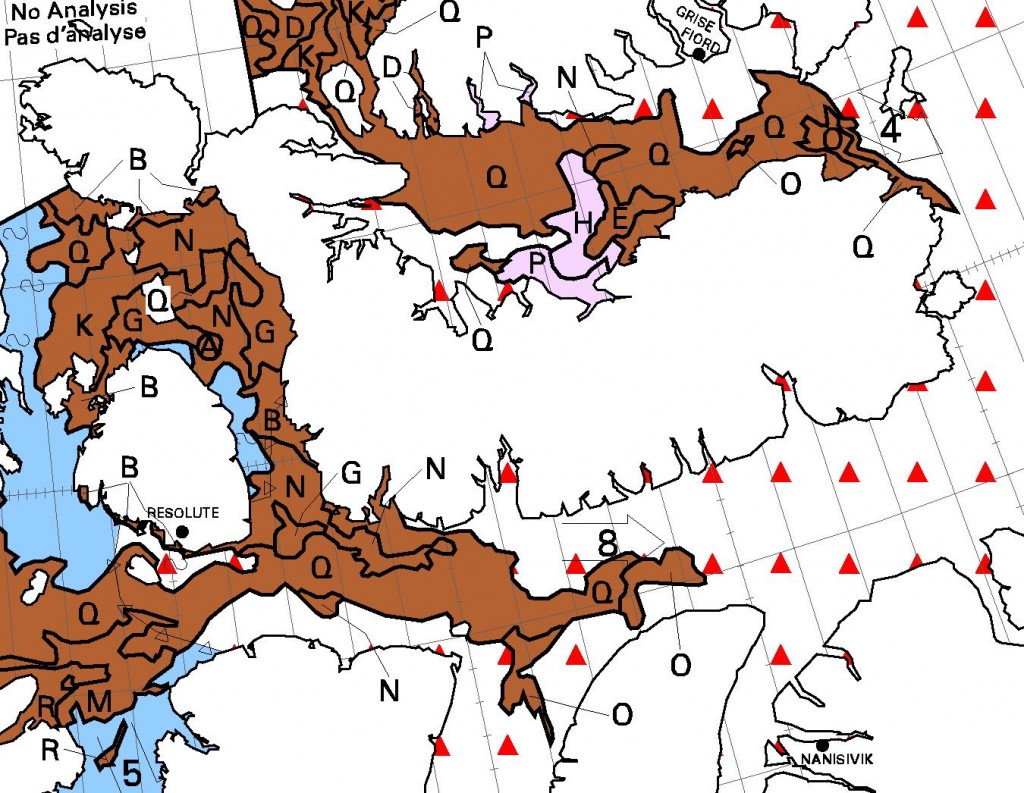 Somewhat belatedly, here's a Sentinel 1A synthetic aperture radar image of the sea ice Northabout is squeezing past as we speak: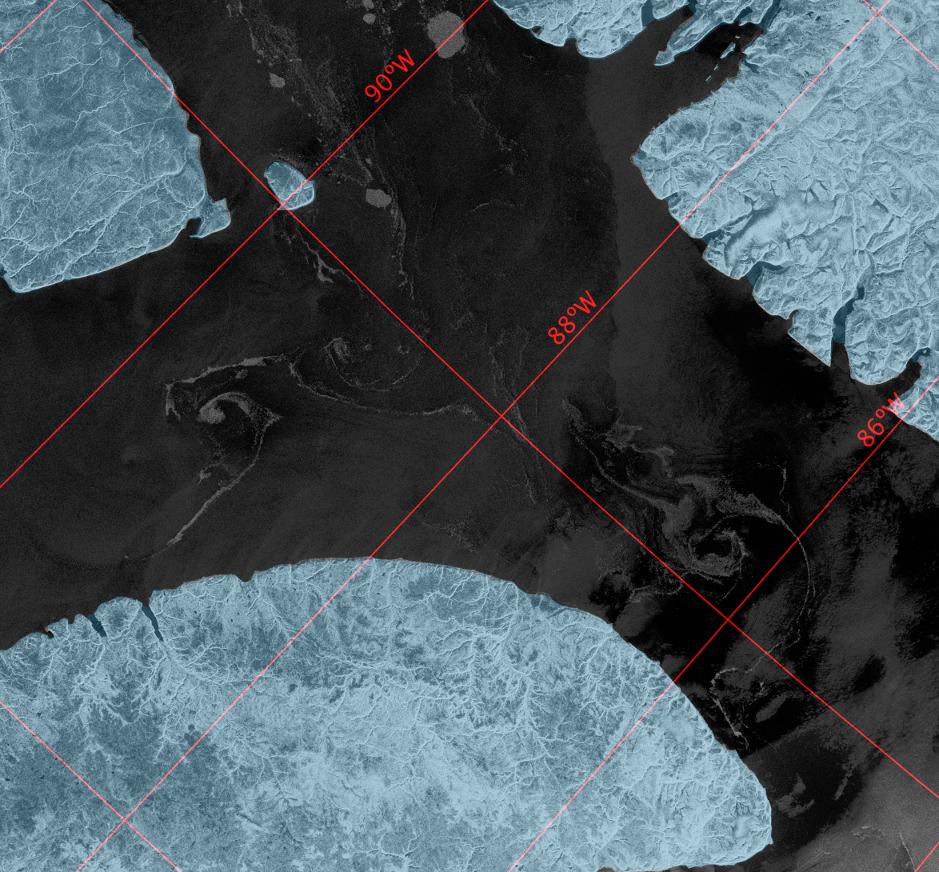 Northabout has emerged safely into Lancaster Sound, and is bypassing Pond Inlet in order to head strait across Baffin Bay: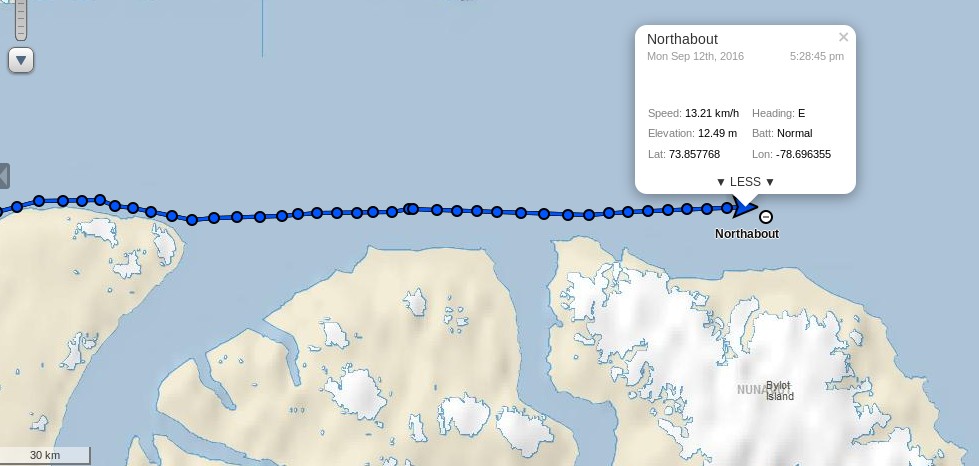 Here are a couple of videos of some remnants of sea ice on her once again eastward travels:
There are several more on the Polar Ocean Challenge web site.
With all that ice now safely behind her Northabout has new dangers to face. Wind and waves! Let's take a look at the WaveWatch III "surf forecast" for Baffin Bay over the next few days. A low pressure area is heading in Northabout's direction from across the Canadian Arctic Archipelago. By Wednesday morning (UTC) the resultant wind field looks like this: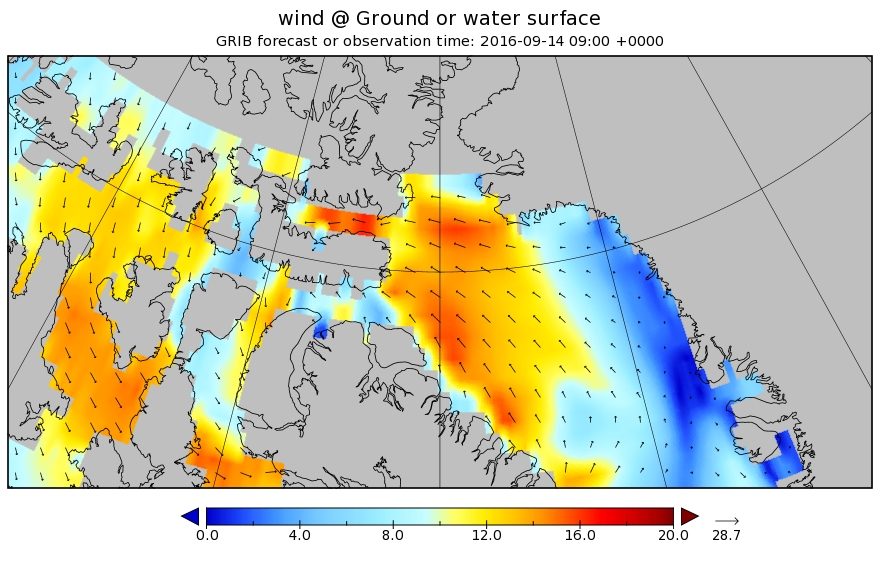 By Wednesday afternoon those winds of around 15 m/s will have produced waves in Baffin Bay that are forecast to have reached over 3 meters high: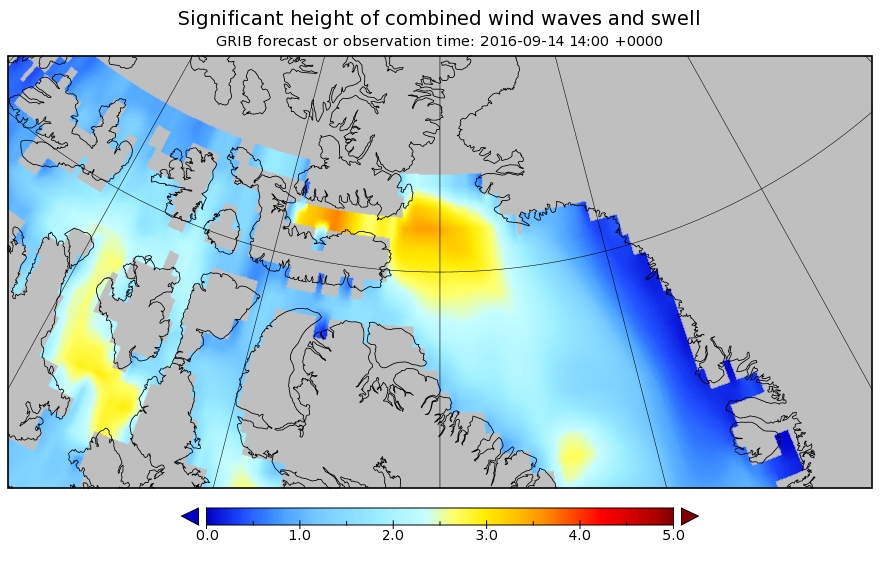 and what's more they won't be just wind waves. A modest swell with a period of over 12 seconds is predicted too: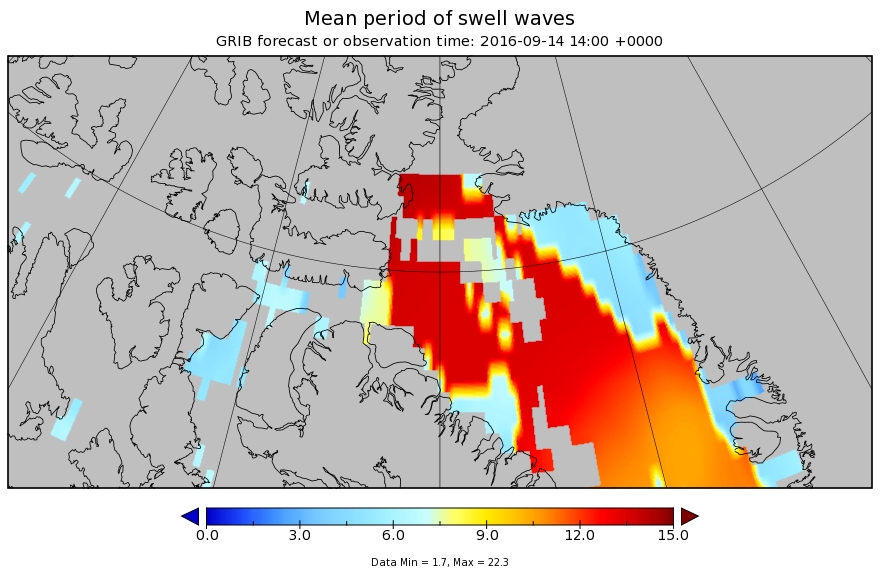 I'm sure the Polar Ocean Challenge team will be doing their level best to be safely on the opposite side of Baffin Bay by the time the worst of the weather arrives!
Previous Polar Ocean Challenge articles:
Non Fiction:
"Northabout Races for the Date Line"
"Northabout Meets Some Serious Sea Ice"
"Northabout's Great Adventure"
Satire:
"Could Northabout Sail to the North Pole?"
Fiction: