According to the old saying "A change is as good as a rest", so rather than plagiarise today's title from a "skeptical" web site we've invented this one all by ourselves. Northabout is a small yacht with big ideas. (S)he wants to circumnavigate the North Pole in one summer season. However certain cryoblogospheric commenters are somewhat skeptical that this can be achieved this year. Take Tony Heller for example:
There has been very little melt going on in the Arctic Ocean the last few days, due to cold cloudy weather.

A group of climate clowns were planning on sailing around the entire Arctic Ocean through the Northeast and Northwest Passages (to prove there isn't any ice in the Arctic) but are stuck in Murmansk because the Northeast Passage is completely blocked with ice.
The "group of climate clowns" aboard Northabout that Mr. Heller refers to are led by David Hempleman-Adams. According to the Polar Ocean Challenge web site:
David is one of the most experienced and successful adventurers in the world.

In his forty years as an adventurer, David was the first person to reach the highest peaks on all seven continents and journey fully to the North and South Geographical and Magnetic Poles. He has broken forty-seven Federation Aeronautique Internationale ballooning records
According to Tony's previous blog:
My name is Tony Heller. I am a whistle blower. I am an independent thinker who is considered a heretic by the orthodoxy on both sides of the climate debate.

I have degrees in Geology and Electrical Engineering, and worked on the design team of many of the world's most complex designs, including some which likely power your PC or Mac. I have worked as a contract software developer on climate and weather models for the US government.
However despite Tony's long list of qualifications he is evidently currently quite confused, since according to the Polar Ocean Challenge live tracking map David and Northabout are not in actual fact "stuck in Murmansk" at all: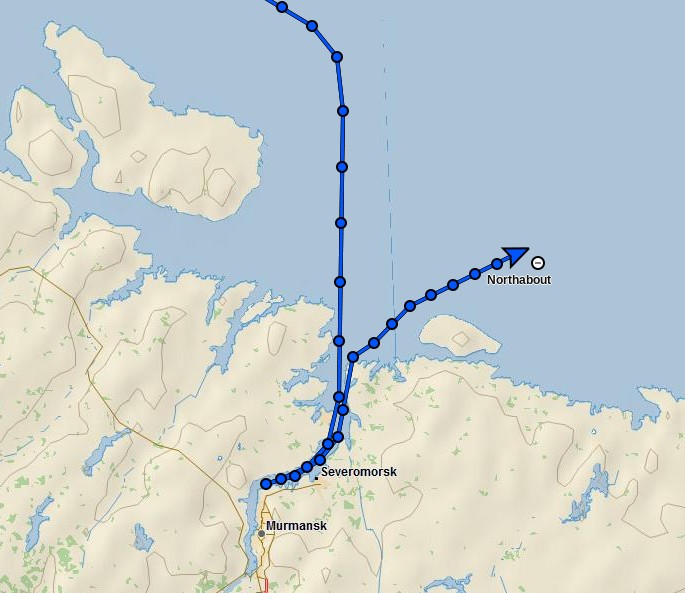 This shouldn't come as surprise to anyone with an internet connection and a desire to check the facts, since as we speak there is currently remarkably little sea ice cover on the Atlantic side of the Arctic Ocean: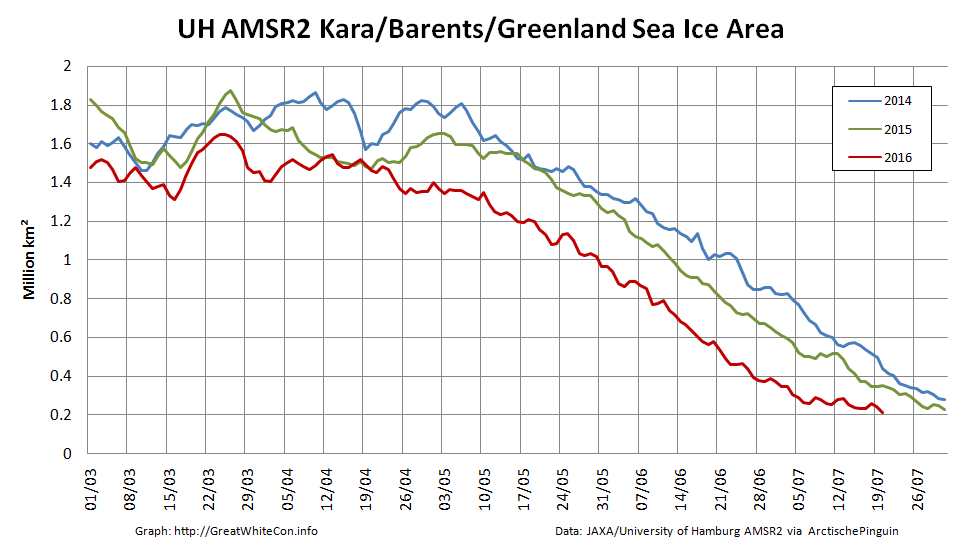 Hence Northabout should find the next leg of his/her voyage across the Barents and Kara Seas pretty plain sailing. However Vilkitsky Strait, the passage from the Kara into the Laptev Sea, is currently looking a trifle tricky: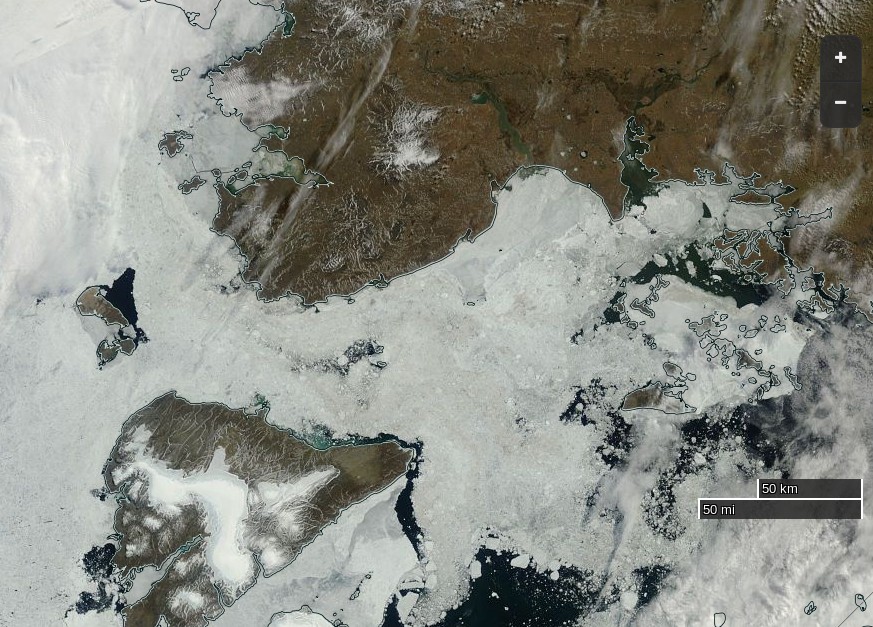 Do you suppose Tony Heller suffers from precognitive dreams?
According to Environment Canada this morning there's a 988 hPa central pressure cyclone causing a bit of a blow in the Vilkitsky Strait at the moment: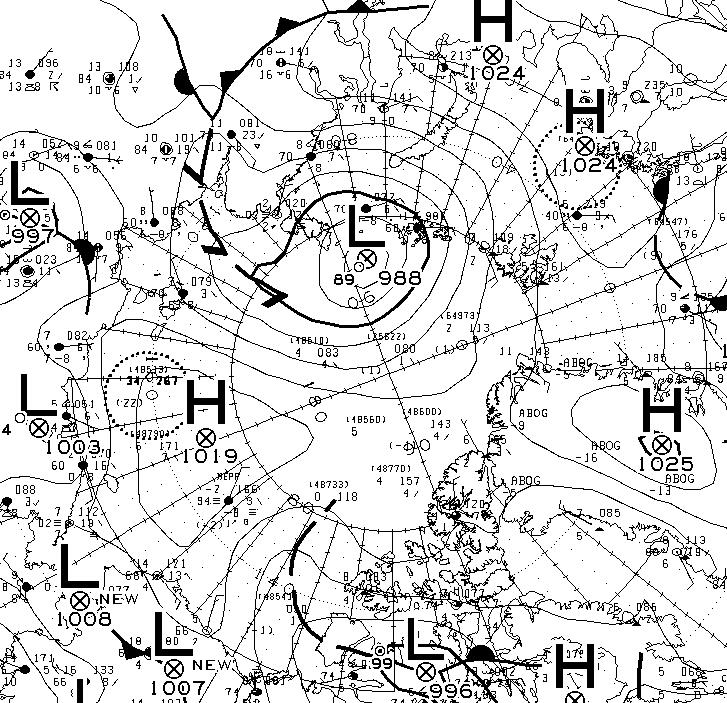 Meanwhile the crew of Northabout report from the Barents Sea that:
Sea and air temperature getting colder as we venture further north. Saw quite a lot of Dolphins for the first time around the Yacht. Still sea gulls flying behind and skimming the waves.

Had some promising Canadian ice charts yesterday, but that's a long way off. Today we should get an update with the Russian side. fingers crossed it is still not solid around the cape and Laptev sea. That could slow us down considerably. The wind has been blowing the pack ice against the land, so very difficult to get around the shore, but let's see what Santa brings.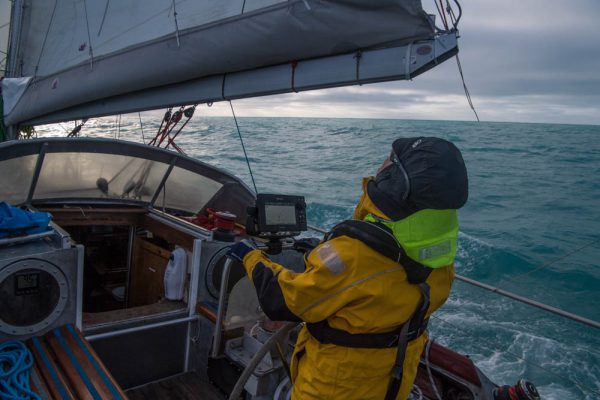 According to the Russian Arctic and Antarctic Research Institute, Santa had brought this by July 19th: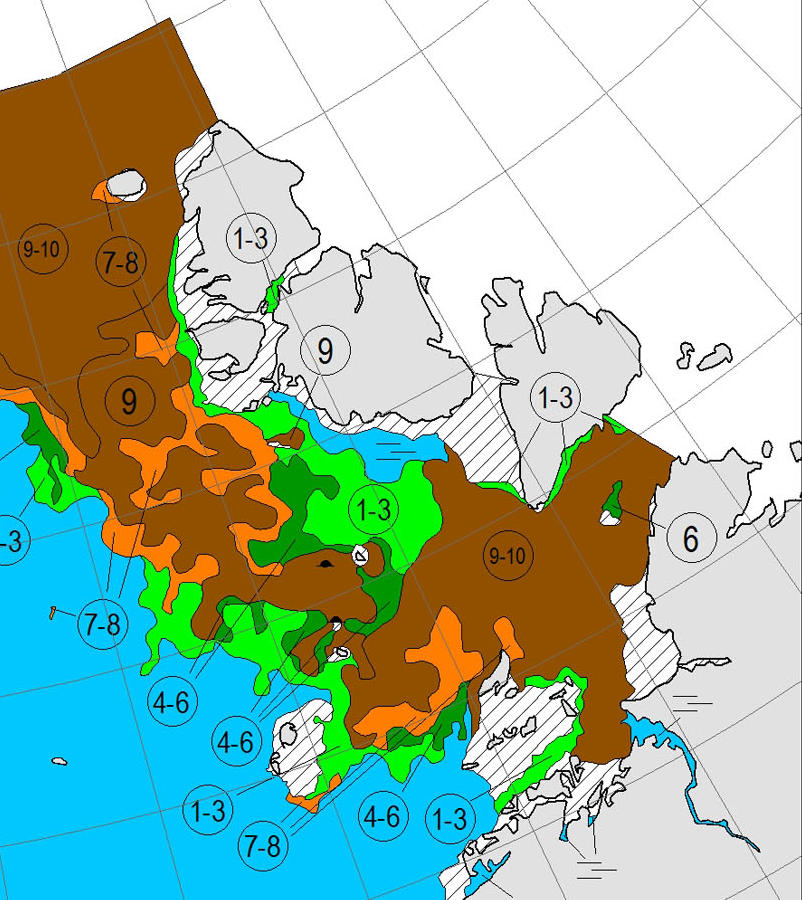 P.S. Maintaining his usual modus operandi, Tony Heller has penned a new article today, containing a satellite image remarkably similar to the one just above. Under the headline "The 2016 Franklin Expedition" he tells his loyal readership:
The Polar Ocean Challenge is headed off into the ice.

They will run into this in three days – hundreds of miles of solid ice. Without an icebreaker, they are going nowhere. I asked them on Twitter if they have an icebreaker. I haven't received a response, and will be monitoring them by satellite to see if they are cheating.
By some strange coincidence we're "monitoring them by satellite" too: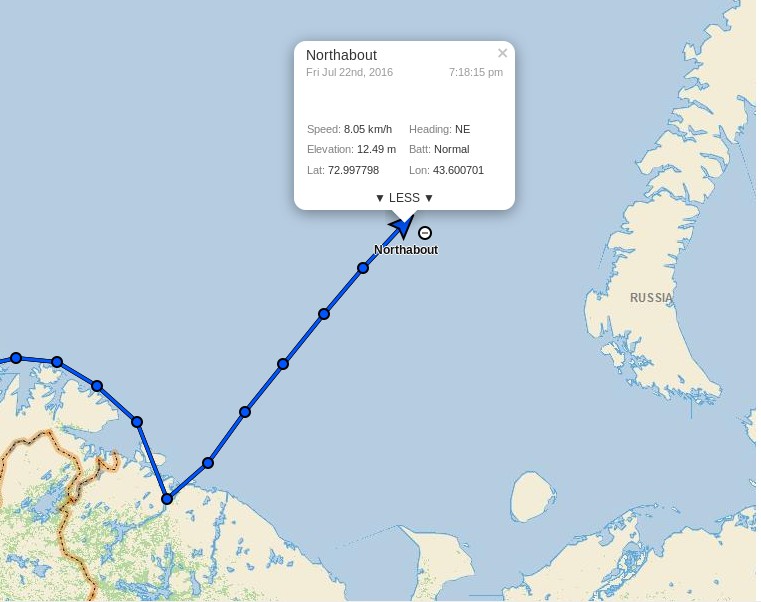 In some "Shock News!!!" from another corner of the cryodenialosphere Viscount Monckton of Brenchley claims on the "Watts Up With That" blog that:
As for ice melt, yet another totalitarian propaganda expedition intended to "raise awareness" of climate "catastrophe" by trying to sail around the Arctic in the summer has just come a cropper owing to – er – too much ice. Neither the North-East Passage nor the North-West Passage is open, so the expedition is holed up in – of all ghastly places – Murmansk. That'll teach Them.
However my corrective comment has yet to see the light of day at WUWT: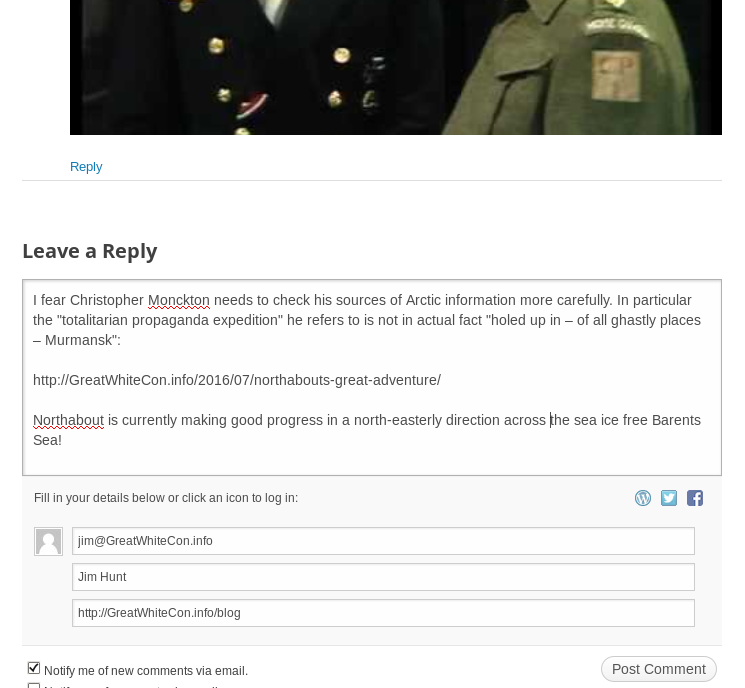 Meanwhile Northabout resolutely presses on regardless, and has just passed 74 degrees North: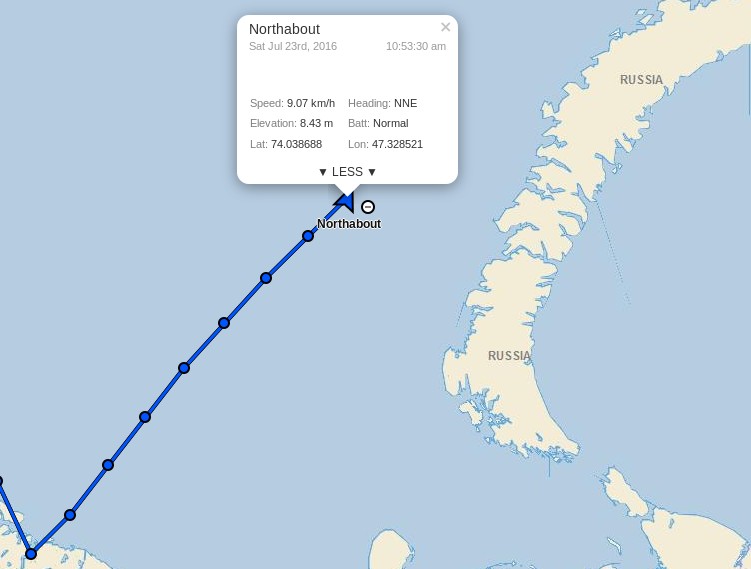 whilst the sea ice edge in the north-eastern Kara Sea has retreated somewhat over the last three days: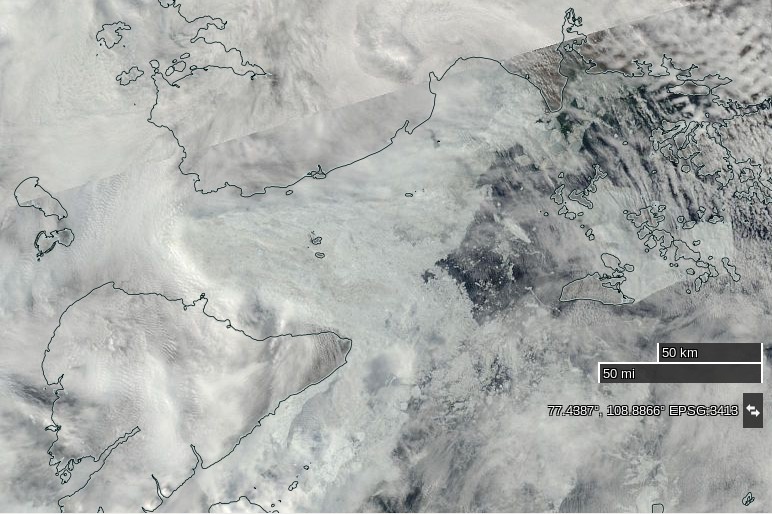 Here's the July 20-22nd AARI map of the Vilkitsky Strait area: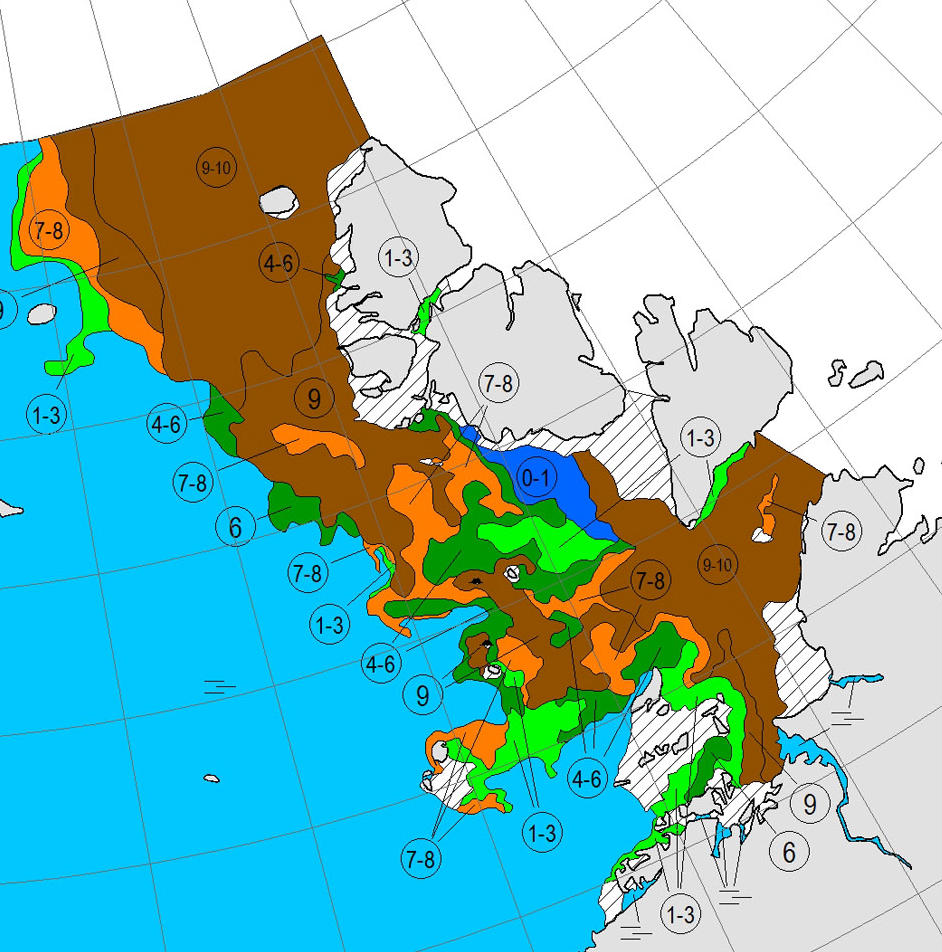 On the topic of Arctic sea ice melt in general Viscount Monckton opines over on WUWT that:
According to the National Snow and Ice Data Center's graph, also available at WUWT's sea-ice page, it's possible, though not all that likely, that there will be no Arctic icecap for a week or two this summer:

Even if the ice disappears for a week or two so what? The same was quite possibly true in the 1920s and 1930s, which were warmer than today in the northern hemisphere, but there were no satellites to tell us about it.
The Good Lord seems to have a very tenuous grasp on reality, since the NSIDC's graph shows nothing of the sort. Perhaps he is merely indulging in irony?
Northabout passed the 75 degrees North milestone overnight: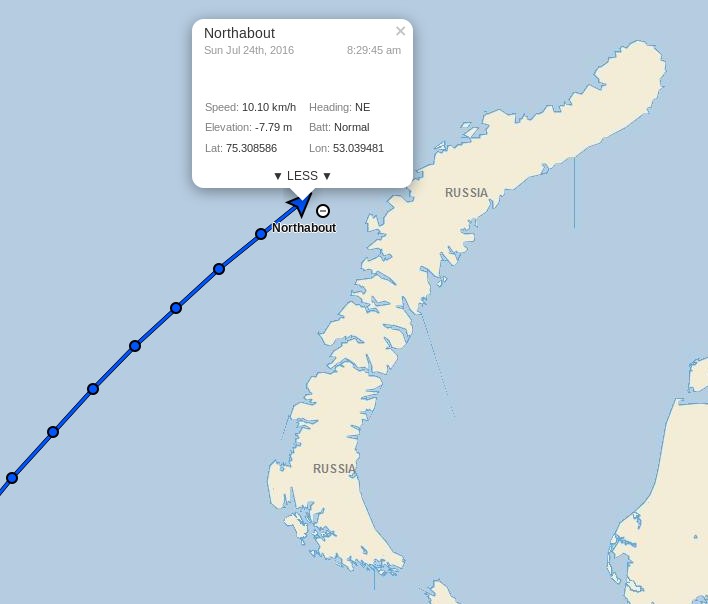 Clouds obscure the Vilkitsky Strait in visible light this morning but passive microwaves make it through the murk, albeit with reduced resolution. They reveal the sea ice edge in the Kara Sea receding and a narrow passage opening up along the Northern side of the Strait (North is down in the image):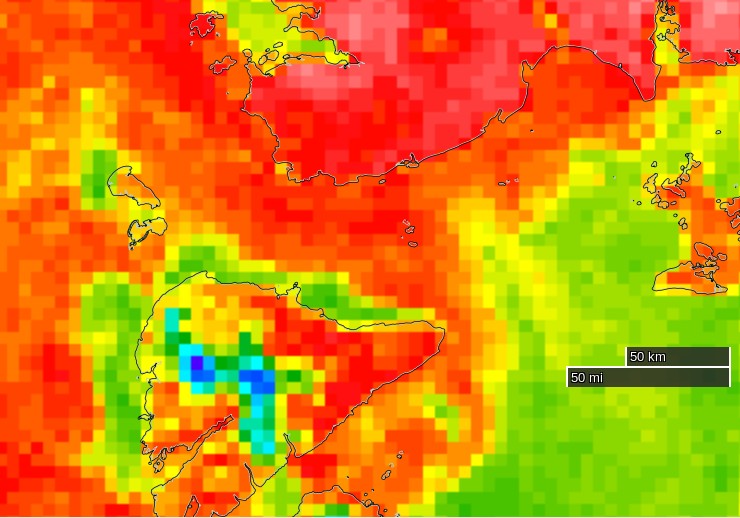 According to Ben Edwards' latest blog post from the Barents Sea:
I just wore a T-shirt on my first watch out of Murmansk. Today I wore my trawler suit and a primaloft under it with gloves and a hat….
As the cryodenialosphere continue to retweet and reblog their regurgitated rubbish here's a picture from last year of Northabout amidst some ice, especially for those apparently unable to distinguish a small yacht from a large icebreaker: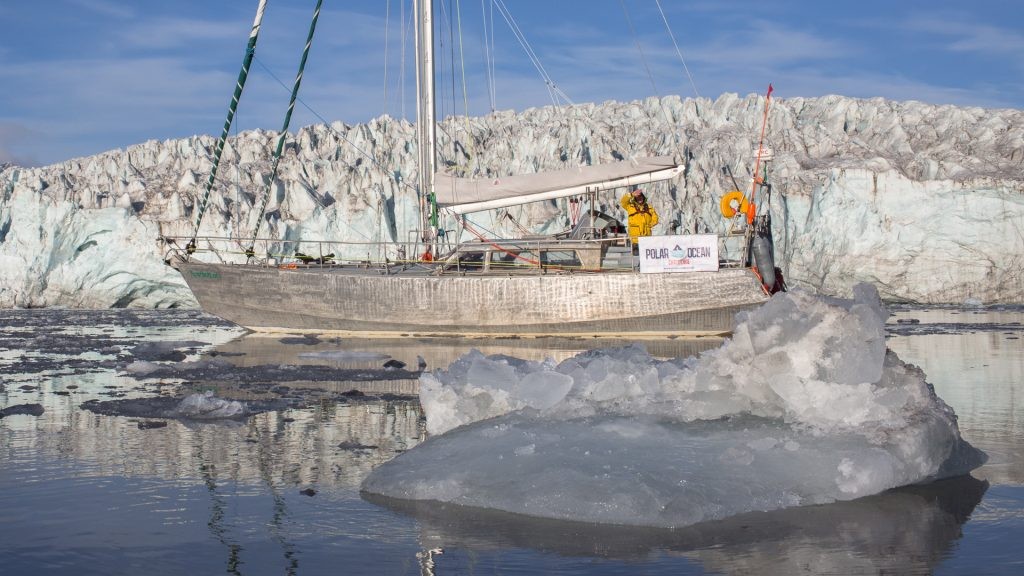 Meanwhile Arctic sea ice continues its inexorable decline: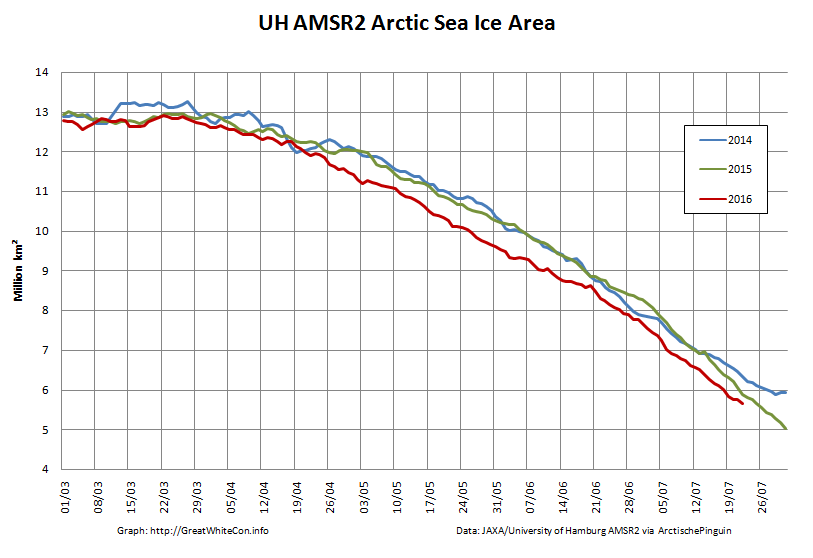 Shock News! Tony Heller has just published yet another article about Northabout's Great Adventure, and yours truly gets a mention. In the headline no less!! Read all about it at:
"Is the Polar Ocean Challenge About to End in Disaster?"
Meanwhile the commenters over at unReal Science keep blathering on about icebreakers even though one of the more inquisitive denizens posted this extract from the "Ship's Log" over there yesterday:
Partly checked the new ice charts on www.nsra.ru, we still have no chance of getting through yet, not past the cape or through the Laptev sea. Nikolai, Our Russian Captain who is very familiar with this route, impresses on me that this is a very unusual year and normally clear, Not what I want to hear. We are under sail, so saving fuel, and will find a small island to shelter until we get improvements. We are still 5 days from the ice, so lets hope for some southerly winds to push the ice from shore.
Northabout is heading for the Kara Sea past the northern tip of Novaya Zemlya, and has now passed 76 degrees North: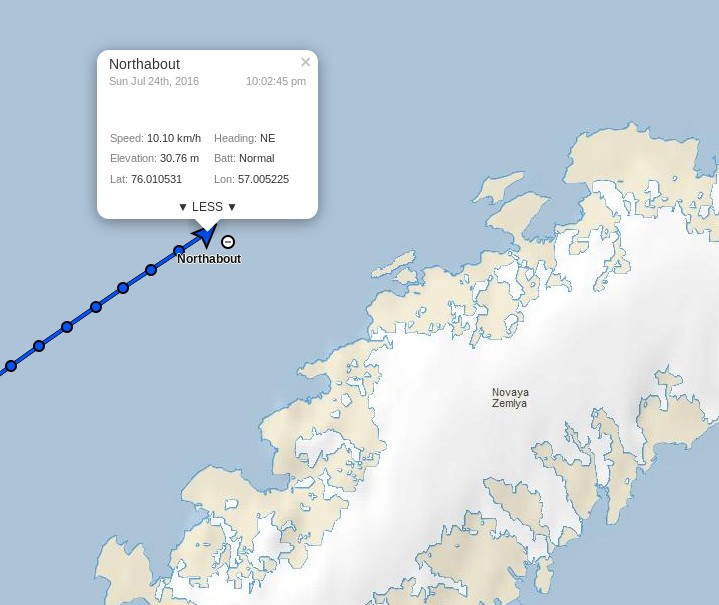 The skies are still cloudy over the Vilkitsky Strait and Cape Chelyuskin, so here's another AMSR2 passive microwave visualisation of the state of play. Note the change of scale: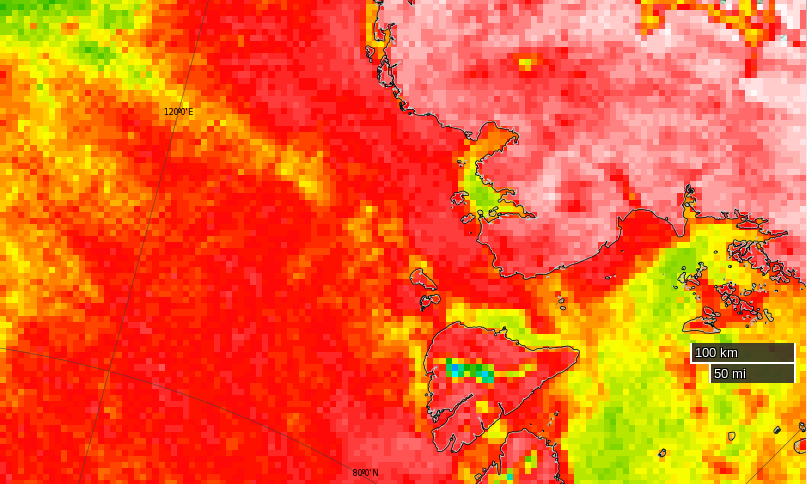 The sea ice area in the Laptev Sea has finally started decreasing at a more "normal" rate for late July, but still has a lot of catching up to do compared to recent years: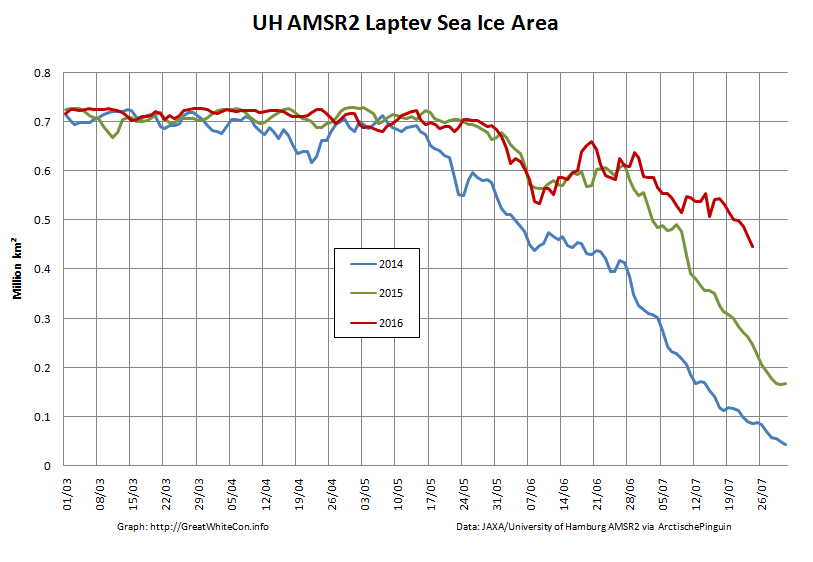 Meanwhile over at "Watts Up With That" at least one reader of Christopher Monckton's purple prose is clearly confused. Needless to say my clarifying comment is still invisible to him: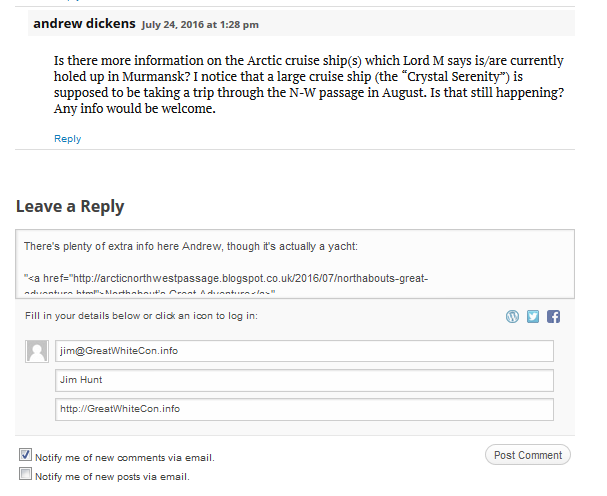 Finally, for the moment at least, here's some moving pictures of dolphins having fun in the Barents Sea:
I was expecting Northabout to have entered the Kara Sea by now, but instead (s)he has headed north, and is now well above the 77th parallel: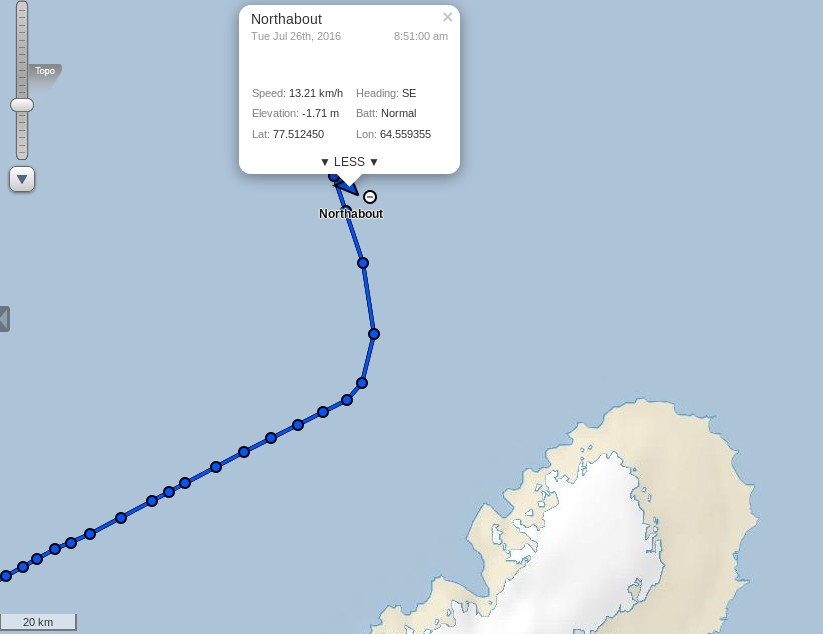 It's still pretty cloudy up there so here once again is the latest AMSR2 passive microwave visualisation of the Vilkitsky Strait area, with a few place names added for a bit of variety: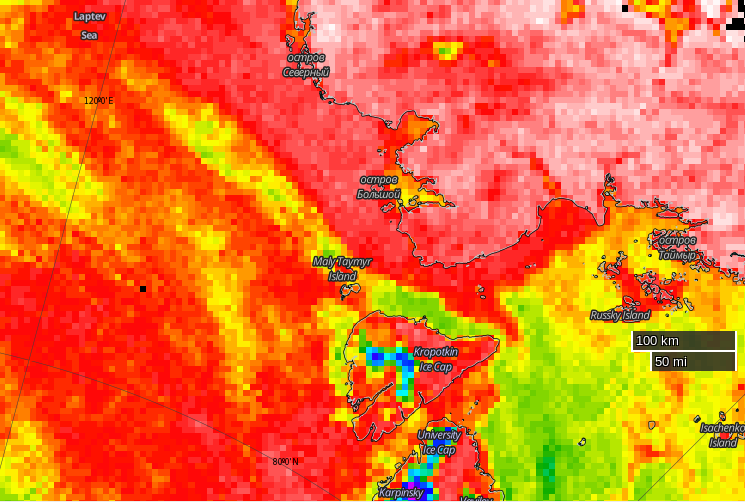 P.S. The Polar Ocean Challenge team explain via Twitter:
@GreatWhiteCon Ha ha! Thanks for interest! Waiting game, manoeuvring, strategy. Difficult to update in choppy conditions! New SHIPSLOG now

— PolarOceanChallenge (@PolarOceanChall) July 26, 2016
and their latest log entry:
Choppy sea, taking four hour tacks. These sea conditions make it hard to sleep, cook or relax.

We are considering many elements all the time. We are due new Russian Ice charts today.

We know the North west is pretty clear, but this year is a very unusual year in the north east passage. Normally the Laptev Sea would be pretty open now as in previous years. It is not. This is also partly due to the wind blowing the pack ice down south and consolidating next to the land.

So, we need to get through the straight and through the Laptev Sea. So where do we wait until we can do this? We have deliberately taken our time to get to this point, and used the wind as much as we can to conserve fuel.

Now the weather has changed, the wind direction has also changed. From the calm turquoise seas, to choppy short seas, wet, windy and cold.

So we took a long tack north, and then tacked east again. There is No hurry. We will slowly make our way east, and if we can find an island with no fast ice around, will look for a sheltered spot, until we get better ice conditions.

The other options are to Heave to and wait, but this is a sailing Yacht, she needs to sail. And if we get a Southerly blow, it could change our chances very quickly to get around, so we need to be close to react.

So, another day at the office.
There was a report on the BBC Radio 4 Today programme this morning from the crew of Northabout, and an interview with Dr. Ed Blockley from the UK Met Office about the current state of sea ice in the Arctic:
http://www.bbc.co.uk/programmes/b07lfsrl
Note in particular the part at 2:59:00 where Justin Webb says to Ed:
I thought that I'd read somewhere that [Northabout] had got stuck.
I cannot help but wonder what on Earth gave him that idea?
After "going round in circles" north of Novaya Zemlya yesterday Northabout is now heading East across the Kara Sea: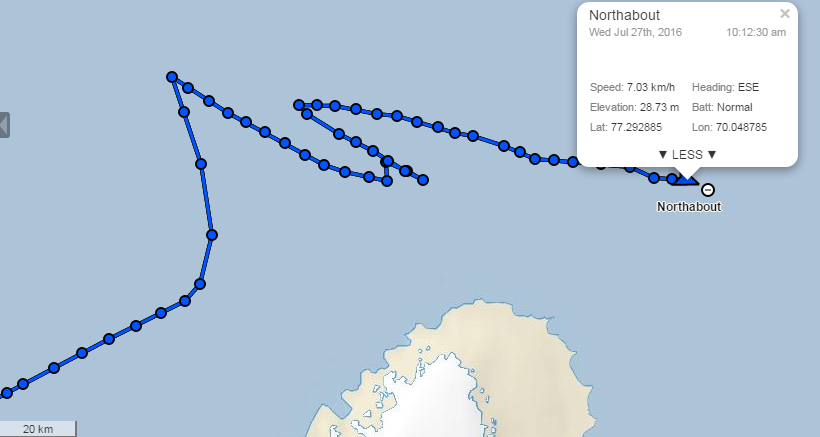 Synthetic aperture radar images from the European Space Agency's Sentinel 1A satellite have started flowing through Polarview once again, so here's one of where Northabout is heading: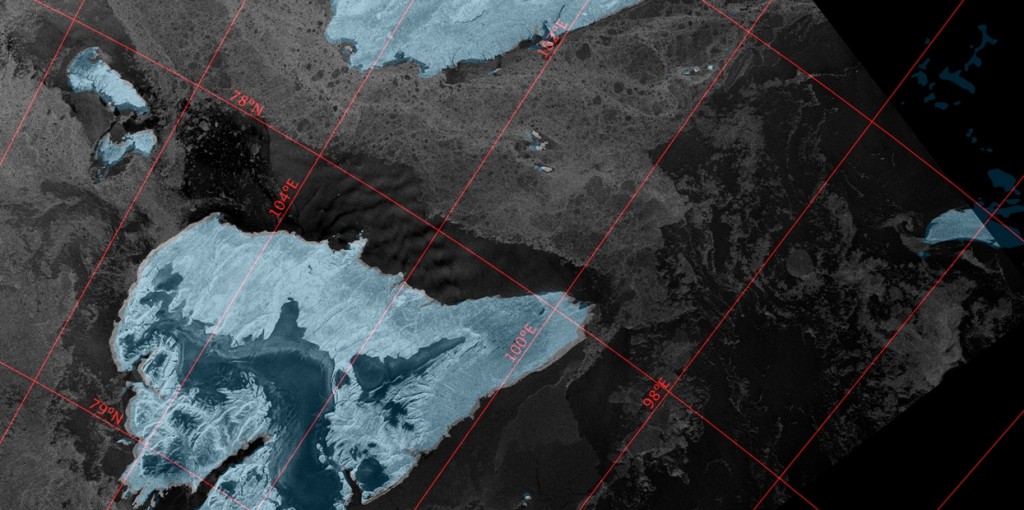 Here's the current Arctic and Antarctic Research Institute map of the same area: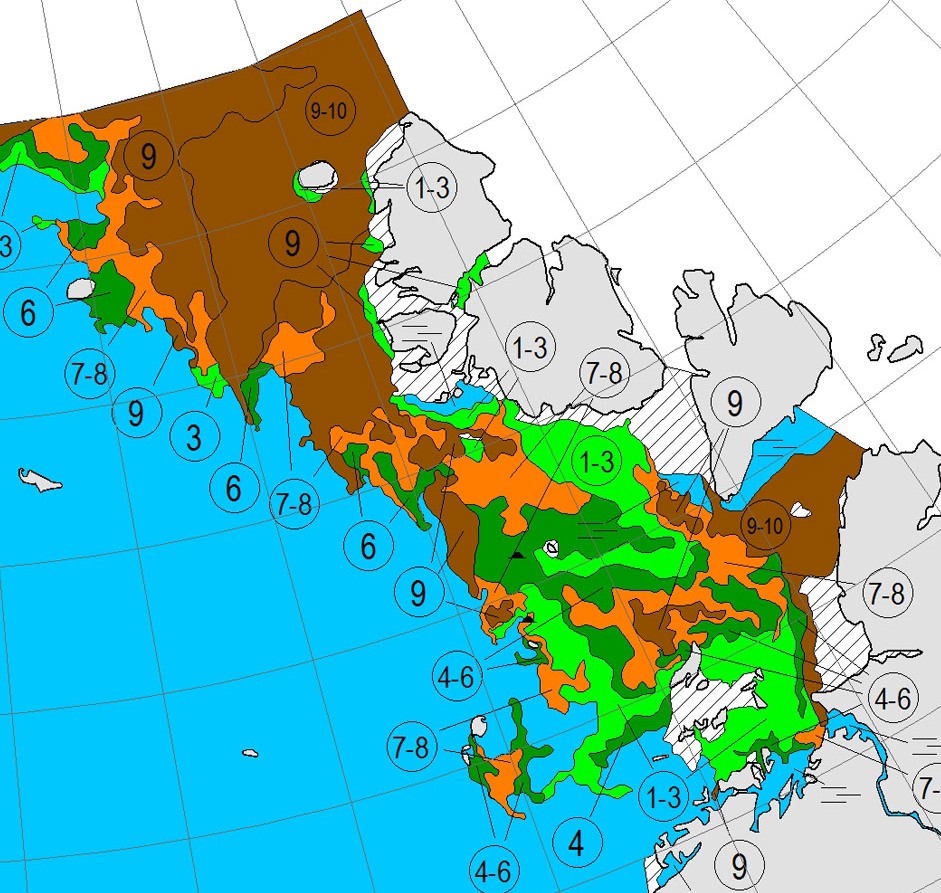 There's still no way through by which Northabout might avoid an encounter with 9-10 tenths sea ice coverage. Then of course there's the Laptev Sea to contend with too. Here's the latest AMSR2 visualisation from the University of Hamburg: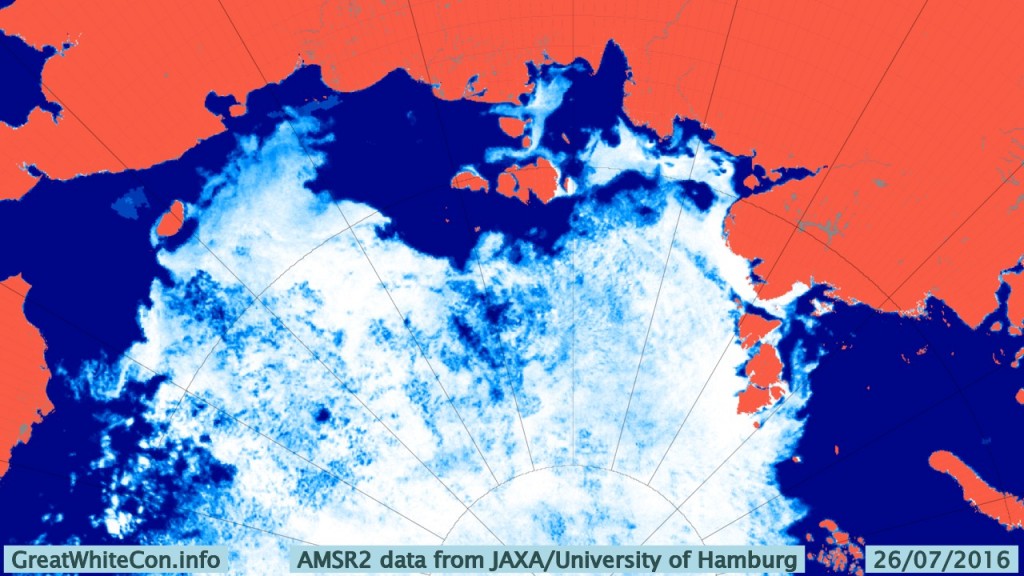 It's not exactly plain sailing there either just yet!
This morning Northabout has almost reached 79 degrees East, and appears to be heading in the direction of Ostrov Troynoy: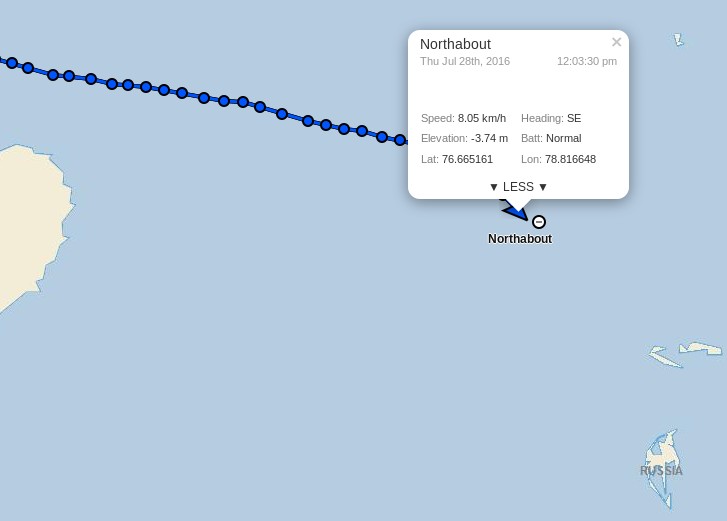 Here is the Weather Underground forecast for the area:
The clouds over the Laptev Sea have cleared somewhat as the recent cyclone heads for the Beaufort Sea, to reveal that the "brick wall" of ice referred to in certain quarters now looks more like Swiss cheese: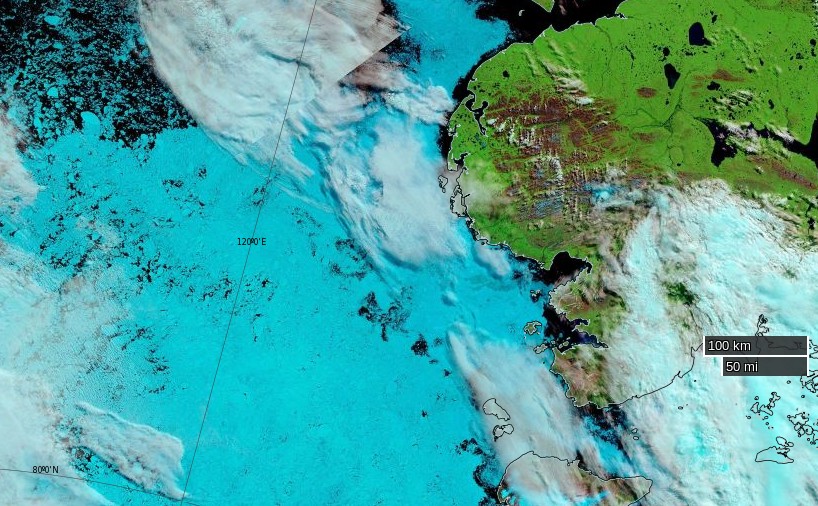 Here's a close up look at the Vilkitsky Strait from the Landsat 8 satellite this morning. Note that unlike the MODIS image above, north is at the top of this one: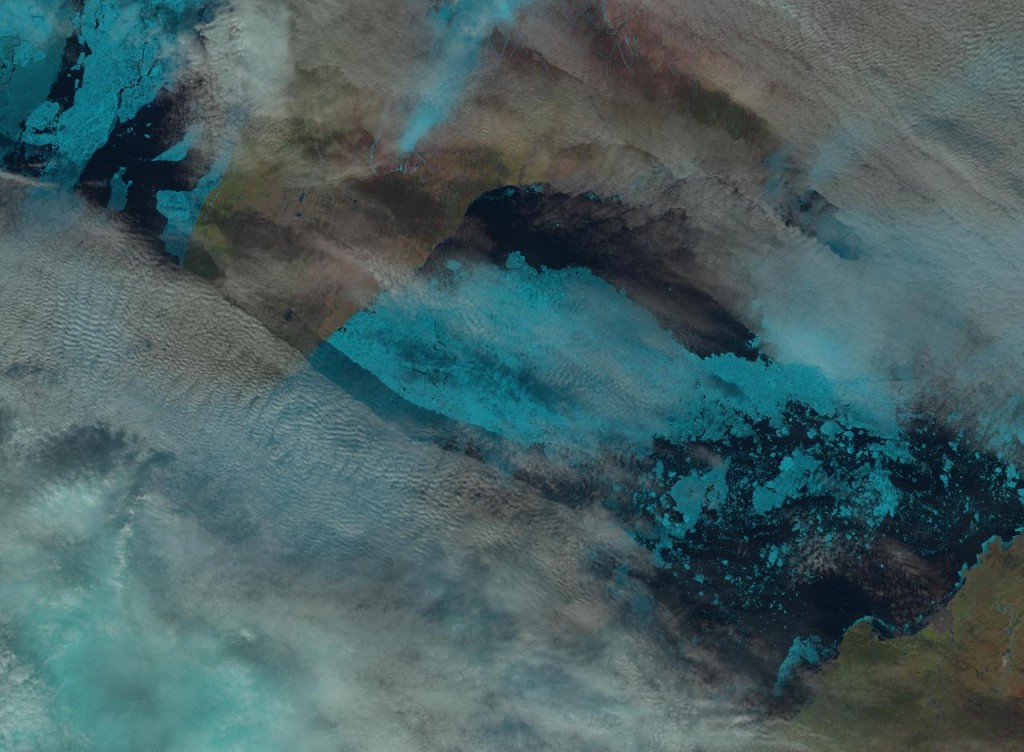 Meanwhile according to SailWX the Russian icebreaker Yamal is traversing the Vilkitsky Strait from east to west: