We first mentioned the cruise ship Crystal Serenity in our initial musings about prospects for the Northwest Passage in 2016. Since then the sea ice has melted on a variety of the "southern" routes through the Northwest Passage, and the Crystal Serenity has now set sail for the Arctic. Amongst the over 1000 passengers there is even a blogger:
We're thrilled to have travel journalist Katie Jackson "joining the crew" for this voyage. Katie, an acclaimed writer and avid traveler, will be providing dispatches from the ship…or tundra, or zodiac, to help all of you indulge your wanderlust.
The Crystal Serenity is equipped with a number of webcams. Here's the current view from one as the Crystal Serenity is en route to Nome Alaska: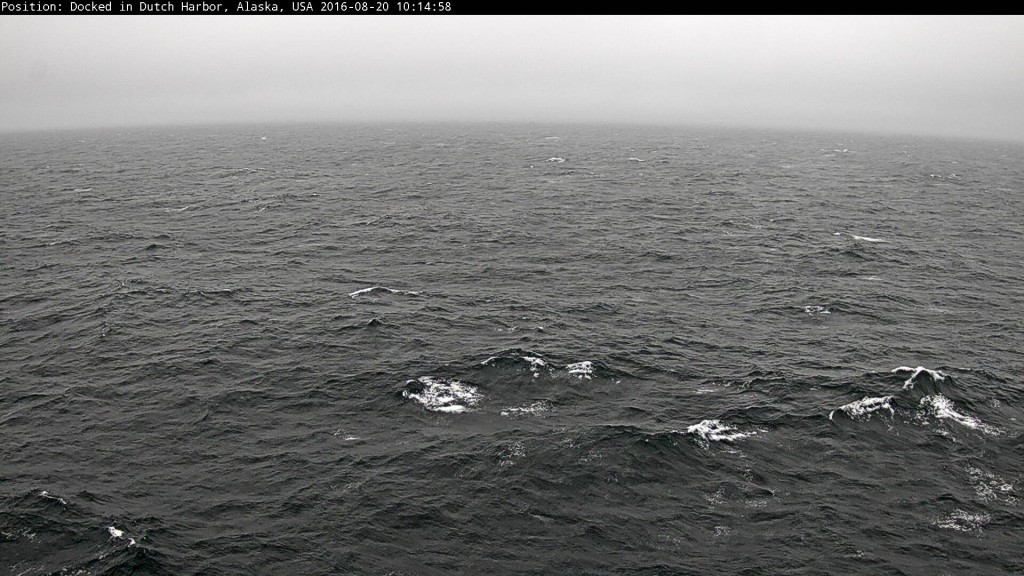 It looks a bit breezy up there at the moment, but nothing to trouble the 68,000 ton Crystal Serenity. However Crystal Cruises do seem to be anticipating some potential problems. Accompanying the Crystal Serenity will be the British Antarctic Survey icebreaker Ernest Shackleton, which is already making its way through the Northwest Passage from the direction of the Atlantic Ocean:
According to a Crystal Cruises press release:
The RRS Ernest Shackleton, operated by British Antarctic Survey, is an ICE 05 classed icebreaker (exceeding the more common 1A Super class) that will provide operational support to Crystal Serenity, including ice breaking assistance should the need arise and carry additional safety and adventure equipment.

The RRS Ernest Shackleton will carry two helicopters for real-time ice reconnaissance, emergency support and flightseeing activities. In addition to its robust ice navigation and communications equipment, the RRS Ernest Shackleton will have on board supplemental damage control equipment, oil pollution containment equipment, and survival rations for emergency use.
Hopefully none of that emergency equipment will need deploying over the next two weeks or so, but that is far from certain. Listen to what Admiral Charles Michel, Vice Commandant of the United States Coast Guard, had to say in testimony before the House Subcommittee on Coast Guard and Maritime Transportation in answer to questions from Congresswoman Janice Hahn:
I don't want to underestimate the challenges of that area. There is almost no logistics up there. For example if we needed to get another helicopter up there they're only bringing a very small helicopter with them. If we needed to get a big helicopter up there it's estimated it would take between 15 and 20 hours, if the weather's good, in order to get that up there. Fixed wing aviation may be available, but even there you've got very limited landing areas, very environmentally sensitive areas, things change up there dramatically even during the summer. The weather is an incredible challenge, so this is not an easy category for a voyage.
If you're interested in US Arctic policy in general you may wish to watch the whole 2+ hours of the hearing instead. In which case, here it is!
Crystal Serenity is now inside the Arctic Circle, and rapidly approaching her first potential problem: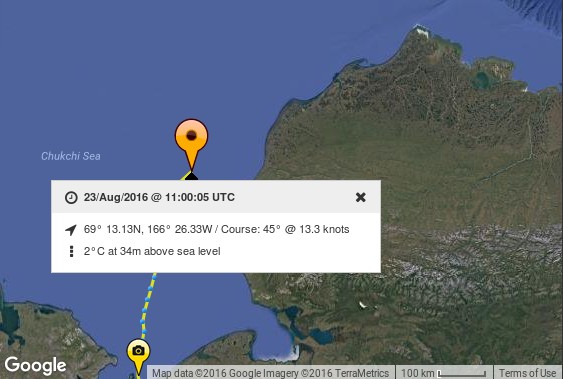 Here is the latest National Weather Service ice chart for Alaskan waters: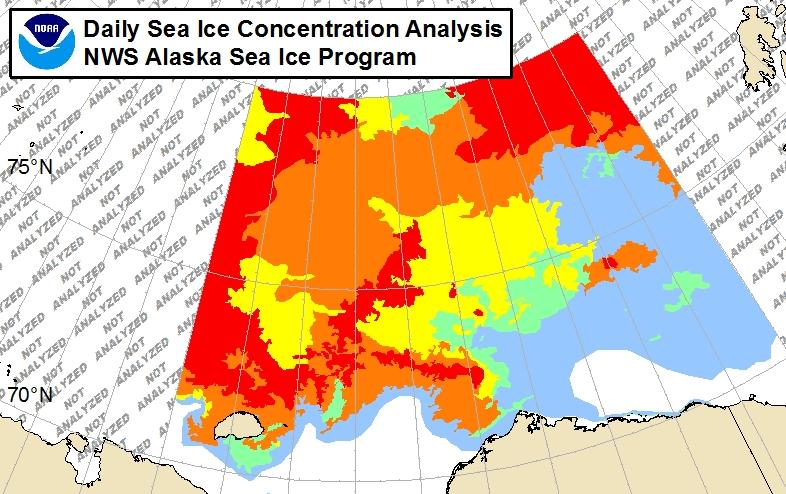 It shows 1-3 tenths coverage all the way to shore at Point Barrow. What's more with the Great Arctic Cyclone still raging the current US Navy forecast is for continuing onshore ice drift: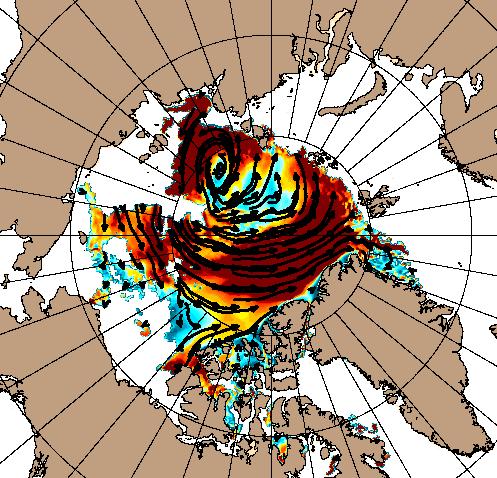 Maybe that's why there seems to be an icebreaker patiently waiting offshore at Barrow as we speak?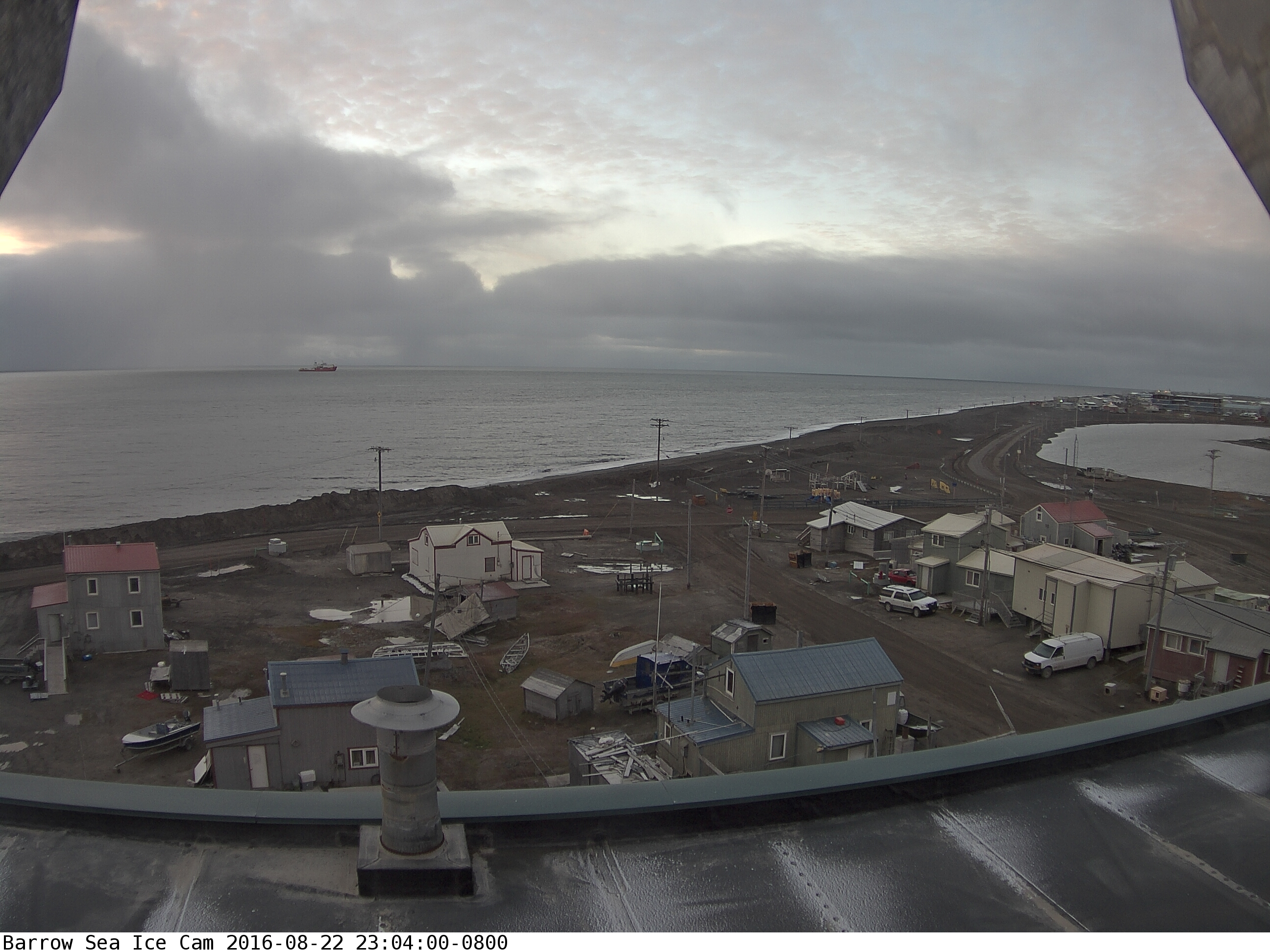 As luck would have it USCGC Healy is in the vicinity too, albeit slightly south of Barrow. The weather in the Chukchi Sea doesn't look too good at the moment:
Crystal Serenity has rounded Point Barrow, apparently without incident. Here's her tracking map from SailWX: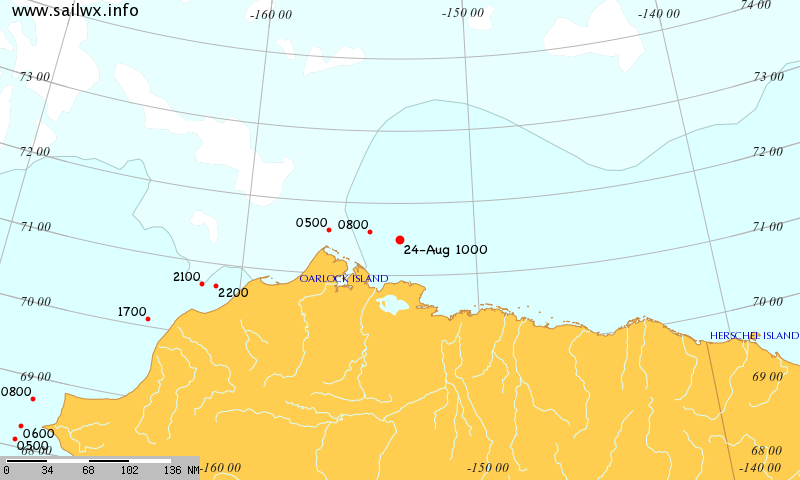 Apparently icebreaker assistance was not required since the ship anchored off Barrow, which looks a lot like the Korean icebreaker Araon, seems not to have moved: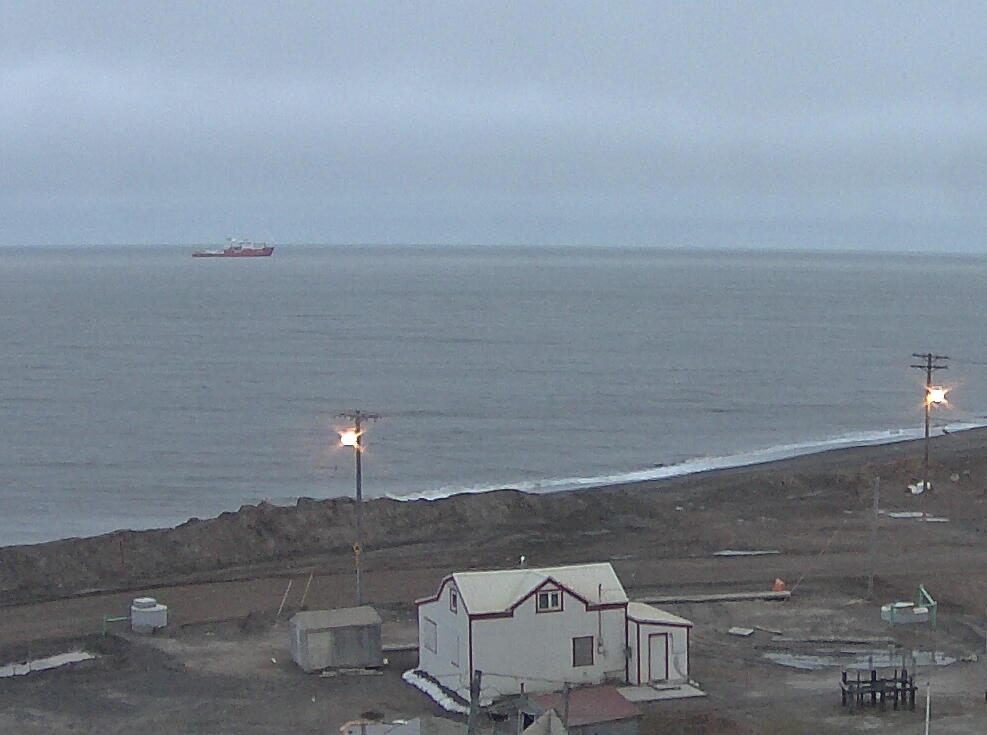 Rather disappointingly the Crystal Serenity's webcams seem to update infrequently and have yet to reveal any sea ice. The Healy aloftcon camera, however, recorded this image from 72 degrees north:
Crystal Serenity has reached Ulukhaktok on the west coast Victoria Island, and met up with the Ernest Shackleton:
It doesn't look as though any ice breaking will be required in the near future!
Crystal Serenity and Ernest Shackleton are both now in Cambridge Bay: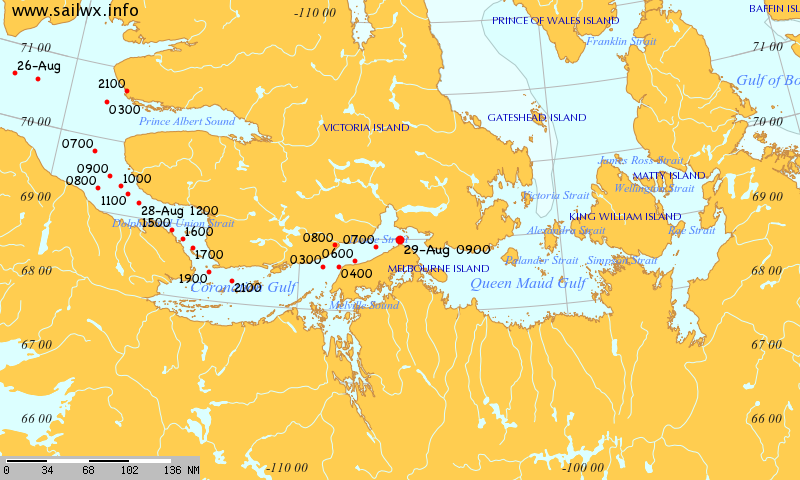 There is no ice to be seen!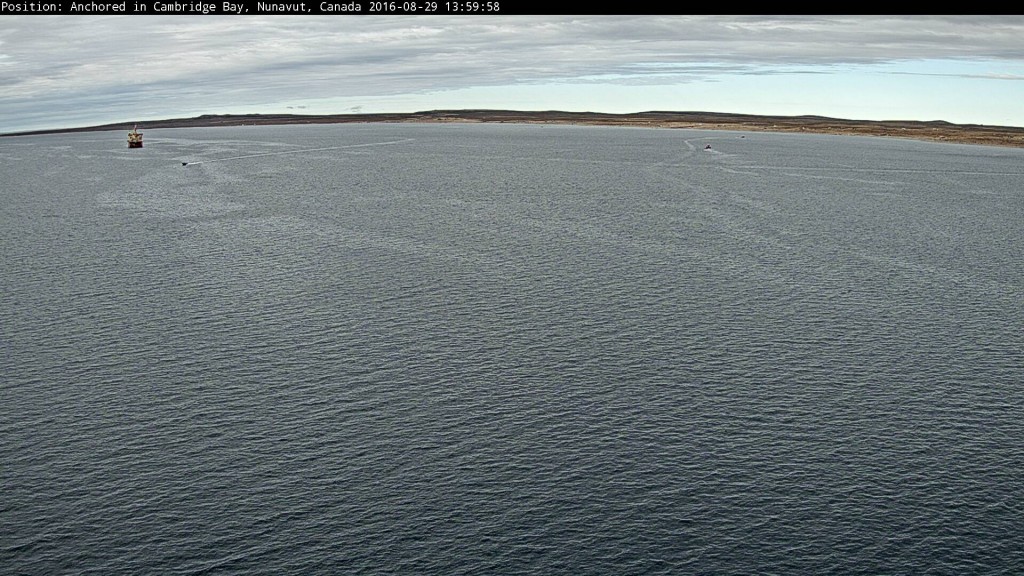 The next stage of Crystal Serenity's itinerary involves "Cruising Peel Sound or The Bellot Strait". I wonder which option she'll take?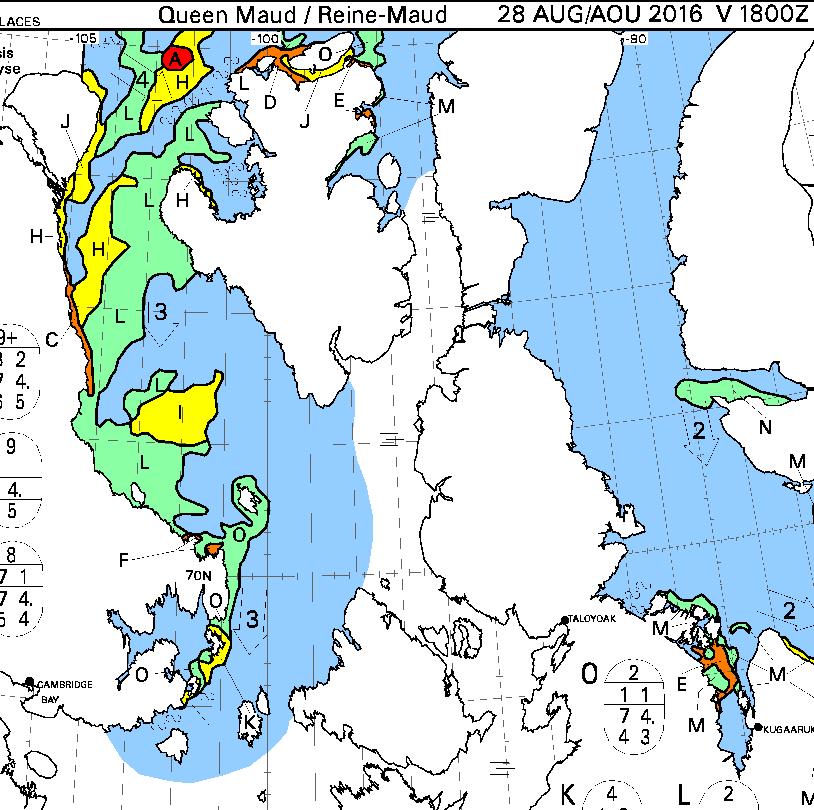 Judging by the Canadian Ice Service charts both seem feasible at the moment.
Crystal Serenity has found some sea ice in Victoria Strait!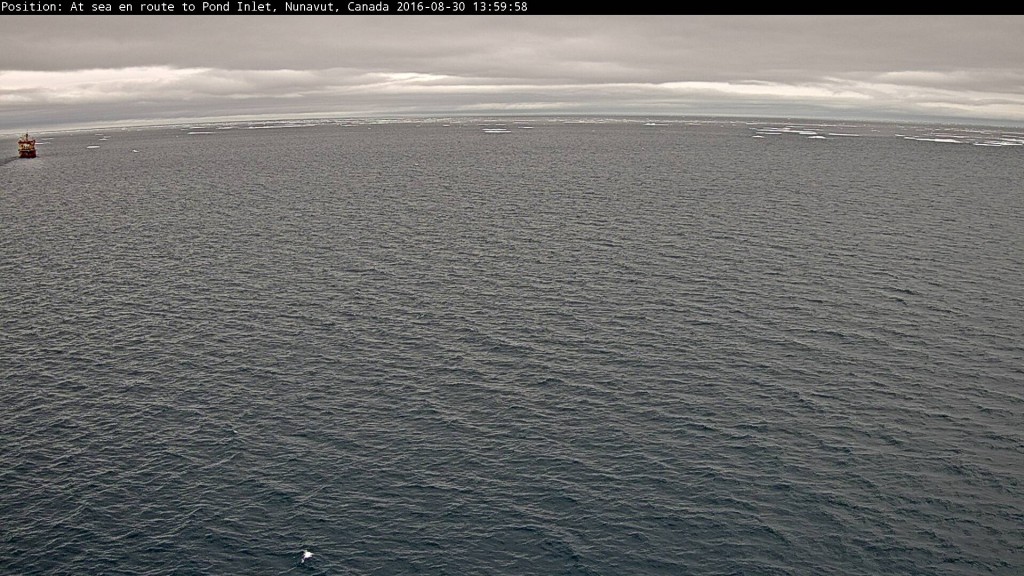 A polar bear has been spotted too: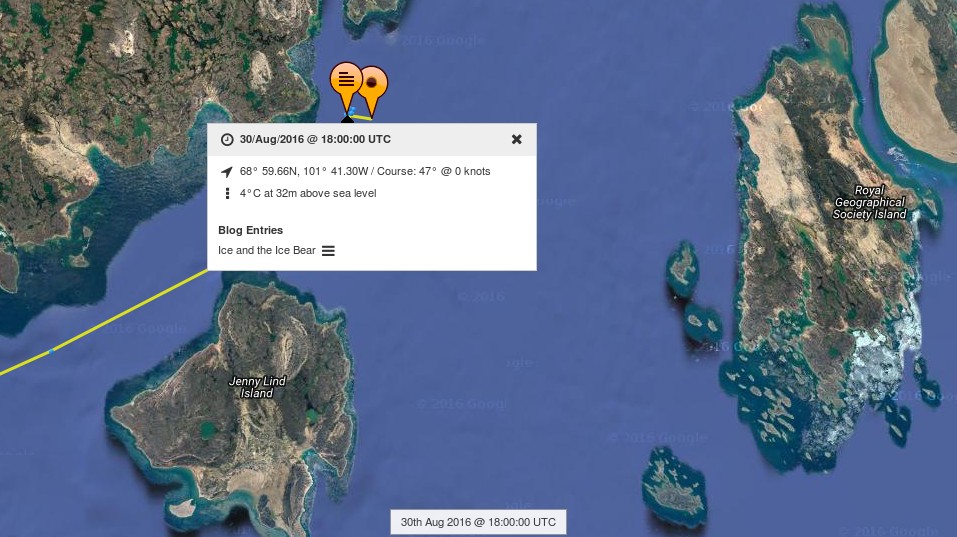 The early morning paid off quickly with our first Polar bear sighting! And what an experience it was. This apex predator patrolled calmly on an ice floe, and put on quite a show stretching, scanning and keeping watch for any potential prey.
Crystal Serenity has evidently decided to cut through Bellot Strait: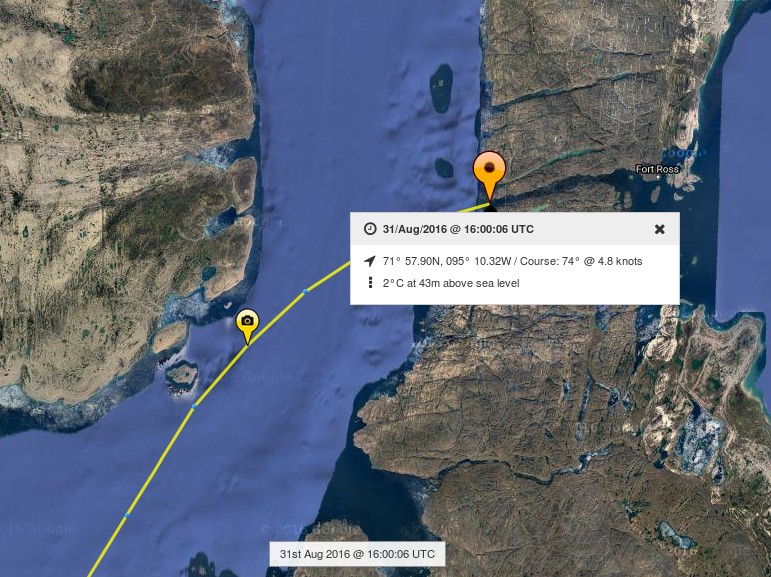 Here's the view from the bridge: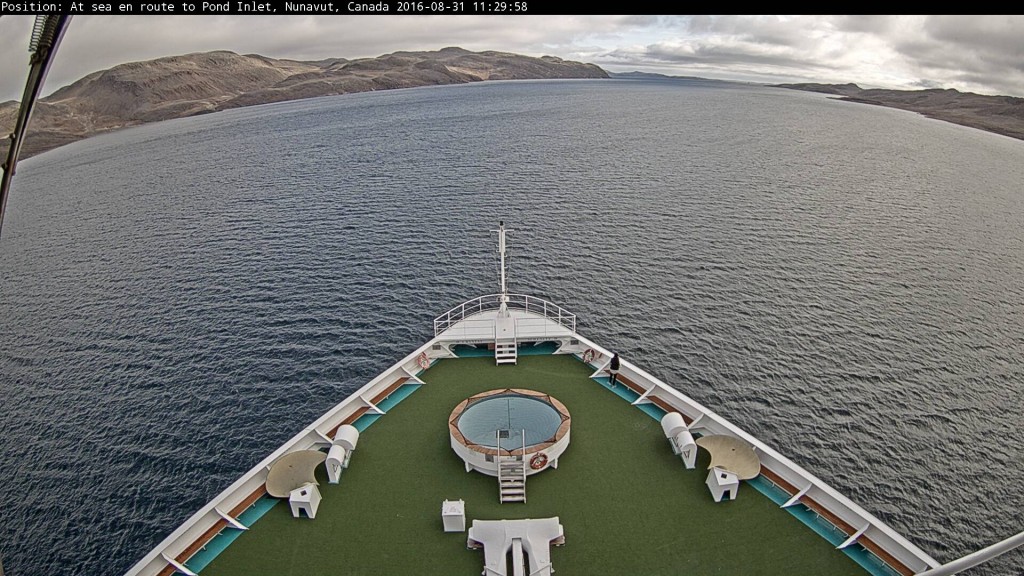 No sea ice to be seen!
P.S. Having emerged from the eastern end of Bellot Strait some bergy bits could be seen in the Gulf of Boothia: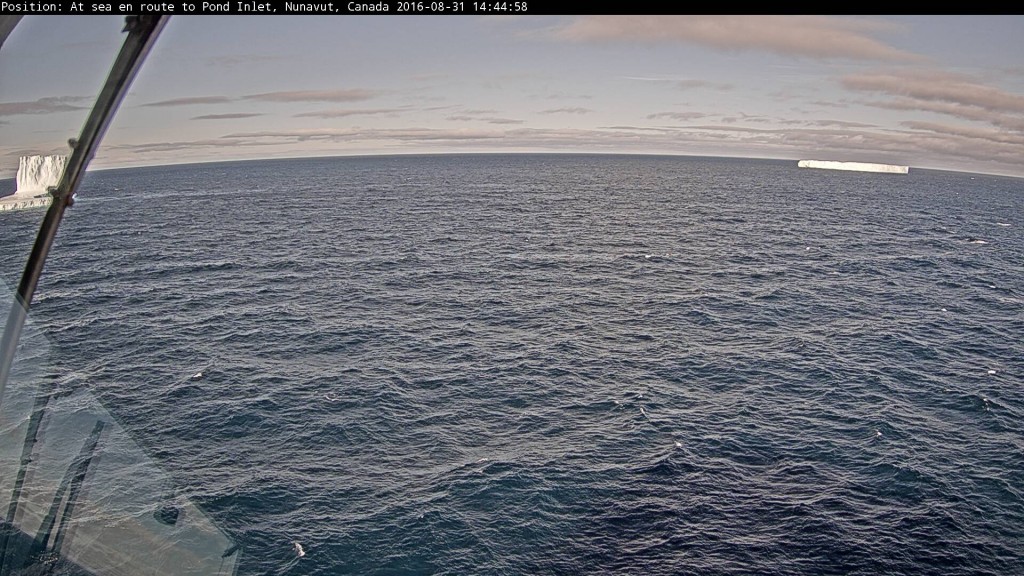 Crystal Serenity has been taking a good long look at a glacier today: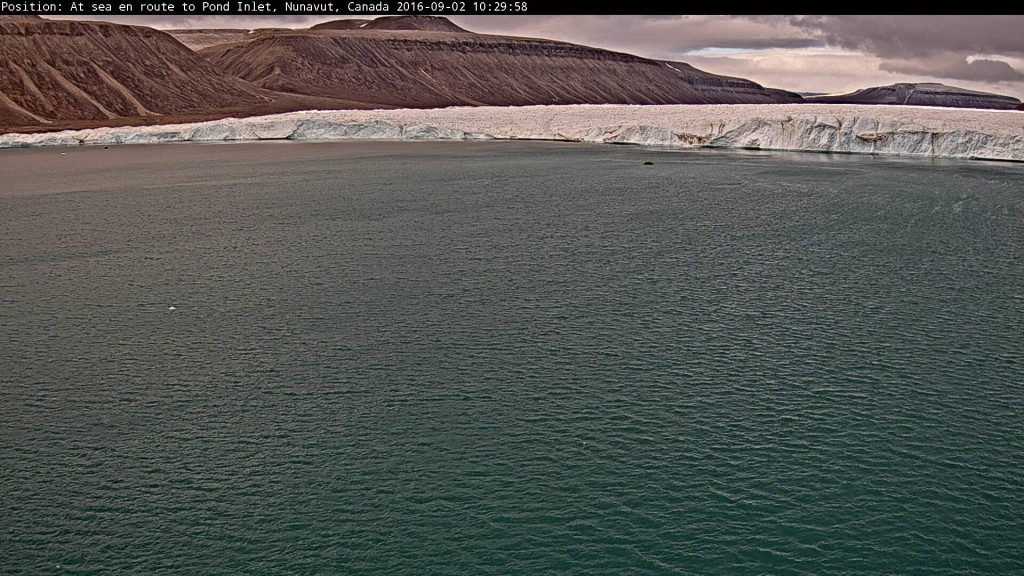 Judging by her tracking map it's the North Croker Bay Glacier on Devon Island: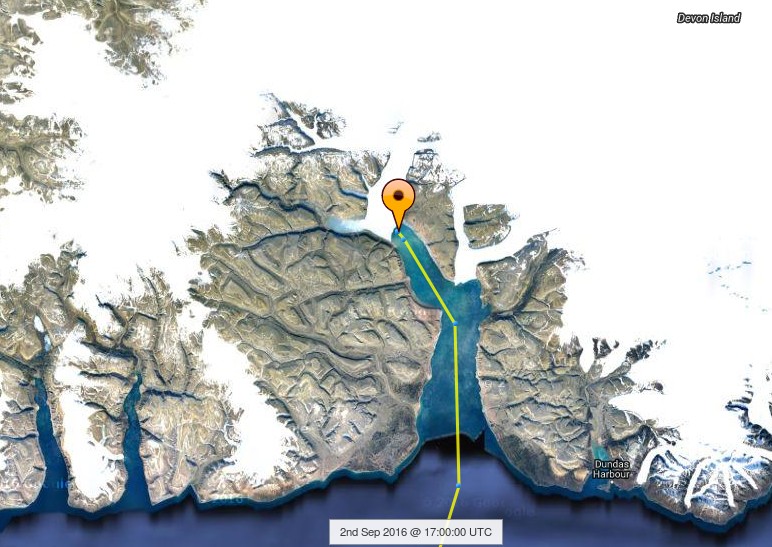 I wonder if that's where those bergy bits came from?