Our esteemed guest author "Bill the Frog" recently posed a question:
Looking at the latest Eastern Arctic ice charts from the Canadian Ice Service, I don't think the crew [of Northabout] will exactly be shitting themselves.

I'm more interested in what a certain Tony Heller will be coming out with next.
It seems as though a certain Tony Heller and his many merry minions are already shitting themselves at the prospect of the plucky little yacht Northabout NOT getting "trapped in ice". Hence we can provide this preliminary report on the astonishing ignorance of Tony and his faithful flock concerning all things Arctic. For the present we will confine ourselves to Mr. Heller's latest missive on the Polar Ocean Challenge expedition, wittily entitled but strangely capitalised:
"we are in a race against time before the freeze"

I blogged the same thing yesterday, and the usual hysterical alarmists showed up complaining.
As luck would have it I blogged the same thing recently, and in actual fact it's the usual hysterical denialists who have showed up both here and there to pen over a hundred comments and counting. Let's take a look at a select few of them shall we?
For a reason known only to herself our old friend (and "New Einstein" award winner!) Gail Combs posted the weather forecast for Resolute yesterday, but without any link to her source(s):
Resolute, Nunavut
Presently: 28 °F , wind gusts to 14 mph, cloudy

TONIGHT: Saturday Night 09/10 80% / 1-3 in of snow

Snow showers early will become steadier snow overnight. Low 28 °F. Winds S at 15 to 25 mph. Chance of snow 80%. Snow accumulating 1 to 3 inches.
Then today Lawrence13 posts what purports to be the weather forecast for Isachsen whilst simultaneously suggesting that Isachsen is just around the corner from Resolute, which of course it is not: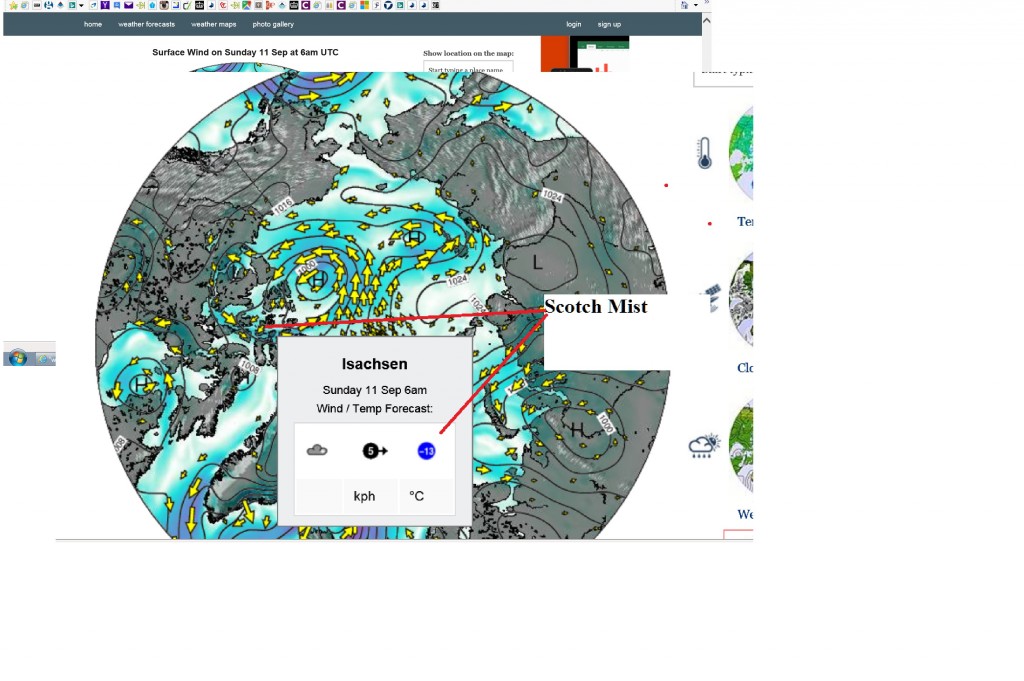 No link to his source this time either.
Meanwhile AndyG55 claims that:
Thing to note though, is that the northern part of the Northwest Passage was blocked by multi-year ice – foremost the western exit – FOR THE ENTIRE SUMMER, and was even not passable by ice breakers.
Needless to say Andy didn't trouble to provide a link to his source. I therefore took the liberty of revealing to him the latest and greatest Great White Con Northwest Passage video:
Andy's considered response?
Yep Jimbo, one HECK OF A LOT OF SEA ICE

Wadhams was so, so wrong.

And YOU know it.
He appears to be convinced that Isachsen is somewhere on the "main" route through the Northwest Passage. I took the trouble to inform him that:
According to the Environment Canada Climate Severity Index, Isachsen and the surrounding area has the worst weather in Canada with a CSI severity value of 99 out of a possible 100.

For some strange reason the Polar Ocean Challenge team are not planning on sailing past Isachsen any time soon!
His reply?
Nothing strange about it at all, Jimbo.

The Satellite Sea Ice charts told them they had NO CHANCE through the main North West Passage, so they snuck around through Cambridge Bay.
Andy then doubled down by throwing down all his gauntlets and issuing this challenge to Snow White's manhood:
FFs, Jimbo, you have GOT to be joking !!!

Come on, coward, take my challenge.

Next year, WITHOUT sea ice charts, FOSSIL FUELS, or satellite navigation..

… I DARE you. !!
Her timid response?
Andy – It sounds as though you're volunteering to enter the Great White Con Arctic Basin Big Wave Surfing Competition?

https://greatWhiteCon.info/2015/02/shock-historical-news-towing-in-at-the-north-pole-in-1958/

Do you fancy your chances surfing calving glaciers against GMac?
It's hard to be sure, but I don't think he does:
So, refusing to take up the challenge.

Coward.
There's no answer to that! Or is there?
Please feel free to let me know when you want to be fitted for your polar bear suit Andy.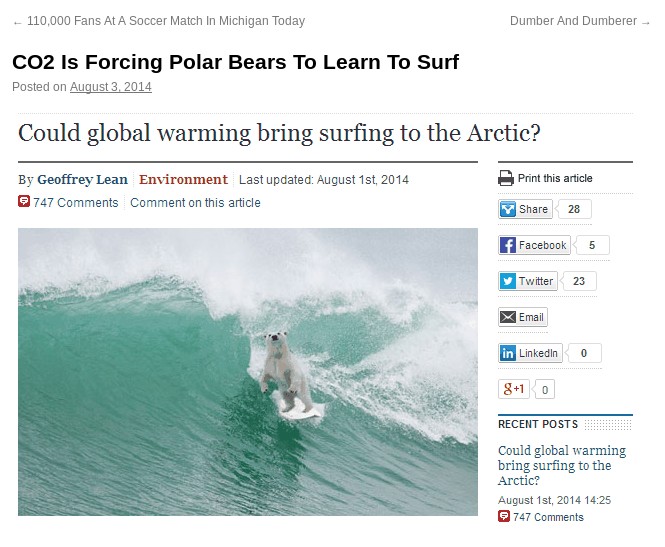 As you may be able to imagine, there's plenty more dumbness to be discovered where that lot came from. As the day wears on and as time allows expect more amusing anecdotes from the depths of the cryodenialosphere.
Not content with the dumbness quotient displayed by his faithful follows at the Blog of Fools, "Steven Goddard" has taken to Twitter to harangue poor defenceless Snow White. Here is a brief extract from his Gish gallop around the North Pole:
Not content with haranguing Snow White about the Arctic "Steve"/Tony and merry Mendy fulminate about flash flooding in Cornwall & Manchester. Allegedly it's all the media's fault.
Tony Heller has blocked poor defenceless Snow White on Twitter, so she cannot include his Tweets in her Storifys. Please feel free to try and work out where this one fits in the grand scheme of things:
Only a complete moron would conflate a wave with "rising sea levels" https://t.co/QeeYOJHLZr

— Steve Goddard (@SteveSGoddard) September 19, 2016
It seems self evident that Americans have no sense of humour. They can't even spell the word correctly. What's more they also seem not to have the slightest clue about flash floods on this side of the Atlantic, preferring instead to rant about (the lack of) sea level rise on the shores of the "Land of the Free":
Believe it or not, there's plenty more where that lot came from.
We'll keep you posted!