It's time to open another chapter in the continuing adventures of Northabout. The Polar Ocean Challenge team have been plagued by sea ice along their route across the Laptev Sea, but currently they are hurrying towards the exit into the East Siberian Sea via the Dmitry Laptev Strait: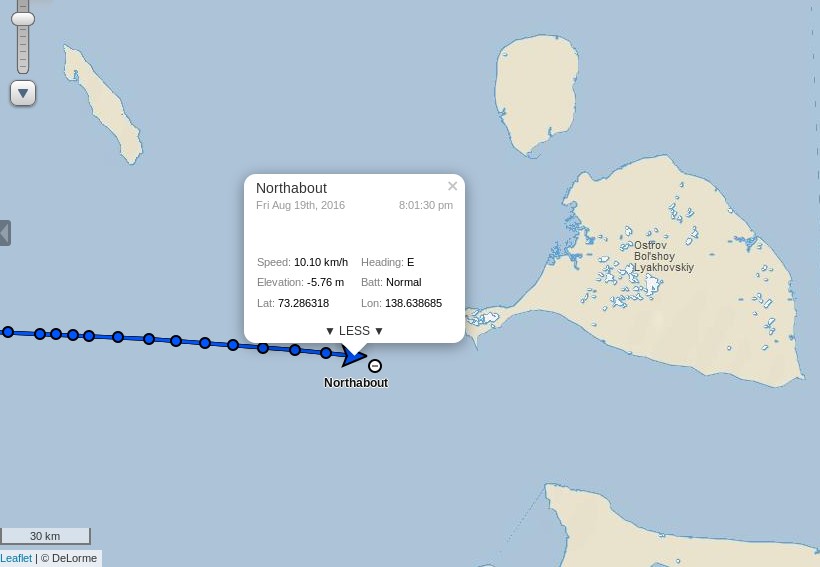 The latest chart of sea ice in the East Siberian Sea from the Arctic and Antarctic Research Institute suggest they should now have plenty of (comparatively!) plain sailing ahead of them: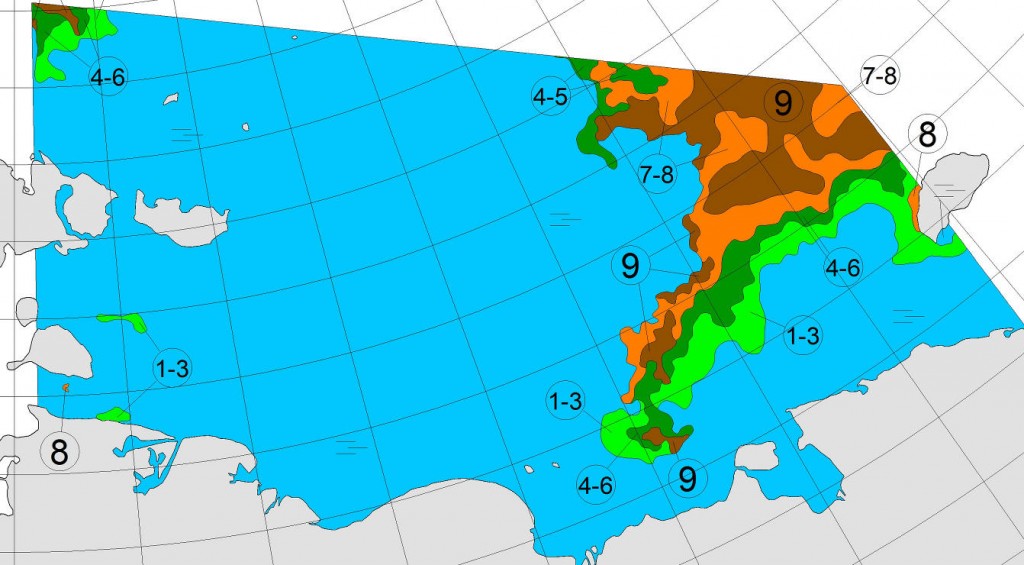 Certain quarters of the cryodenialosphere have been questioning the plucky little yacht's ability to make it through the Northwest Passage before it freezes up once again in the Autumn. As a crude reality check on that assertion let's see how previous successful single season polar circumnavigations fared in that regard. The international date line runs through the Bering Strait, and effectively defines a boundary between the Northern Sea Route and the Northwest Passage. In 2010 Børge Ousland and Thorleif Thorleifsson in the catamaran Northern Passage crossed the date line on September 3rd:
http://www.ousland.no/reflections-from-the-chukchi-sea/
Then in 2013 the yacht Tara achieved a similar feat on September 10th:
http://oceans.taraexpeditions.org/en/jdb/the-date-line-off-wrangel/
Let's wait and see when Northabout manages to pass that milestone, before heading to their next scheduled port of call at Barrow in Alaska.
Northabout has spotted some more sea ice, this time in the Dmitry Laptev Strait. Presumably the small area shown in the AARI chart above? According to the latest "Ship's Log":
Well slowly making progress, and now into a new sea, East Siberian, Looks the same to be honest. Saw a ship,on the AIS , but couldn't see it with the fog. Went between the Islands. We had a large patch of 8/10ths ice in the middle, but managed to keep north of it. Along the coast you could again see the remnants of an old Polar station. What a vast coast to look after.

Just as things were getting into a rhythm, the engine is over revving. We are so close but so far out here. My stomach is sometimes in my mouth, Comrades trying to work it out. If not, is a slow sail from here to Alaska.
The reported engine trouble doesn't seem to have slowed Northabout down. She crossed 150 east earlier this morning and is now passing the delta of the Indigigirka River: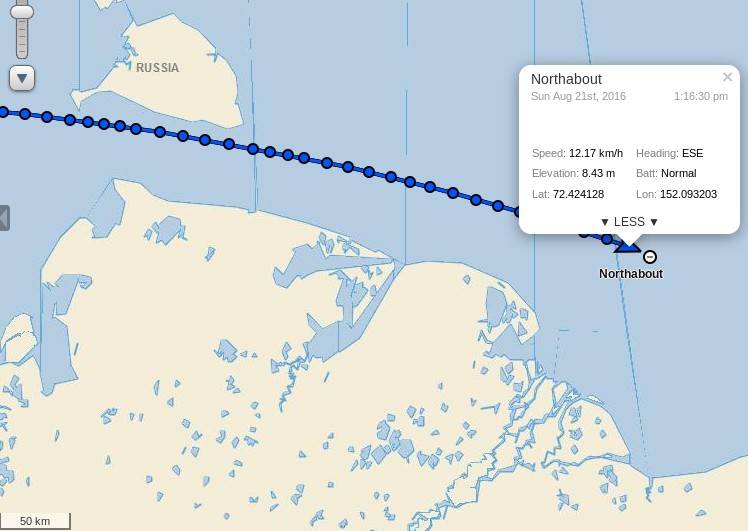 Her engine has been serviced, and Northabout continues to make good progress. She's crossed 160 east, and is now passing the delta of the Kolyma River: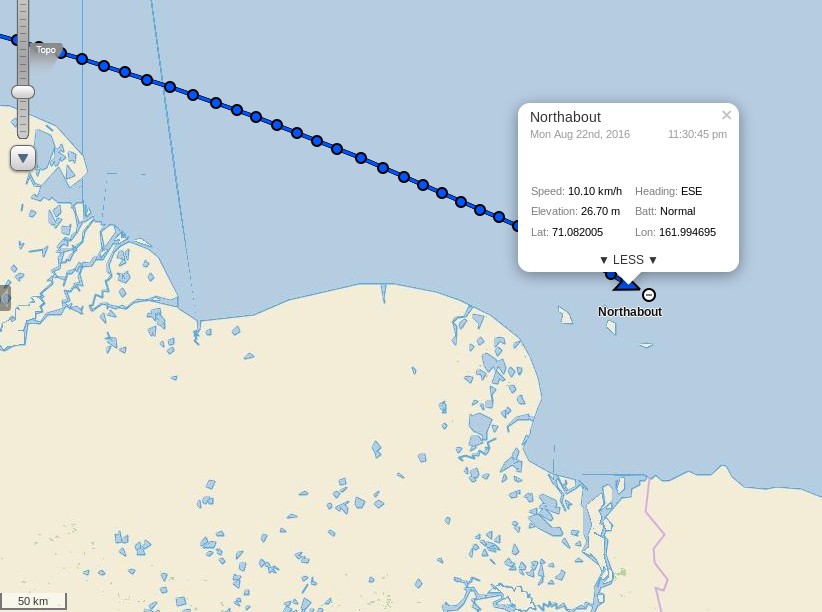 According to Ben Edwards' latest blog post:
We've got enough wind to put the staysail out and the skies are clear. I think quite a lot of how I was feeling may have been that I hadn't got any sunshine for over two weeks, the last couple of days however have been warm(ish) and bright. I at least am coming dangerously close to feeling actually happy, I don't know about anyone else… Provided we continue like this we should be in Point Barrow in under a week.
Northabout looks to be turning south: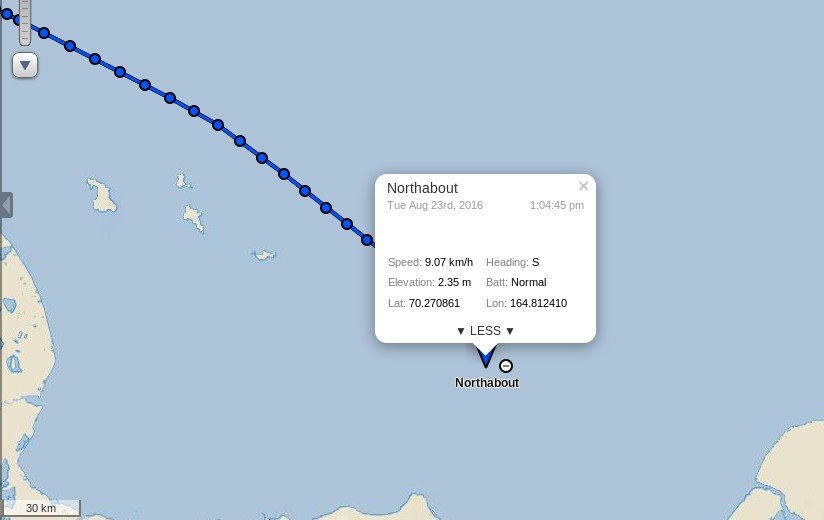 Presumably that is to skirt the patch of high concentration sea ice in their path, rather than try to break through the lower concentration area to the north (which is towards the bottom of this image!):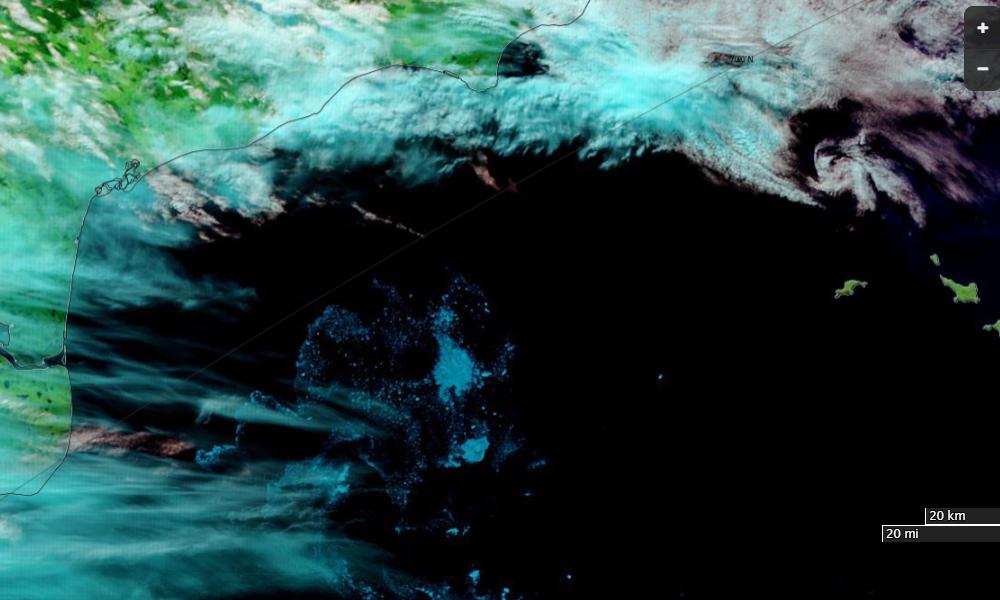 Northabout is currently closing in on "the edge of the world" at 180 degrees east and/or west: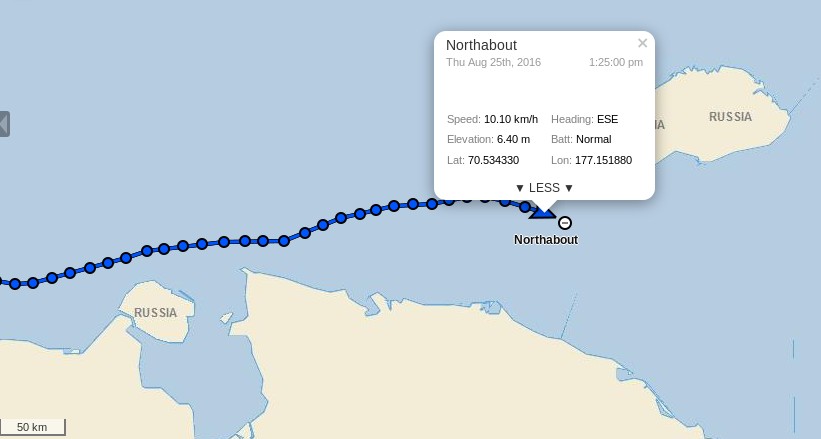 Her crew aren't entirely happy with the speed at which that is happening at present though:
A long slog of a day. Very choppy seas which makes living onboard difficult, especially sleeping, when you can be fast asleep and suddenly wake up in mid air.

The wind we had was a head wind, so slow going. Getting to the edge of the World is proving tiresome.

Our track to get the best wind is towards the ice, and north east, hoping this will change during the night, and bring us back south to our waypoint.

A new day tomorrow, and hopefully better winds.
[Edit – August 25th 22:40 UTC]
Need I say more?
Congratulations to @PolarOceanChall on reaching the #EndOfTheWorld without dropping off, and in double quick time! https://t.co/eBs0erlBF3

— Snow White (@GreatWhiteCon) August 25, 2016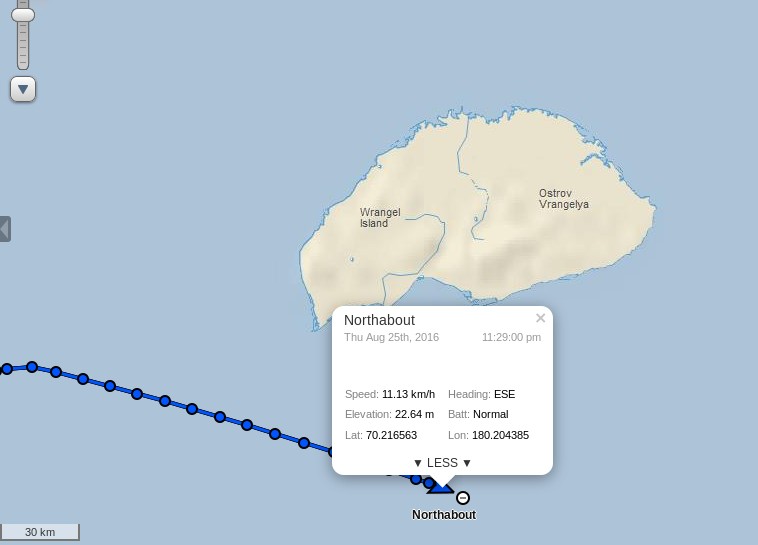 Overnight Northabout crossed the international date line and officially completed the Northern Sea Route and left Russian waters:
A long slog in the Chukchi Sea. Its renown for its wild weather and seas. With rising winds now in the 25/30 knots, we have had a bumpy ride, but fast and in the right direction.

Well, well, we passed the date line and the W 168 58 .620 at 16.57 boat time, that is the point we can inform the Russian Authorities that we have finished their Northern Sea Route, and we no longer have to report to them daily. I will celebrate this milestone when we get to Point Barrow. It's only just sinking in what we have all done.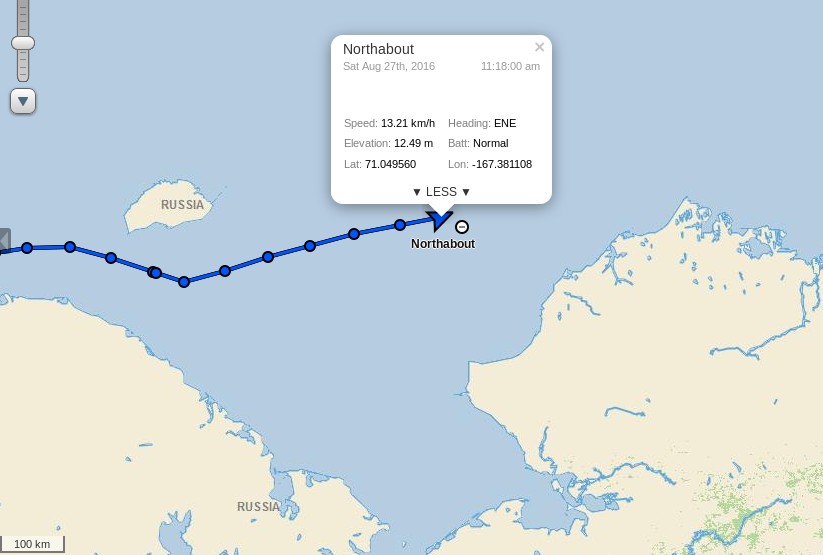 Next stop Barrow, and after that Northabout takes on one of the Southern routes through the NorthWest Passage. It looks like she'll have much more difficulty spotting some sea ice than on the first half of her polar circumnavigation!
After a "wet and wild" crossing of the Chukchi Sea: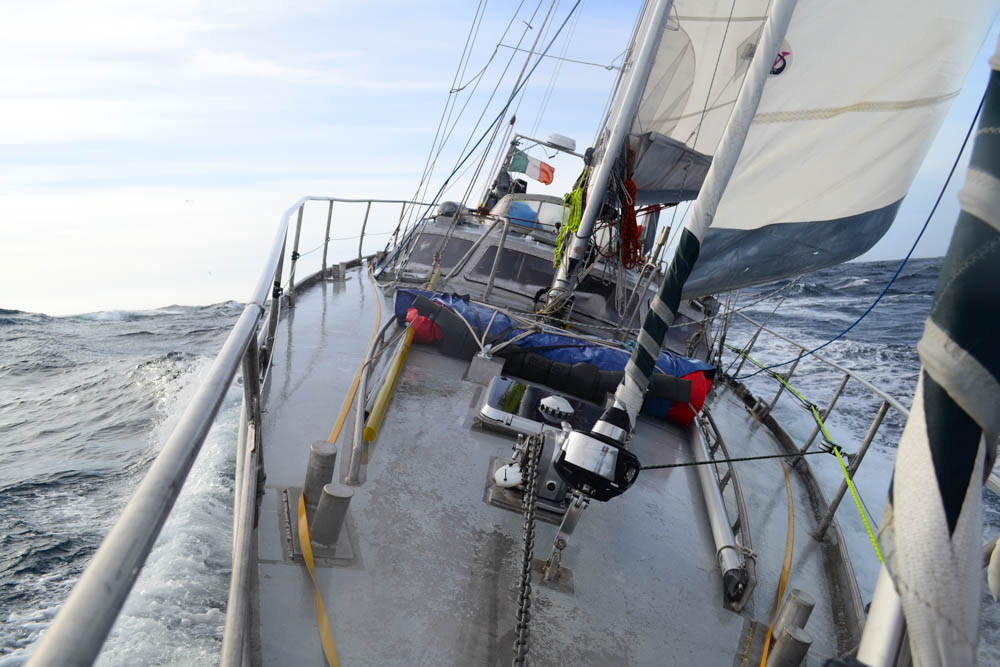 followed by a last minute detour to avoid a bit more sea ice:
#SEAICE State on this morning 28Aug (afternoon UTC) #ChukchiSea Water3.3C Ben photo at 71 09 N 157 43 W pic.twitter.com/AV9D7kWOyF

— PolarOceanChallenge (@PolarOceanChall) August 28, 2016
Northabout is now safely secured in Elson Lagoon north of Barrow: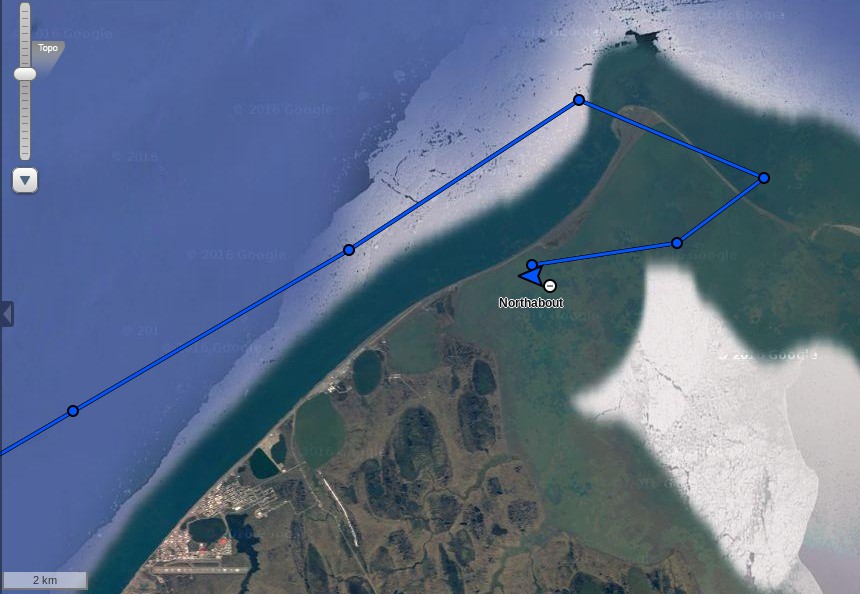 Next comes the Northwest Passage, after a couple of days of rest and recuperation!
Previous Polar Ocean Challenge articles:
Non Fiction:
"Northabout Meets Some Serious Sea Ice"
"Northabout's Great Adventure"
Fiction: