The Polar Ocean Challenge team issued a press release last night. This is what it said:
The Polar Ocean Challenge successfully completed their quest to sail the North East Passage and North West Passage in one season. The North West Passage was completed in an astonishing 14 days due to the fact that it was almost totally ice free. They encountered ice only twice in their 1800 mile NW Passage part of the voyage. This highlights an extraordinary loss of sea ice in the Arctic in the 30 years that David Hempleman-Adams has been coming to the area. He said, 'whilst we are all delighted to have succeeded, it is extremely worrying to see this lack of ice so starkly' The objective of the expedition was to raise awareness of the change in the fragile climate in the Arctic. They left Lancaster Sound at the end of the NW Passage at 19.18 UTC on 12th September and are headed for Greenland.
This seems likely to cause much gnashing of teeth in certain quarters, where it is claimed that:
The S/V NORTHABOUT has failed to cross the Pacific Ocean Arctic Circle in the Bering Strait as the official starting line to validate their Northwest Passage attempt. You cannot say you climbed Mount Everest by just reaching high camp – you must summit. You don't ride a bicycle in the Tour de France without starting and finishing over the course in the designated places. Likewise, you must cross BOTH the Pacific Ocean Arctic Circle in the Bering Strait and the Atlantic Ocean Arctic Circle in Davis Strait to validate a Northwest Passage.
In Northabout's defence I pointed out that:
Perhaps the Polar Ocean Challenge team have other priorities than gaining an entry on that particular list?

If you're planning a single season circumnavigation a diversion via Provideniya or Nome doesn't make a whole lot of sense, rules or no rules.
but nobody else seemed to take that view!
Today they also pointed out on their Twitter feed that they are a:
British led expedition, Russian skipper, Russian, Irish, American, British, Norwegian crew, Irish boat #Northabout pic.twitter.com/WqMIr3Ue26

— PolarOceanChallenge (@PolarOceanChall) September 13, 2016
Pressing on the crew of Northabout are now approaching halfway across Baffin Bay:
Her crew are trying to reach Upernavik in Greenland before the impending storm gets too bad. Here's our own WaveWatch III based forecast for tomorrow afternoon: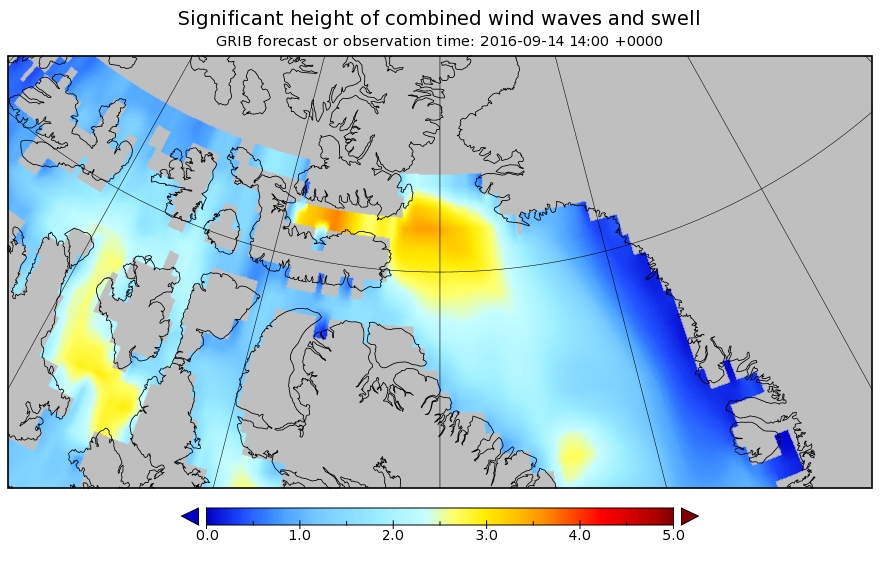 and here's the official Environment Canada forecast for East Baffin:
Issued 05:30 AM EDT 13 September 2016

Winds

Today Tonight and Wednesday Wind light increasing to south 15 knots early this evening and to south 20 late this evening. Wind backing to southeast 25 overnight then diminishing to light Wednesday afternoon.

Waves

Today Tonight and Wednesday Seas 1 metre building to 2 after midnight.

Thursday

Wind light increasing to northwest 15 knots in the afternoon then veering to north 20 late in the day.

Friday

Wind north 30 knots diminishing to north 20.
I seem to recall that 30 knot winds are best avoided! After Upernavik Northabout will head for Nuuk further south in Greenland and then across the North Atlantic back to Bristol, where she started her voyage back in June. It is certainly not beyond the bounds of possibility that there will be winds of 30 knots and more to contend with on that final leg of the Polar Ocean Challenge!
Northabout has obviously not managed to escape the storm entirely. Ben Edwards reports today:
I hate this part of a journey. Yesterday as I came off watch we were scheduled to arrive about midnight tonight. I hate that anyway because you get the so close yet so far feeling. But typically as I came off watch the wind picked up, moved to an unhelpful angle and created the worst sea state we've had since the Chuckchi Sea. We're still supposed to arrive about two in the morning but it will make the next twenty two hours really horrible. Not that our arrival time mattes too much, we can't go in till it's light anyway.
The Danish Meteorological Institute marine forecast for Qimusseriarsuaq (Melville Bay) states:
Gale from south and southeast, 13 to 18 m/s. From the western part decreasing and becoming south and southwest, 5 to 10 m/s, in northern part locally 13 m/s. Thursday gradually in eastern part south and southeast, 8 to 13 m/s, but in western part cyclonic variable, up to 10 m/s. Especially in northern part locally rain, sleet or snow with moderate to poor visibility, otherwise good visibility.

Significant wave height: 3,5 m. Swells: 3 m.

Many icebergs and growlers in the eastern part along the coast, otherwise few icebergs and growlers.
Upernavik is slightly south of there, but nonetheless Ben will have a few more uncomfortable hours, and Northabout may yet meet some more ice before her crew set foot on dry land once again: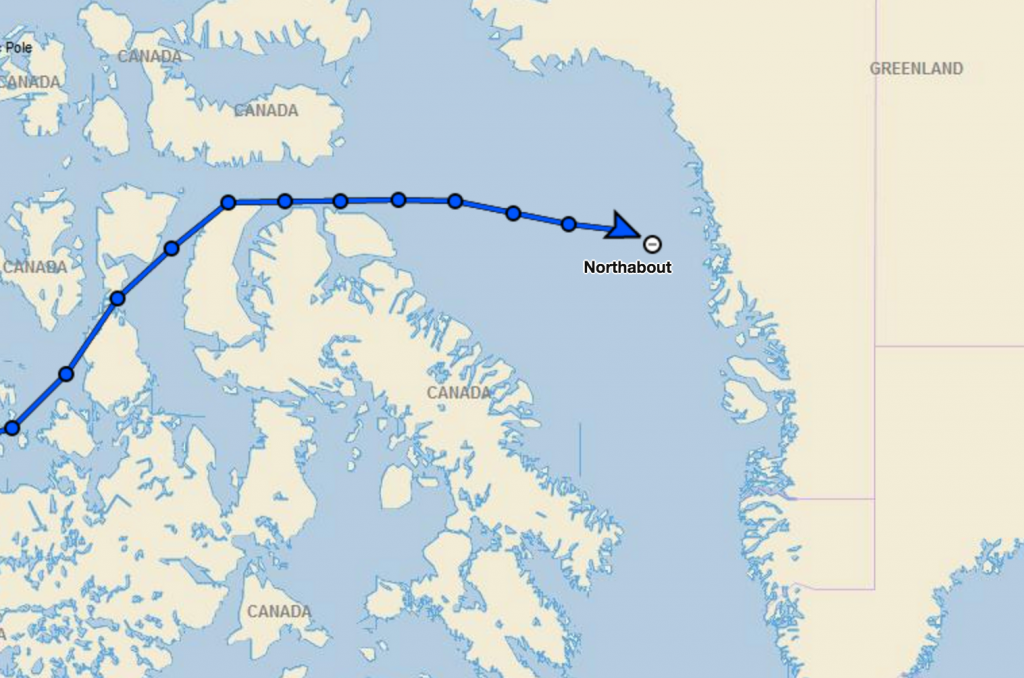 Northabout has just arrived in Upernavik: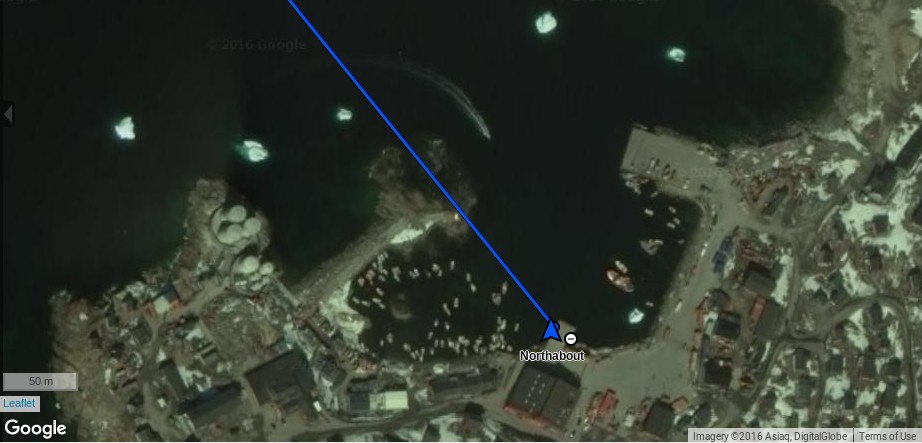 It looks as though Northabout has just left Upernavik, and is now en route to Nuuk: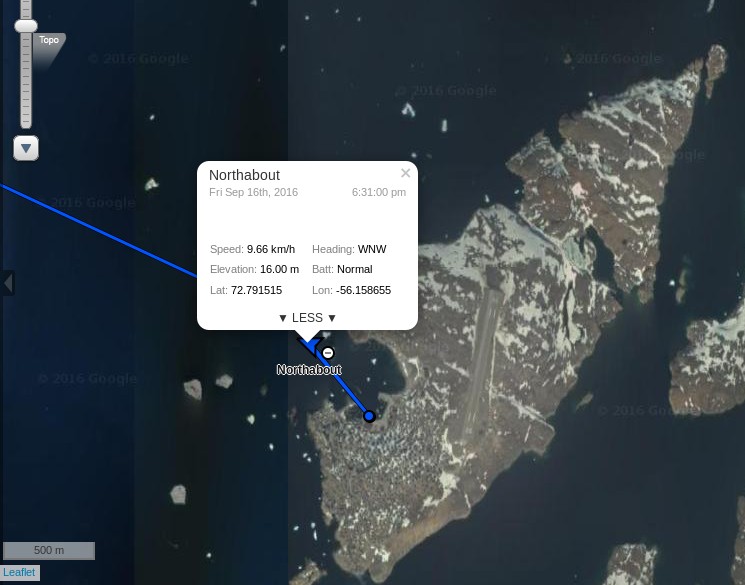 Northabout is now moored at Ilulissat: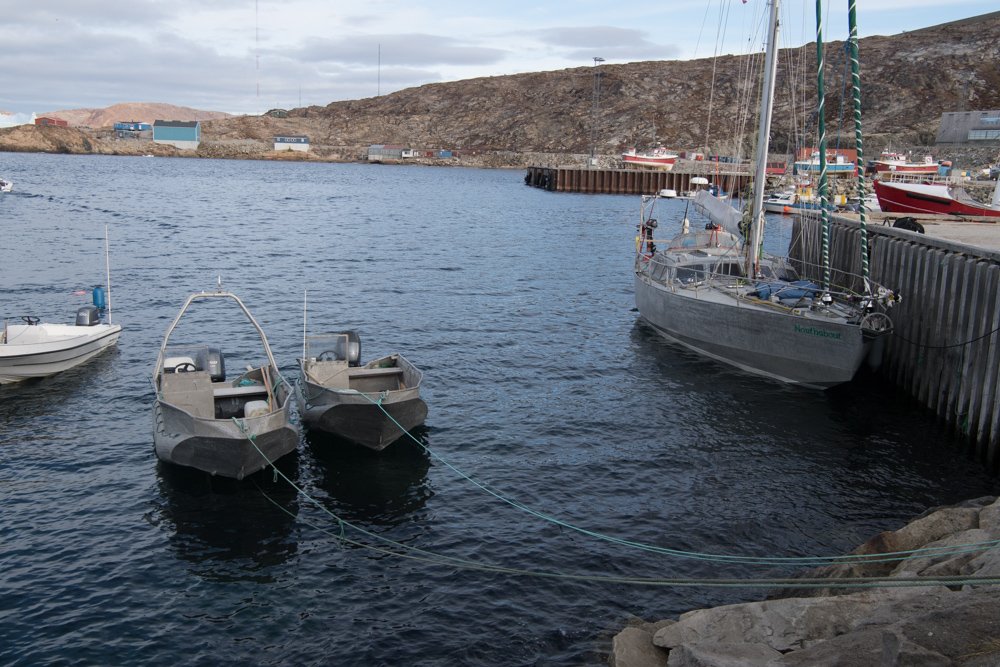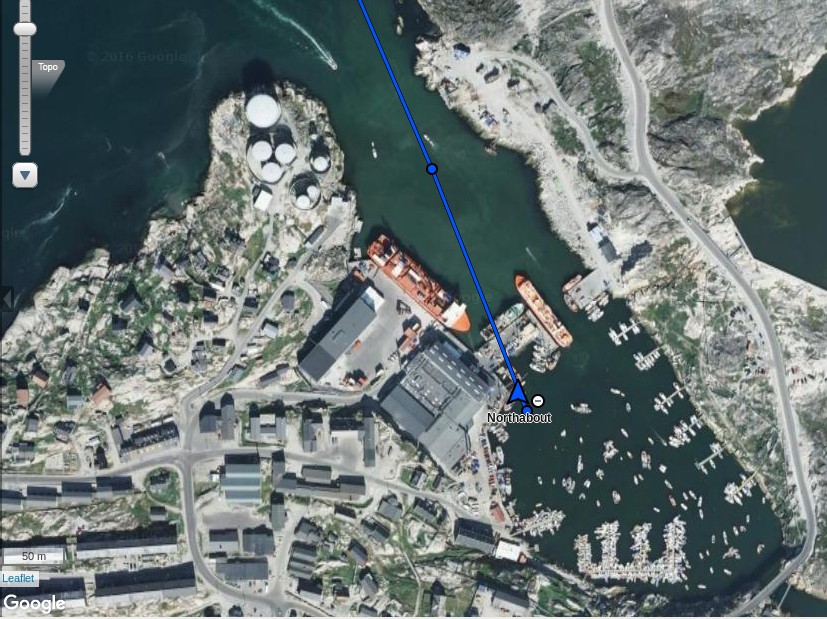 That's very near the mouth of Ilulissat Icefjord which leads to the famous Jakobshavn Glacier: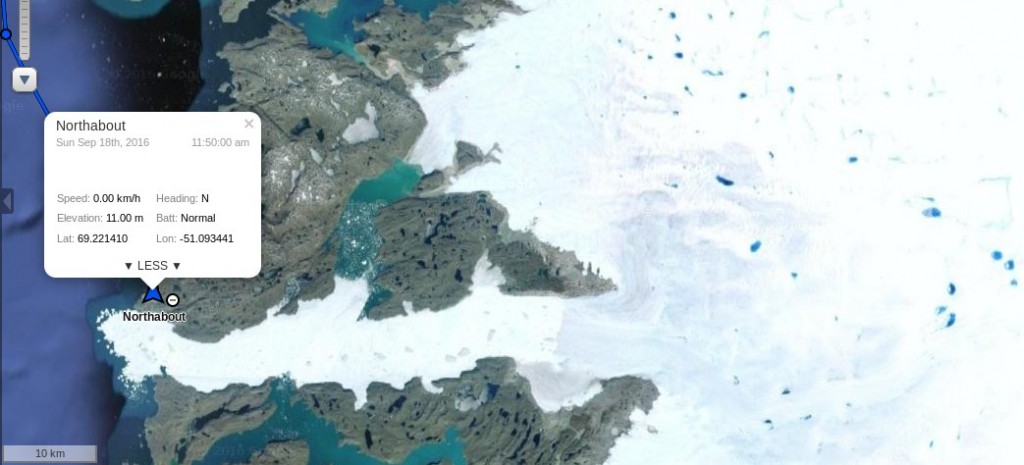 Perhaps that's where these icebergs came from?
According to the latest Polar Ocean Challenge log:
As we expected, it was a long night last night as the big swell and Northernly winds continued to sweep us along from Upernavik, big surf waves behind us breaking under us, Northabout became a little Hawwai five o. We made our way along the coastline through amazing beautiful icebergs created by glaciers at Ilulissat.

The icebergs were between the size of telly to the size of a house to the size of a grand hotel. They were breaking up, and once or twice right in front of us creating lots a small bergs and ice chunks that don't float so high above the water and so are difficult to spot especially with a large 10 foot swell, they disappear and reappear in the water around us.
Northabout has just left Ilulissat, en route for Nuuk: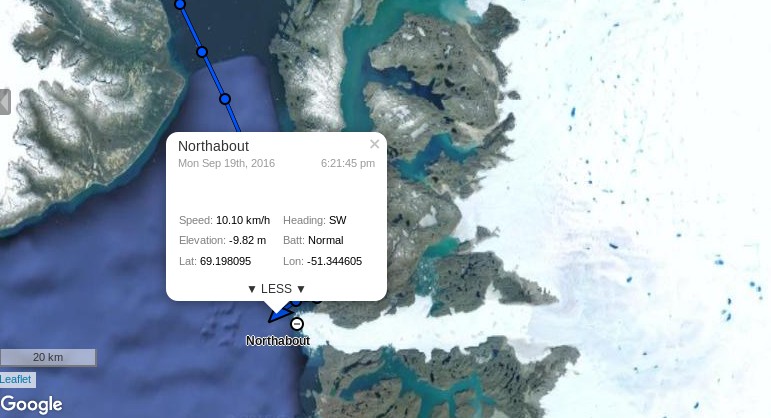 Northabout has crossed the Arctic Circle and has just reached Nuuk, the capital of Greenland: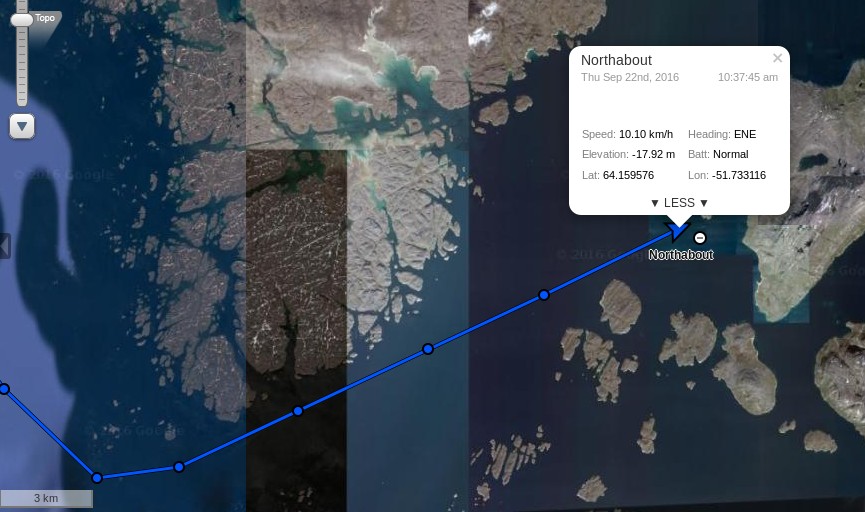 En route from Ilulissat her crew have seen some amazing sights: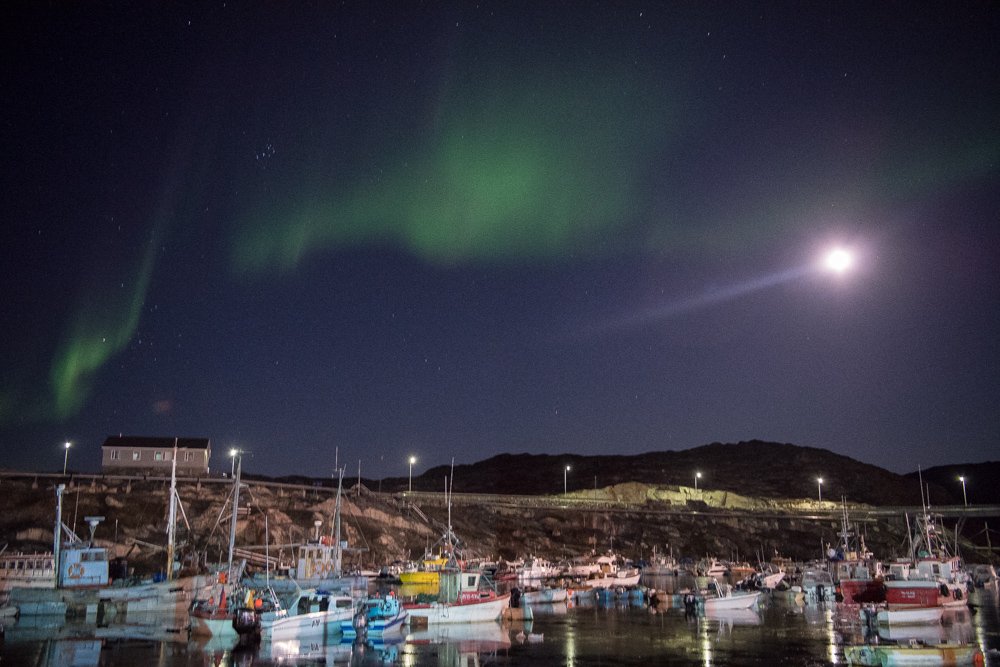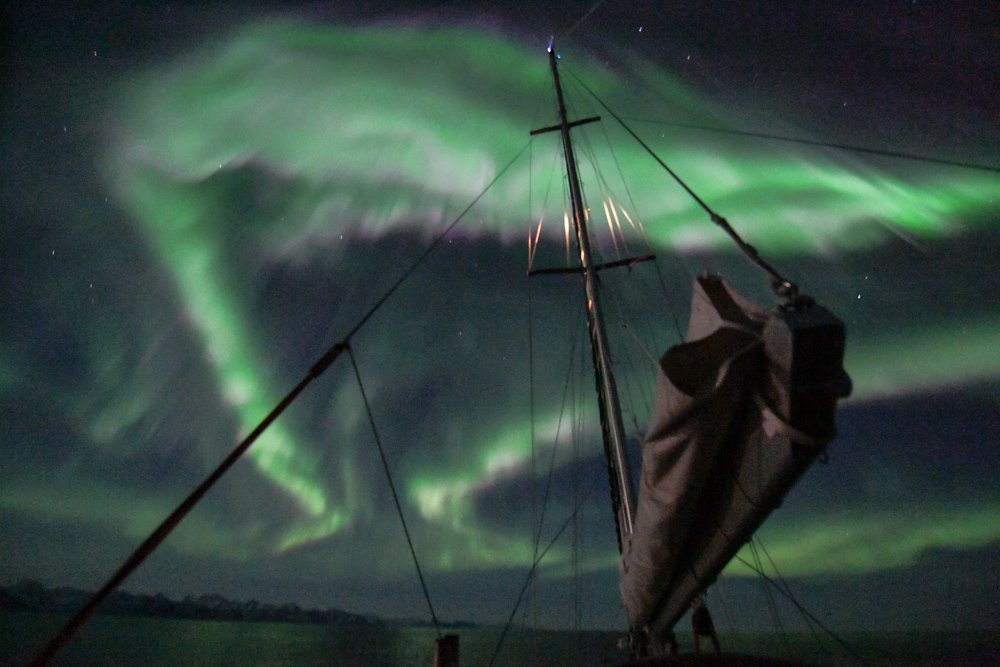 Previous Polar Ocean Challenge articles:
Non Fiction:
"Northabout Braves the Northwest Passage"
"Northabout Races for the Date Line"
"Northabout Meets Some Serious Sea Ice"
"Northabout's Great Adventure"
Satire:
"Could Northabout Sail to the North Pole?"
Fiction: