It's that time of year again! Tony Heller has been asserting that "summer is over at the North Pole" for several weeks now, and the 2023 Arctic sea ice minimum extent will occur at some point over the next four or five weeks. The exact date and level will almost certainly vary from one extent metric to the next.

To get the minimum extent ball rolling, here's Signe Aaboe's graph of previous summer minima based on OSI SAF data: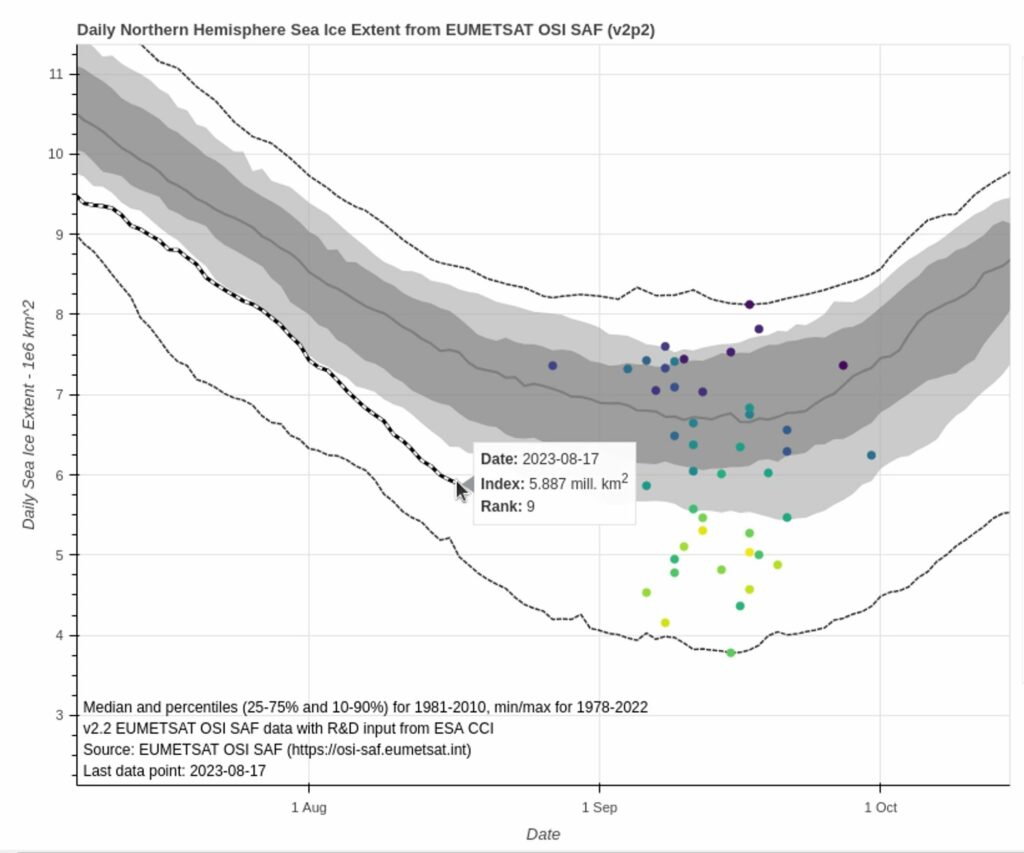 Here too is Zack Labe's equivalent, based on JAXA data: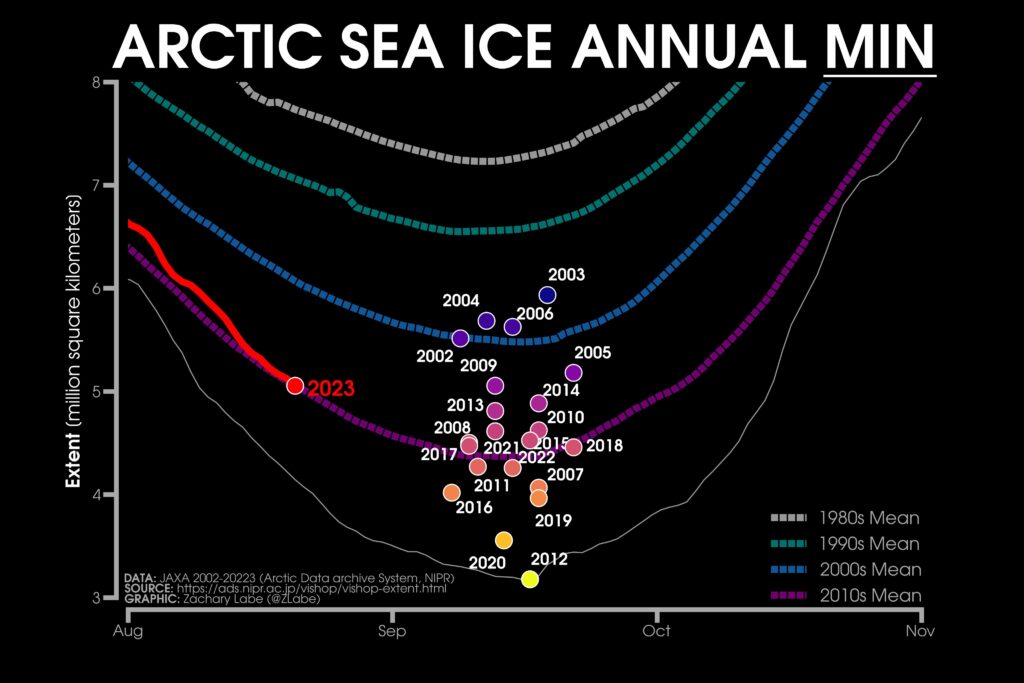 Would anyone here care to make a prediction?
[Edit – August 31st]
The ARCUS Sea Ice Prediction Network August report has recently been published. Here's the graphic overview of the 30 predictions for September sea ice monthly average extent, not the daily minimum extent: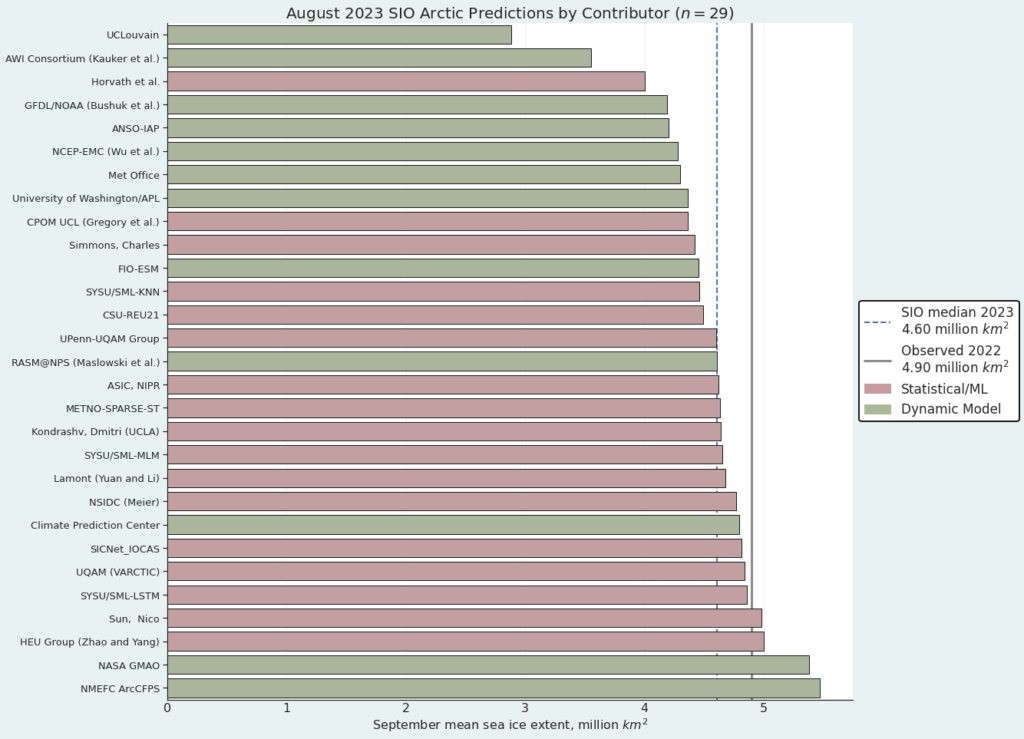 The August median forecasted value for pan-Arctic September sea-ice extent is 4.60 million square kilometers with interquartile values of 4.35 and 4.80 million square kilometers, while individual forecasts range from 2.88 to 5.47 million square kilometers. We note that the lowest two forecasts predict a new record September sea-ice extent value (current record is September 2012, with a sea-ice extent of 3.57 million square kilometers), but these forecasts are outliers relative to the other contributions.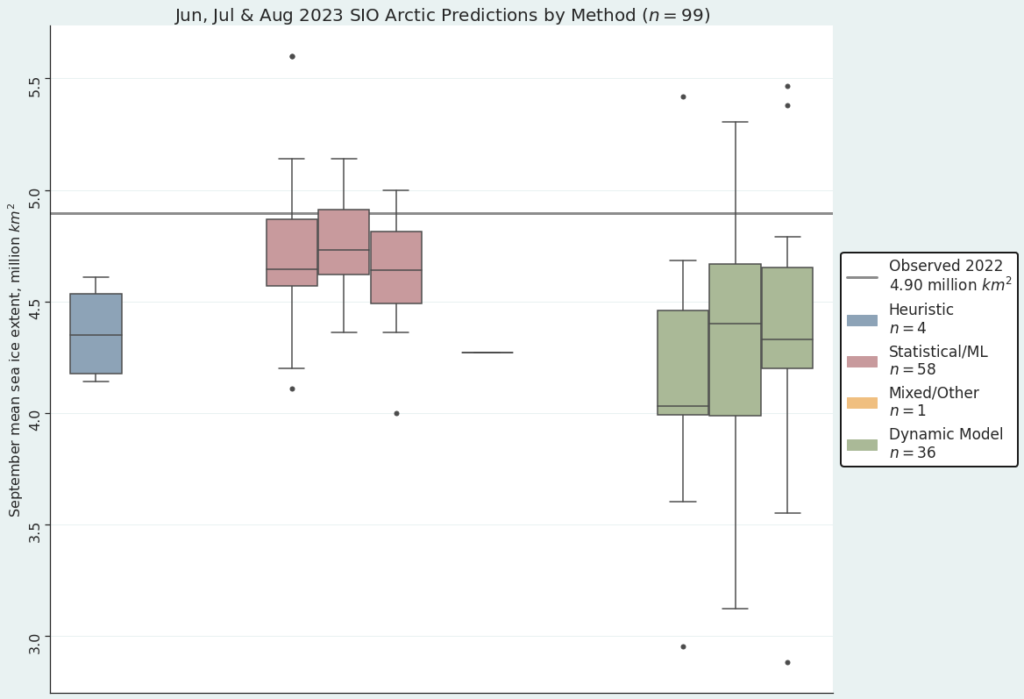 The August median forecast of 4.60 million square kilometers is slightly lower than the July median (4.66) and slightly higher than the June median (4.54). Interestingly, the interquartile range of August forecasts is slightly higher than the July interquartile range (0.45 compared to 0.36 million square kilometers), illustrating that inter-model uncertainty was not reduced between early July and early August forecasts. The August interquartile range is narrower than the June interquartile range of 0.56 million square kilometers.
Here's how the National Snow and Ice Data Center's 5 day averaged extent looks with September just around the corner: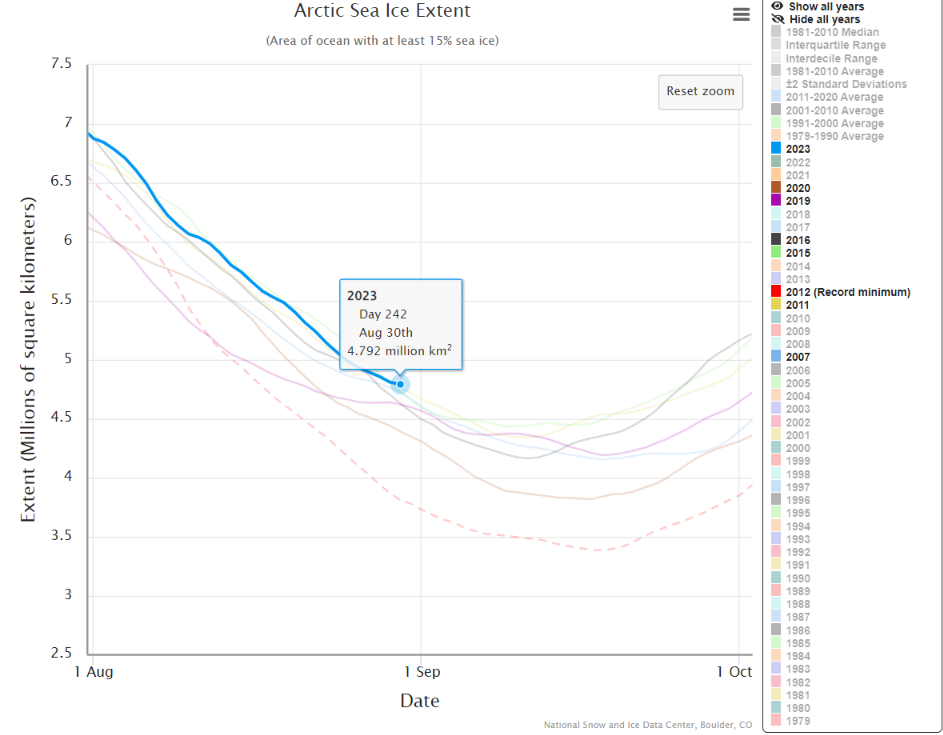 [Edit – September 1st]
Getting back to the daily minimum extent, here's the state of play of a variety of other extent metrics at the end of August. To begin with let's take a look at Signe's OSI SAF metric: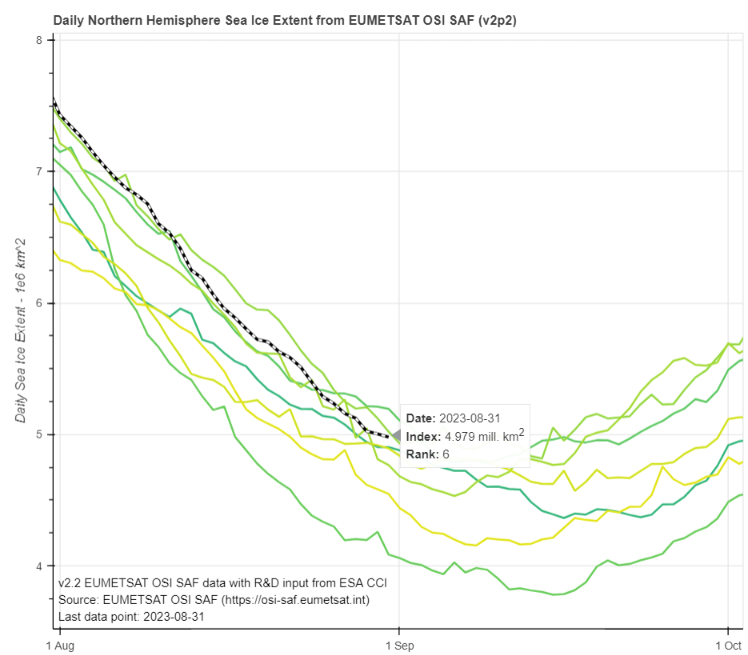 Next here's Zack's JAXA AMSR2 extent:
Finally, for the moment at least, here's AWI's "preliminary" AMSR2 metric: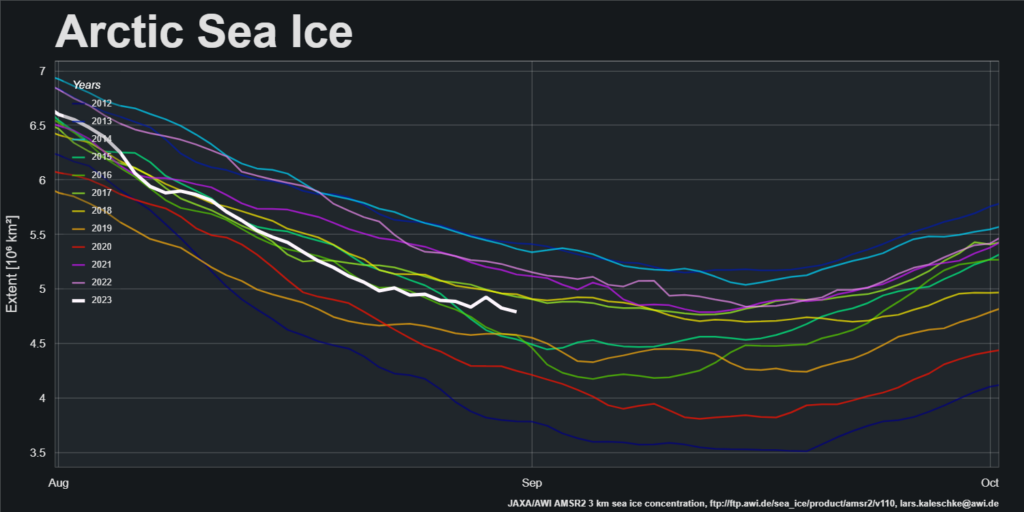 Note that this graph doesn't include a curve for 2007, since the GCOM-W1 satellite carrying the AMSR2 instrument wasn't launched into space until May 2012.
[Edit – September 20th]
After quite a long wait we now have some candidates for the 2023 minimum Arctic sea ice extent. The current JAXA minimum is 4.14 million km² on September 16th (and 17th), 6th lowest in the satellite record: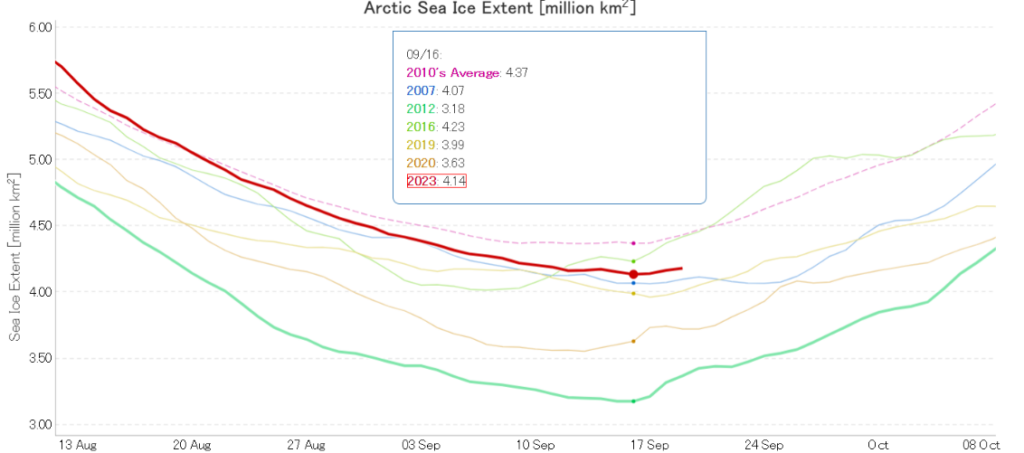 The OSI SAF minimum is currently 4.72 million km² on September 17th, 5th lowest for the date but once again the 6th lowest minimum extent: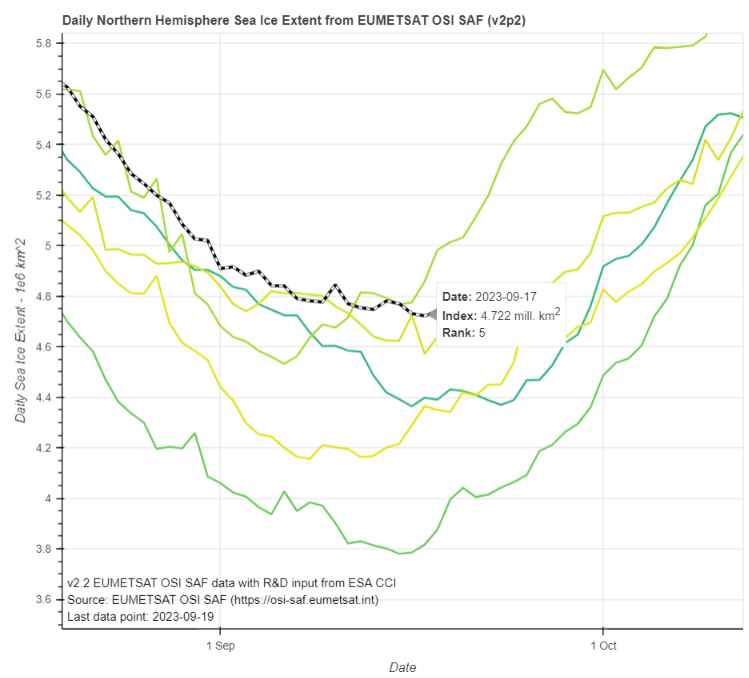 The NSIDC's 5 day average extent is still declining, but the daily extent also posted a potential minimum on September 17th, at 4.21 million km² .
Watch this space!