Here's a few minutes old Xweet from my now ex Member of the European Parliament, Molly Scott Cato:
Those of us who care about the climate are in an information war with the fossil fuel industry

This is a forensic analysis of the weapons they're using

Since this is an existential struggle it would be good to familiarise yourself with them https://t.co/m7tOKvU9gB

— Green💚🌻Molly (@GreenPartyMolly) August 2, 2023
Here's a template for Arctic sea ice trolls, helpfully provided by my very good friend "Snow White":
Look dumbass. Al Gore says the Arctic is warming at 4 times the speed of the rest of planet, but the data says it's GETTING COLDER!

[Edit – August 3rd]
By way of a change, which is of course as good as a rest, today let's take a look at some academic psychology. According to the recently published "The illusory truth effect leads to the spread of misinformation" in the journal "Cognition":
Misinformation can negatively impact people's lives in domains ranging from health to politics. An important research goal is to understand how misinformation spreads in order to curb it. Here, we test whether and how a single repetition of misinformation fuels its spread. Over two experiments (N = 260) participants indicated which statements they would like to share with other participants on social media. Half of the statements were repeated and half were new. The results reveal that participants were more likely to share statements they had previously been exposed to. Importantly, the relationship between repetition and sharing was mediated by perceived accuracy. That is, repetition of misinformation biased people's judgment of accuracy and as a result fuelled the spread of misinformation.
[Edit – August 4th]
Here's another helpful template for Arctic sea ice trolls. Simply crop the right hand side off this page of Danish Meteorological Institute information about Greenland's surface mass balance: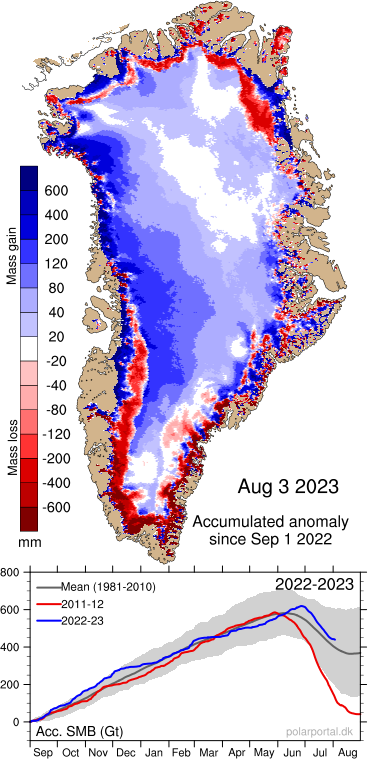 This example of junk science was found on the floor of the XTwitter ClimateBall™ arena this very morning (UTC):
[Edit – August 5th]
"Steve"/Tony has gone very quiet on the Arctic sea ice extent front recently. His August 1st missive on that topic looked like this:
After a couple of days of welcome silence, this rather gave his game away:
What Tony has consistently neglected to point out is that another graph at his linked data source du jour looks like this: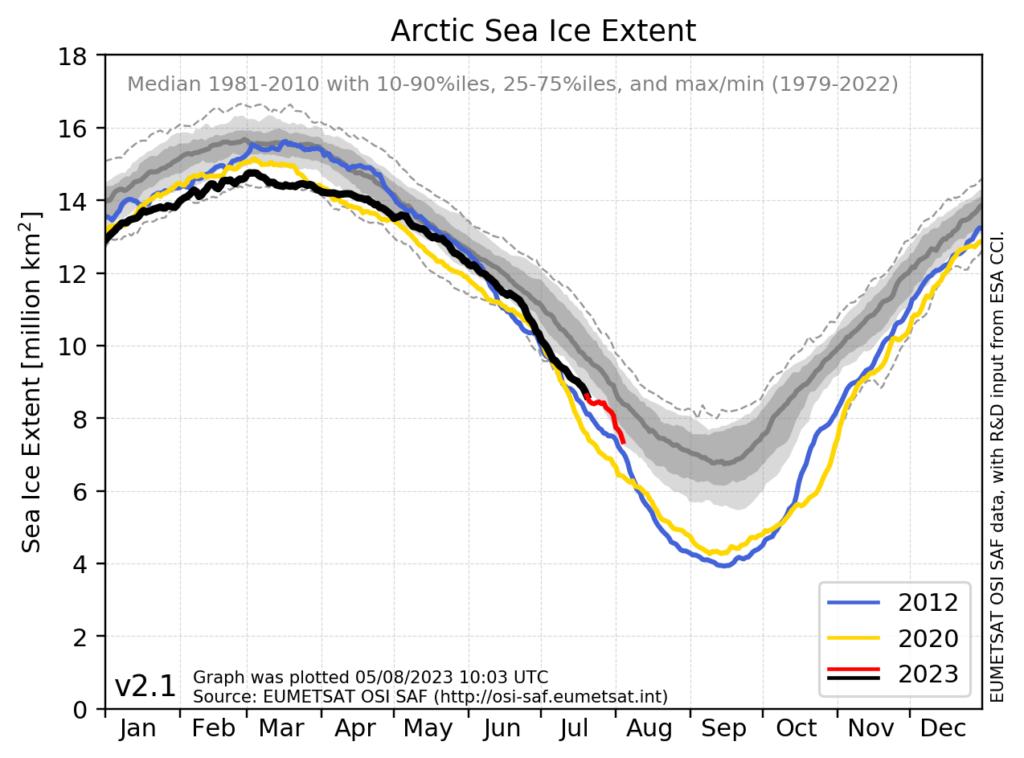 The thing is, the equivalent graphs from the latest version of OSI SAF data look like this instead: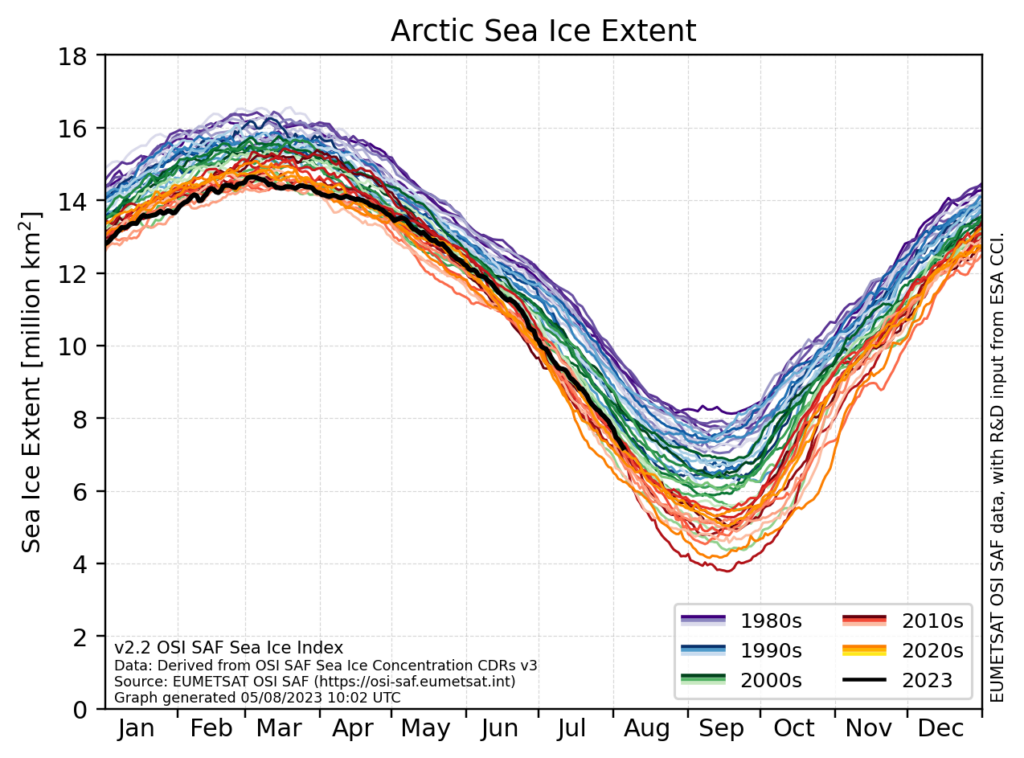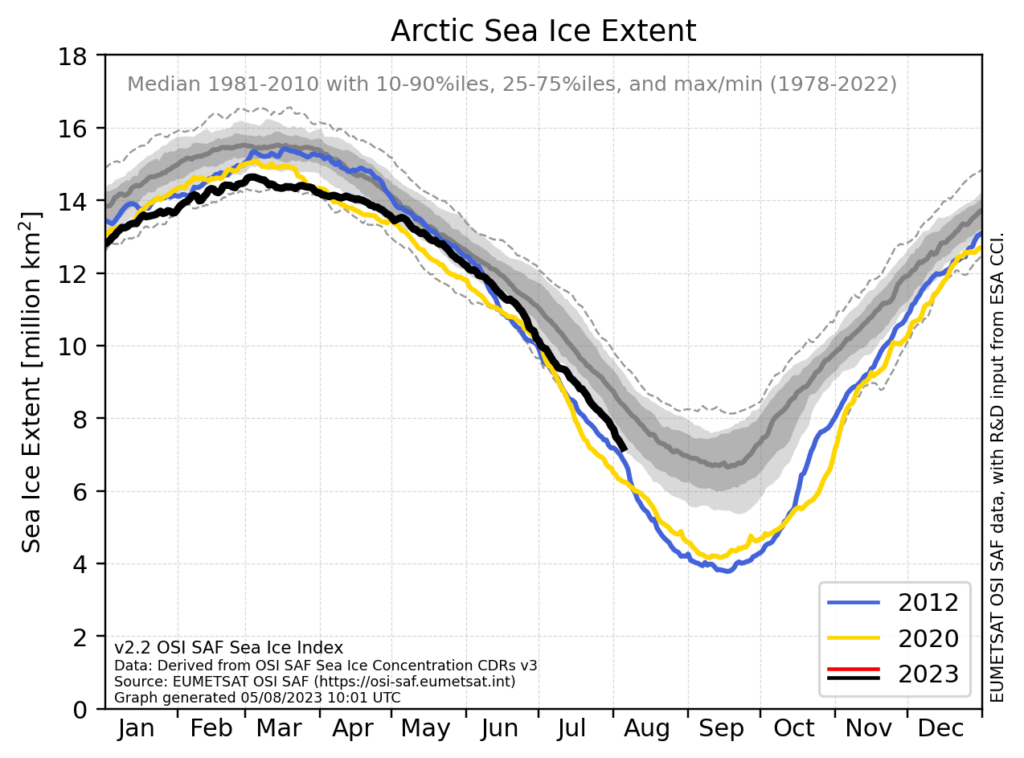 What possible reason could Mr. Heller have for not showing his band of merry (mostly) men the most recent data. If one were inclined to be charitable, perhaps one might conclude that he simply does not know of its existence?

The alternative explanation, however, doesn't bear thinking about!
[Edit – August 7th]
Signe Aaboe from MET Norway made a very interesting announcement on XTwitter earlier today, especially given all the circumstances!
Signe also mentioned "A new interactive plotting tool", which I did of course experiment with at the earliest opportunity. Here's the result of my very first test: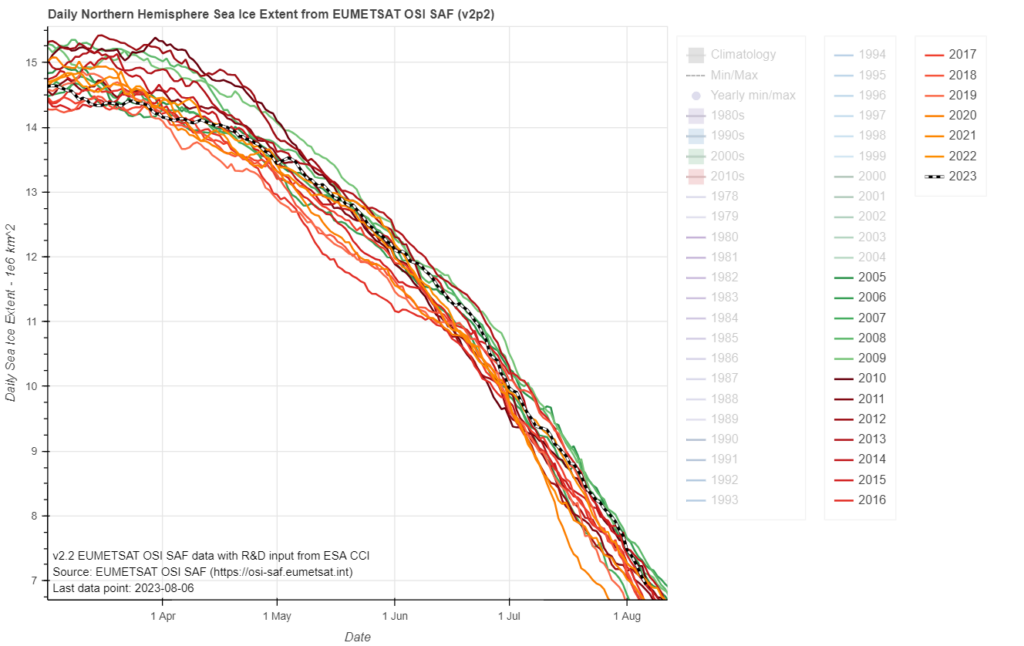 If anybody can ascertain the period during which the alleged "Arctic sea ice extent is the highest in seventeen years" event occurred please let me know as soon as humanly possible in the space provided for that purpose below.
[Edit – August 9th]
Since Tony Heller's cherry picked sea ice extent (mis)information no longer "supports" his agenda he's rolling out another old favourite. Would you care to guess which of these 3 MODIS images of Petermann Glacier he neglected to include in his recent Xweet about glacier tongues?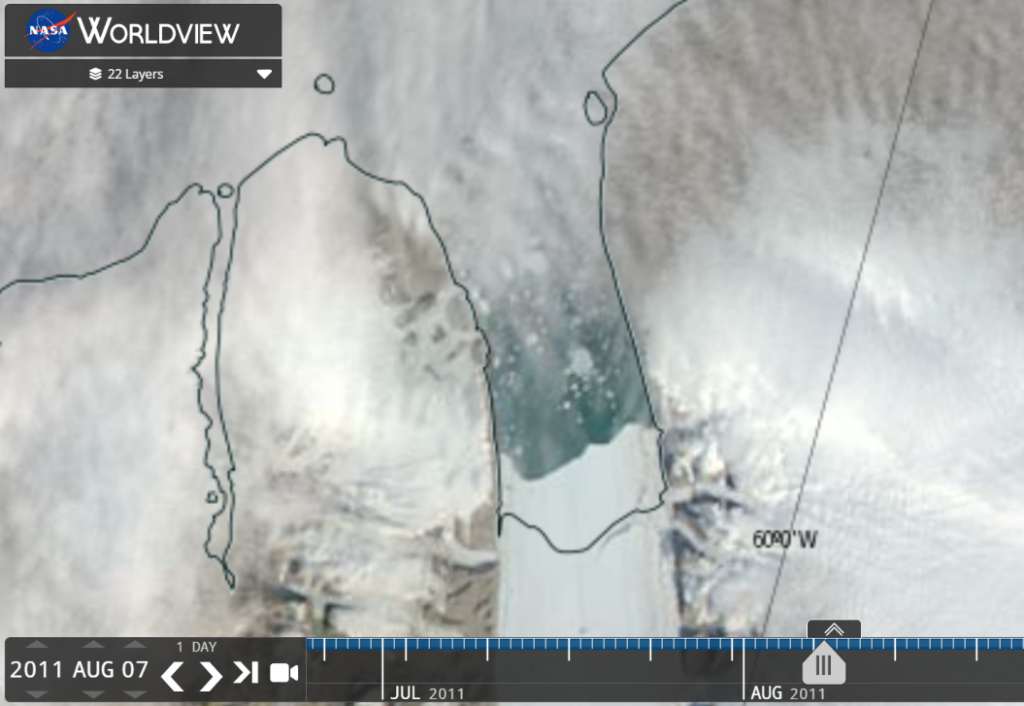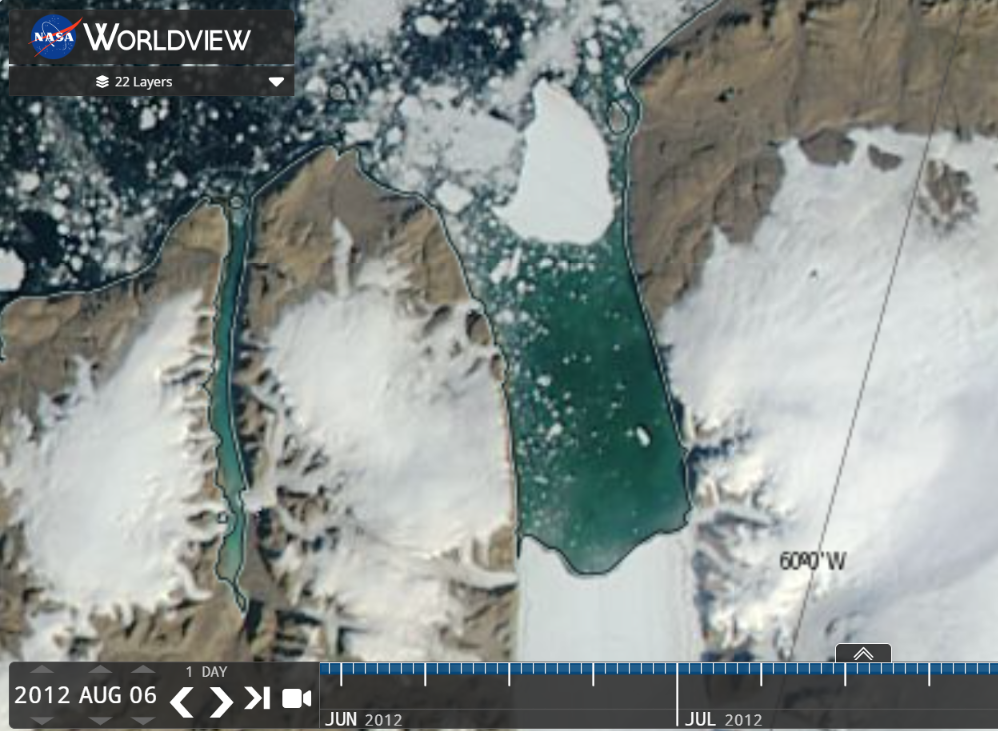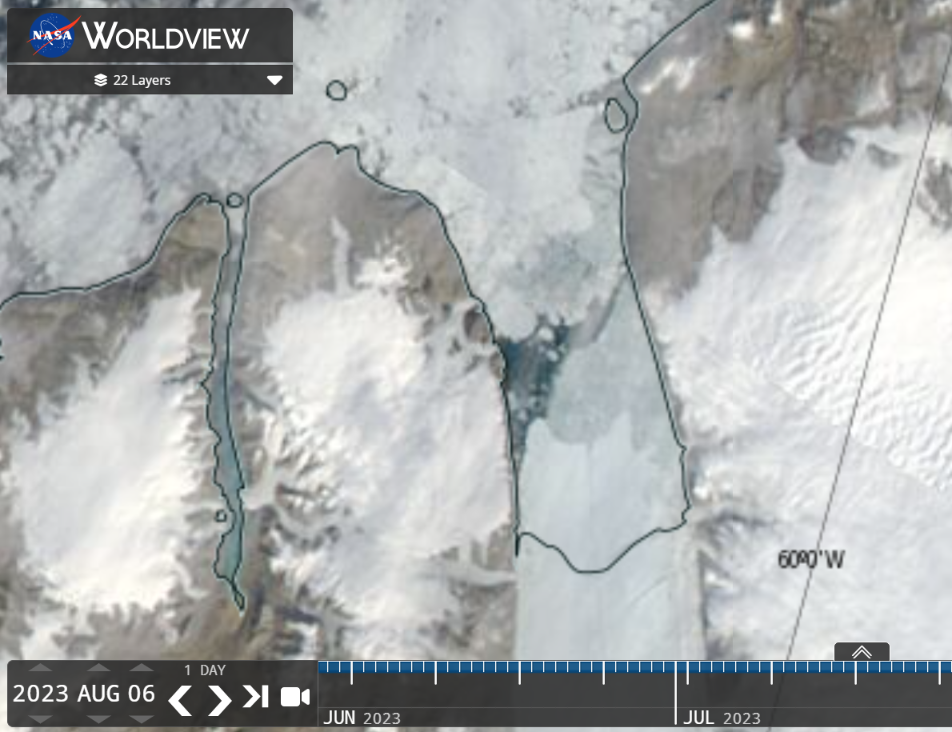 [Edit – August 14th]
"Steve"/Tony is taking a different Arctic tack over on XTwitter today. Hence:
Here's @TonyClimate demonstrating yet again that either

1) He has no understanding of all things #Arctic, or

2) He understands well enough, but he pulls the wool over the eyes of his flock of faithful followers:https://t.co/T2WRVu842F

Which is it Tony? #ClimateBrawl #BoMMM https://t.co/MCDmHCNXXt

— Snow White (@GreatWhiteCon) August 14, 2023
Here's the subsequent evidence of Tony's ineptitude/venality (delete as appropriate).

First of all here is Tony's Arctic sea ice extent metric du jour, which is now down to 8th lowest for the date in the satellite era:
Today's OSI SAF and AWI Arctic sea ice concentration maps show that the remaining sea ice in the East Siberian Sea does not in fact "extend all the way to the Siberian coast". It's concentration is also a lot less than 100% throughout almost the entire ESS: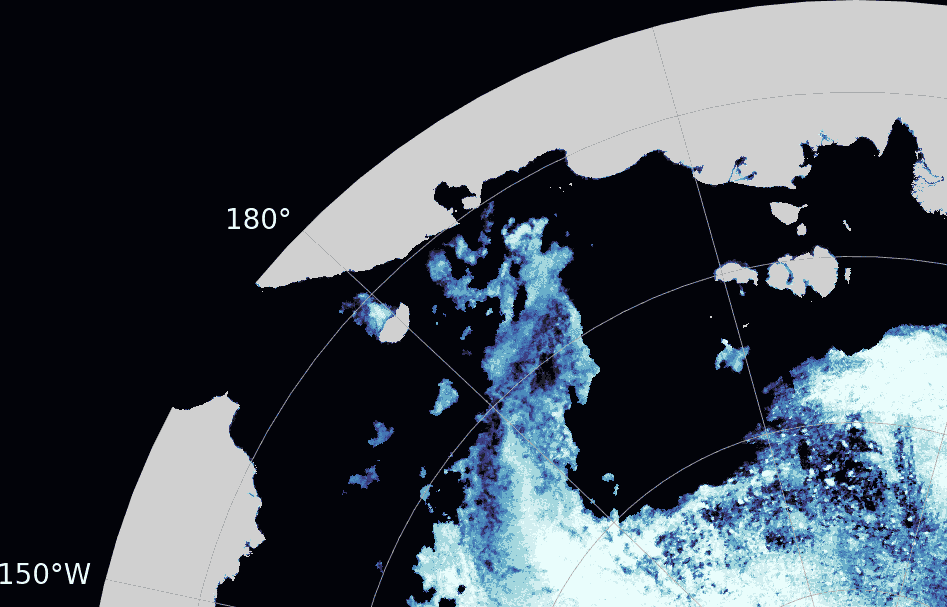 Sea ice area in the Chukchi and Beaufort Seas, plus the Canadian Arctic Archipelago, are near satellite era lows for the date: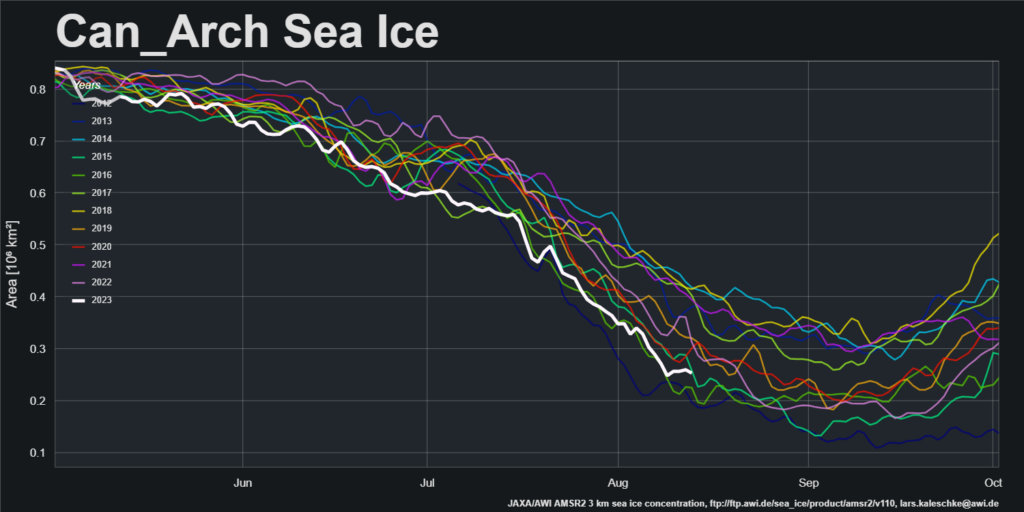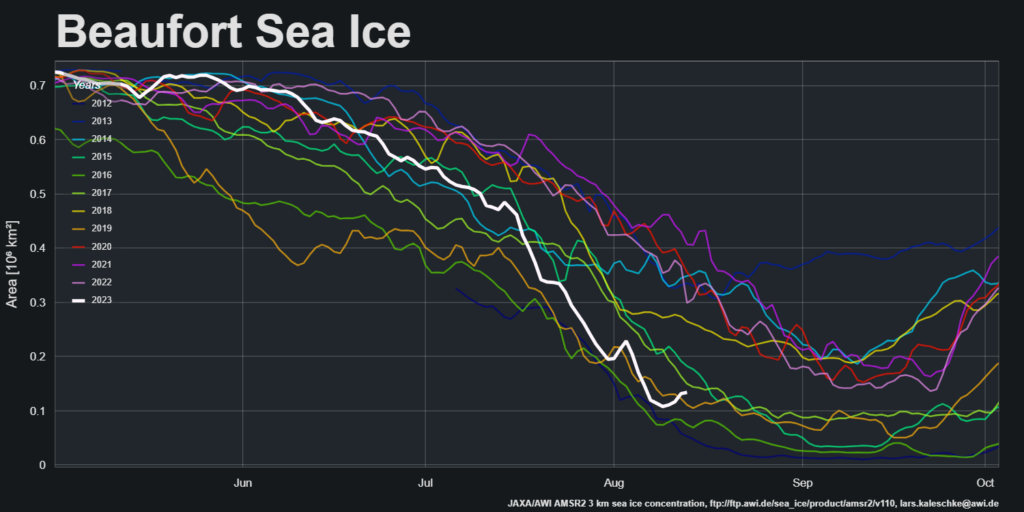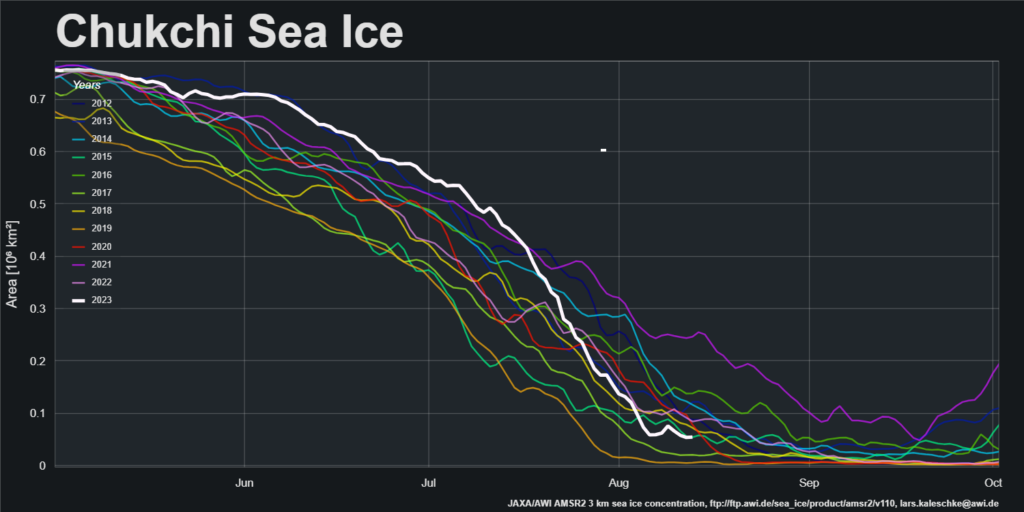 [Edit – August 15th]
Here's a rather hazy close up look at all the sea ice that "extends all the way to the Siberian coast" on August 14th, courtesy of Sentinel 2: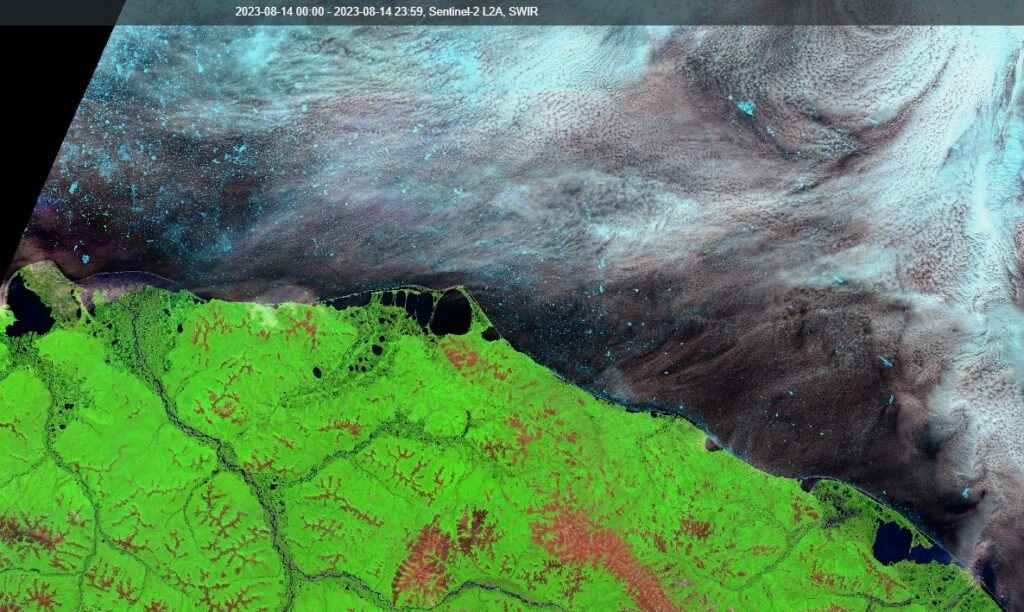 It also seems as though summer isn't over at the North Pole yet: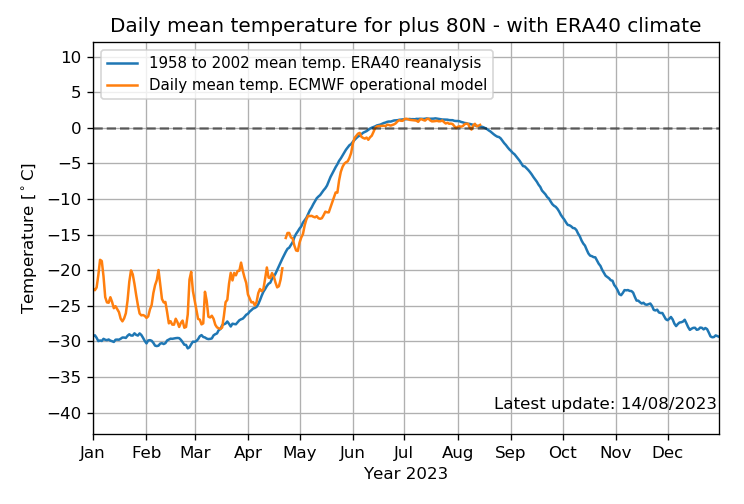 [Edit – August 19th]
Now Malcolm Roberts is "quoting" "Steve"/Tony's Petermann poppycock with approval, hence:
Meanwhile Santa continues to enjoy the Indian summer at the "North Pole":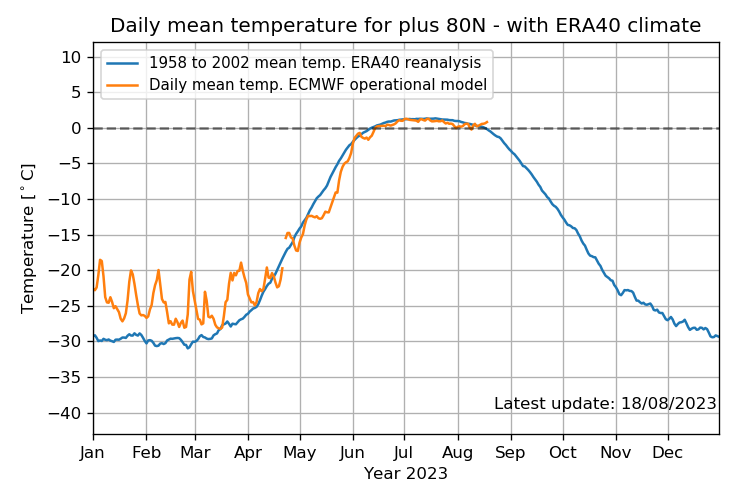 Watch this space!