After a quiet couple of years due to the Covid-19 pandemic there are numerous cruises through the Northwest Passage planned for the summer of 2022. Some (very!) small vessels are also currently scheduled to attempt that perilous journey. First of all let's take a look at a map of the assorted routes through the Canadian Arctic Archipelago: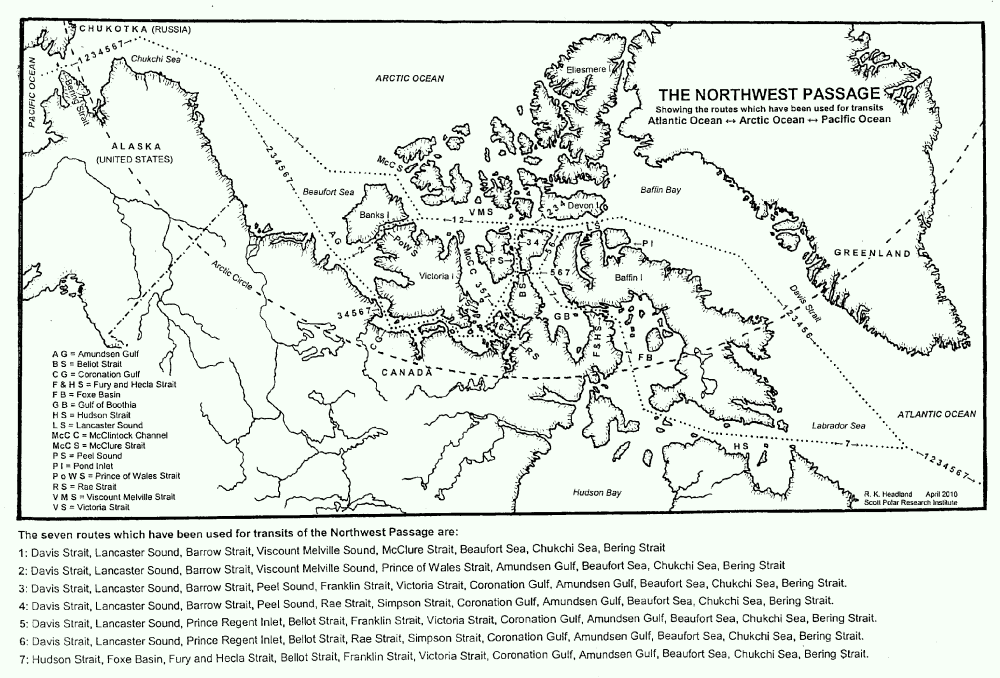 plus another map which includes a few more place names: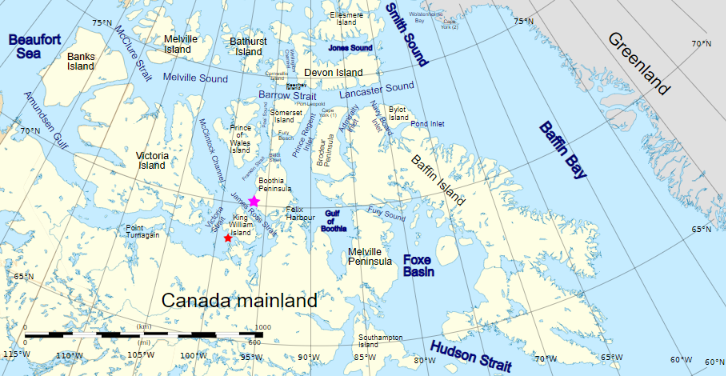 Next comes news of the expeditions planned by a variety of intrepid adventurers. According to Karl Kruger's web site :
In 2022, Karl will attempt to become the first human to paddle 1,900 miles of the Northwest Passage on a standup paddleboard.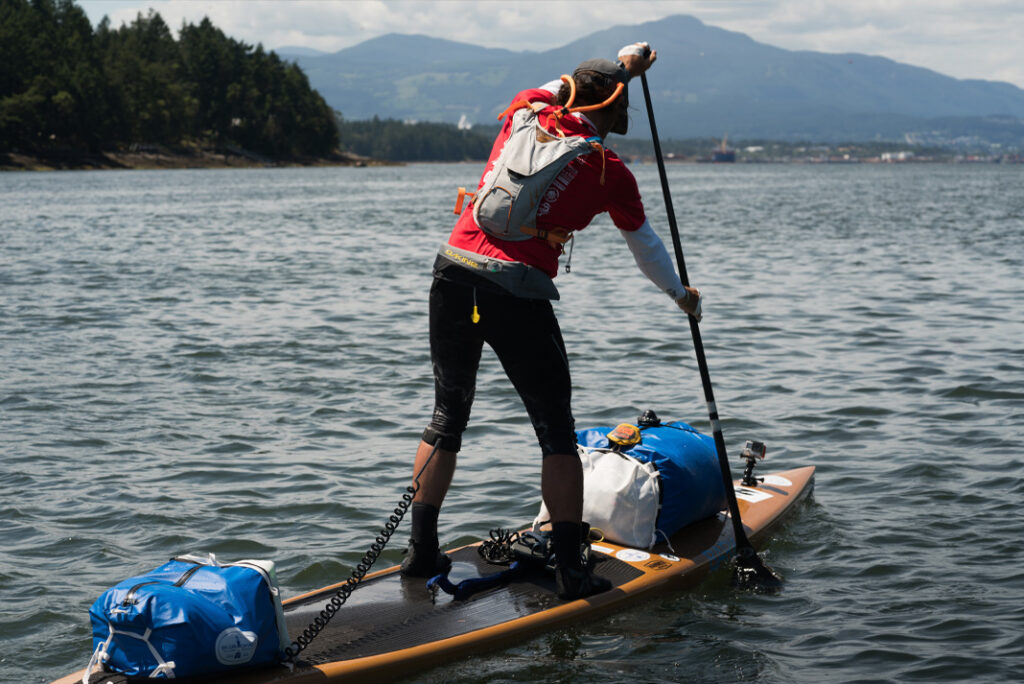 The article at the link is undated, but suggests that Karl initially intended to set off for Pond Inlet from Tuktoyaktuk in July 2019, but postponed the trip until the summer of 2020. By then Covid restrictions were in place, so next month provides the first opportunity for him to attempt the journey once again.
Another previously postponed trip is planned for this summer by the Arctic Cowboys, paddling in kayaks:
Until Roald Amundsen made the first successful sea crossing of the Northwest Passage (1903 – 06), this labyrinth of ice took hundreds of lives as explorers attempted to break through the icy barriers, hull crushing rocks and violent arctic storms to make the journey across the top of the world.

Since then, many sailboats and ships have successfully plied the Passage, though modern sailors still fall prey to the desolate elements. A handful of kayakers have attempted the journey and completed parts of the route in multi-year attempts, going over land and over ice, but no kayaker has made the journey in one single season and without portaging over land.

This is the goal for the Arctic Cowboys.

1900 miles in 60 days, across the top of North America.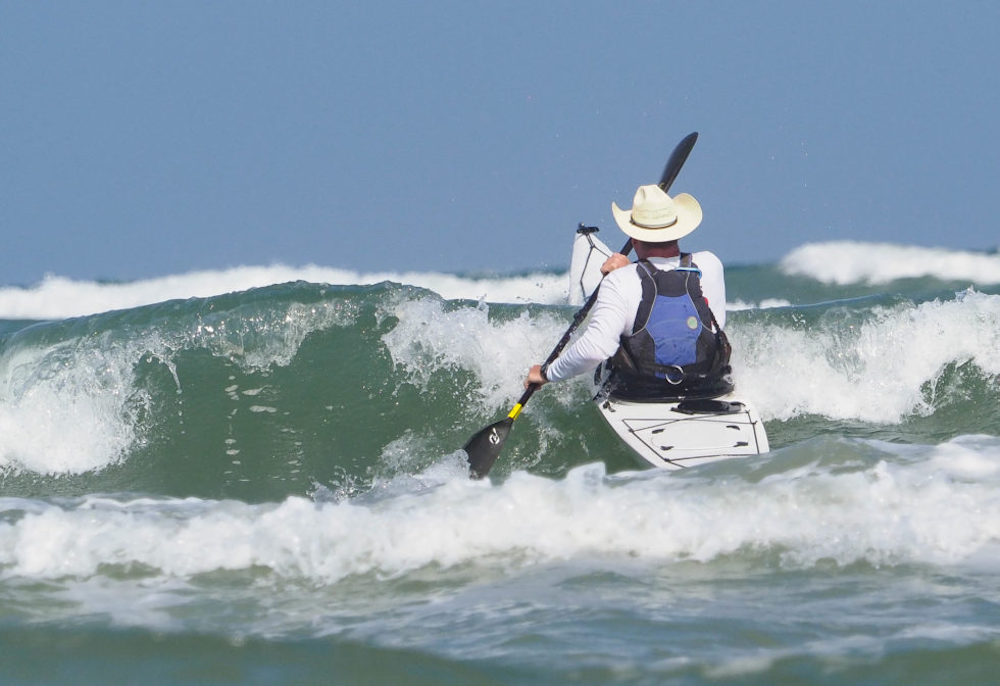 Also relying on muscle power will be the Northwest Passage Expedition. According to the expedition web site:
In 2022 an international team of adventurers and ocean rowers will attempt to row the Northwest Passage, the arctic route between the Atlantic and Pacific Oceans considered the Last Great First. This expedition is only possible because the regions climate is changing, and the sea ice is retreating each year gradually opening the route from July to September.

The expedition will follow the 3,700km arctic route from Baffin Island, Canada, to Point Barrow, Alaska and will draw attention to the changing environment, collecting meaningful data for climate scientists at New York University and Big Blue Ocean Cleanup.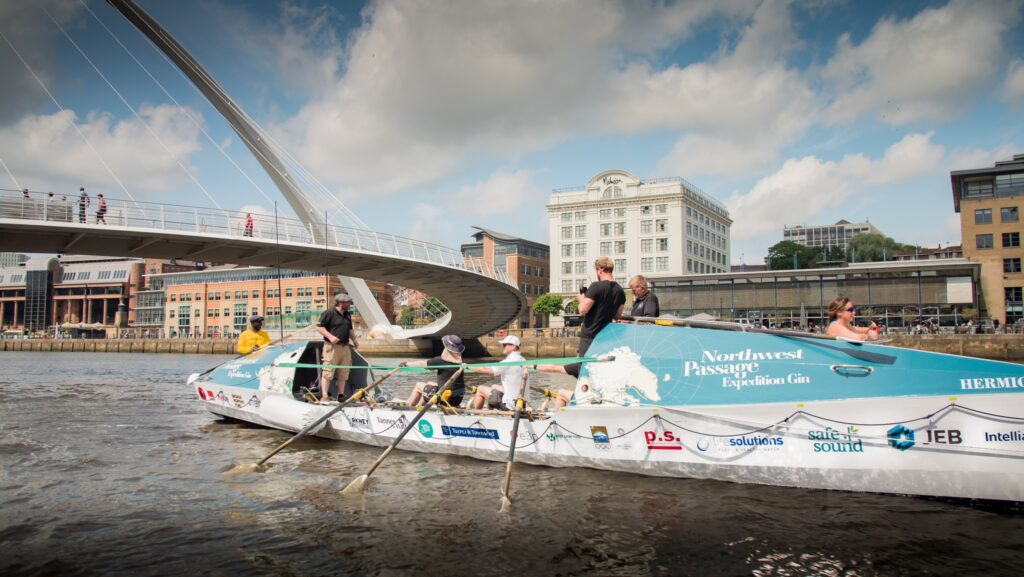 However earlier this month it was announced on the expedition's blog that:
We are postponing the expedition until next summer (2023). We have had reports that the ice is not favourable this year and also we have had several supply line issues and are still waiting on kit ordered before Christmas in some instances.
I don't know where those reports of unfavourable ice conditions came from, but to start our coverage of the Northwest Passage in 2022 here are the most recent Canadian Ice Service sea ice type maps: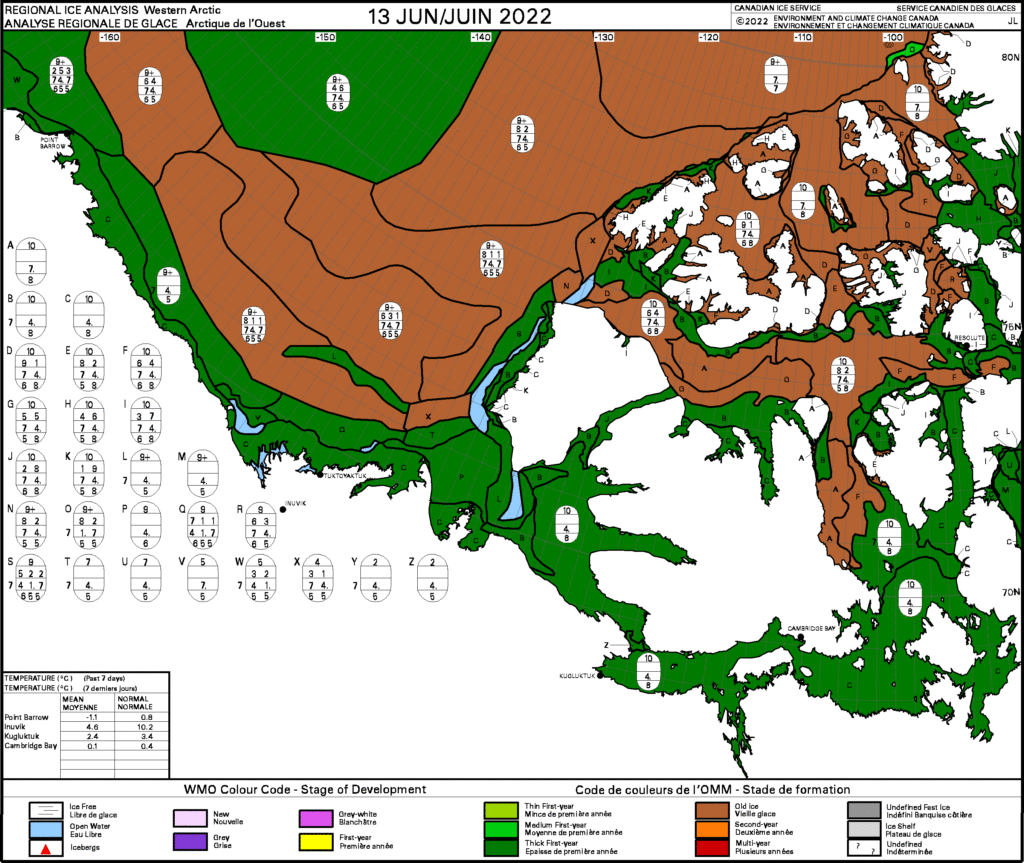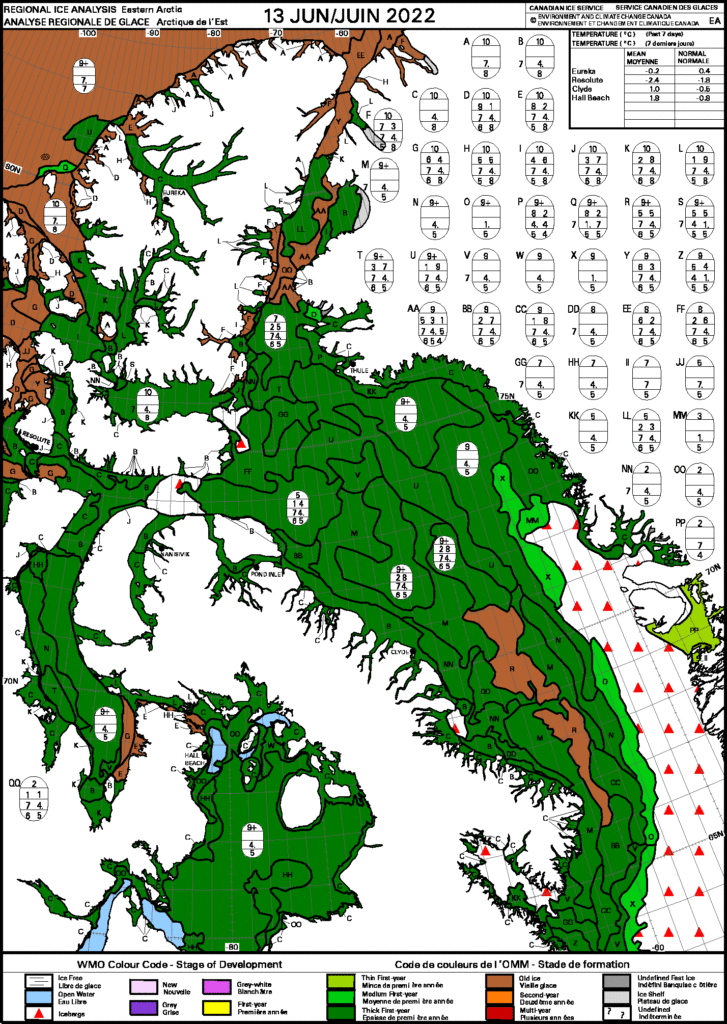 There is currently no "old ice" near routes 5 and 6 via Bellot Strait. For more insight into the thickness of the "thick first year ice" en route here is the Alfred Wegener Institute's CryoSat-2/SMOS merged thickness map from mid April: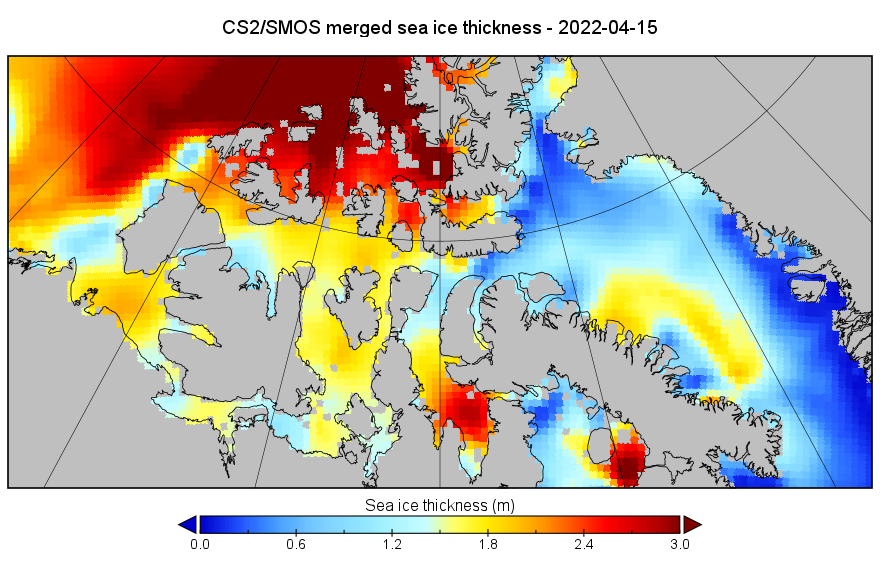 Here too is the latest AMSR2 concentration map of the CAA: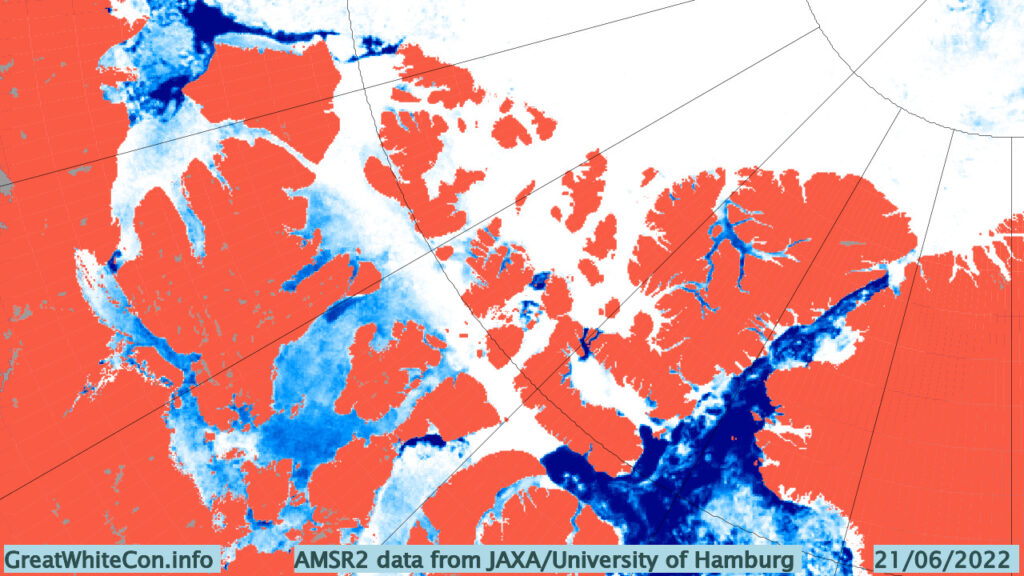 All in all I currently see no reason why the passage won't be open for "small vessels" later this summer. Whether it will be open for long enough to row or paddle through it is another matter entirely!
[Edit – June 25th]
Surface melt has now spread across almost the entire Northwest Passage: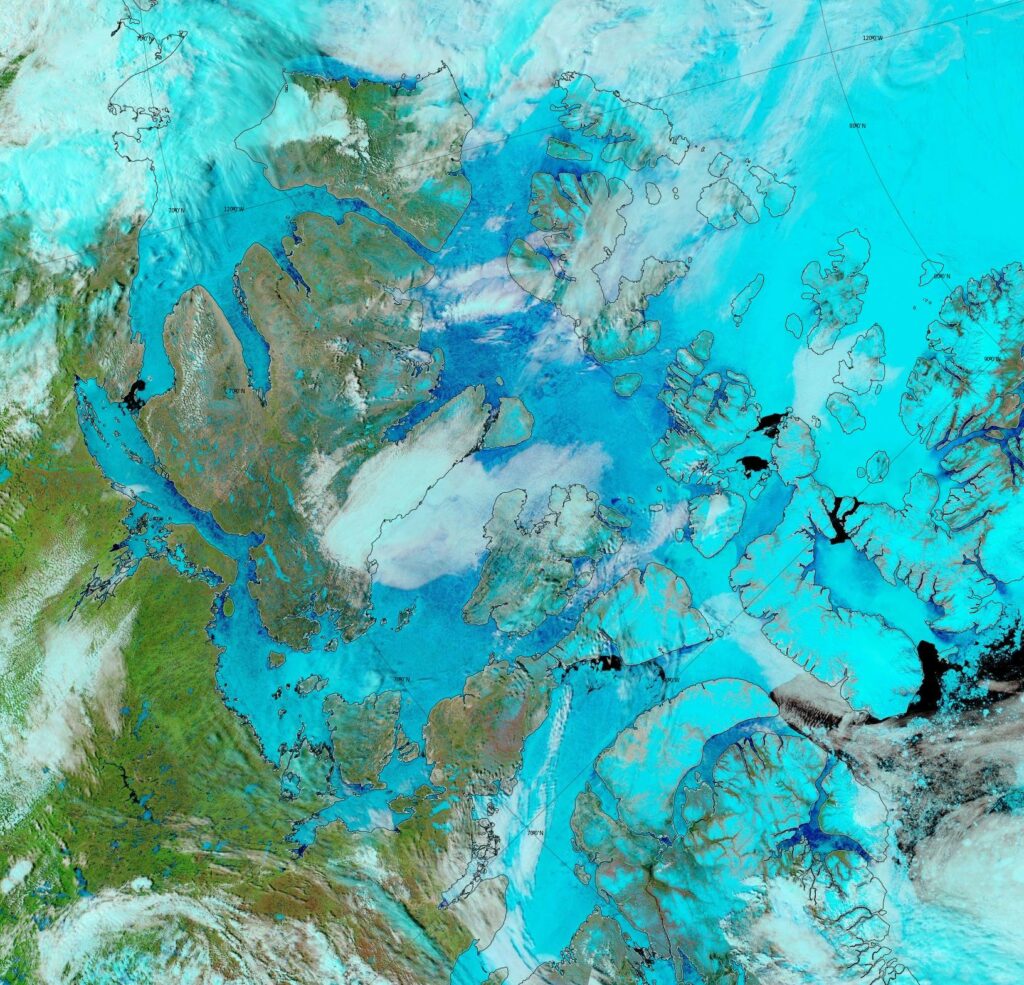 [Edit – July 5th]
The sea ice is disintegrating across Lancaster Sound and Prince Regent Inlet: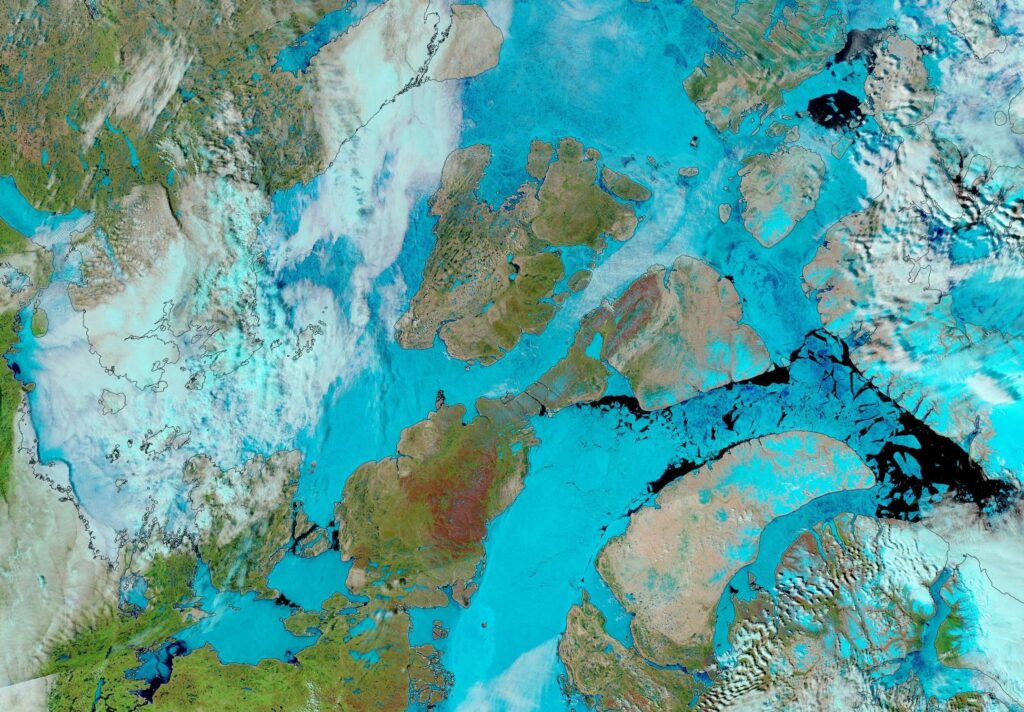 Amundsen's route (number 6 on the map at the top) via Rae and Simpson Straits is also beginning to break up. Albeit not part of the passage itself, the same applies to the sea ice in the Queens Channel north of Cornwallis Island.

Here too is the current AMSR2 sea ice concentration map of the Northwest Passage: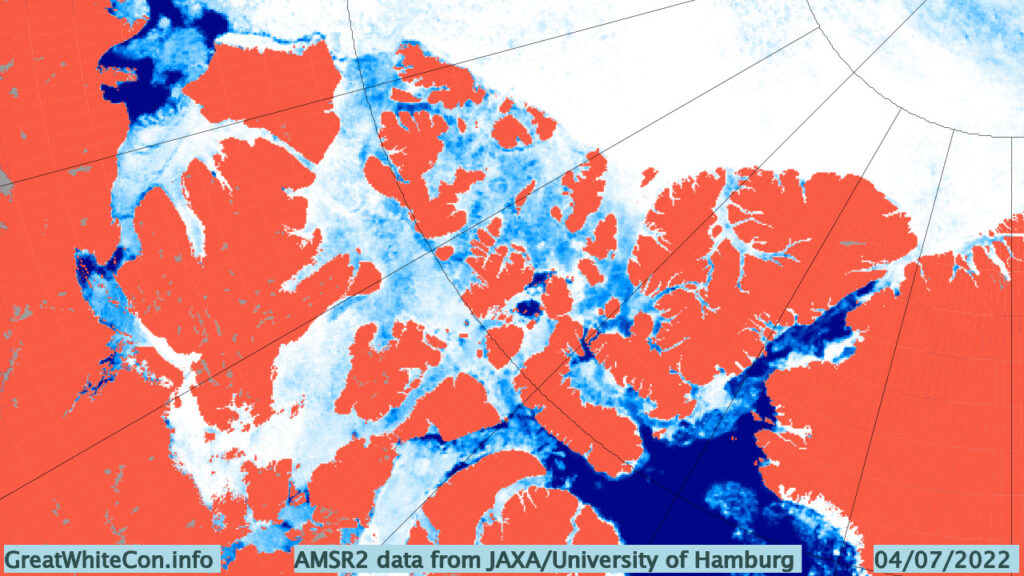 [Edit – July 17th]
Several more traditional "small craft" are also attempting a voyage through the Northwest Passage this summer. First in the queue is Alberto "Beto" Pandiani in his catamaran "Igloo". Beto has cut off a large section of the route by driving Igloo to Tuktoyaktuk behind a motor home. Here's a picture of Igloo's launch on July 1st via Beto's Facebook page: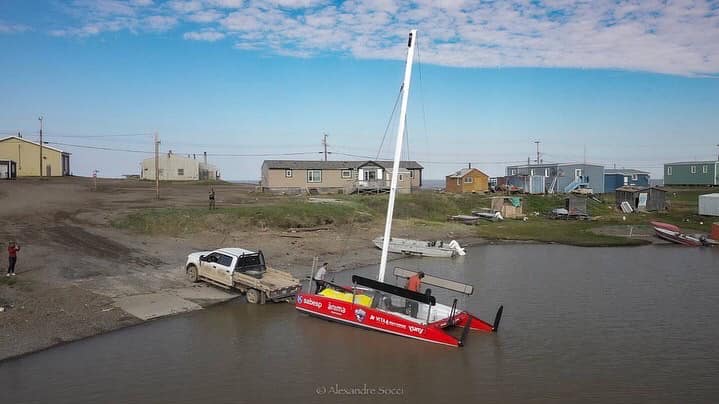 Igloo has already explored the local sea ice situation off Tuk: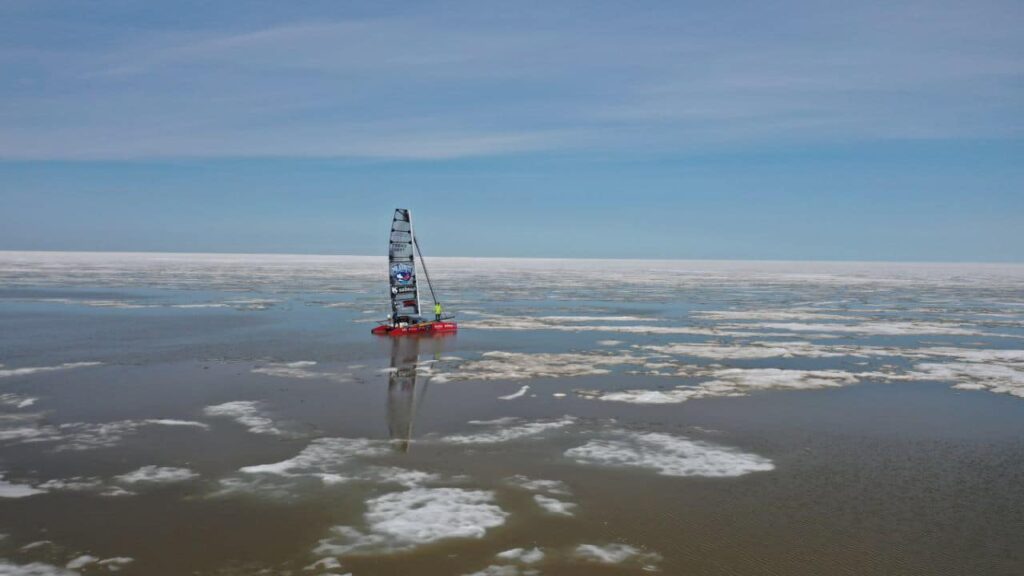 However Beto is sensibly waiting for conditions to improve before setting out on the "Rota Polar" expedition proper. Here's the current state of play in the CAA according to AMSR2: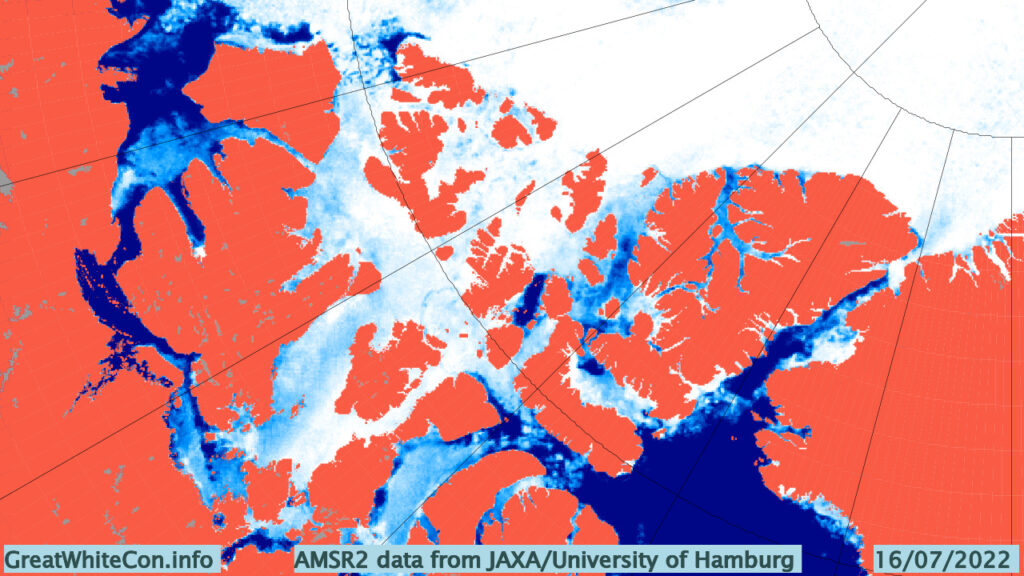 [Edit – July 18th]
Beto has announced on his Facebook feed that he's intending to depart tomorrow:
Heading out Tuesday afternoon for favorable wind conditions, but as far as the ice we already know we won't be sluggish on our way to Paulatuk. We expect to arrive between 4-5 days

Auto Translated From the original Portuguese
It's unlikely that he intends to take either of these two routes, but here's a fairly clear view of the ice breaking up in the McClure and Prince of Wales Straits: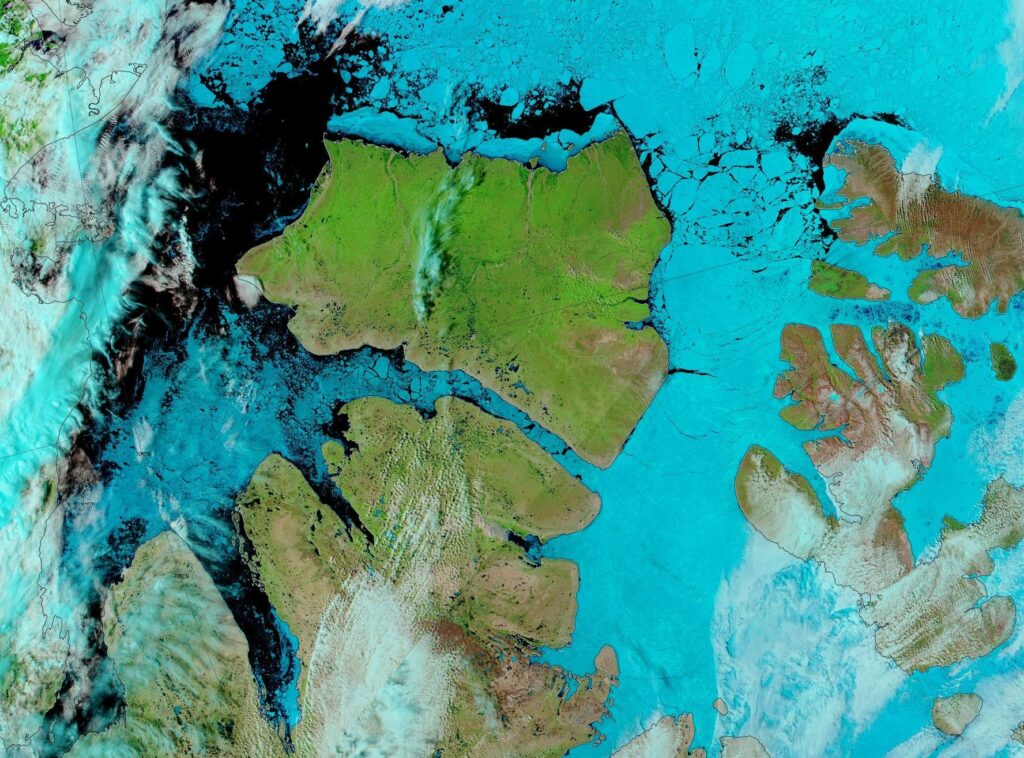 Here's hoping Beto manages to squeeze past Cape Bathurst successfully, since that area is not yet covered by the Canadian Ice Service: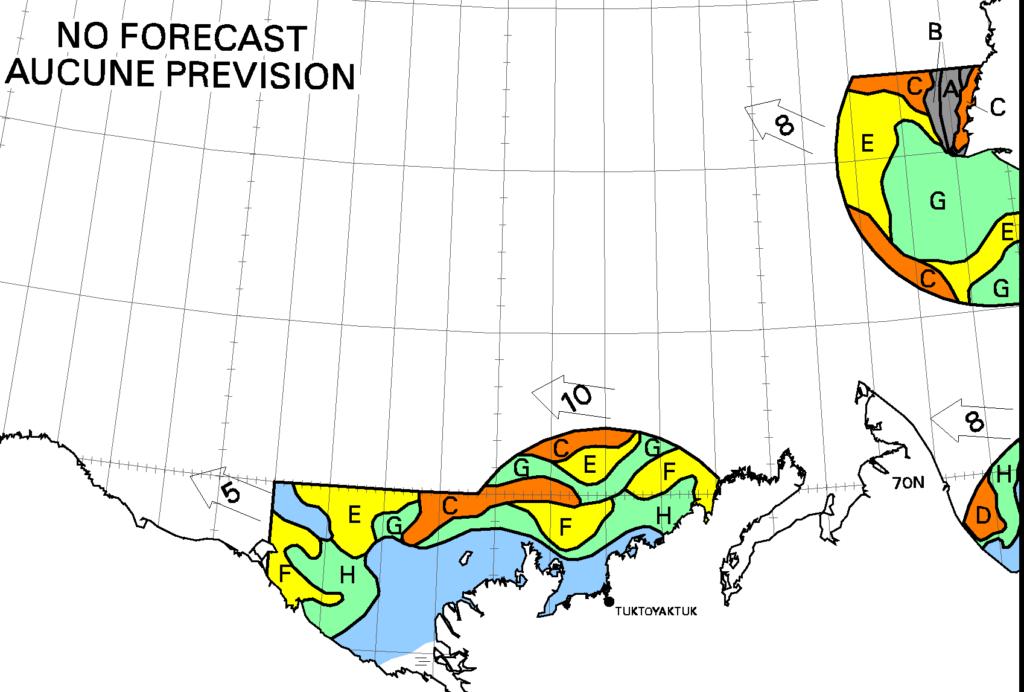 [Edit – July 22nd]
Igloo has successfully rounded Cape Bathurst and entered the Amundsen Gulf: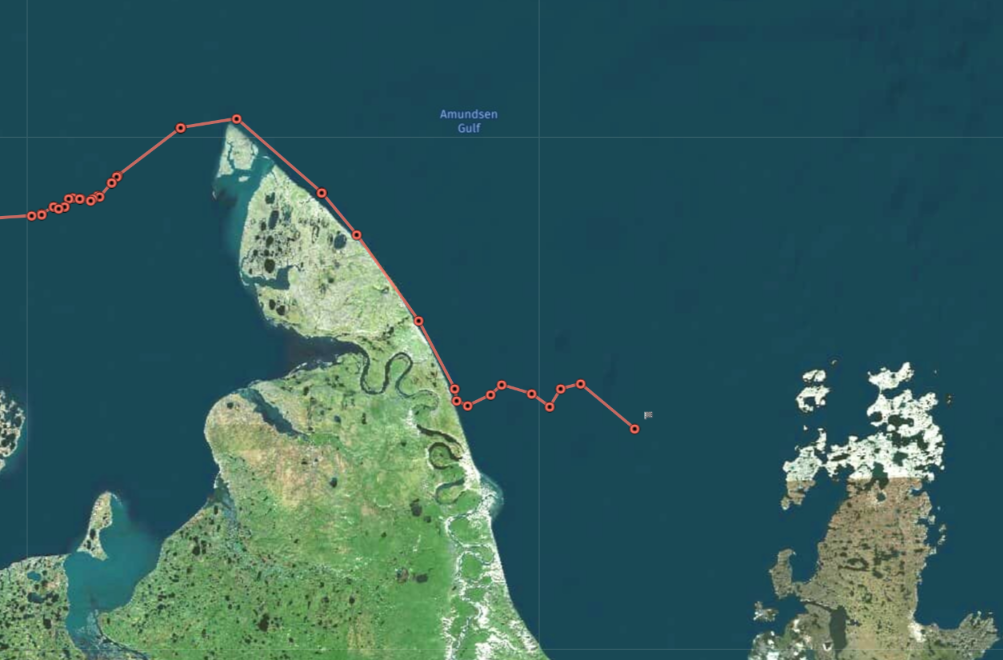 Not without encountering ice and fog en route however!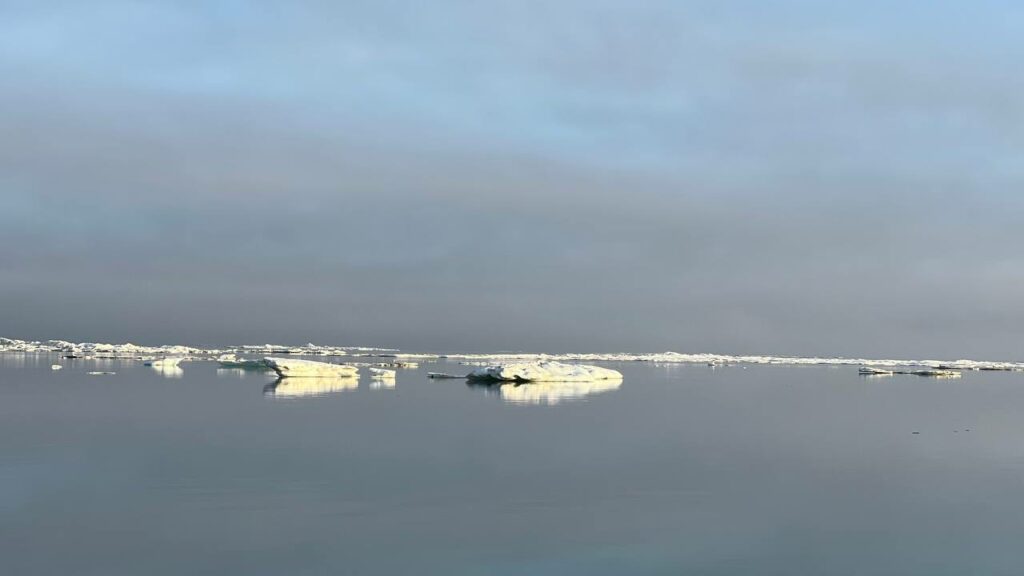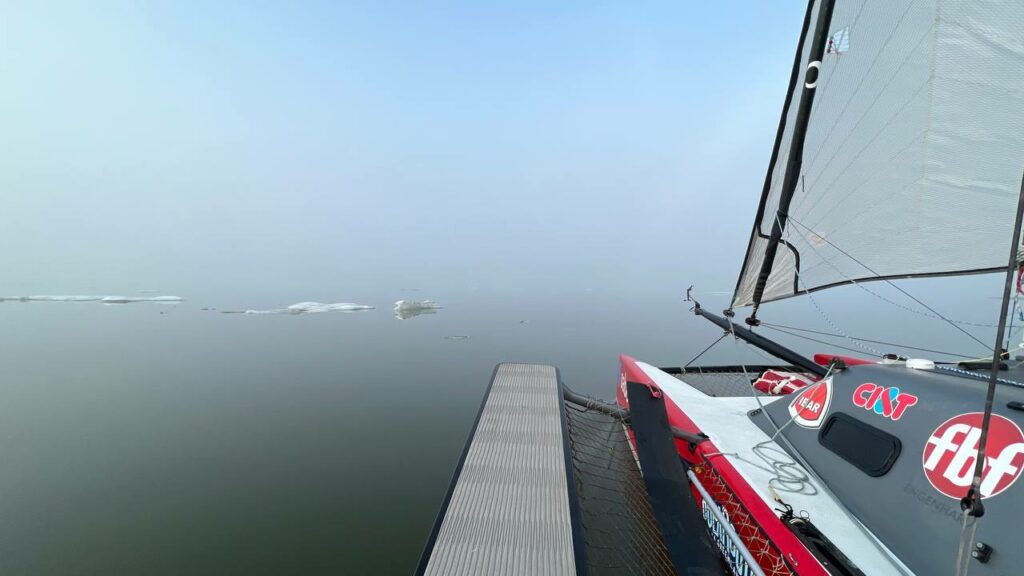 Meanwhile "passenger vessels" and "pleasure craft" are queuing up on the other side of the Canadian Arctic Archipelago: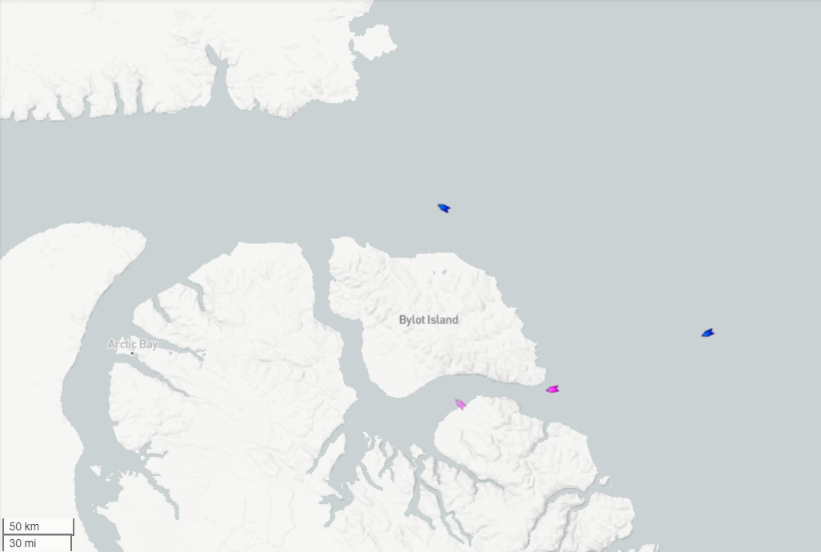 The Marine Traffic map reveals that National Geographic Resolution has just entered Lancaster Sound.
[Edit – July 28th]
Canadian icebreaker CCGS Des Groseilliers has emerged into Baffin Bay after a voyage through the eastern Canadian Arctic Archipelago. Here are visualisations of both water and air temperatures measured along the way: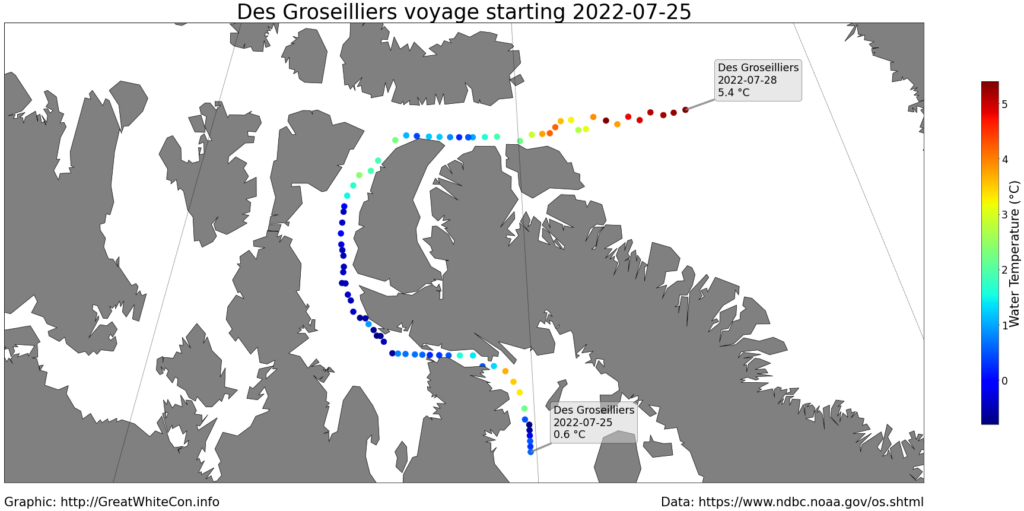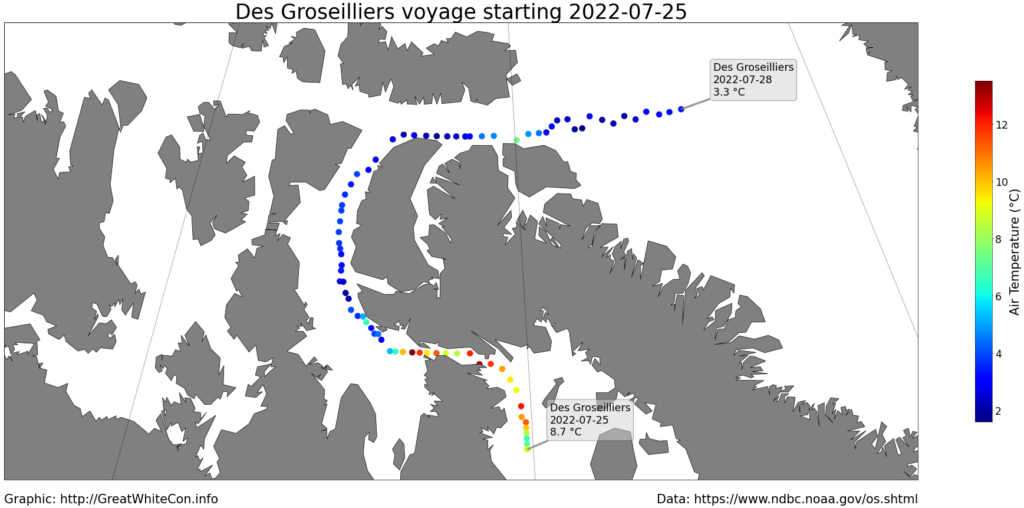 [Edit – August 1st]
There was a clear satellite view of route 1 through the Northwest Passage via the Parry Channel yesterday. Click the image for a (much!) closer view: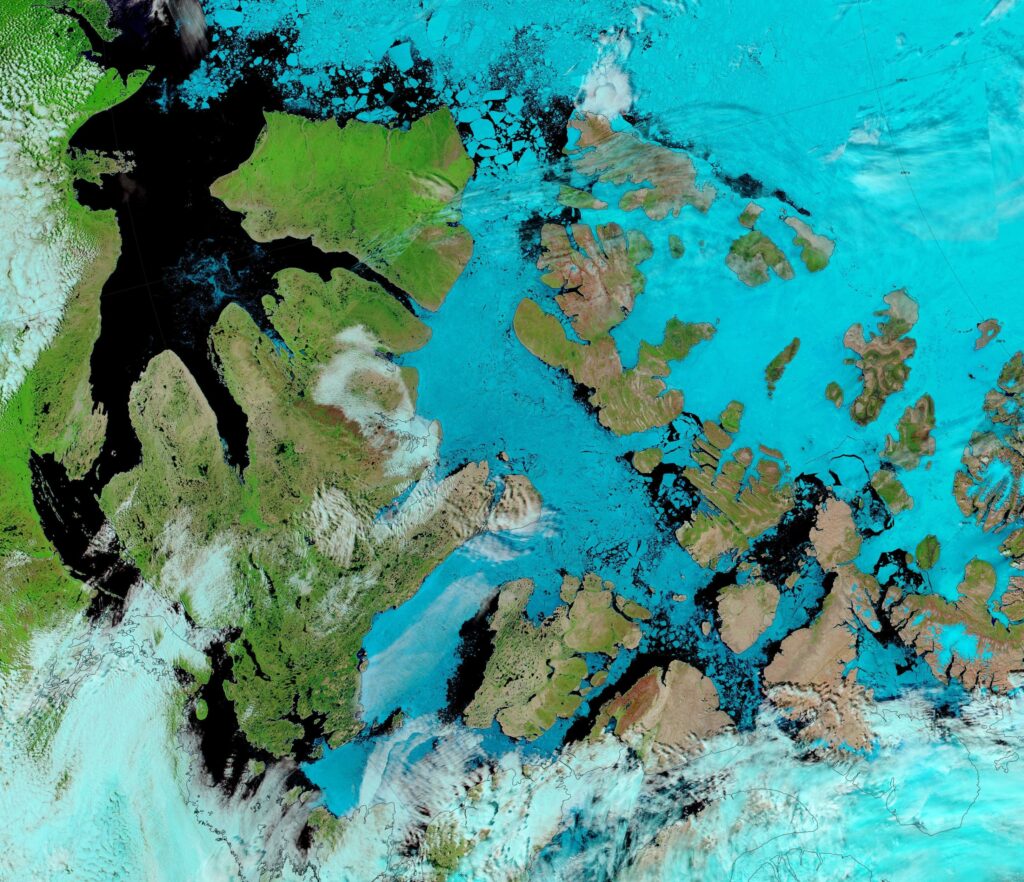 Much of "Amundsen's" route 6 was also visible. The troublesome patch of ice near Cape Bathurst is visible in the top left, but after that the way is clear as far as Gjoa Haven and beyond. And beyond that if you're an ice hardened cruise ship!
[Edit – August 2nd]
There is still no CIS coverage of Peel Sound, but the clouds parted over Bellot Strait yesterday: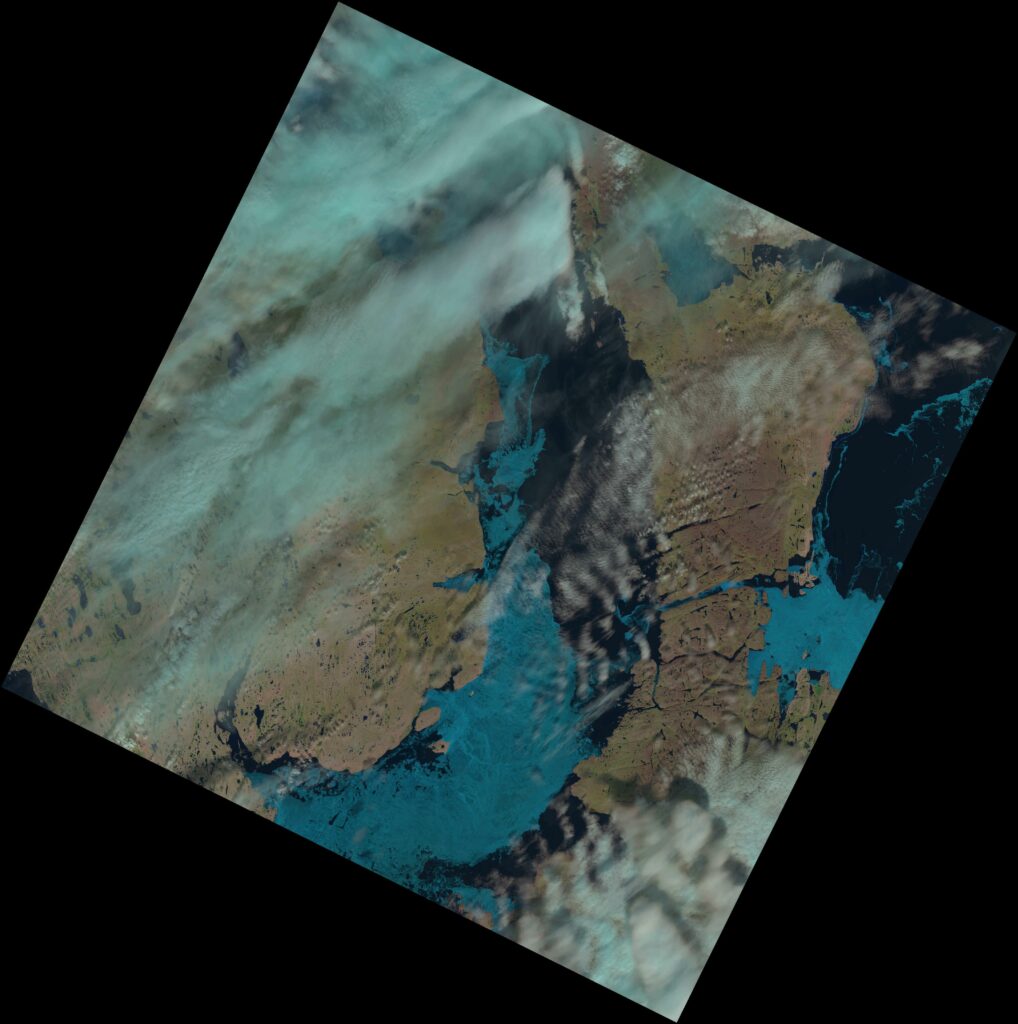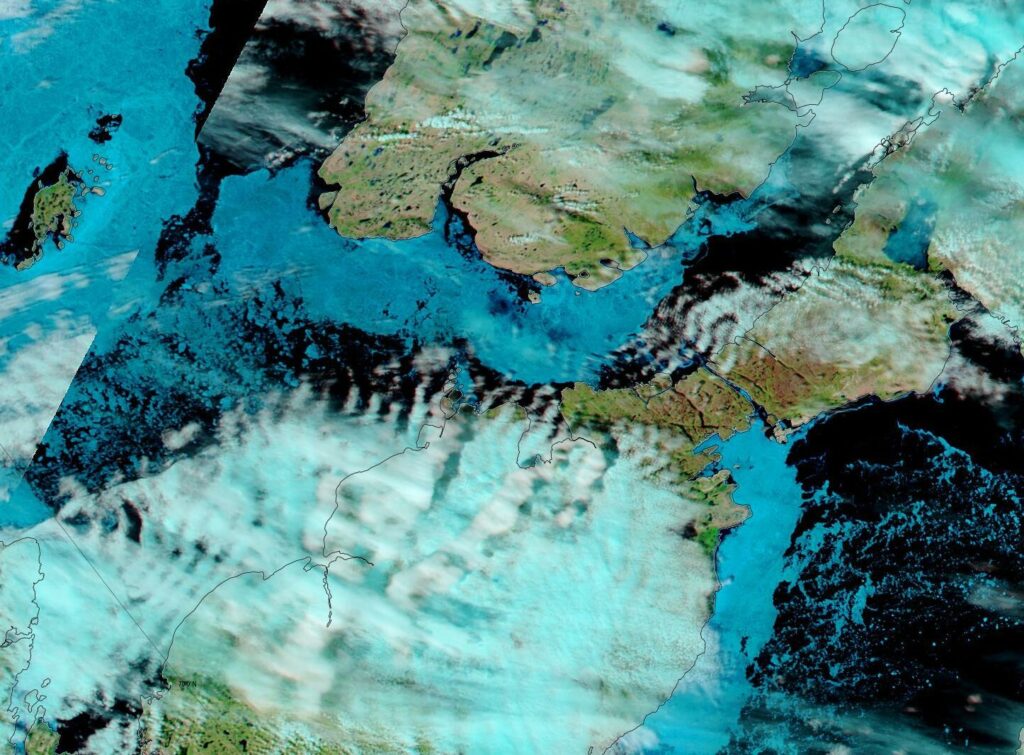 Here too is the official chart for further south: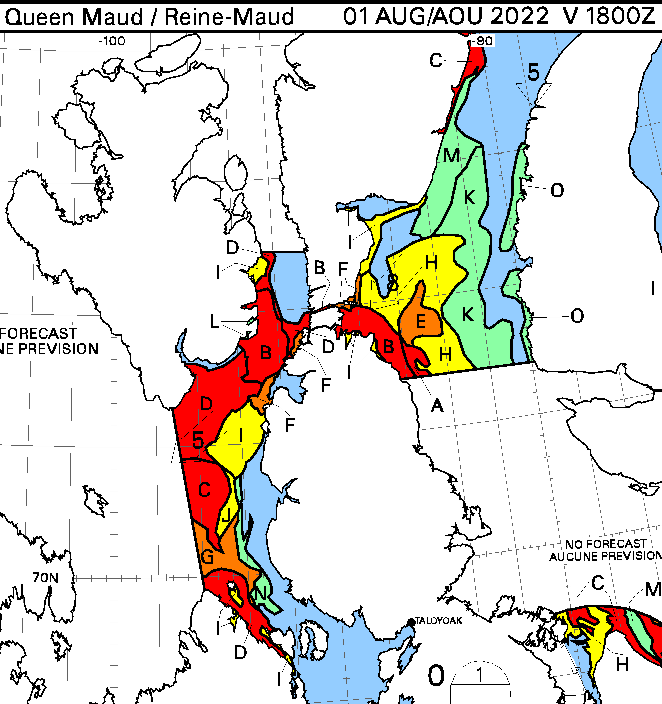 It looks as though the Northwest Passage will be "open" for "small craft" in the not too distant future, possibly via a variety of routes!

Meanwhile here are some recent pictures from the midst of Baffin Bay: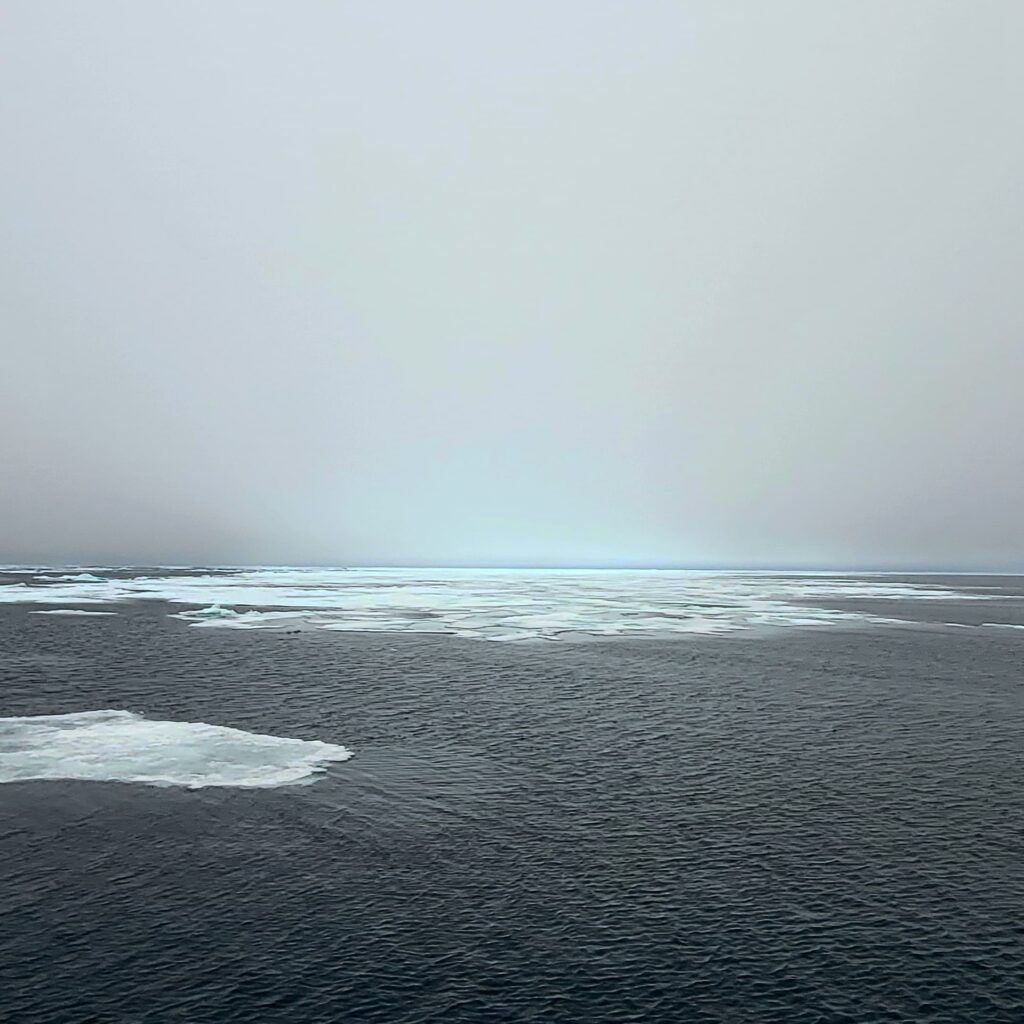 The sea ice in Baffin Bay has been replenished from the Central Arctic all winter, because the usual ice arches never formed in the Nares Strait this year. Here's what it looks like bobbing about en route from Greenland to Pond Inlet:
[Edit – August 3rd]
The Arctic Cowboys are on the move! After a variety of trials and tribulations Jeff, Rebekah and West are now paddling their kayaks through the Northwest Passage. According to their blog yesterday:
The Arctic Cowboys had a nice day of paddling with the wind at their backs. Final distance was about 13.7 miles. Heading out early in the morning after a little re-working of gear weight distribution.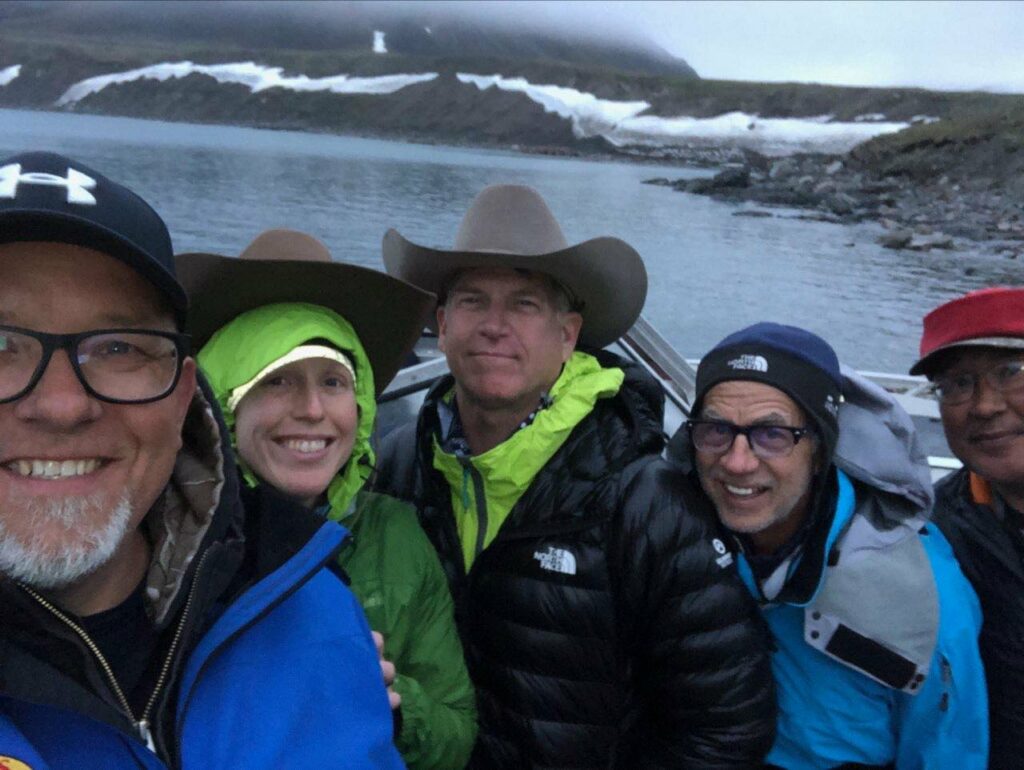 [Edit – August 4th]
Here's a largely cloud free view of the central CAA from on high today: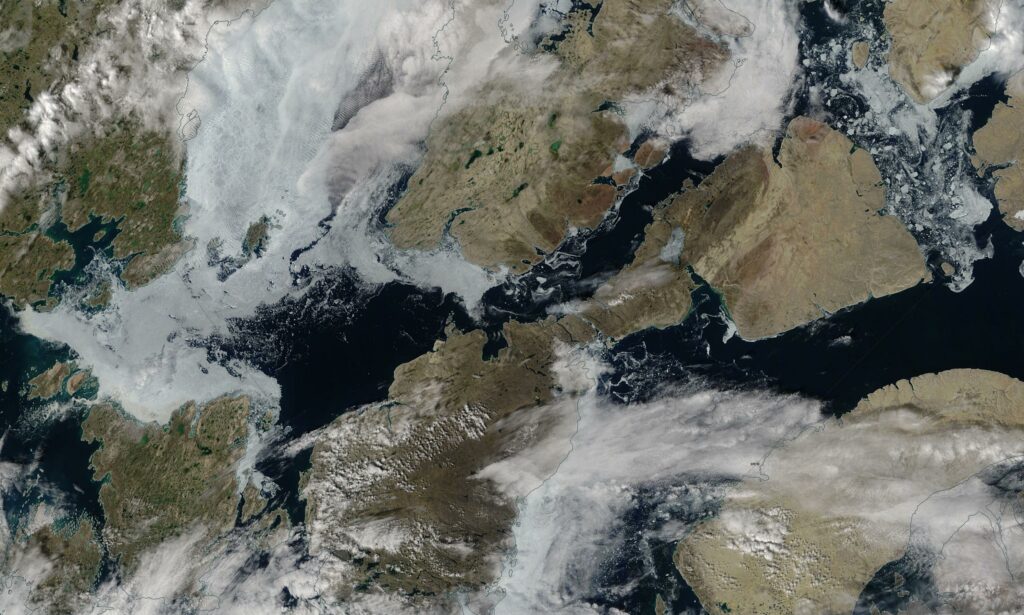 The Bellot Strait is still the fly in the <= 6/10 concentration ointment. Nevertheless an adventurous "pleasure craft" is going to investigate: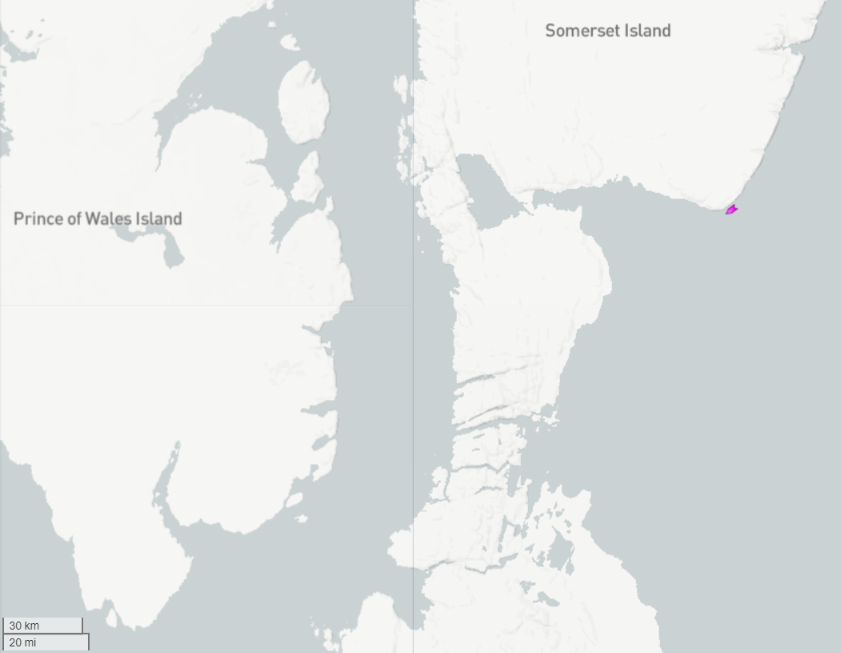 STOP PRESS!!

The CIS started coverage of Peel Sound this evening (UTC):

It's a tight squeeze, but using the <= 6/10 concentration criterion the Northwest Passage is open for small craft unusually early this year: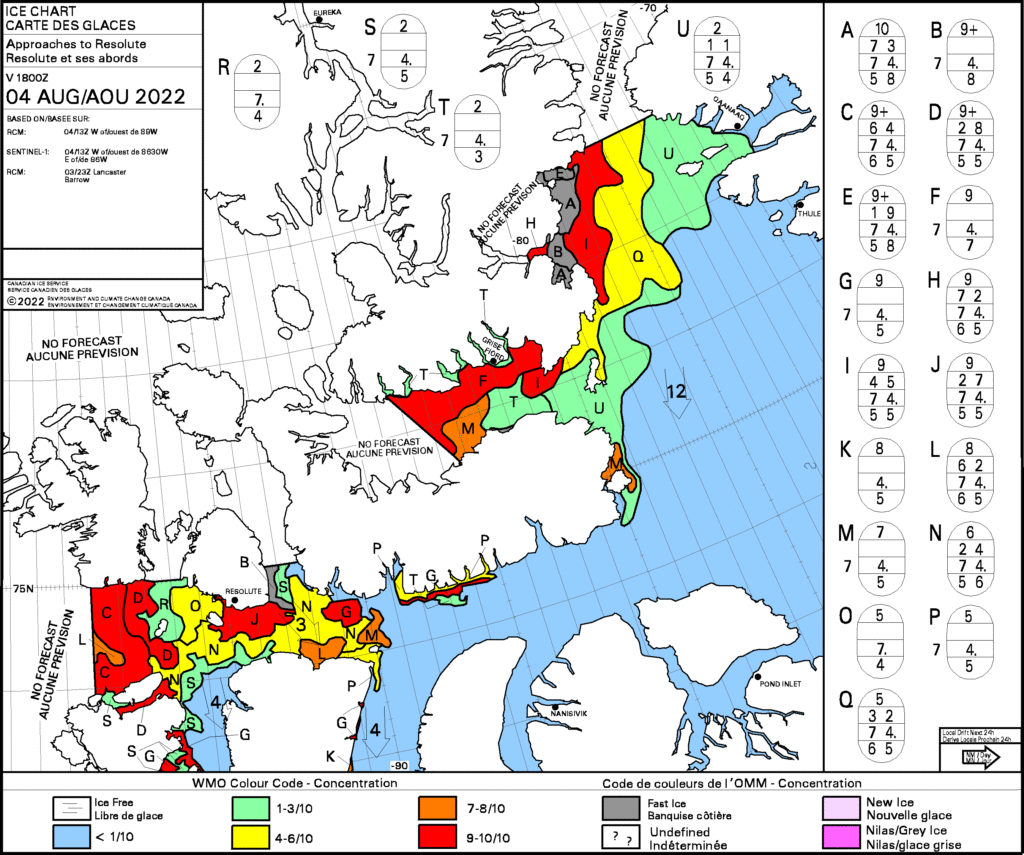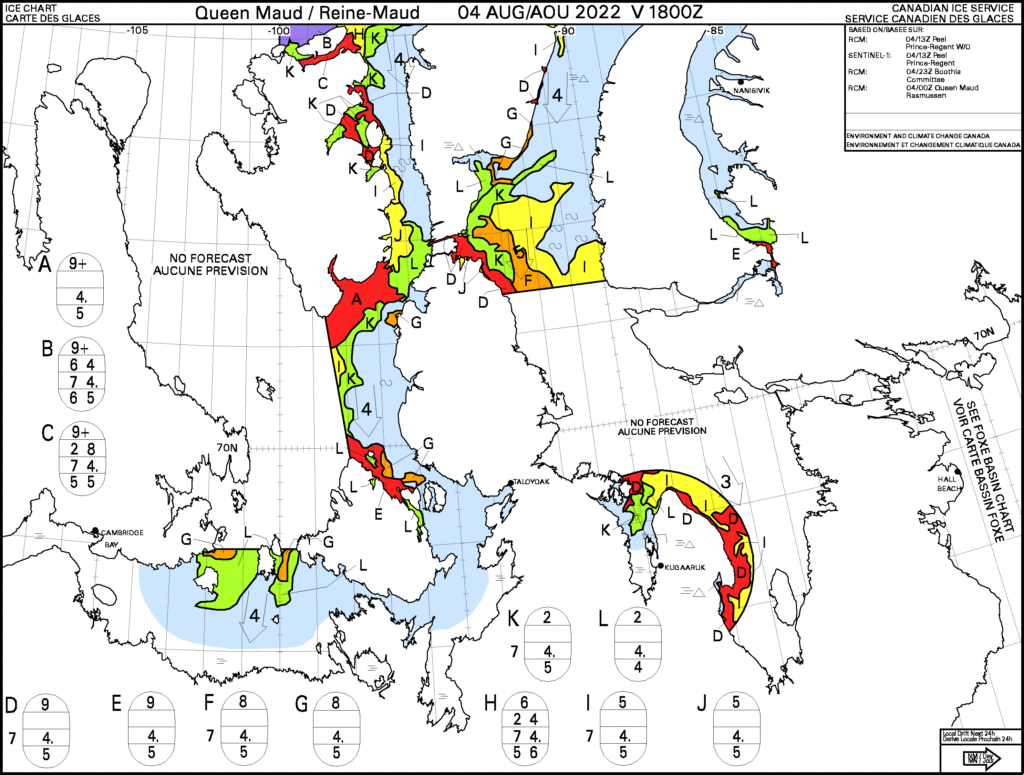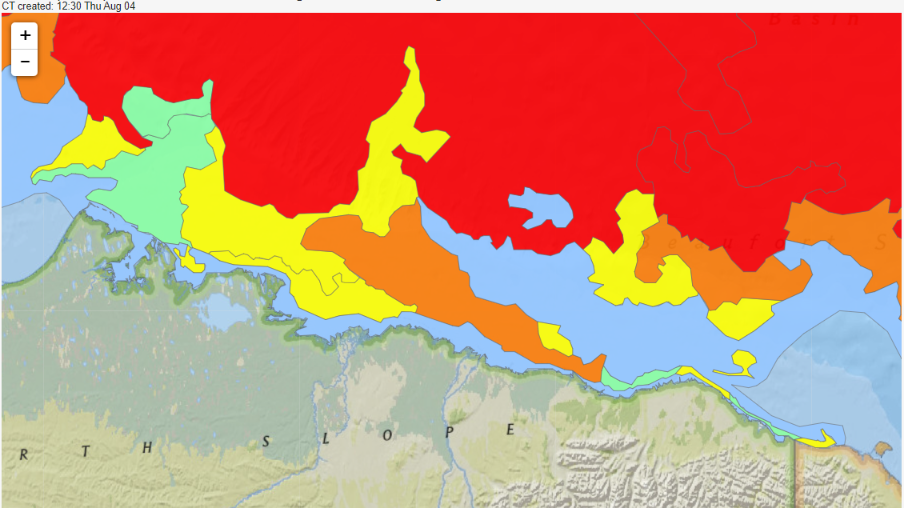 Mind you, here is a very recent example of allegedly 2/10 ice on routes 3/4: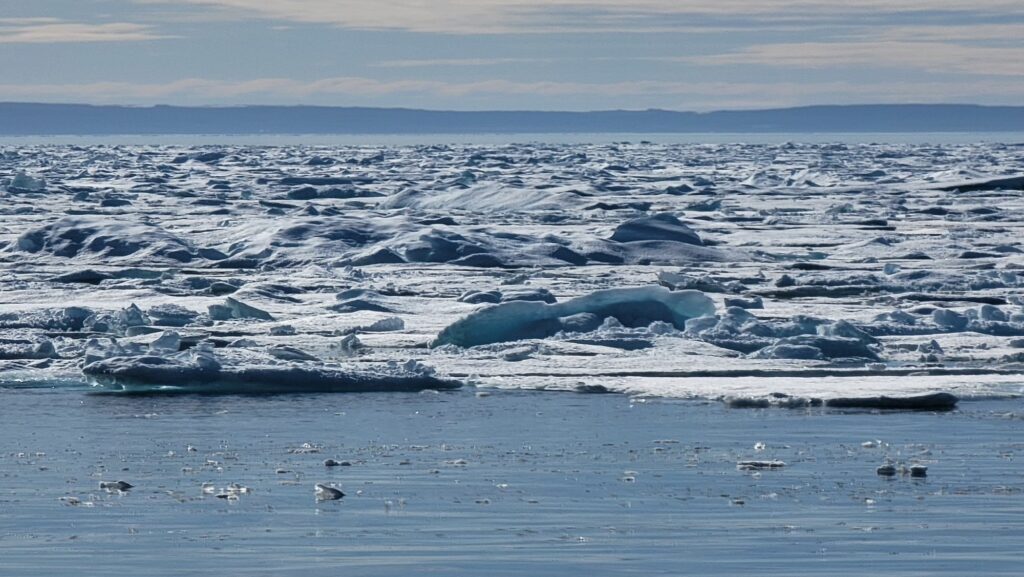 [Edit – August 7th]
Noorderzon is the first "pleasure craft" to transit Bellot Strait this year. It has done so remarkably early, and is now heading down Franklin Strait: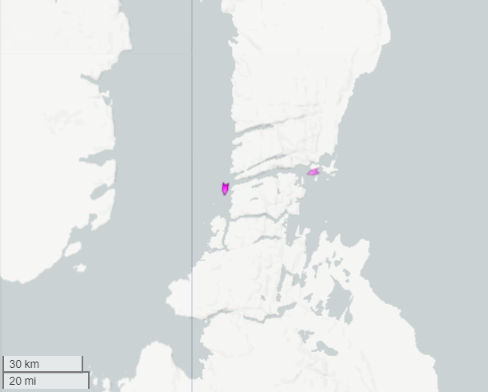 Meanwhile the flood of cruise ships is starting in earnest, with two nearing Pond Inlet as we speak: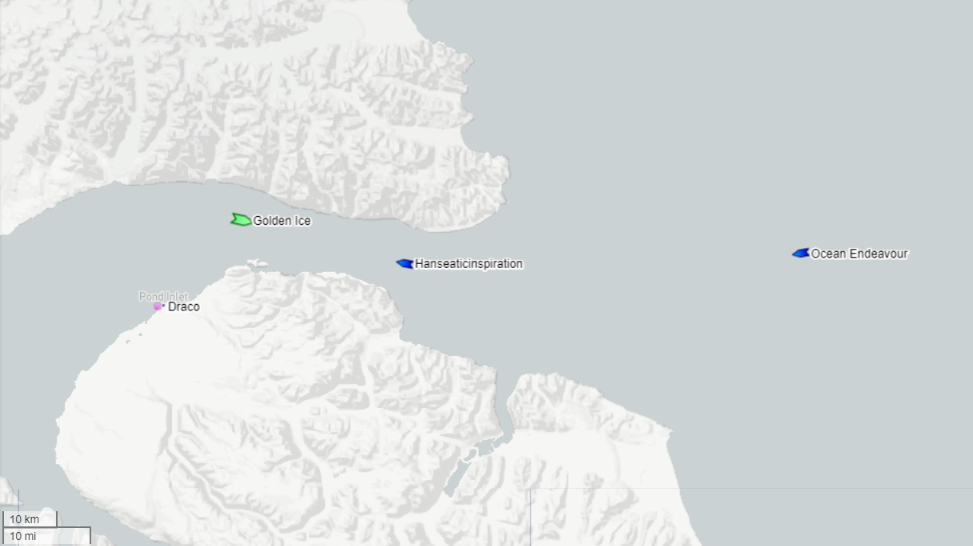 SV Draco is already there, and no doubt currently plotting their own course through the central CAA.
[Edit – August 10th]
The GFS model is predicting a 978 hPa minimum MSLP cyclone over the Canadian Arctic Archipelago on Friday morning (UTC):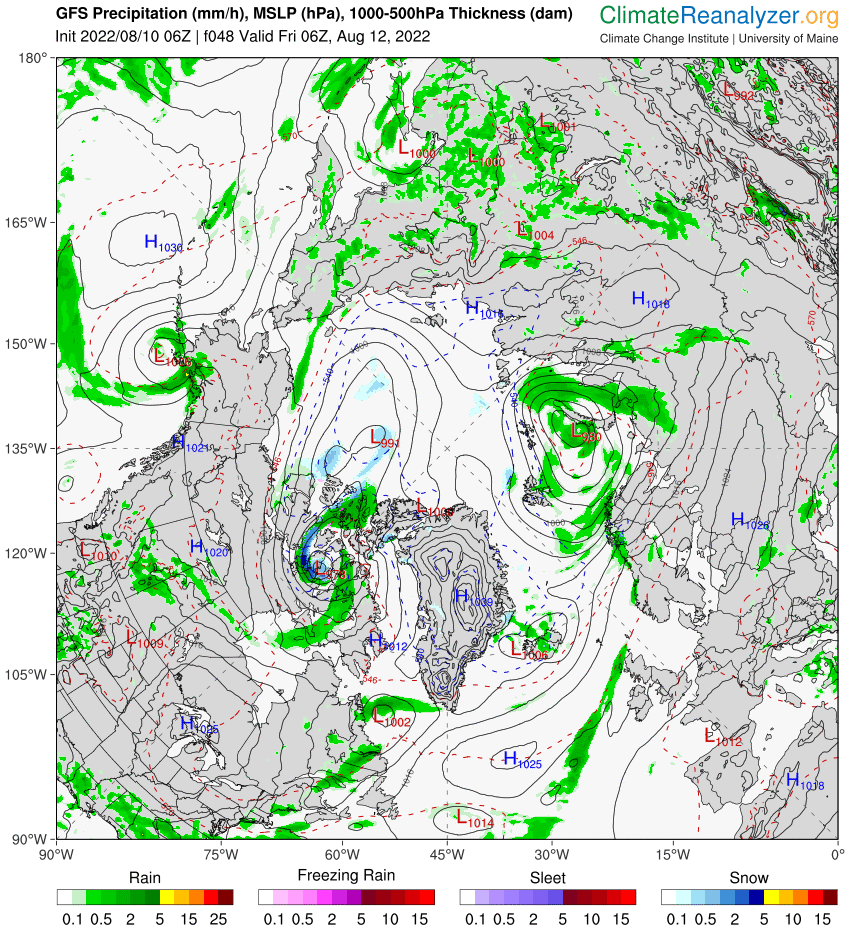 There will be plenty of wind and rain, so several "small craft" are already finding shelter from the forthcoming storm. See below!
[Edit – August 14th]
SV Draco has become the second "pleasure craft" to successfully transit Bellot Strait from east to west this summer. Here's an extract from Draco's tracking map: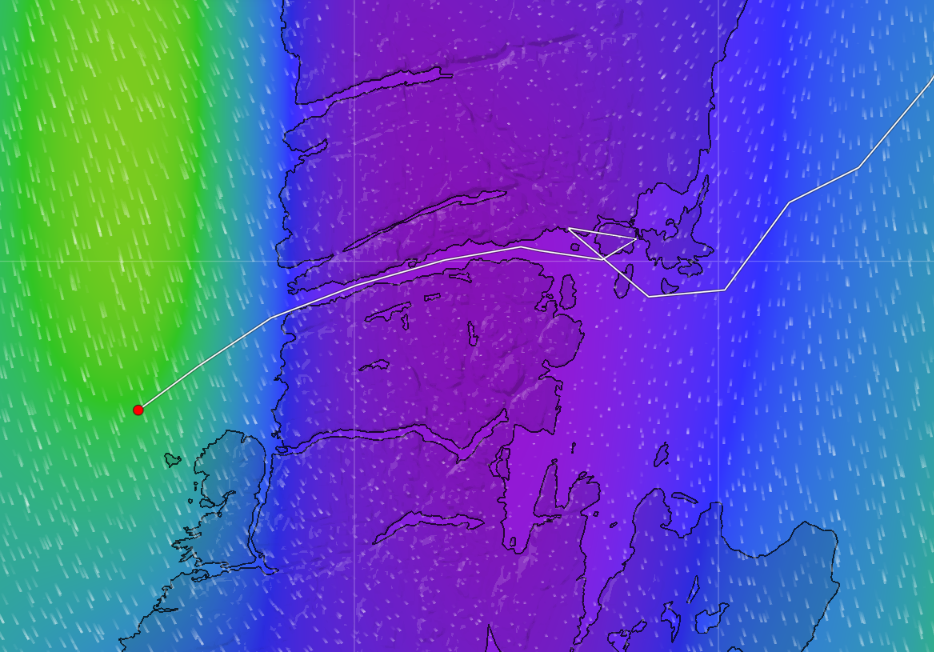 [Edit – August 27th]
There is much speculation about the possibility of Route 1 through McClure Strait being "open" this year. That may happen, but it hasn't happened yet. Here's Sentinel 1A's view of things yesterday afternoon: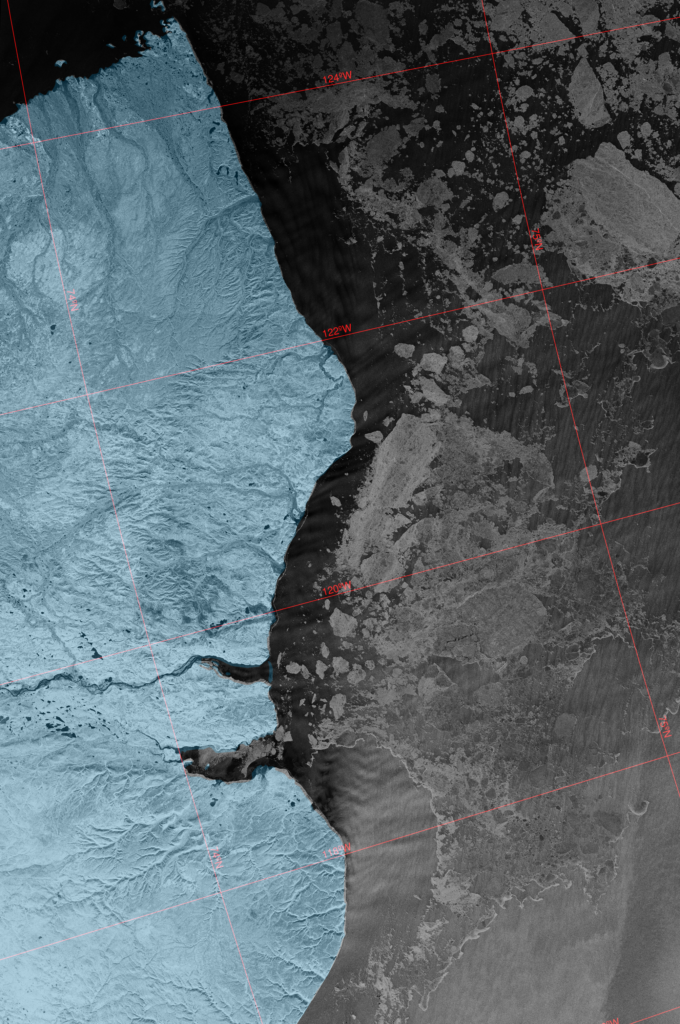 [Edit – August 31st]
Hanseatic Nature is currently following CCGS Pierre Radisson through the remaining sea ice near the northern entrance to Victoria Strait: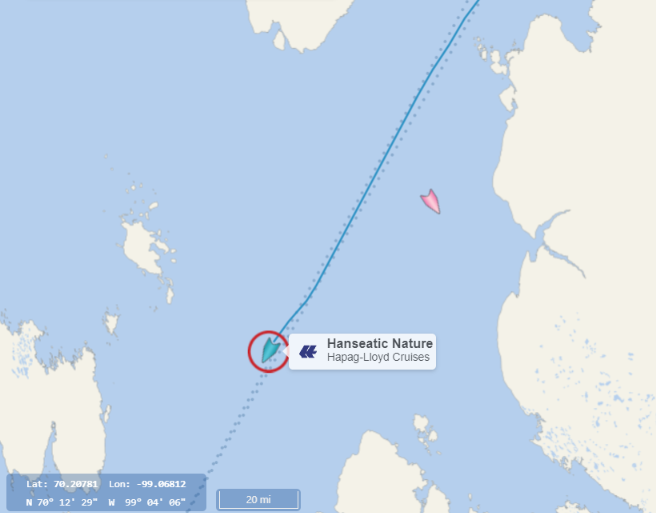 Here's a recent snapshot from Nature's webcam: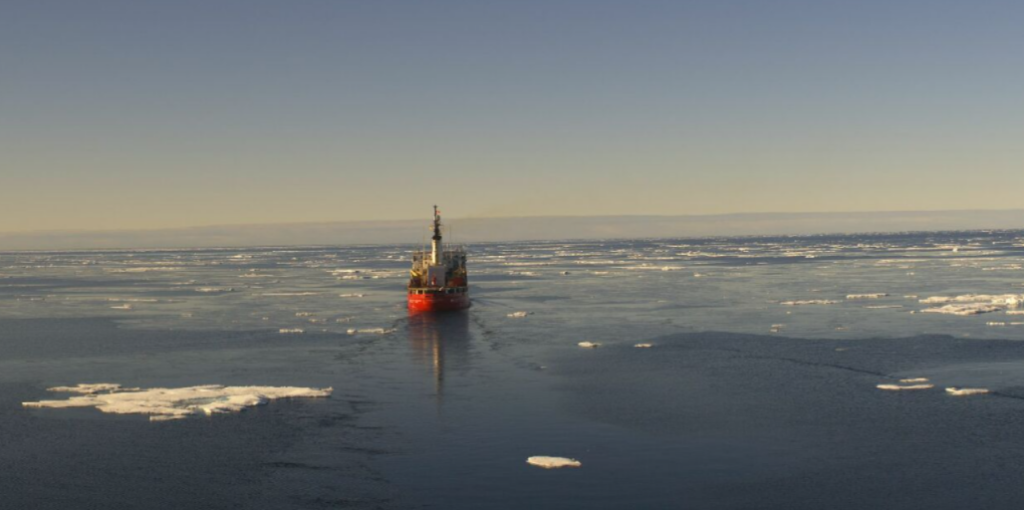 This allows comparison with other data, first of all last night's CIS ice concentration chart:
This classifies area H as mostly 2/10 concentration thick first year ice,
Another view of the area comes via the University of Hamburg's high resolution AMSR2 concentration map: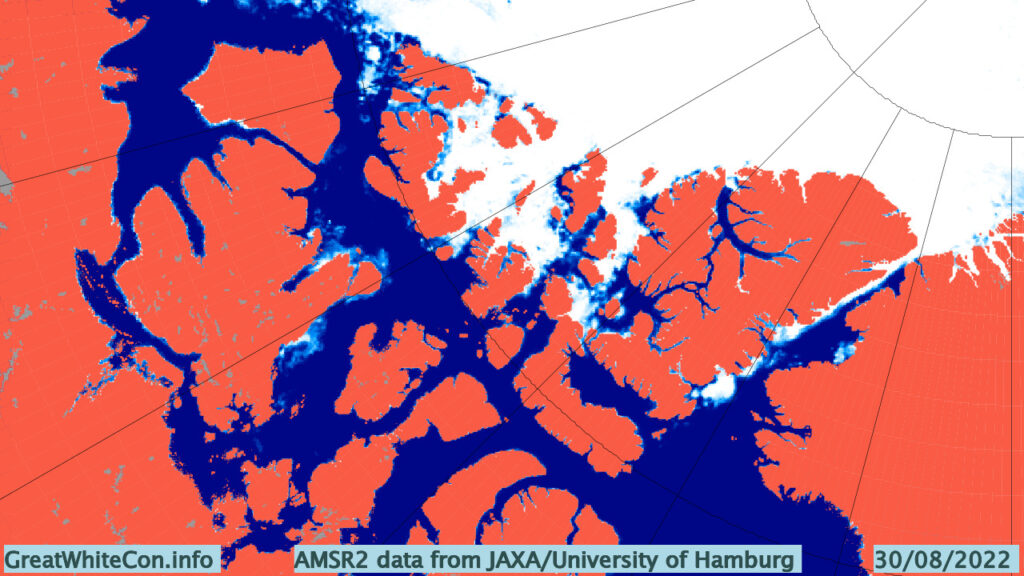 This shows no sea ice at Hanseatic Nature's current location, although part of the band of 7-8/10 ice on the CIS map is visible further south-west. The AMSR2 map also suggests that there is now a clear path along route 1 through the McClure Strait. More on that topic later.
[Edit – August 31st 21:15 UTC]
Hanseatic Nature now looks to be crossing the band of 7/10 concentration ice in the Victoria Strait: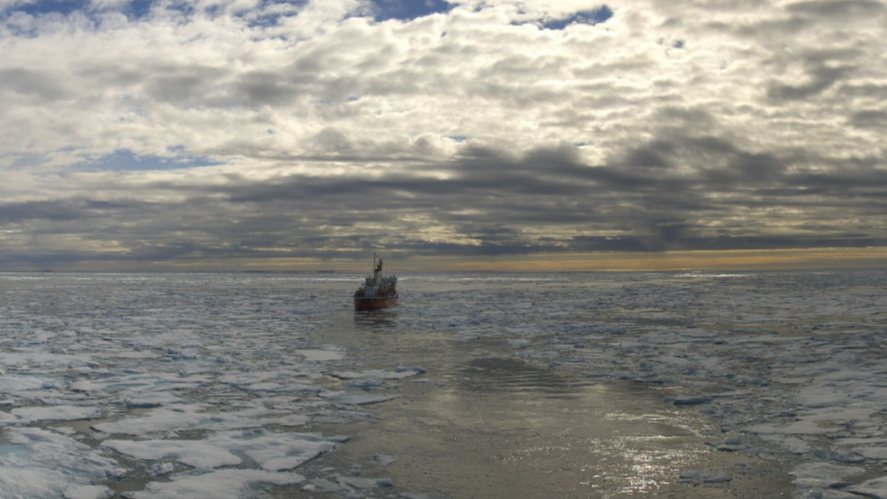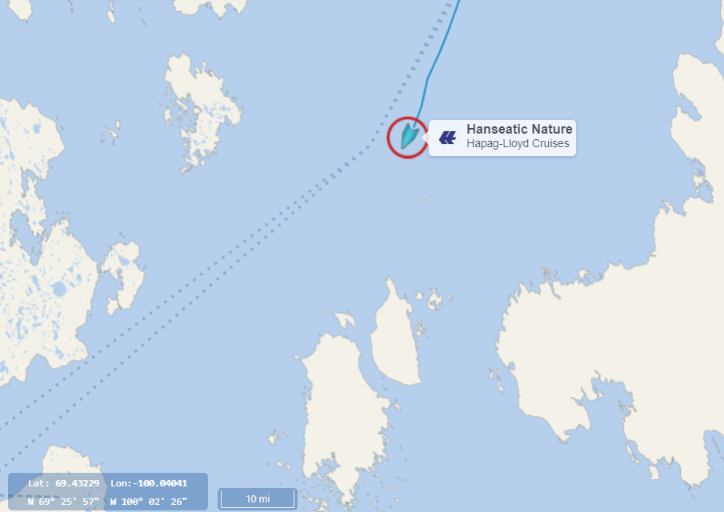 By way of additional information here is the latest CIS chart: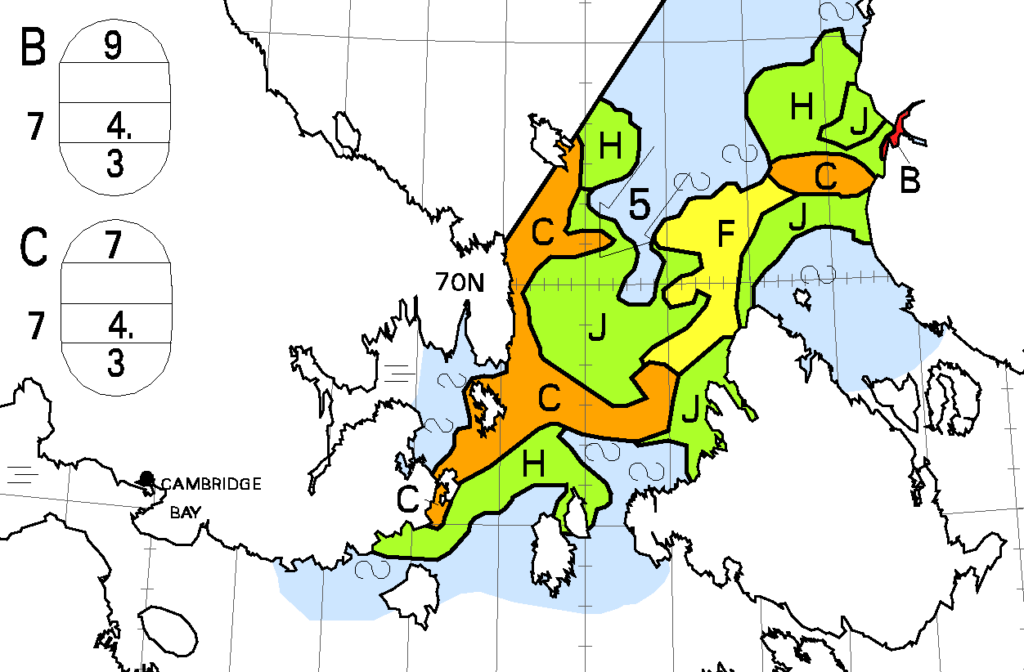 plus the view from Terra earlier in the day: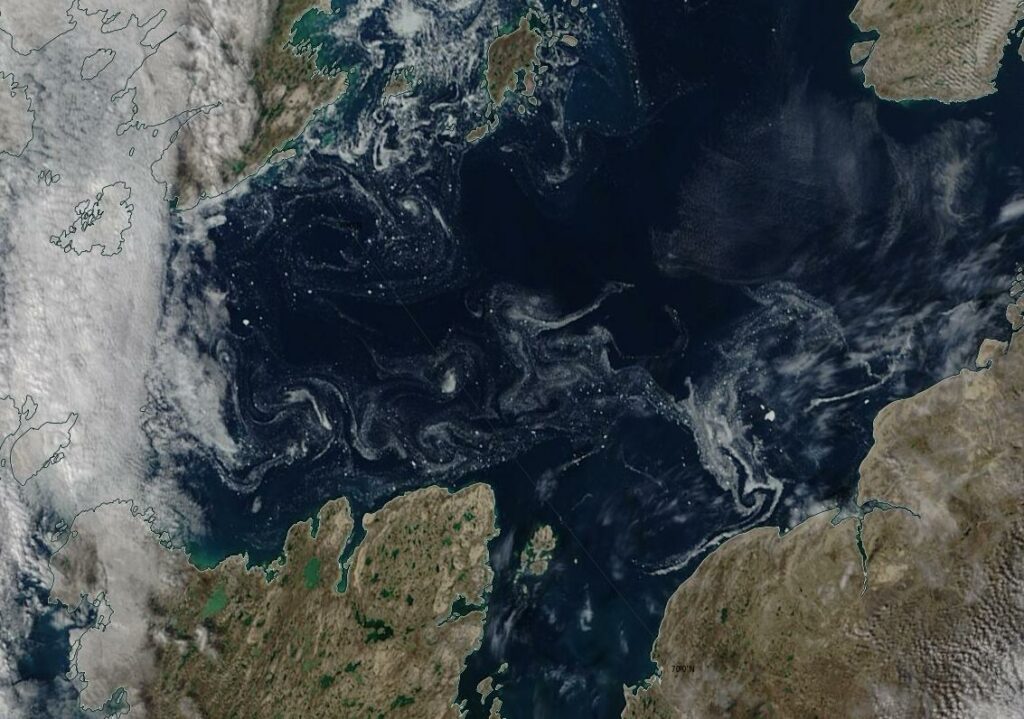 Unfortunately the view of the thickest ice is obscured by the clouds visible in the webcam image above.
[Edit – September 7th]
The weekly Canadian Ice Service concentration chart reveals that route 1 through the Northwest Passage was "open" on September 5th, with a way through possible without encountering > 3/10 concentration sea ice: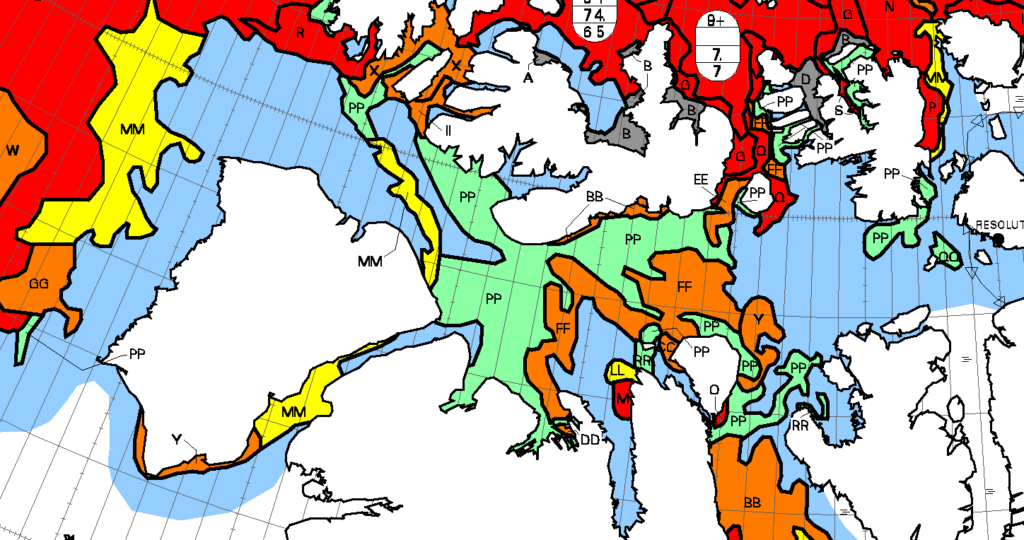 [Edit – September 17th]
Ex Typhoon Merbok is currently barrelling its way towards the Bering Strait generating huge waves and a large storm surge. See the September open thread and the comments below for further details, but this morning Mark Synnott in Polar Sun reports from the Chukchi Sea: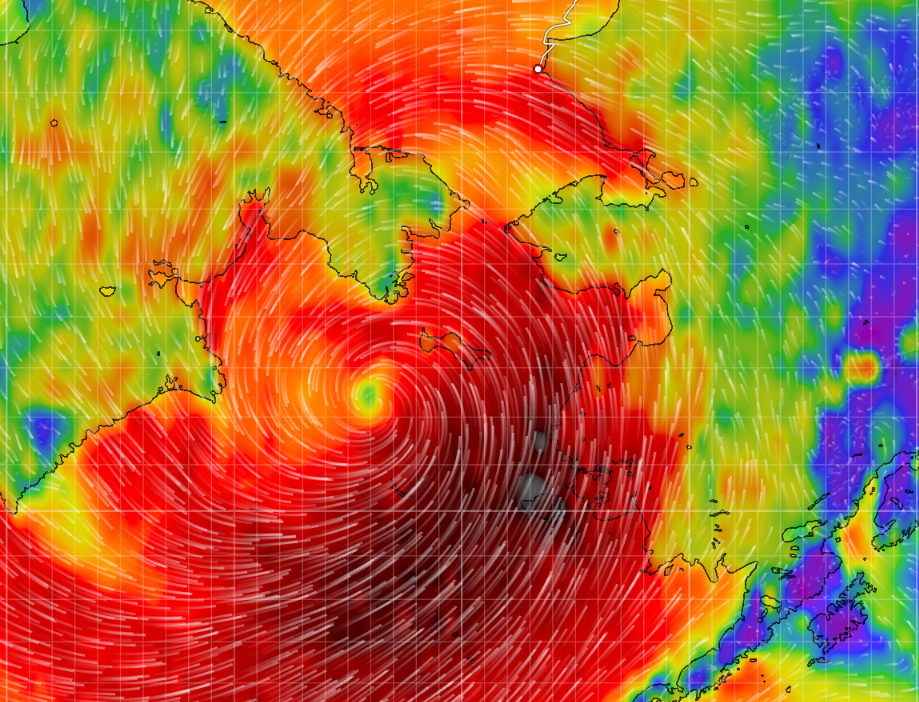 Storm of the Decade

This was the headline from the National Weather Service that someone just sent us. I guess information is power, but I think in this case I might have preferred not to hear every detail as to how serious a storm we are currently weathering…

The funny (or not so funny) thing was that the story actually mentioned Point Hope, where we are currently at anchor on the north side of the spit. Yesterday when we got here we nosed in as close to shore as we could get and anchored in about 20 feet of water. We have some protection from the southeast beneath a 20-foot bluff of crumbling permafrost, but I have never had to ride out a storm this big with so little shelter.

Currently we're seeing gusts over 30 and the snubber, to which I just added another layer of chafing gear, is creaking and groaning and generally letting it be known that it is under a tremendous strain…

The good news is that if we do drag, which I think is unlikely at this point, there is nothing but open sea downwind. And we pre rigged the third reef in the main so that if we lose our anchor, our plan is to heave to on the port tack and let this thing blow us out to sea…

It's warm and cozy down here in the cabin and the motion aboard, which is not exactly mellow, is tolerable, at least for now. In a little while, I'll check the snubber again and do another tour around the deck to make sure everything is properly buttoned up. Storm is supposed to peak tonight and tomorrow morning, so send us some good vibes, if you are so inclined.
[Edit – September 25th]
Le Commandant Charcot has caused a problem for the Scott Polar Research Institute. He has taken a route through the Canadian Arctic Archipelago that is not numbered on their map!

Voyaging from east to west he started on route 7, took an unusual northerly excursion, and then exited the CAA using route 1 through McClure Strait: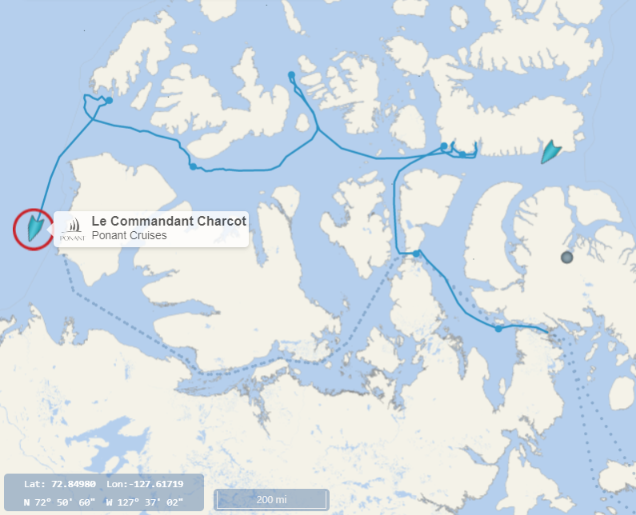 [Edit – September 27th]
There is also another novelty for the Scott Polar Research Institute to record this year. Here is a picture of downtown Vancouver, kindly provided by Maiwenn Beadle who is the captain of the "pleasure craft" Noorderzon: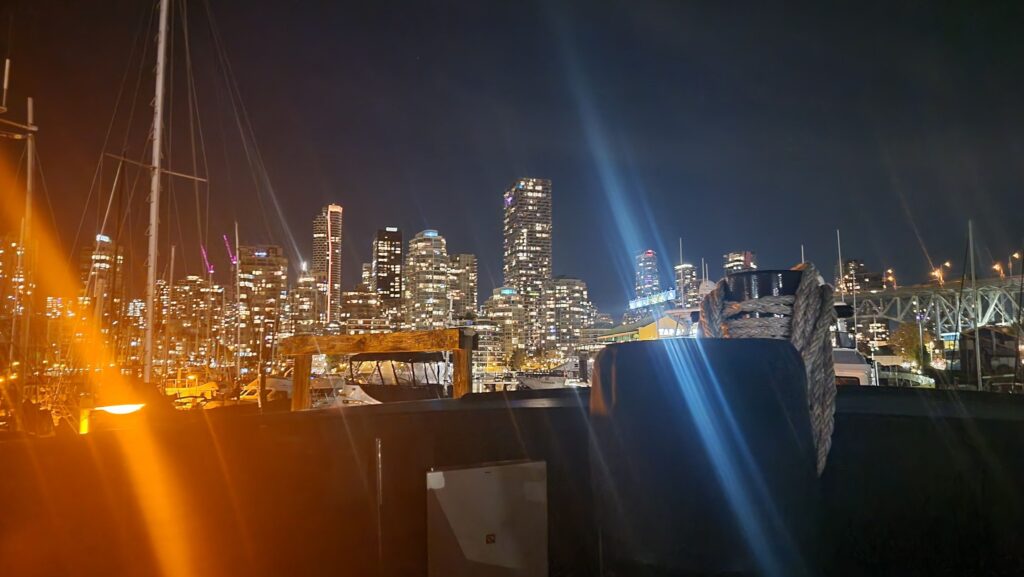 As far as I can ascertain Maiwenn is the first ever professional female captain of a vessel that has successfully negotiated the Northwest Passage. What's more Noorderzon was the first "small craft" to achieve the feat in 2022!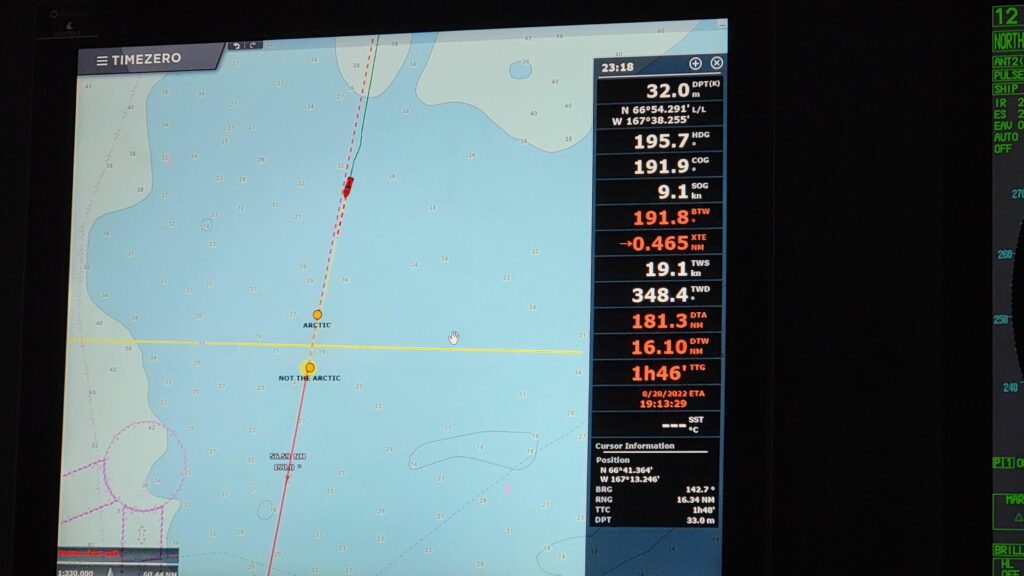 Maiwenn assures me that she couldn't have done it without the assistance of her amazing crew. She is now looking forward to a nice rest before deciding on her next adventure.
Watch this space!