Following another crew change the Polar Ocean Challenge team in their yacht Northabout have just left Nuuk in Greenland, bound for Bristol in South West England: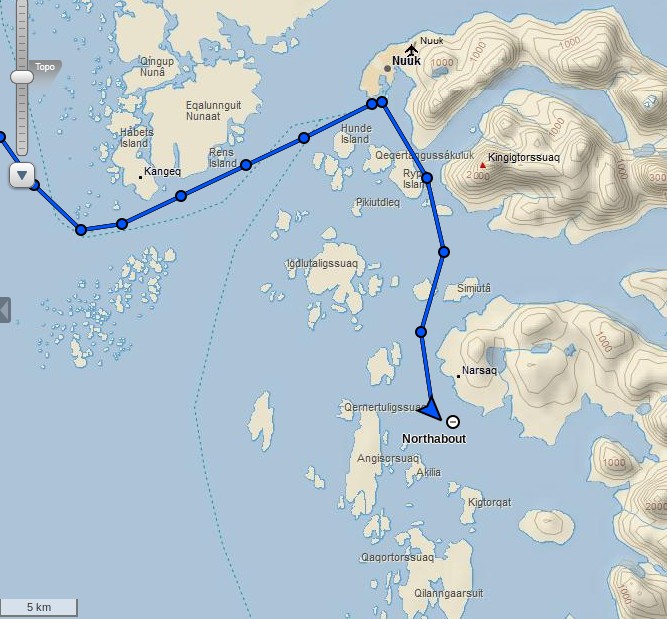 To get back to good old Blighty they are going to have to brave the North Atlantic in Autumn. Some stormy weather is likely! We're currently keeping an eye on Tropical Storm Karl, who has just left Bermuda in his wake and is forecast to reach hurricane strength before heading off across the North Atlantic: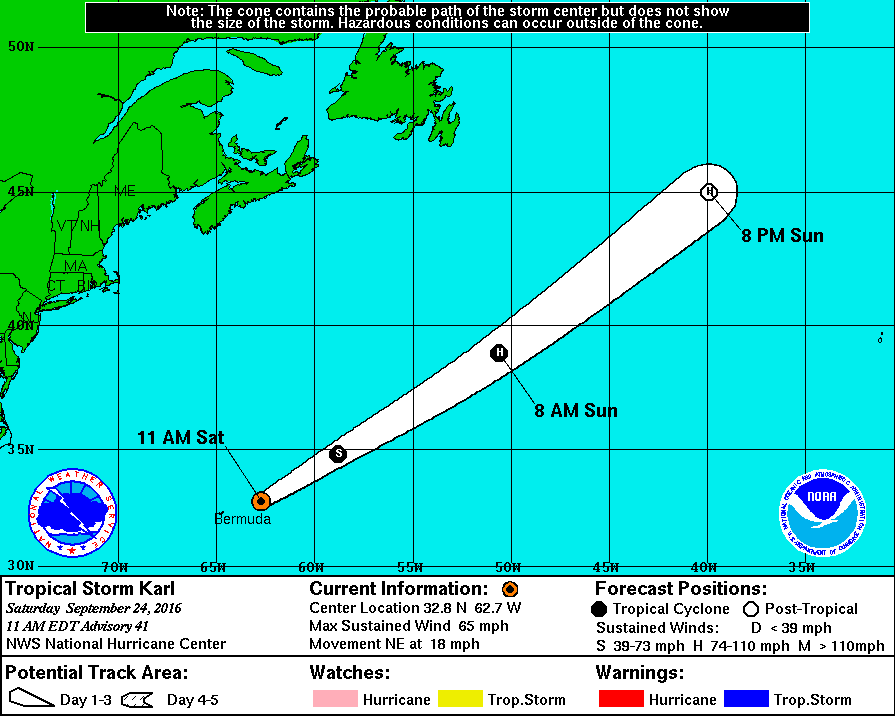 The latest advisory bulletin from the National Hurricane Center forecasts that:
Karl is forecast to be absorbed by an extratropical cyclone early Monday.
That cyclone looks set to create 8 meter waves south of Greenland! Here's how the significant wave height forecast looks for 08:00 on Tuesday September 27th: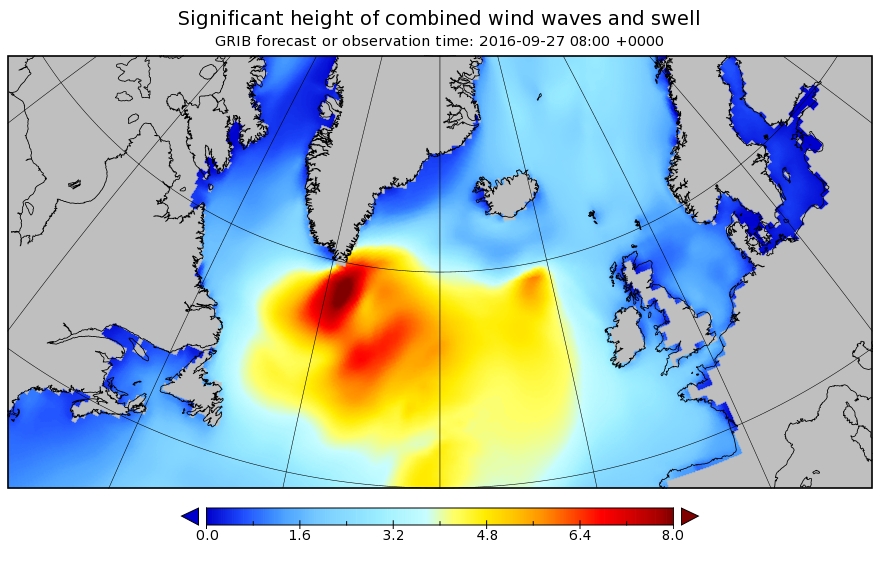 What happens after that remains to be seen. We will keep you posted!
The new captain of Northabout, Mike Stewart, reports that:
We have decided to approach things in a relaxed manner, and for the first few days, at least, we will day sail southwards amongst the islets and channels towards our departure point, in a sort of 'shake down' period, to get used to each other and our vessel, we will head for a remote weather station on the very south east tip of this vast and forbidding Island. More to say on that later..

Our home for this, our first night, as a complete crew is at anchor next to a tiny abandoned port named FAERINGEHAVN. Old dead wooden whalers, ribs now showing, and sad broken down port buildings, minus roofs, are our view of the shore less that 50m away. Have a close look at the top of this image, or zoom in on the tracking on the satellite view.
We did just that: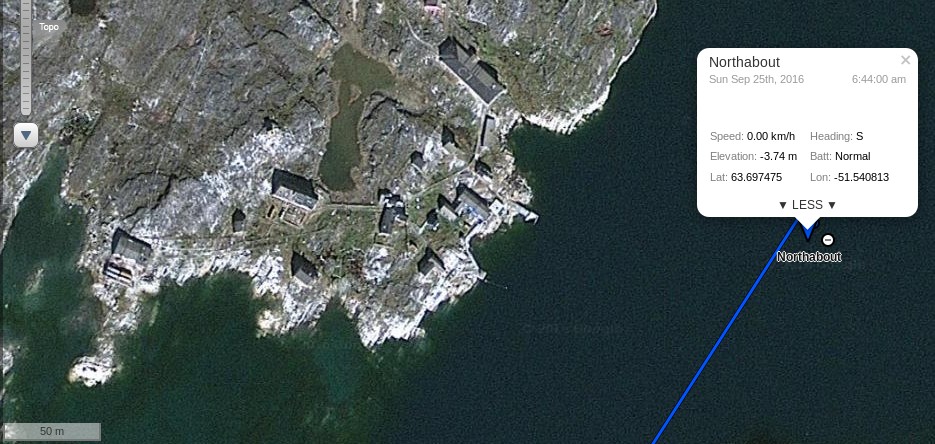 which reveals that the new name for Færingehavn is Kangerluarsoruseq.
Mike also points out that they are not alone:
We have visitors! EAGLES QUEST II crew, (a Hong Kong registered Tayana 58 who have sailed from via Alaska), decided to tag along for a while are on their way over for a brew..
Given the storm that Karl is brewing up in their path a leisurely cruise to Cape Farewell seems like an eminently sensible idea to me!
Northabout has now set off on the next section of her island hopping cruise to Cape Farewell: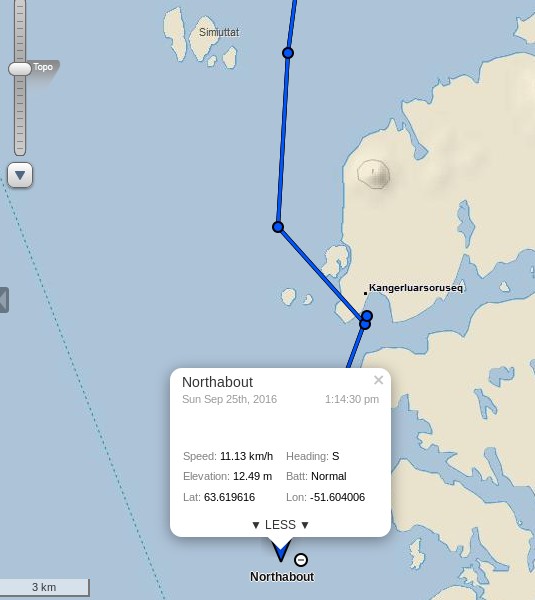 Northabout anchored for the night near Fiskenæsset (AKA Qeqertarsuatsiaat):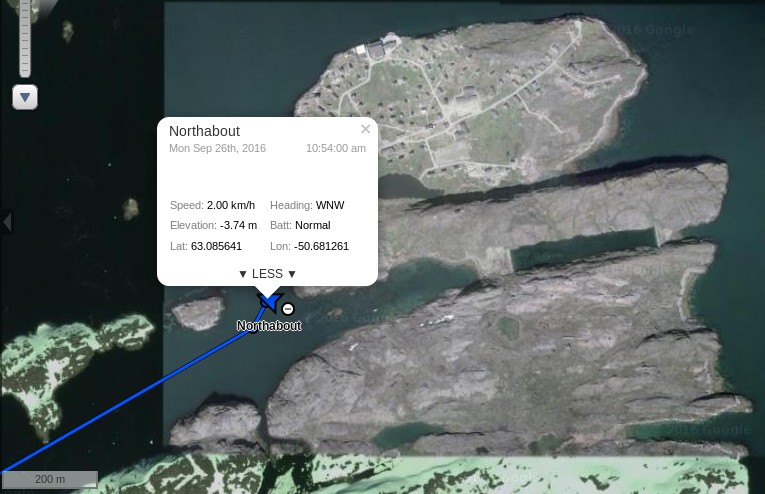 She has just set off hopping amongst a few more of the numerous islands off the south-west coast of Greenland: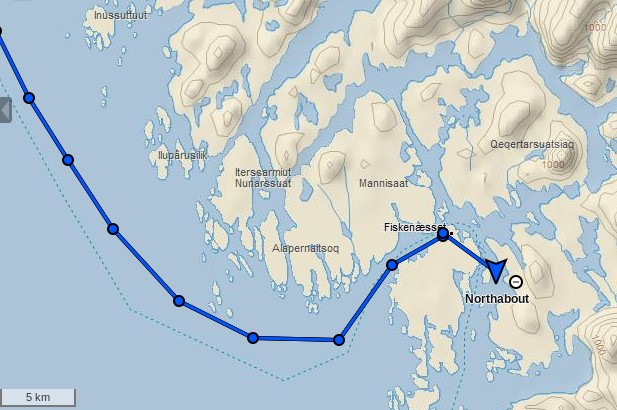 The imminent storm swell is now forecast further out into the North Atlantic than two days ago, but has grown to a predicted 12 meters:
Note the change in scale!
Here's the storm currently raging in the North Atlantic: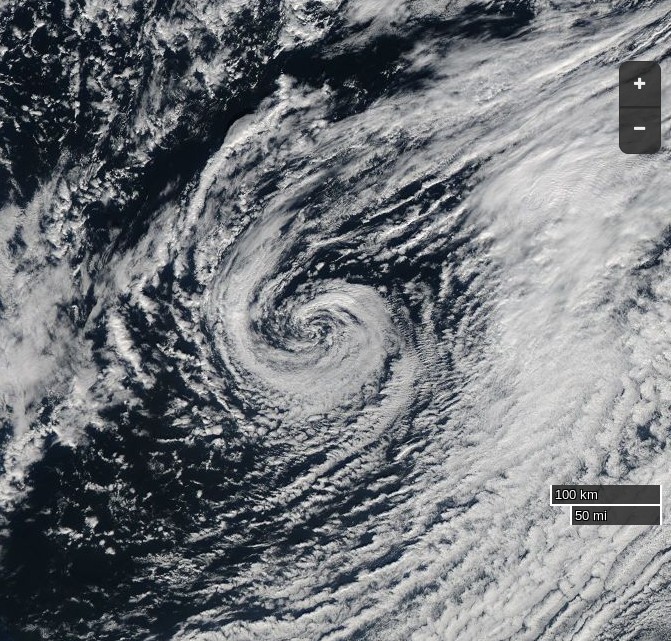 Northabout looks to have found a sheltered spot to stay the night:
It seems that her new crew have experienced plenty of fine weather recently. According to Ben Edwards:
This is ridiculous. Three days in a row and we've had the best weather of the entire trip. We woke up in the morning to relative warmth and clear skies our trip ashore to Qeqertarsuatsiaat was short but pleasant with a trip inside the local church.

Upon our return to Northabout we got the anchors up and motored off. We managed to get the sails up a couple of hours later and we're now doing about eight knots. We passed a glacier earlier on which was a little odd. From where we sat it seemed huge. The head alone was several miles across. The strange thing was that it didn't seem to stretch down to the coast. We were fairly sure of this because we could see a line of what looked like stone between the ice and the water and there were no icebergs that we could see. If it was at the water one would expect bits to break off and form bergs. … So it seems likely that it never reached the coast.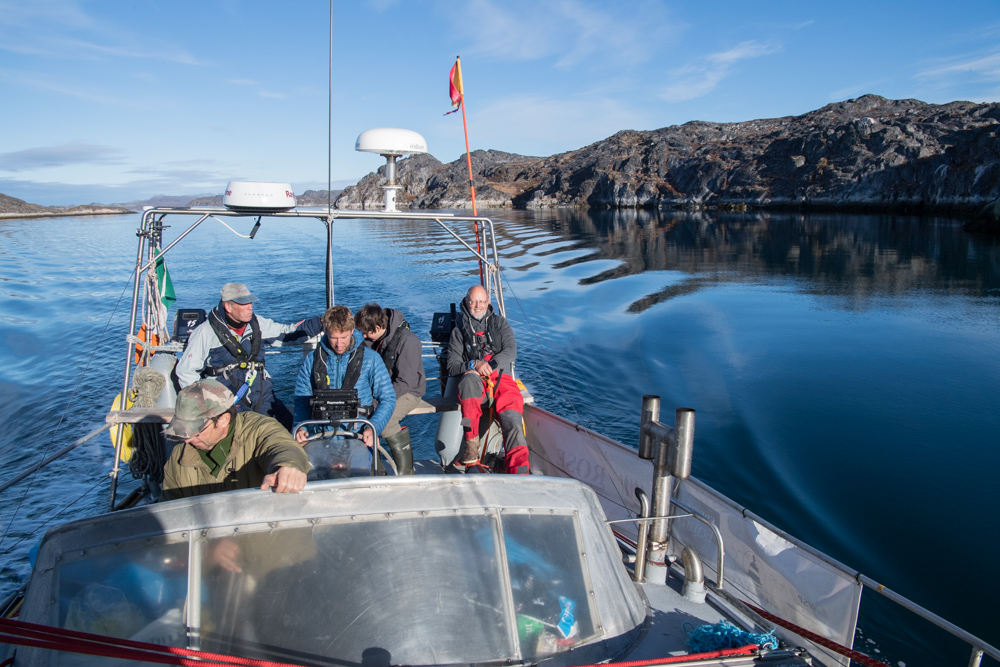 Let's hope that continues!
Northabout has just departed from Qaqortoq (AKA Julianehåb):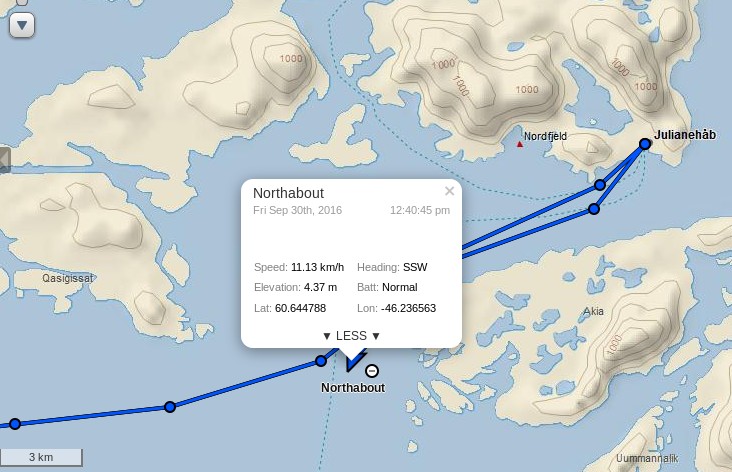 The Polar Ocean Challenge team have released a beautiful video of one of their recent sheltered spots to stay the night:
On their blog the current captain of Northabout, Mike Stewart, said yesterday:
We have successfully disembarked Steve and continued our preparation of Northabout for crossing the Atlantic. We have also re-fueled in situ courtesy of the Qaqortoq fuel supply truck, and have fitted a new house battery to bolster the hard working but a bit tired battery bank in place. This will keep our domestic amp draw supported- chart plotter, nav lights, interior lighting, electric pumps and bilge pumps etc working as they should. This also ensures that the engine start battery is kept fresh for its most important job.

I am told by the Inuit lady in the local chandlery that its going to blow hard tomorrow. We should have the wind behind us for our transit to the east, and then if all is ok run in to shelter mid afternoon.
In actual fact it looks like it's going to blow even harder in the not too distant future. Here is our North Atlantic "surf forecast" for 00:00 UTC on Monday October 3rd 2016: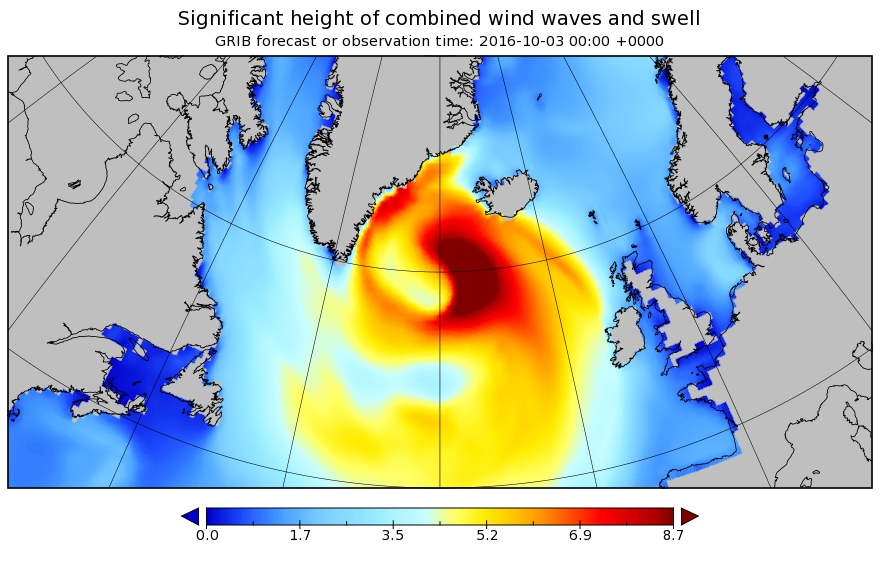 Meanwhile much further south in the Caribbean, Hurricane Matthew is forecast to become a major hurricane before reaching Cuba and then heading north across the Atlantic Ocean: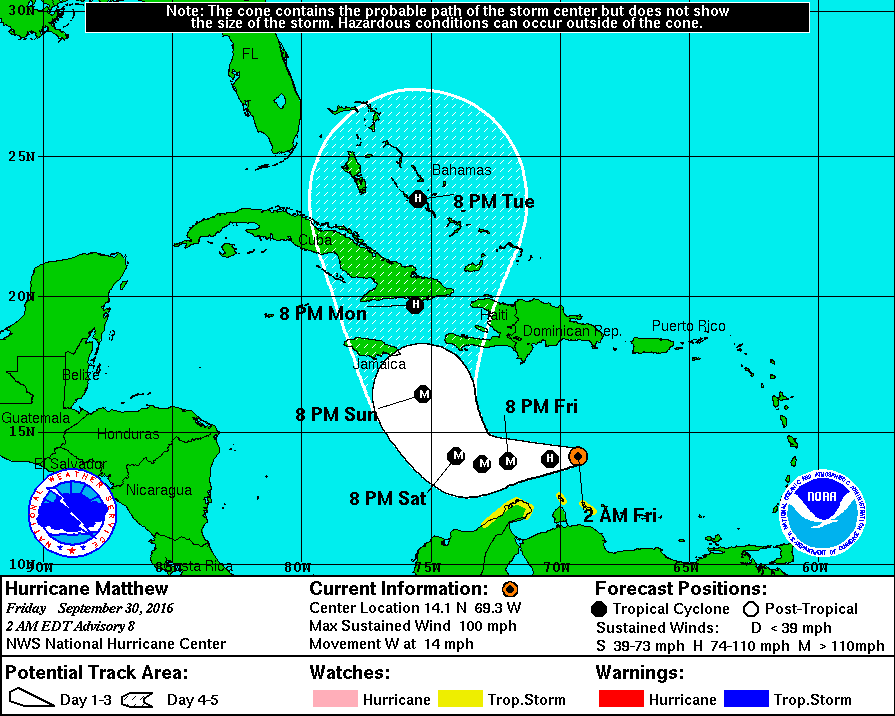 Northabout is on the move again: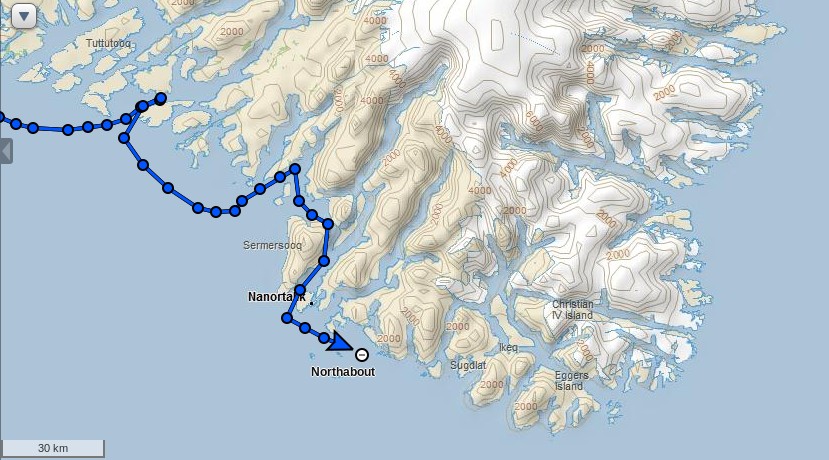 It seems my assumption that she would round Cape Farewell early next week was mistaken. According to Mike Stewart:
The strategy is to reach our departure point on the eastern entrance to PRINCE CHRISTIAN SOUND, which has a conveniently manned weather station and pier, in about two days sailing. This will allow us to hold in a safe area, whatever the weather in the Atlantic, and be in an ideal location to depart immediately to sea when the storm that is dominating the north Atlantic abates. After crossing Biscay 4 times this year, I have learnt that after a blow, kind of 'riding on the back of it' is an ideal time to head off. I recall something about the Chinese ideogram for chaos and opportunity being the same written character.. and as we have 3 Chinese sailors around half a mile behind us right now, I'll use that to describe the general strategy I have in mind. Actually looks good for a Tuesday pm departure into decaying westerlies around 30-35 KTS.
If you look at the map above the planned route will take Northabout through the islands of Southern Greenland, passing to the north of Christian IV Island.
Northabout anchored last night at Prins Christian Sund: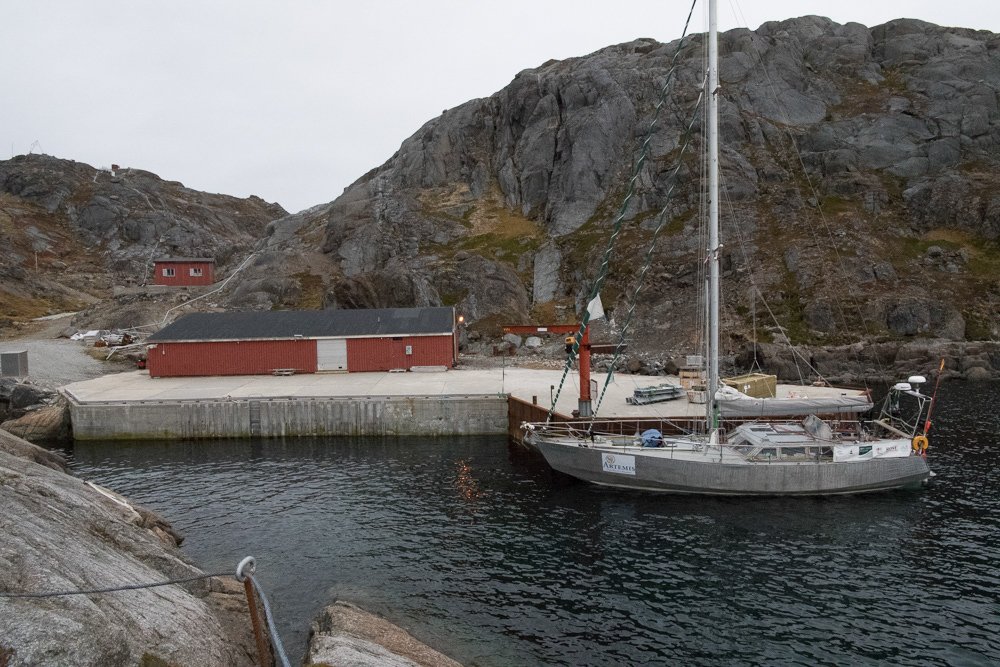 She is now heading in the direction of the Irminger Sea: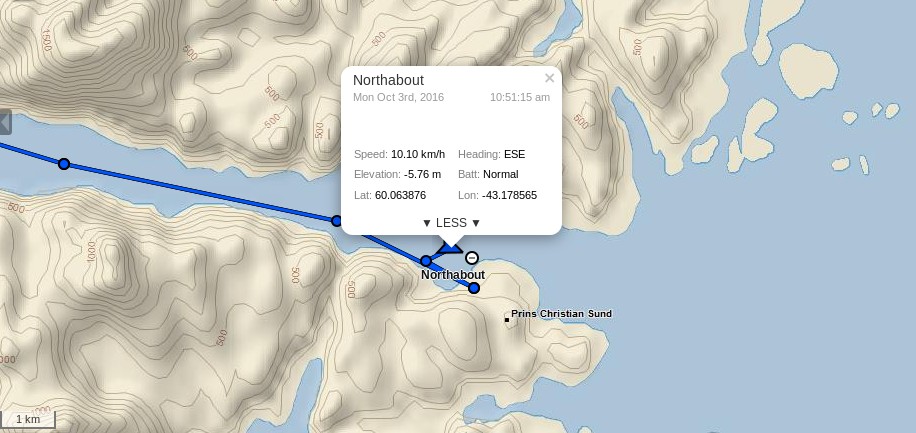 Beyond that the wilds of the North Atlantic beckon, where there is still a fair old storm raging!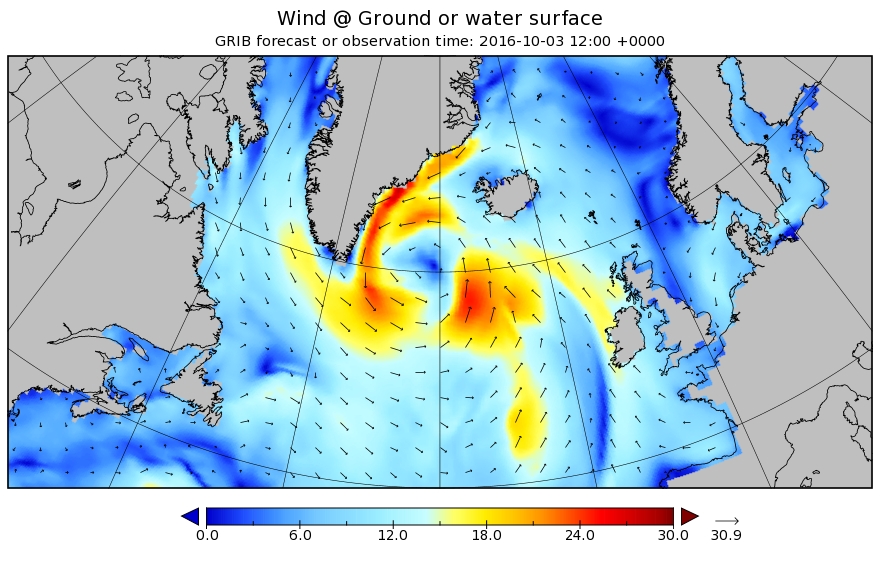 It looks as though the Polar Ocean Challenge team are hoping to get a good head start on their voyage back to Bristol from the strong winds in the wake of that storm, but there's also some big waves to contend with: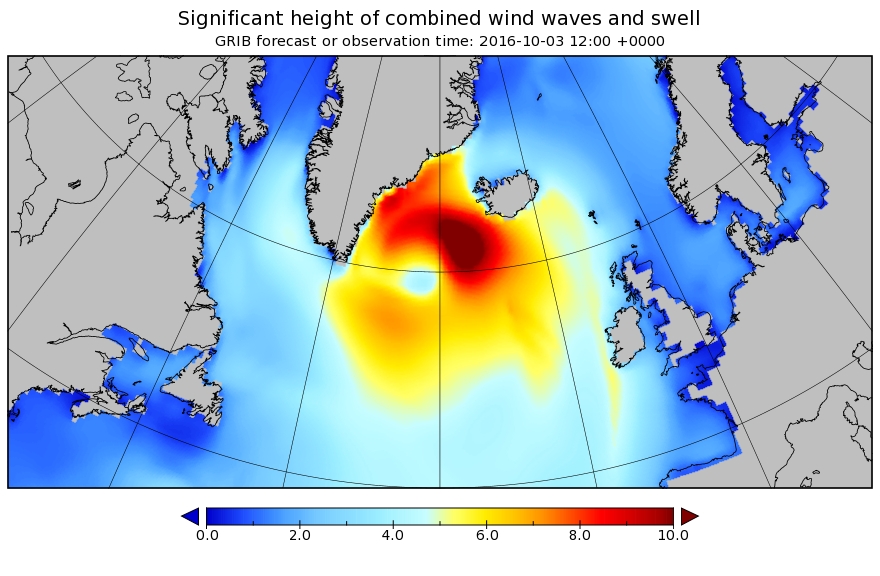 Here's how the current North Atlantic storm looks from space: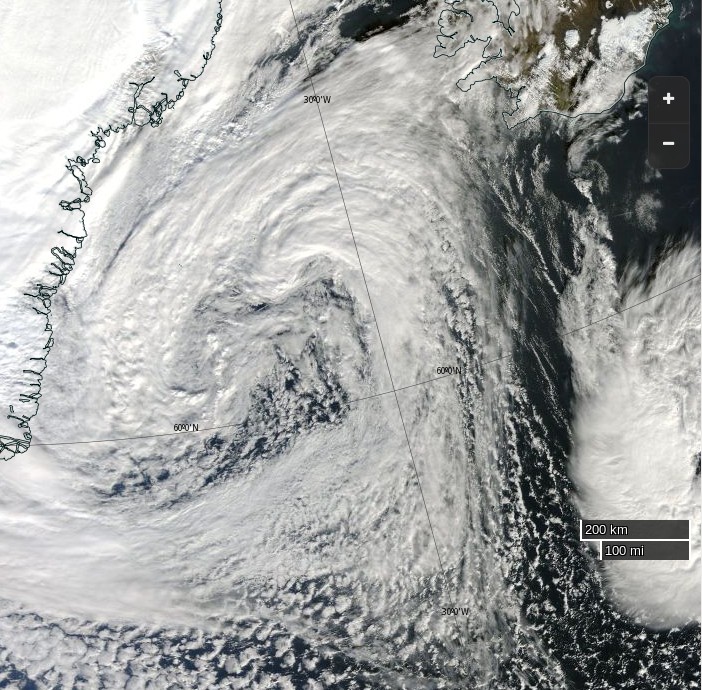 Differing accounts from Northabout in the stormy North Atlantic today! Skipper Mike Stewart reports that:
There is another low that will affect us in the next 24 hours, this will be through by tomorrow midnight, and most of its associated wind is westerly or northerly in our bit, anyway we take what we get here, its as simple as that. We have handled this at 50 KT with around 7m seas, (occasionally 8-9m) so our confidence levels are good. I heaved the boat to for a few minutes to test how she behaved, and she was 'OK' sitting duck like as the rollers powered through beneath us. During the evening, we were hit by one breaker, as always, theres a set bigger than the rest, and of course one broke over the boat, we were lifted and pushed sideways like a cork, but did not go over to any degree, which says volumes for our stability curve.
In similar vein Rob Hudson tells us:
My first watch was from 1400 to 1600, and was quite an experience. I attached my harness before leaving the main cabin – I leave it permanently attached in the cockpit, a tip from a recent letter in Yachting Monthly – attached the second hook to another point near the wheel, and then took over from David. Looking around at the conditions a loud "Yeehaaar!" left my mouth and was whipped away by the wind. The seas were magnificent, lashed by the wind and spewing spume from the top, as Northabout gamely reached across the tops under reefed staysail.
whereas Ben Edwards bemoans:
So the night hath passed and we're still alive. To me it feels like it was a bit of a close run thing…

I did my watch (eight to ten) and went straight to bed, not that that saved me. Twenty minutes later I rushed to the toilet and threw up my breakfast of porridge and tea. I then went back to bed, the swell got larger, the wind got stronger, I went back to toilet. This continued for the next ten hours. In total I threw up six times, a personal best.
Tomorrow is another day!
David Wynne Davies reports from the middle of the North Atlantic:
Half way point to Ireland reached yesterday. Progress had been impeded by headwinds but with the wind now backed to the South and on the beam we were making 7kts. In order to catch up lost time the mainsail as well as the genoa were hoisted supported by the engine although increasing winds this afternoon (gusting 50kts squalls) prompted us to reduce to 3 reefs and a reduced staysail.

Everything then was cracking on beautifully in fairly rough seas – until the engine splutters and dies. Mike switched fuel tanks in the belief that the forward port tank may have been contaminated or be getting close to having to be switched over. Engine starts, but again stops suddenly. After further consideration the starboard fuel tanks were tested, and the engine started to run smoothly again. We will have to figure out why the port fuel tanks are not feeding through.

Last night to conserve fuel we stayed under sail started off making 5.5 kts. The wind is expected to ease over the next few days, and helpfully be on the nose when we cross the St George's Channel. Let's hope that the high pressure over UK moves away before then and that we can benefit from Westerlies.
Possibly related to the spluttering engine, Northabout's live tracking ceased to function for a while yesterday:
#Northabout switched into #submarine mode? @PolarOceanChall

— Snow White (@GreatWhiteCon) October 7, 2016
After an anxious wait it burst back into life, and confirms Northabout's steady progress towards a welcome pint of Guinness in Ireland: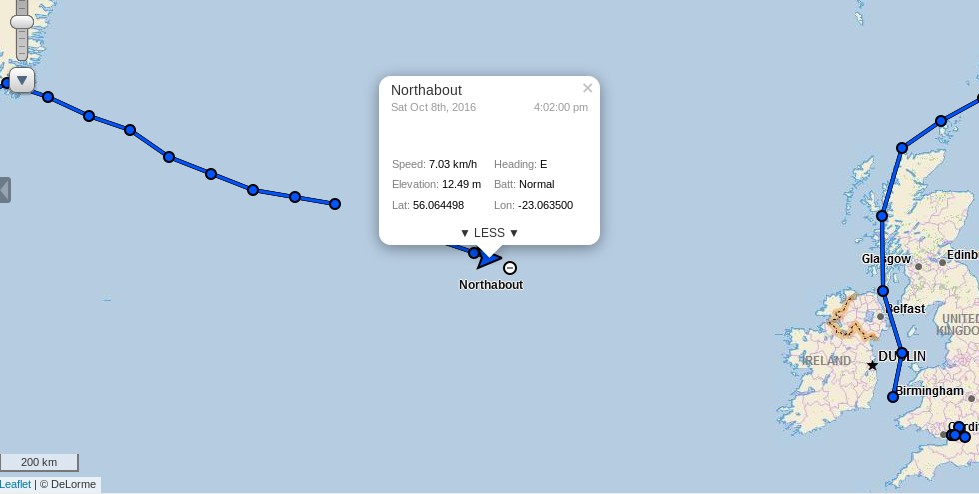 Here's the ECMWF MSLP forecast for Tuesday morning revealing the approach of another low pressure system, which Northabout is no doubt hoping to avoid as far as possible: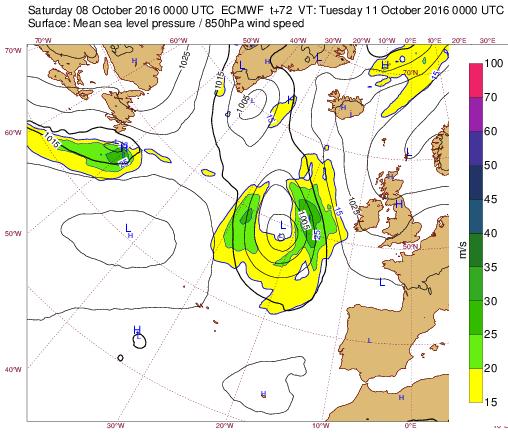 After a major, weather enforced detour: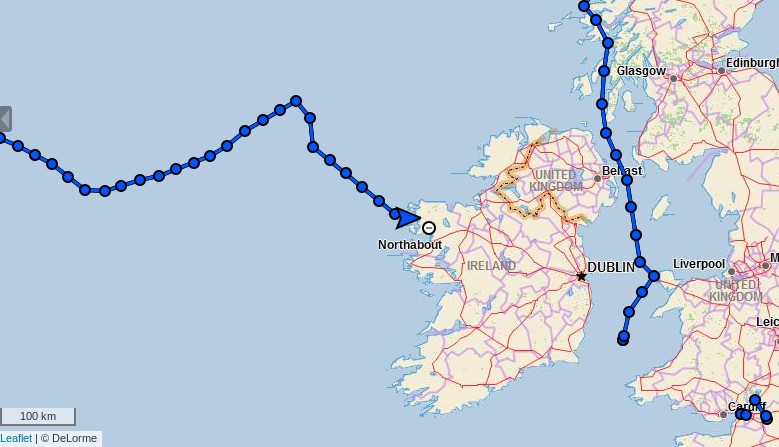 Northabout has just reached Ireland! After a recent blog post mentioned the town I thought they were heading for Clew Bay and Westport: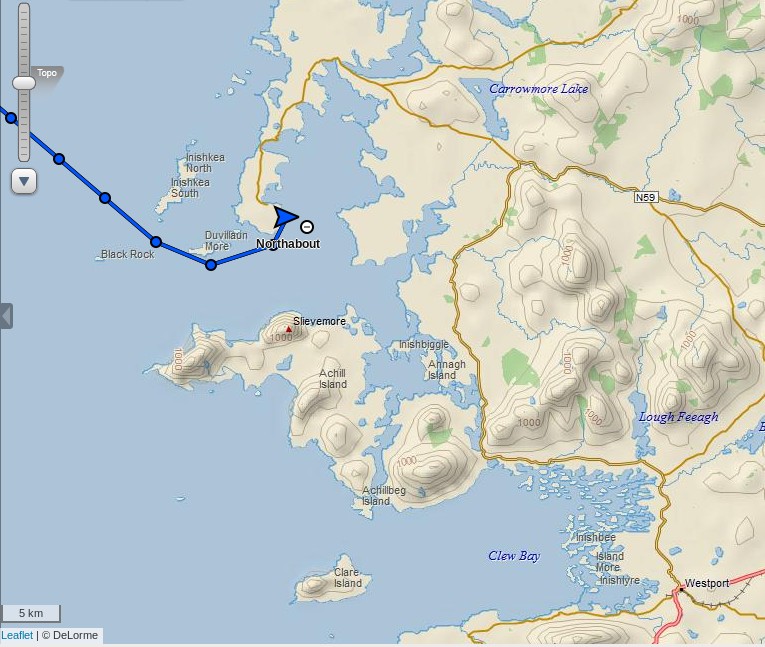 However they have stopped for the night north of there, at Blacksod Bay: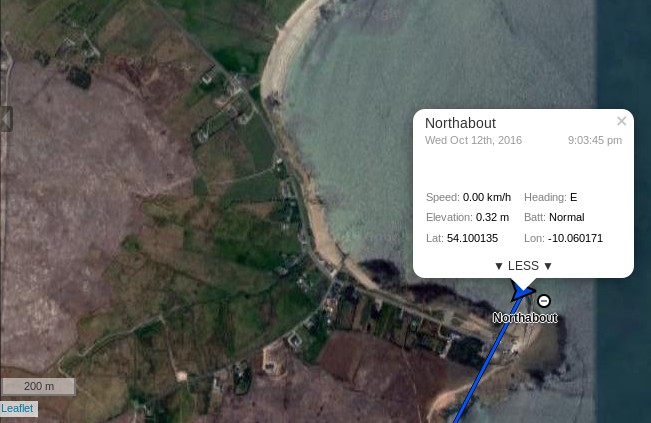 I hope there's a hostelry available to serve the crew their longed for pints of Guinness. Then it's on to Westport tomorrow.
David Wynne-Davies reports that some Guinness was duly discovered in Blacksod!
We arrived at Blacksod in darkness on Thursday evening to an unforgettable welcome from Jarlath, Mike, Tom and Mr Sweeney (the lighthouse keeper). Frances Gard was there too having hitched a lift after her Ryanair flight from Bristol.

With great enthusiasm they took our lines and promptly escorted us to a local hostelry. By golly, Guinness is indeed good for you at times like that! In true style, out came the fiddle and accordion with songs about Lord Franklin and other maritime disasters (all uplifting stuff!).

Yesterday we slipped Blacksod for Westport with Jarlath on board. Bringing Northabout back to Westport, where Jarlath had built her in 2001, was a poignant moment.

RTE News and several journalists were on the quay to record the event which was subsequently aired on the national TV news last night.
Here's that RTE news report:
"A journey that once took yrs just took one season" Previous #Irish crew compare conditions 15yrs ago with now #climatechange #Arctic @MRFCJ pic.twitter.com/2cxYHF0EVY

— PolarOceanChallenge (@PolarOceanChall) October 15, 2016
From David Wynne-Davies once again:
The sun is shining brightly again today although a front is expected tonight bringing heavy rain – but more importantly a wind shift. We leave for Dingle this afternoon after a most remarkable 36 hours during which we were treated to terrific hospitality. Many thanks to the hosting party who incidentally sailed Northabout through the NE and NW Passages over two seasons some years ago. So they fully recognise what this expedition had achieved.
Having departed from Westport on yesterday evening's high tide Northabout has now arrived in Dingle: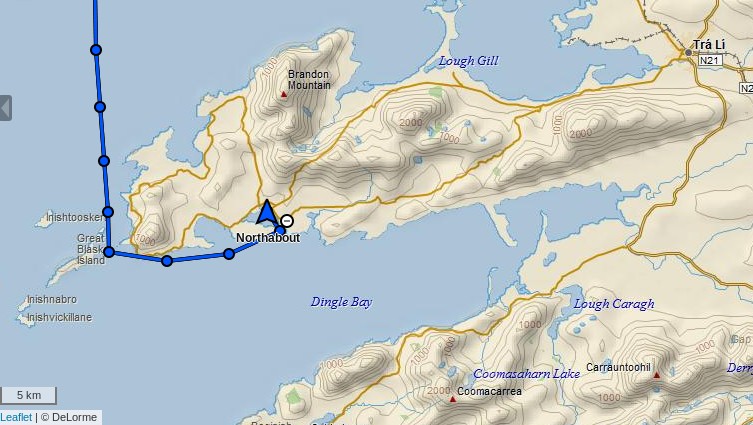 Here's another couple of photos of Northabout's arrival in Westport on Thursday: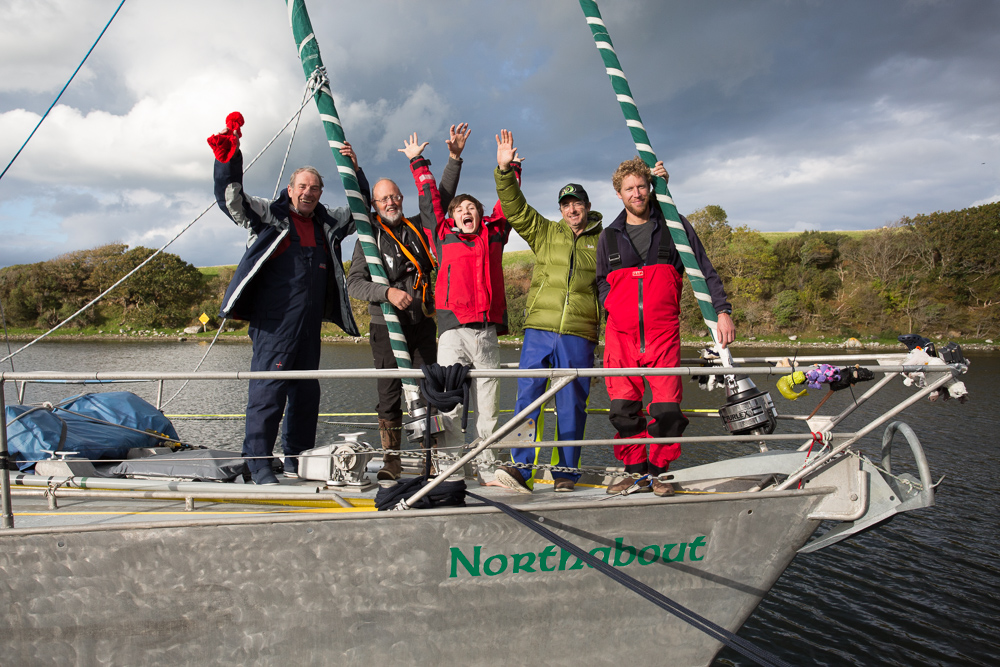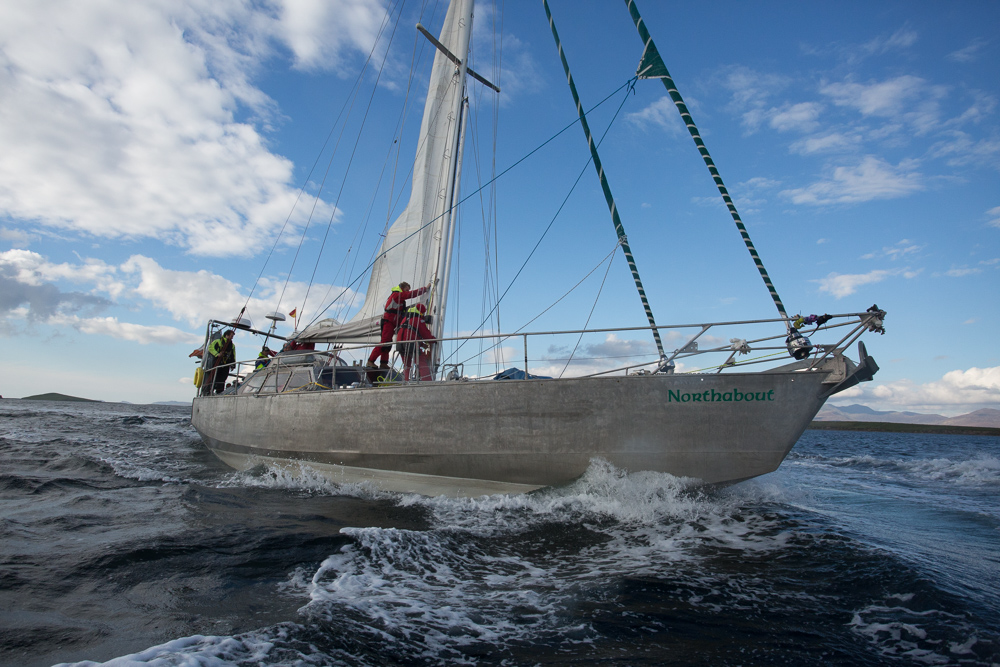 Meanwhile out in the North Atlantic Hurricane Nicole has battered Bermuda and is now heading where Northabout has recently been: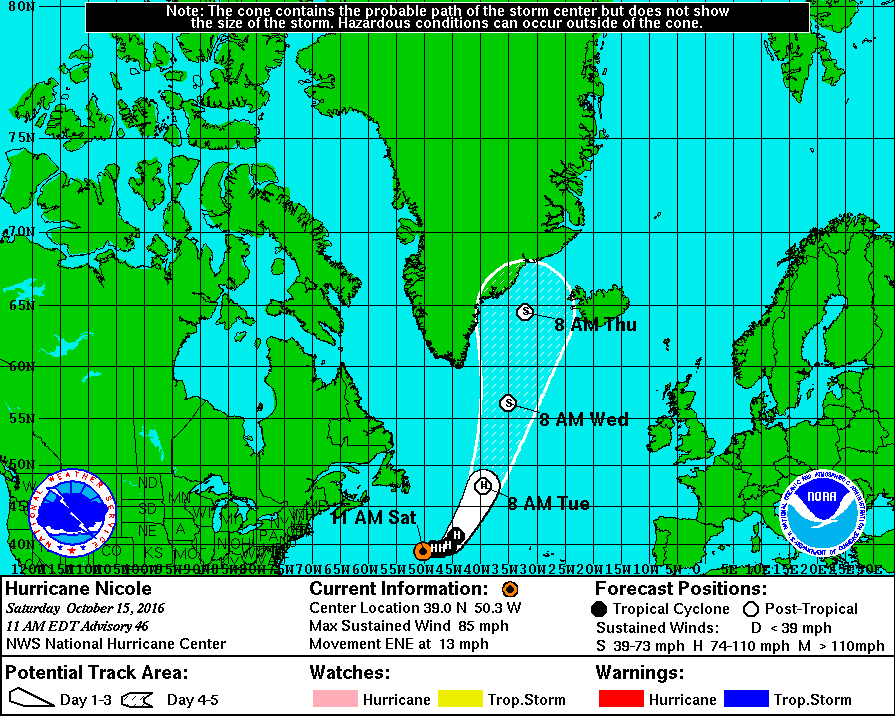 Northabout is nearly home! She's currently crossing the Celtic Sea back into English waters after a long absence: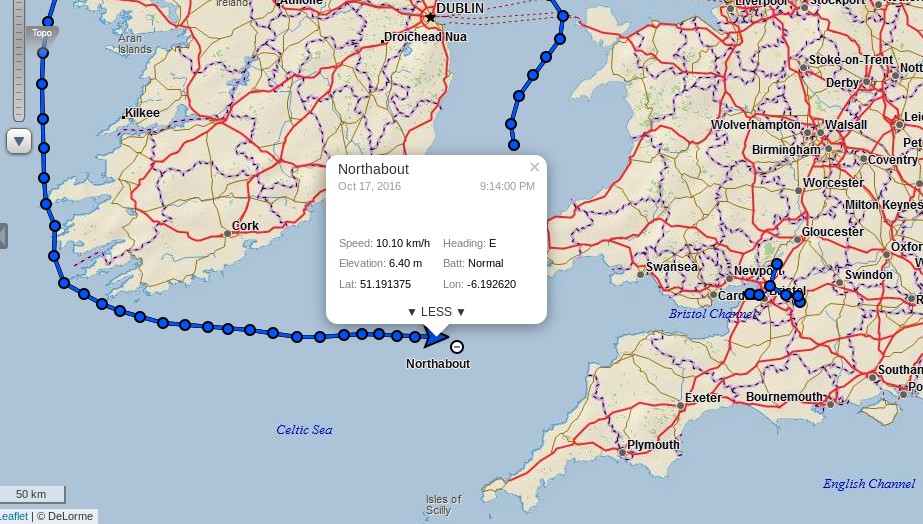 As the green, green grass of home beckons she no longer needs to worry about ice: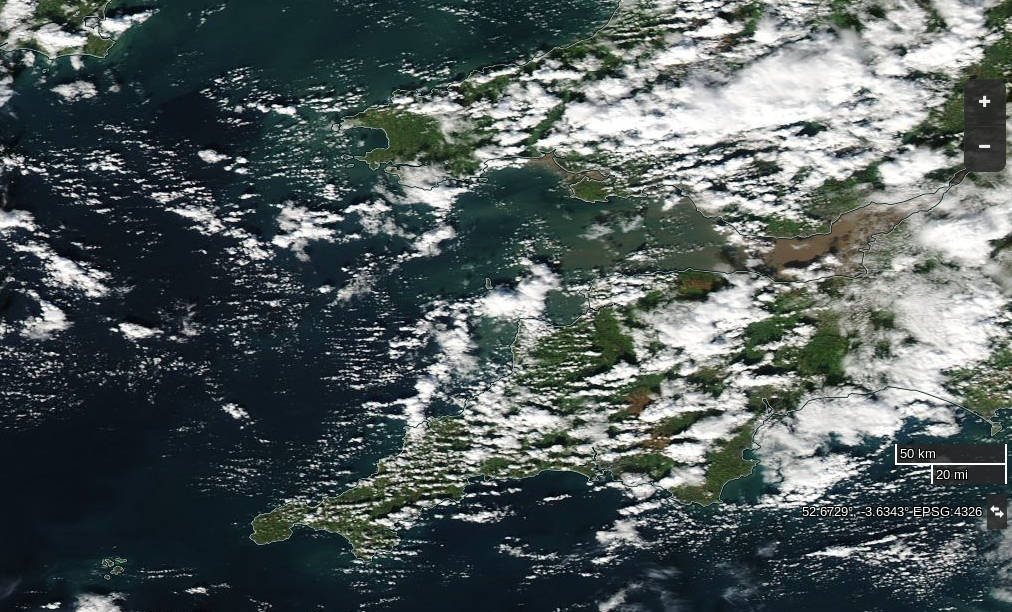 However there are numerous obstacles of a very different sort across her path, as you can see via VesselFinder: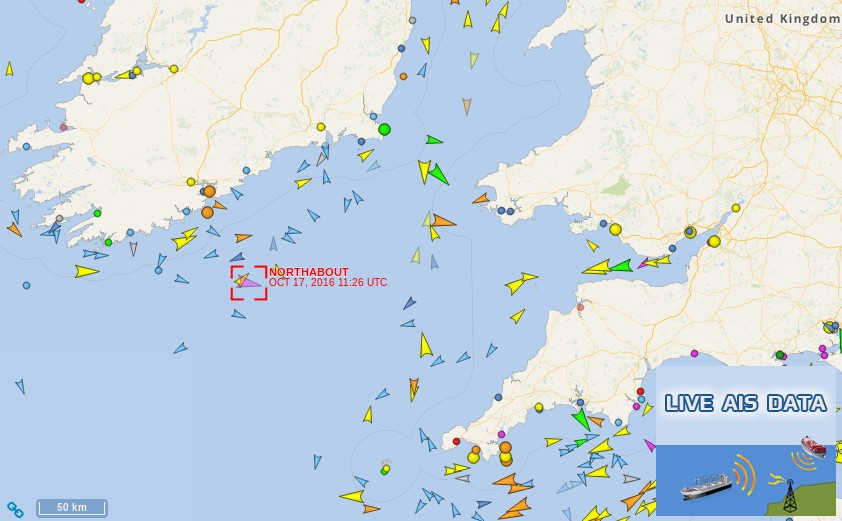 According to Rob Hudson, it's been a:
Beautiful morning, sun shining, a decent breeze from behind, and rolling down the Atlantic swells under full foresail at a steady 6kts, with bursts to 9kts if the waves pick us up. We are now well into the Celtic Sea, past Cork in the north, and enjoying the run home. We saw a dolphin last night, and four this morning so far.

Skipper Mike is keeping us on our toes, with no relaxing – constant AIS watch, and looking out for boats without AIS on radar.
Assuming Northabout manages to safely avoid all the shipping in the Bristol Channel, on Thursday morning she is due to sail along the River Avon under Isambard Kingdom Brunel's Clifton Suspension Bridge: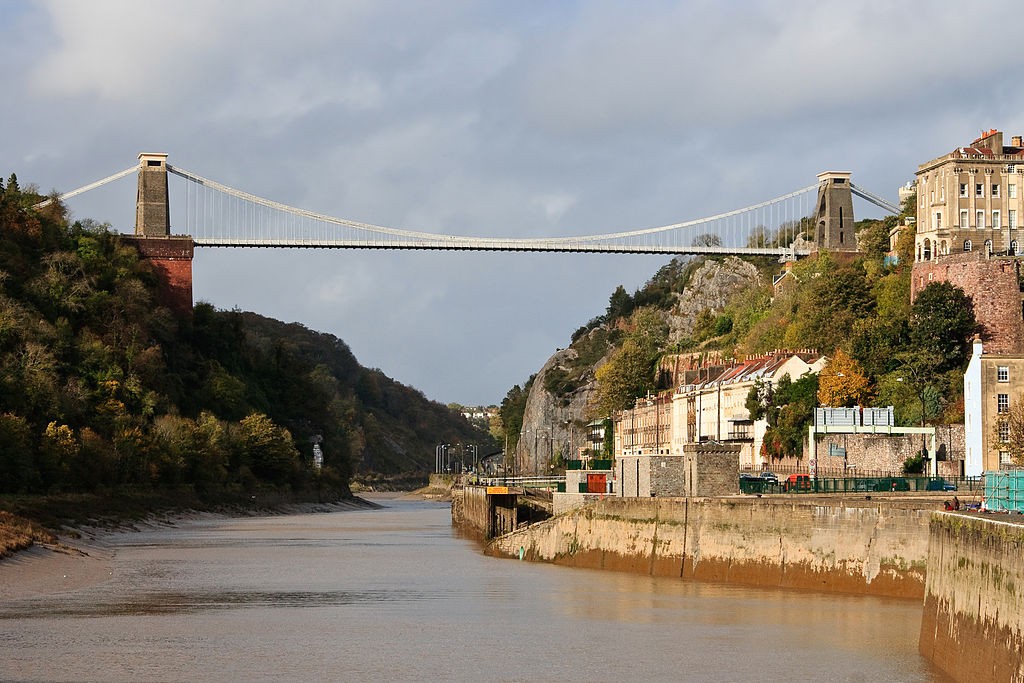 From there she will head through the locks of the Cumberland Basin and thence to meet her old friend the SS Great Britain.
We hope to be there to greet her!
After witnessing sunrise over South West England earlier in the day: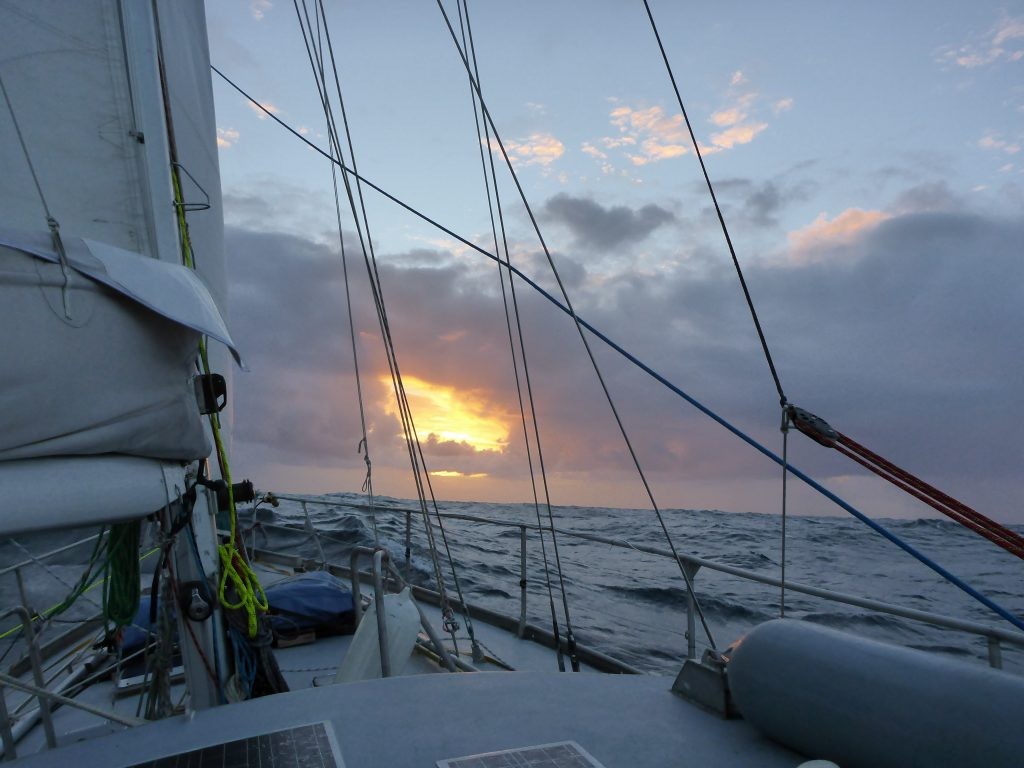 With the wind and swell behind us we were doing twelve knots at times with an average of about seven. Amazingly that continued and continues to continue as we continue to head east.
Perhaps slightly ahead of schedule, Northabout has now arrived in Portishead: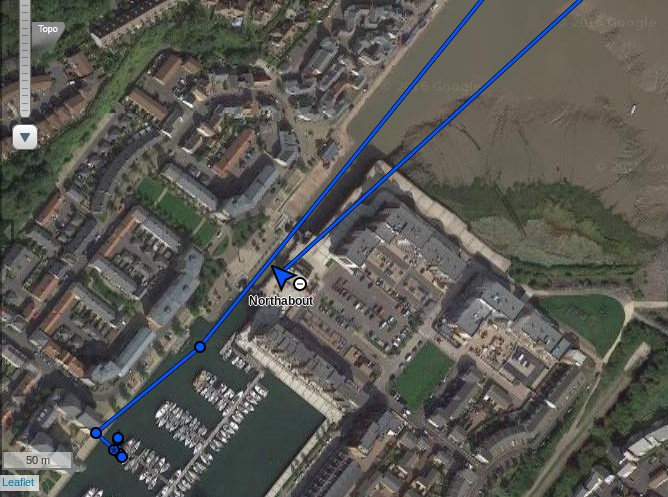 The other blue line in the picture was recorded way back in June!
Previous Polar Ocean Challenge articles:
Non Fiction:
"Northabout Braves the Northwest Passage"
"Northabout Races for the Date Line"
"Northabout Meets Some Serious Sea Ice"
"Northabout's Great Adventure"
Satire:
"Could Northabout Sail to the North Pole?"
Fiction: