A reader writes to ask us to explain the answer to the above question in more detail. Are you sitting comfortably once again? Then let us begin.
There has been a lot of unusual "weather" in the Arctic over the last twelve months. First of all there was an anomalously warm winter: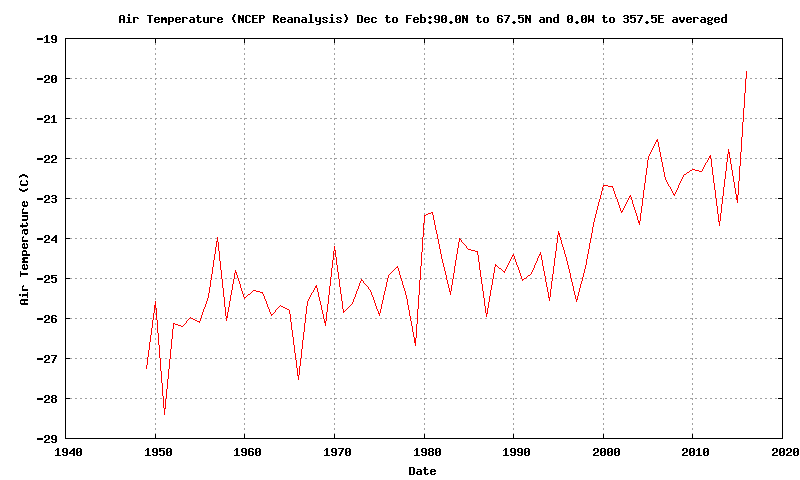 Then came what we dubbed the Great Arctic Anticyclone of 2016 in April. Take a look at what happened to the sea ice north of Alaska and Canada during the Spring and early Summer:
The ice was put through the mincer for the first time. Then during August there were a series of strong cyclones, collectively the Great Arctic Cyclone of 2016. The ice was put through the mincer once again, but in an anti-clockwise direction this time. Watch what happens in the Northwest Passage as summer turns to Autumn:
Some of the oldest, thickest ice in the Arctic has been chopped into small pieces which then easily flow through the channels of the Canadian Arctic Archipelago and into the Northwest Passage. Hence when the yacht Northabout (amongst others) was racing to reach Baffin Bay it wasn't to avoid "the refreeze" as claimed in certain quarters. It was in fact to try and avoid the worst of the chopped up chunks of old sea ice being carried swiftly in their direction by winds and currents. Here's what some of them looked like in close up:
The next question then becomes, if the Northwest Passage wasn't refreezing then, is it freezing now? The answer is not yet. In fact the favourite talking point of the cryodenialista, McClure Strait at the western end of the "main" route through the Passage has recently become navigable: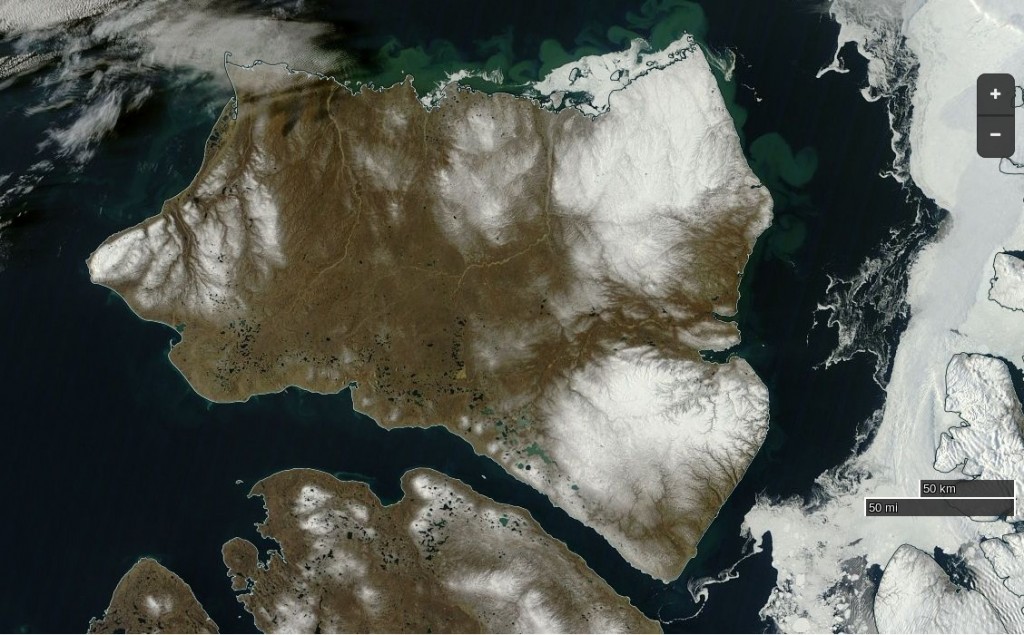 which is confirmed by the latest Canadian Ice Service chart of the area: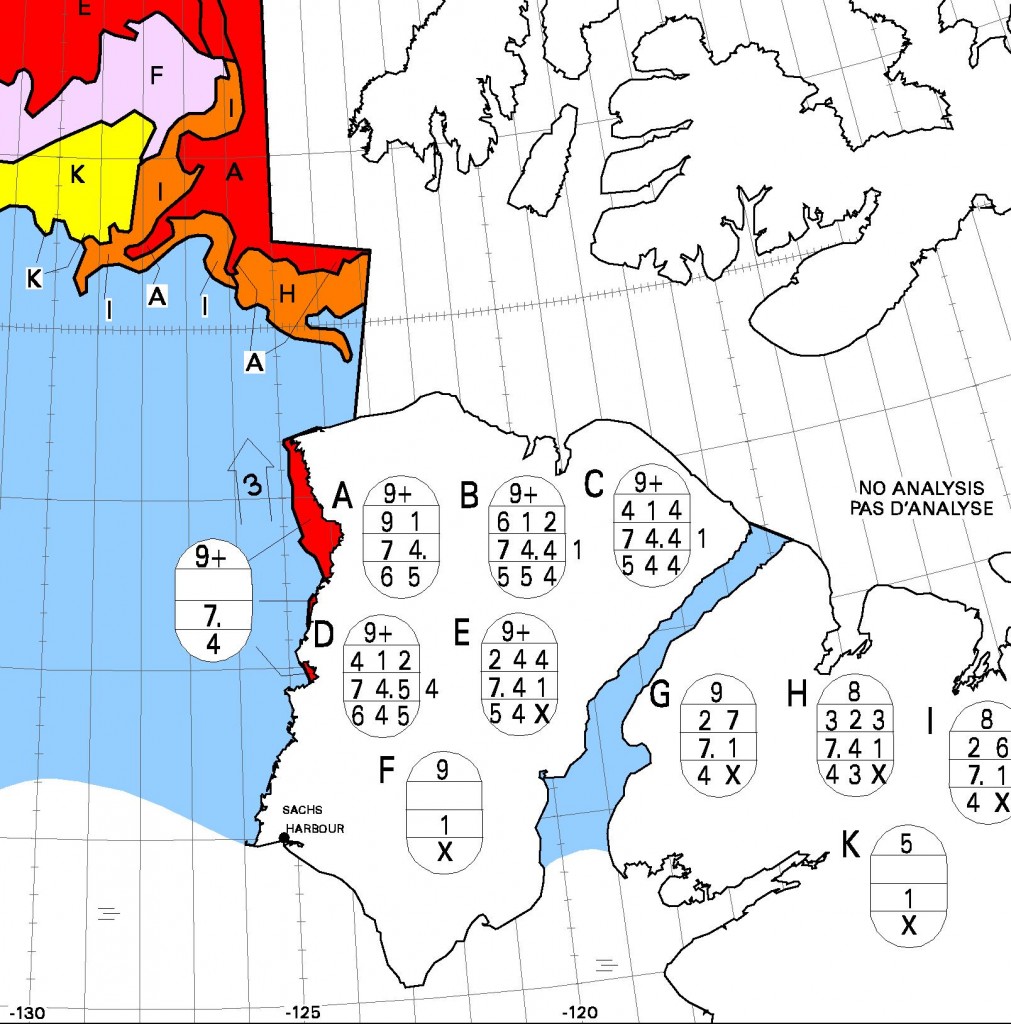 The "pretty pink" area towards the top left of the chart reveals "new ice". The Northwest Passage will have started to refreeze when some of that shows up on a "stage of development" chart of the Passage itself, but that hasn't happened yet. Here's yesterday evening's chart of the "Approaches to Resolute":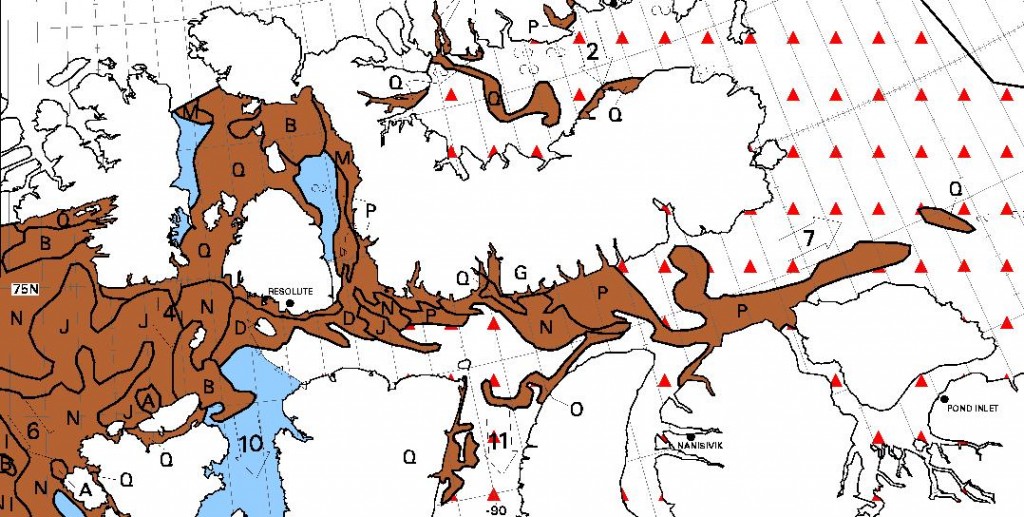 Lots of old ice! It was raining in Resolute yesterday, and the old ice there was still melting: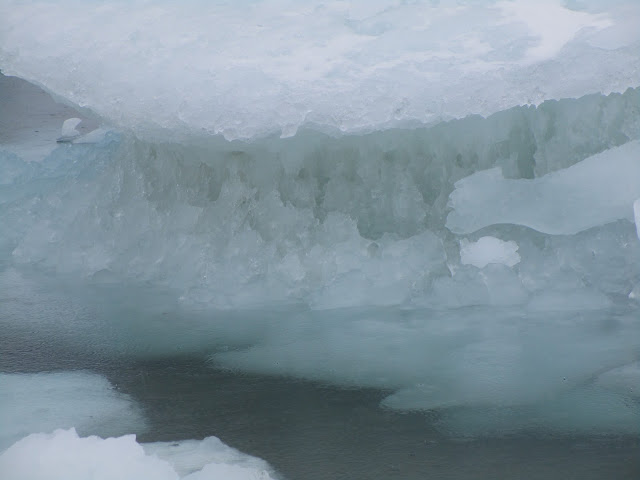 No sooner said than done! This evening's ice charts from the CIS do now show some "pretty pink" new ice in the Northwest Passage: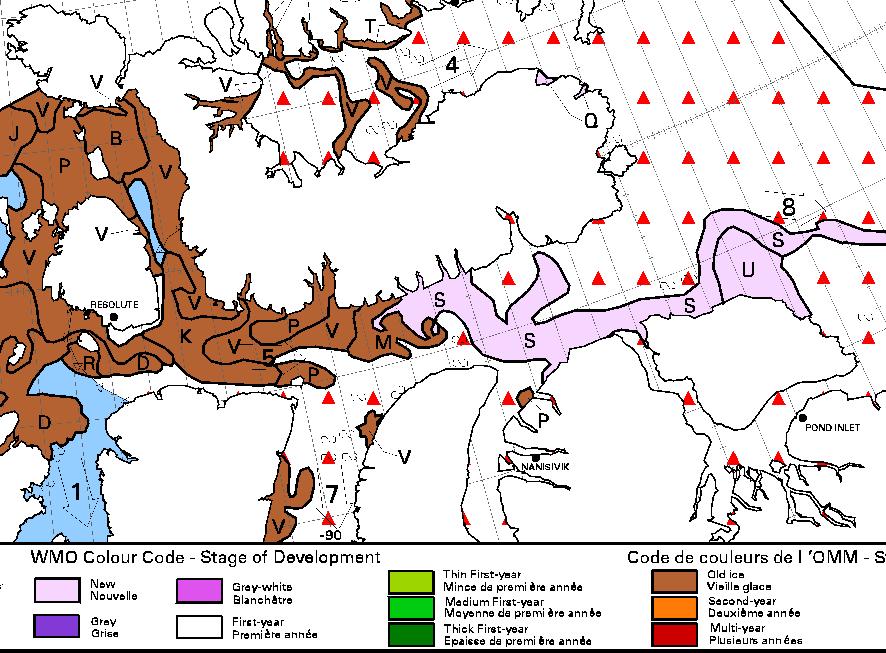 The wispy areas of new ice are also visible on this "false-color" image of the Parry Channel: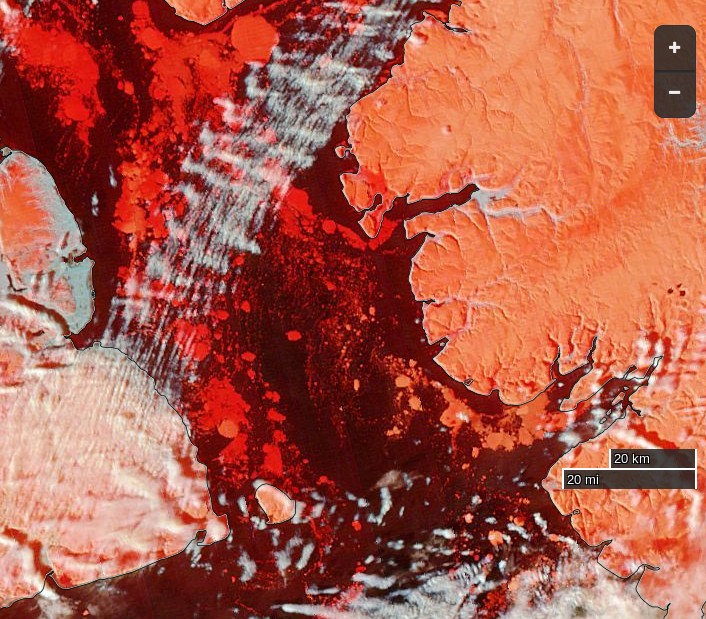 However even if Northabout were still in Prince Regent Inlet she wouldn't be "trapped in ice". There is still a way back to Bristol via Fury and Hecla Strait: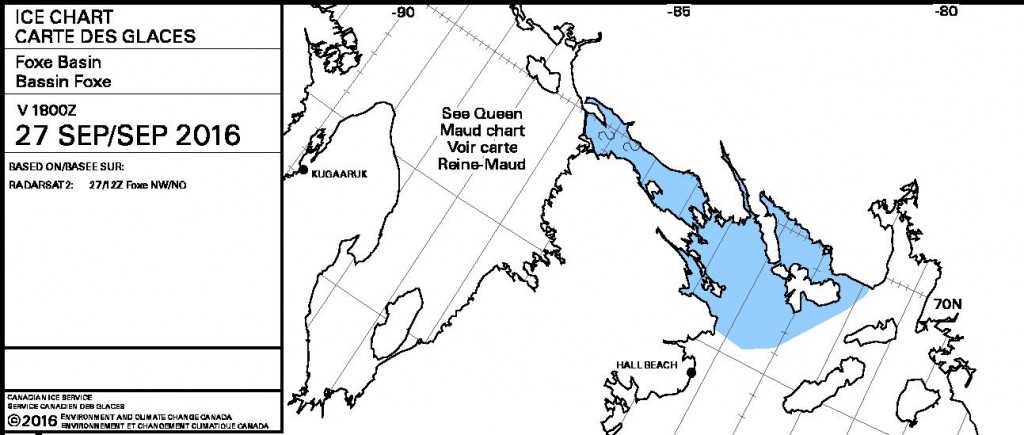 That route has been remarkably busy this year!
A clear view of McClure Strait from the Terra satellite in "false colour":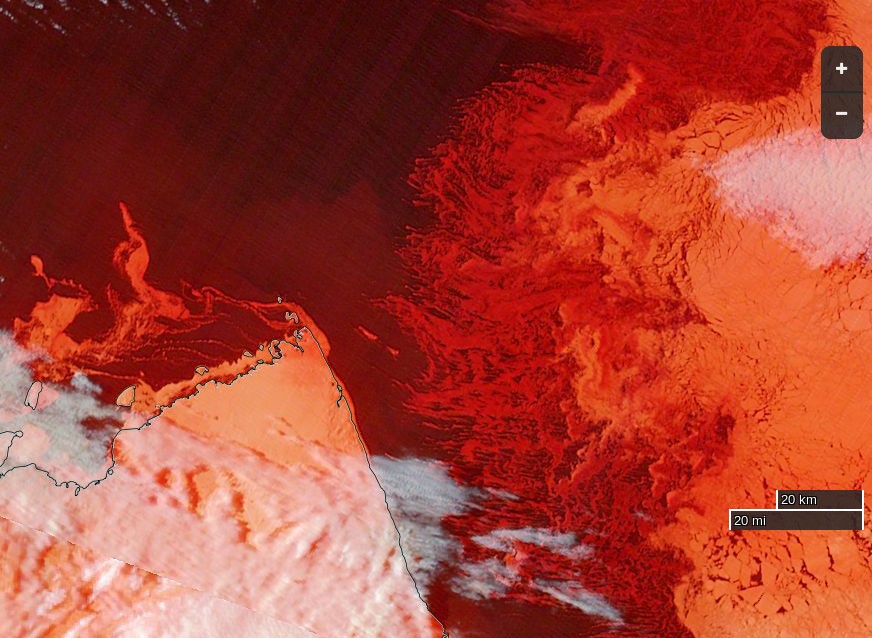 The inclusion of some infra red reveals the thicker old ice on the right noticeably paler than the new ice to its left. Compare also with the CIS ice chart, which has been rotated to match the orientation of the satellite image: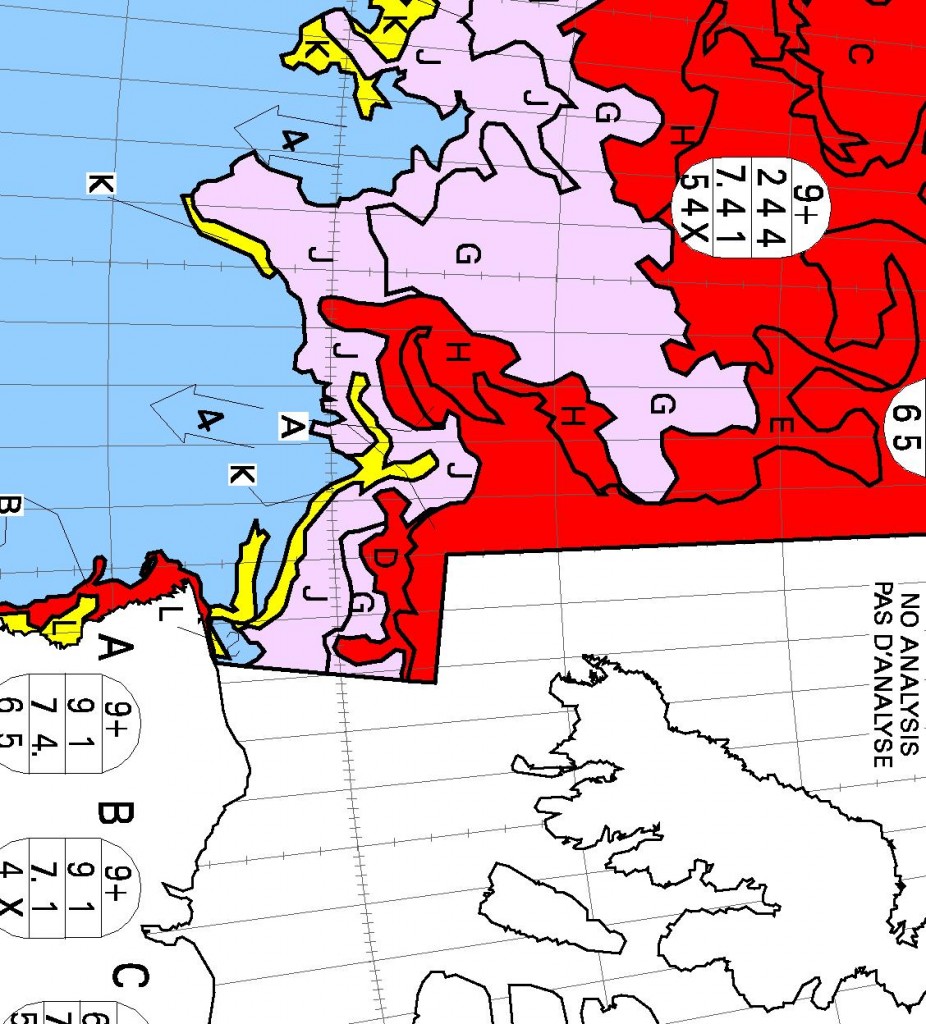 Pretty patterns in the new sea ice forming at the western entrance to McClure Strait: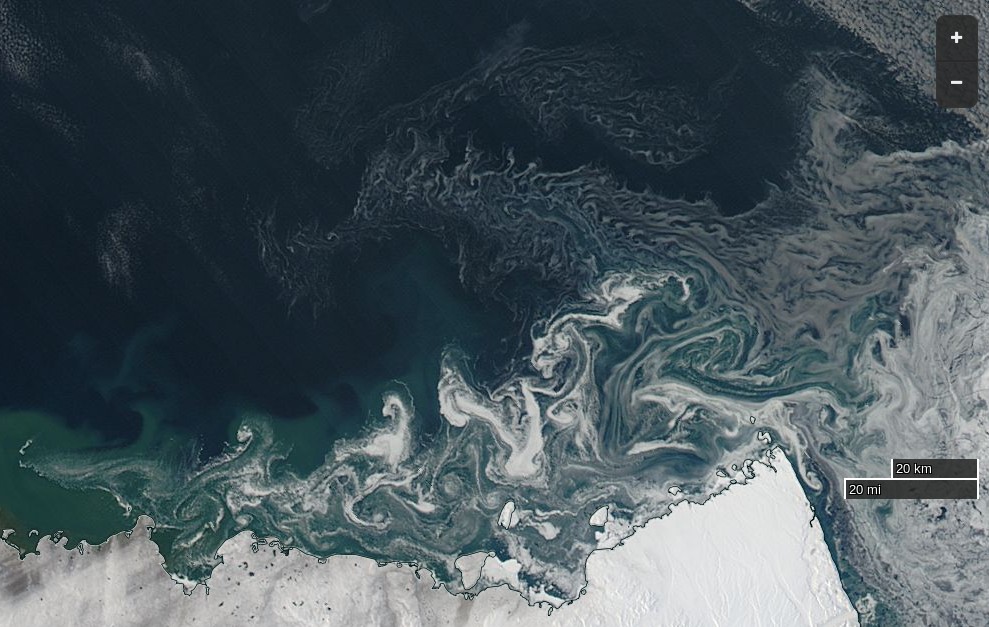 The freshly frozen new ice in the Northwest Passage has been spotted by the AMSR2 instrument aboard the Japanese "Shizuku" satellite: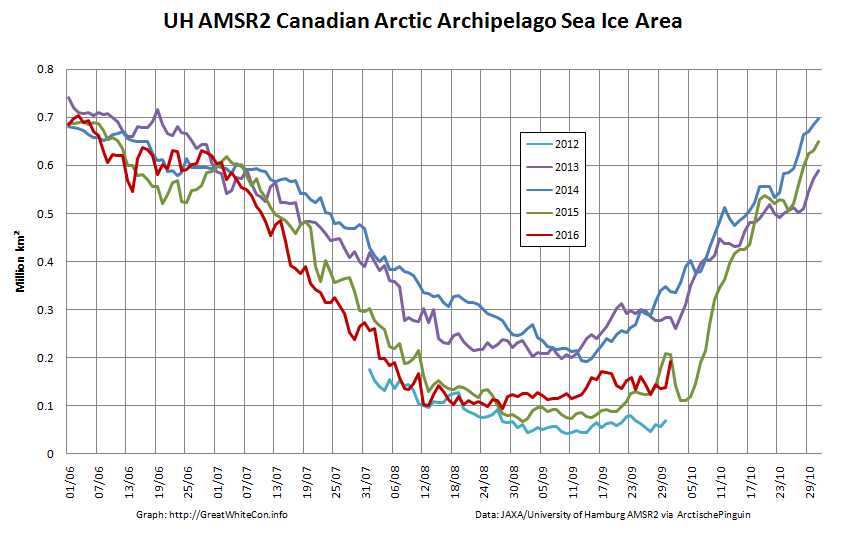 On the latest CIS "stage of development" chart the brown "old ice" has turned to deep red "multi-year ice", and there's lots more pretty pink out in the Beaufort Sea: