On January 1st 2016 the 15% concentration threshold daily Arctic sea ice extent metric reported by the United States National Snow and Ice Data Centre reached the lowest ever level for the first day of any year since their satellite derived records began in 1979. A couple of days later the more familiar 5 day trailing averaged extent also reached the lowest ever level for the date: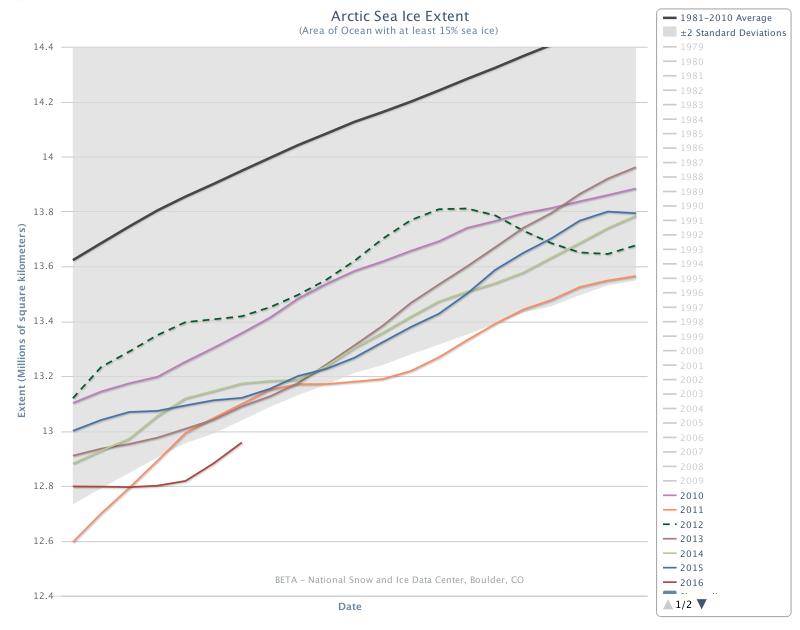 Cryosphere Today have been somewhat sluggish about updating their records of Arctic sea ice area, but have at long last revealed that their metric is now also at the lowest ever level for the date: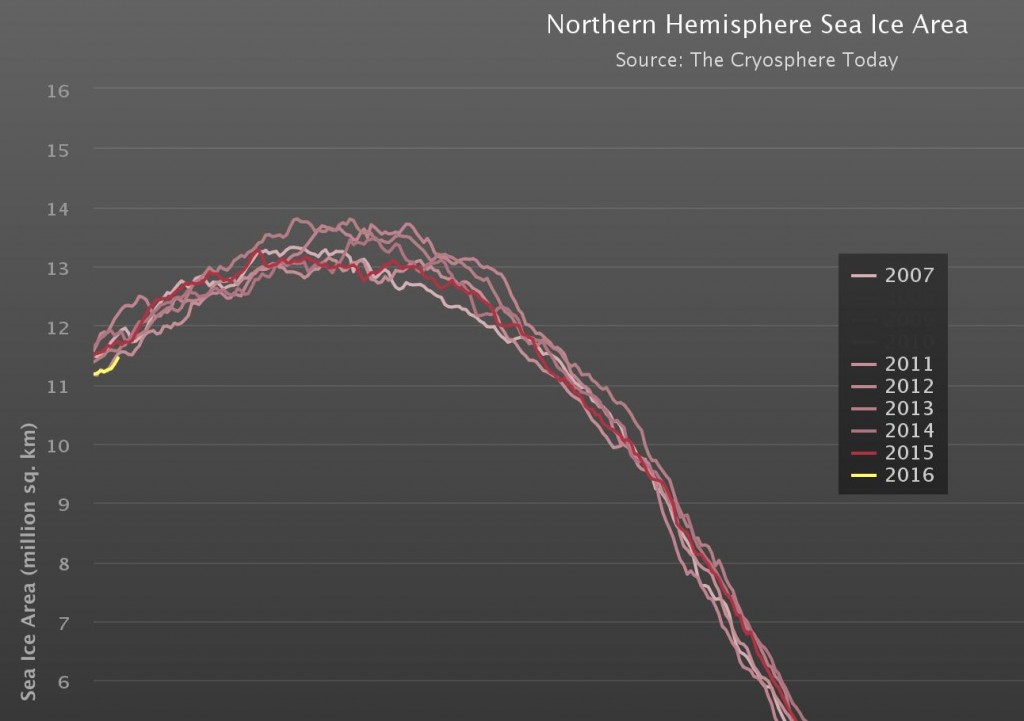 Meanwhile Great White Con commenter "Just A Thought" states that:
I find it hard, with what I do have access to, to see why everyone is so worried that the Arctic is melting.
He or she has evidently only had access to the propaganda perpetrated by Tony Heller (AKA "Steve Goddard") on his so called "Real Climate Science" blog. Mr. Heller's latest Arctic pronouncement on December 31st 2015 is entitled "Arctic Meltdown Update" and claims that:
Experts say that a terrifying storm melted the North Pole yesterday. This unprecedented melting event has caused Arctic ice to reach its highest December extent in over a decade.
justifying that comment with the following graph of his beloved (albeit deprecated) 30% concentration threshold DMI extent metric: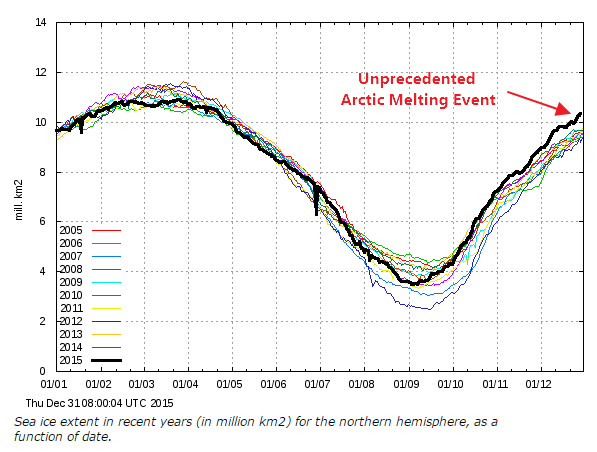 Here's a video revealing the effect of the recent "terrifying storm" on the sea ice on the North Atlantic side of the Arctic:
As you can see the ice at the North Pole didn't melt away. However the ice edge did retreat in the immediate aftermath of what is referred to here in the United Kingdom as "Storm Frank". Frank led to lots of flooding in the North of the nation, and also to some strong winds inside the Arctic Circle: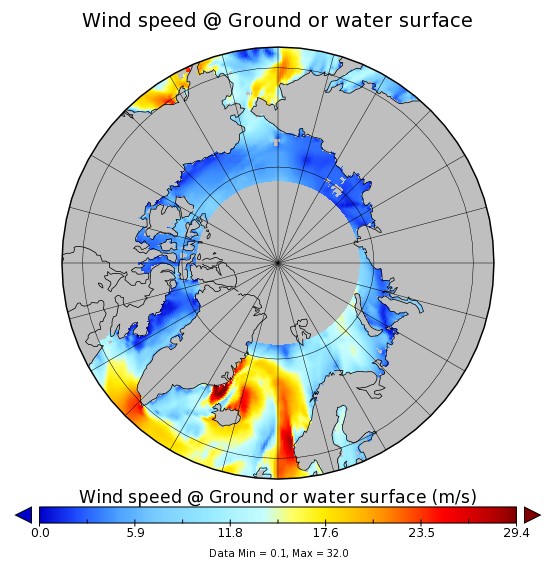 Those winds, travelling over a long stretch of open ocean, produced some pretty significant waves, speeding in the direction of the sea ice edge: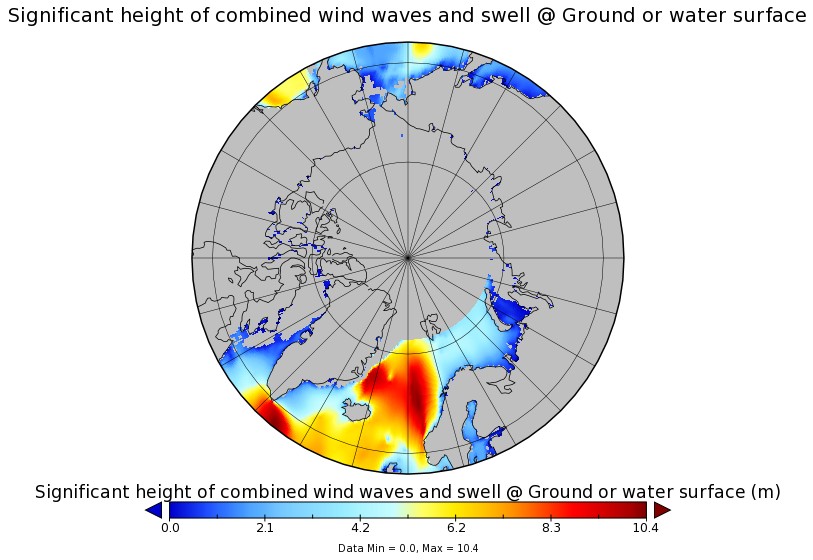 Meanwhile temperatures near the North Pole did briefly rise above the freezing point of sea ice in the middle of the Arctic winter. Here's the Danish Meteorological Institute's view of the air temperatures in the central Arctic: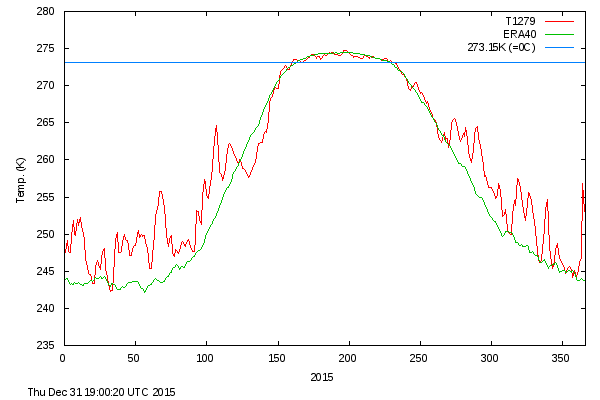 and here is NOAA's temperature anomaly reanalysis for December 30th 2015: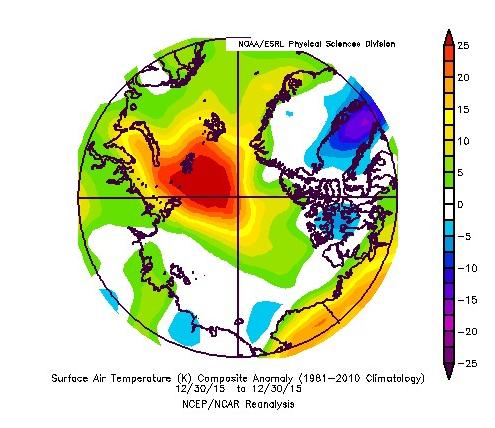 Personally I reckon the 25 m/s winds and resulting 10 meter waves had more effect on the sea ice metrics than the 25 °C above normal air temperatures, but your mileage may of course vary, especially if your pseudonym is "Steve Goddard"!