Shock News! It has recently been brought to our attention by the online version of the Western Morning News (WMN for short), our local daily newspaper, that the once Great Britain's current Prime Minister (GBPM for short) has been secretly training for next week's Arctic Basin big wave surfing contest just down the road from here in North Cornwall! According to the WMN:
David Cameron let criticism of his Cornish holiday wash over him today as he hit the waves. Today he spent the afternoon riding the waves on the beach at Polzeath, surrounded by ordinary holidaymakers. Mr Cameron took to the water in a three quarter-length wet suit and brightly-coloured bodyboard. He was accompanied by a detective who kept a discreet watch on him from the shallows.
Despite the discreet detective an intrepid paparazzo braved the pounding Polzeath surf and managed to grab this shot of Mr. Cameron in action: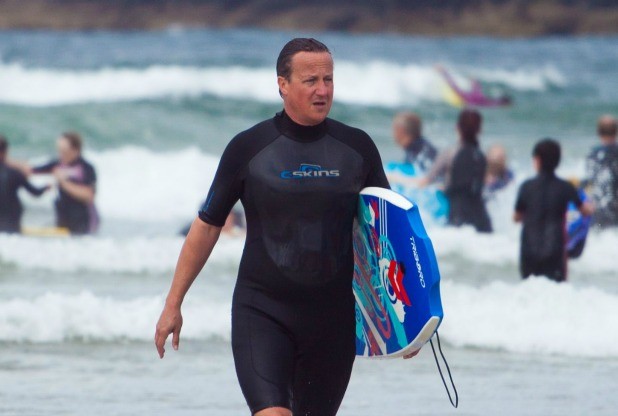 The next obvious question, to us here in the Great White Con Ivory Towers at least, is whether Dave would prefer to wear neoprene or fur for the competition next week. Which do you think suits him best?
In the meantime the surf on Barrow beach is building:
and even as we speak a pulse of swell has blasted past Point Barrow and is currently heading straight for the Beaufort Sea Marginal Ice Zone.