I've been waiting for the results of the ARCUS SIPN August call, but despite the timetable specifying "26 August 2020 (Wednesday)" they've still not been published and I can wait no longer!
Hopefully the August "predictions" will be available soon, but for the moment let's take a look at the July 2020 Sea Ice Outlook instead: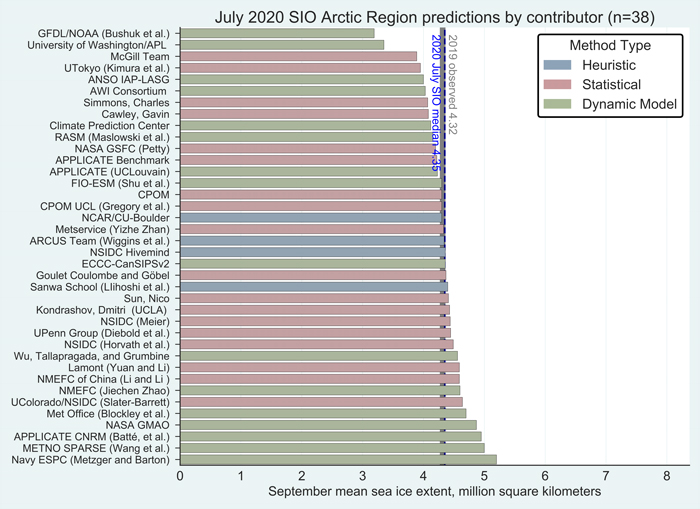 For the Arctic, the median July Outlook for September 2020 average sea-ice extent is 4.36 million square kilometers, essentially identical to the median prediction in the June report, with quartiles of 4.1 and 4.6 million square kilometers. For comparison, the historical record September low over the period of satellite observations was set in 2012 at 3.57 million square kilometers, and the second lowest record was 4.27 million square kilometers set in 2007. This year's projection is close to the 2019 observed September sea-ice extent of 4.32 million square kilometers. As was also the case for the June report, only two of the outlooks project September sea-ice extent below the 2012 record. The consensus judgement against a new record low September sea-ice extent hence remains unchanged. Interestingly, as of this report, observed extent stands at a record low for this time of year.
Note that those numbers represent "September 2020 average sea-ice extent" and not the daily minimum. Let's now take a look at the assorted different flavours of "Arctic sea ice extent" metric. Firstly here's the NSIDC's "Charctic" 5 day average extent: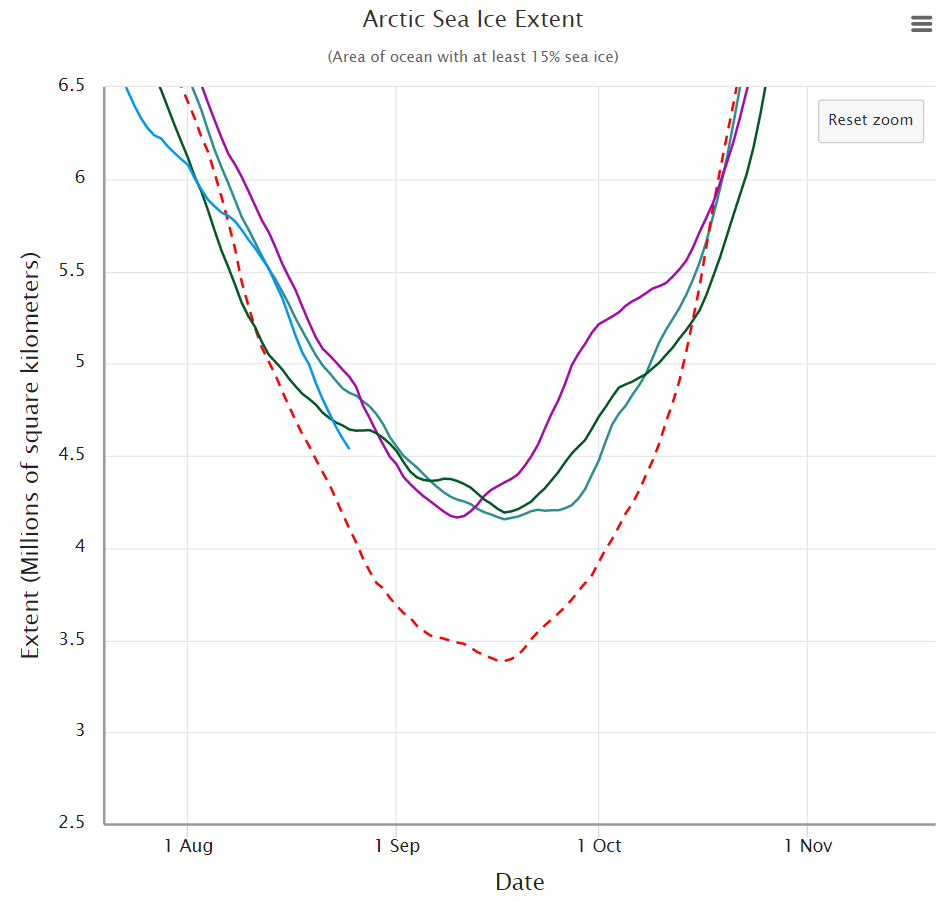 Next here's JAXA/ViSHOP extent, generally assumed to be a "2 day average":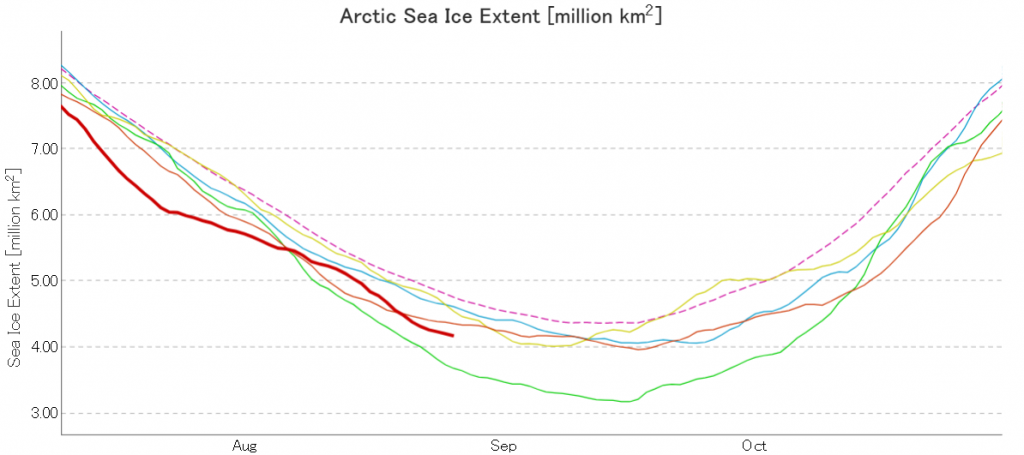 Next here's the DMI version, which neglects to include 2012: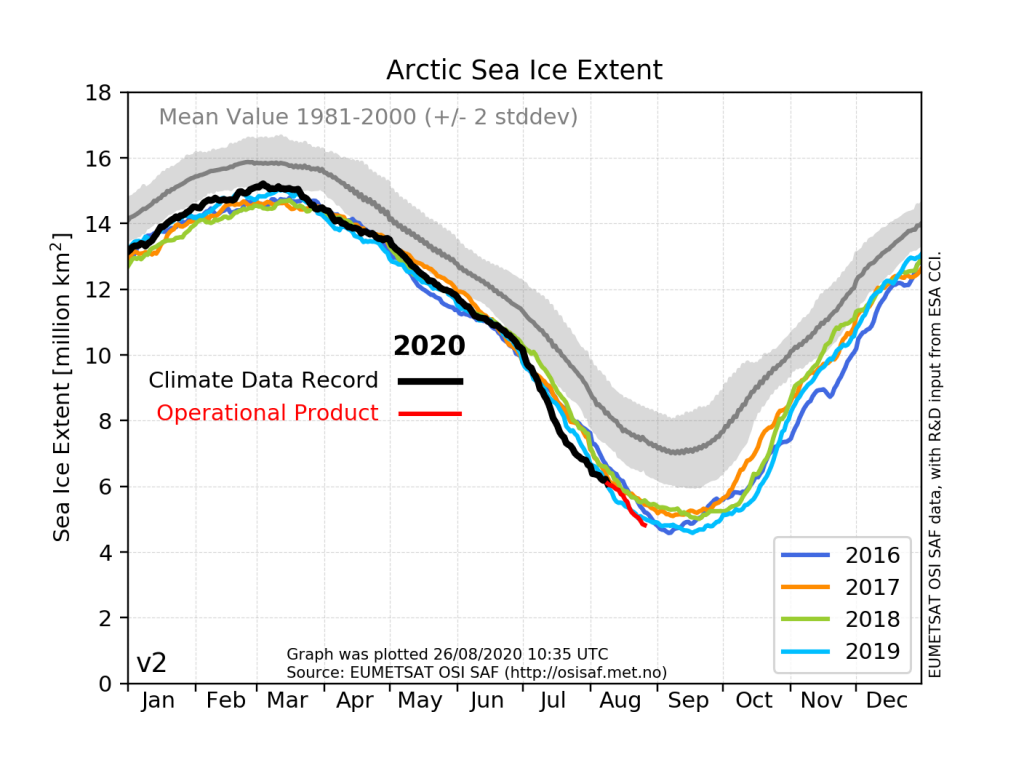 followed by the Alfred Wegener Institute/University of Bremen version: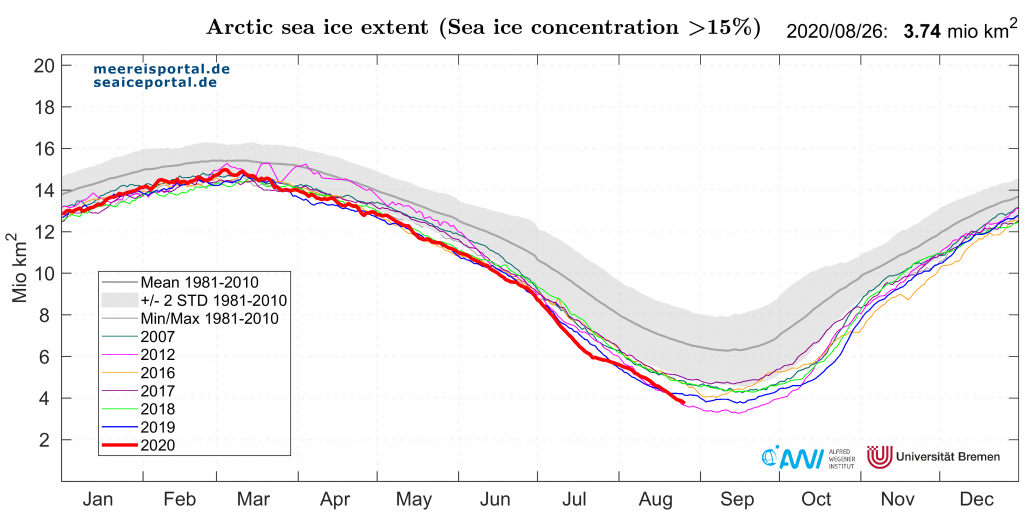 Last but not least here is our own favourite high resolution AMSR2 version of extent, plus sea ice area for good measure: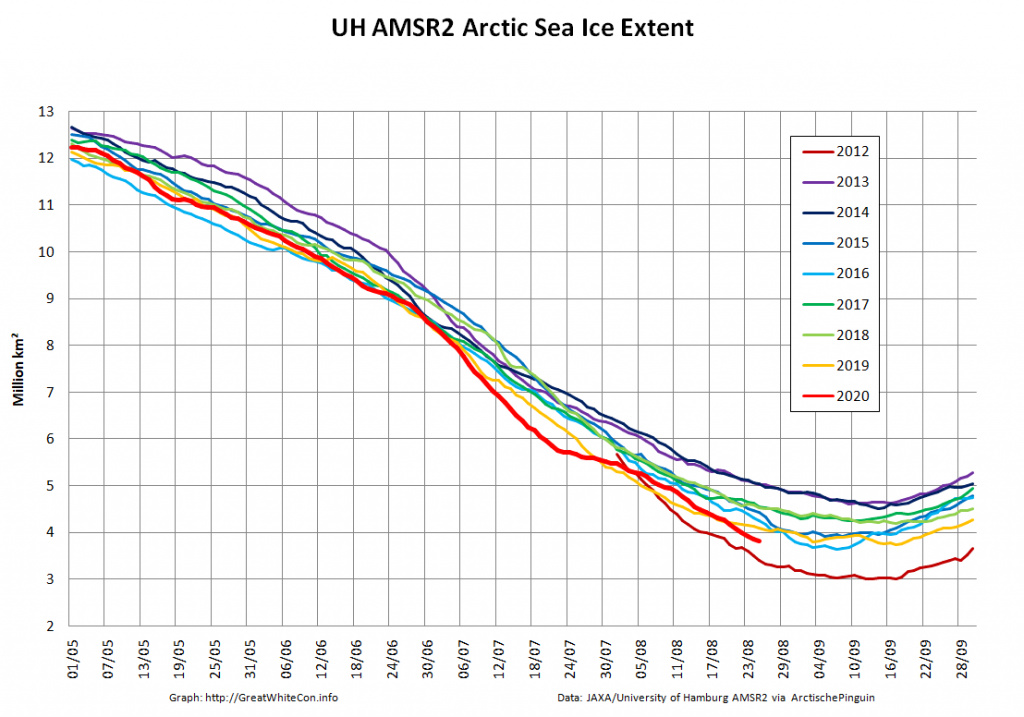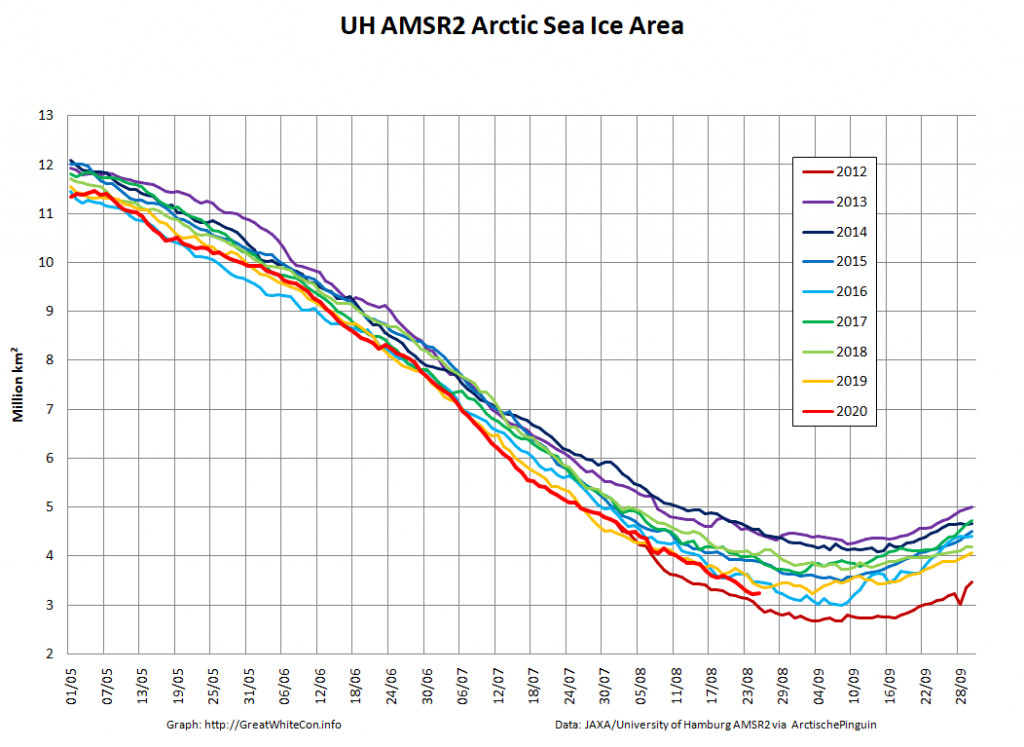 Would anybody care to play "spot the difference" with me?
Stop press! The August ARCUS SIPN September average Arctic sea ice extent "predictions" have just been published. Here's the graphical overview: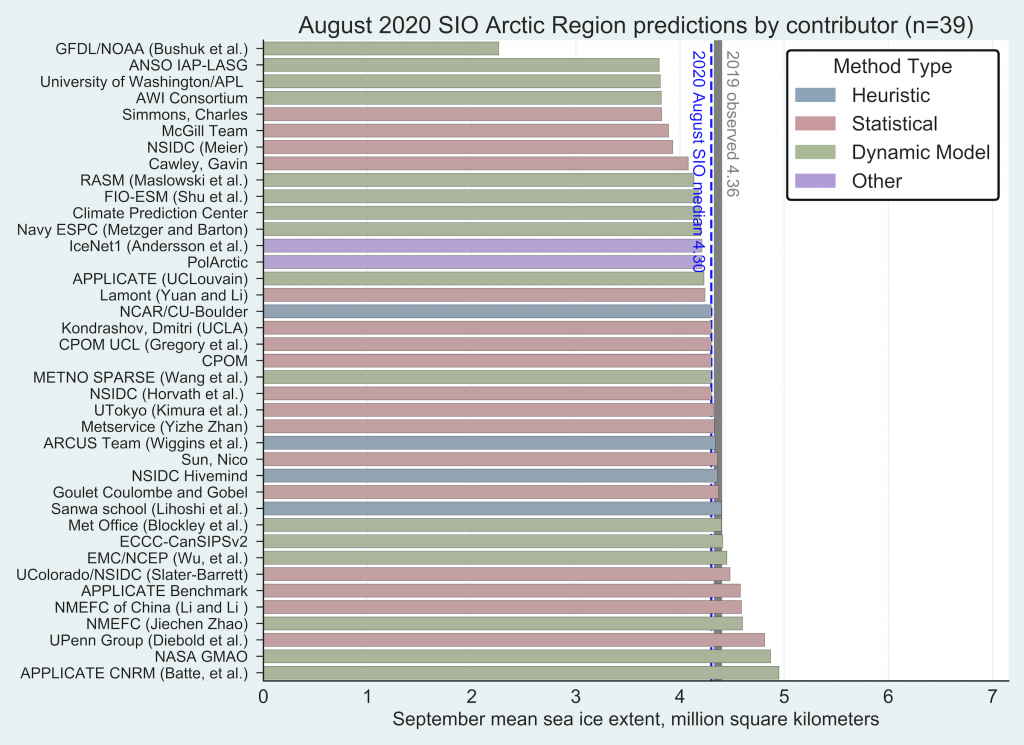 According to ARCUS:
The August Outlook is based on a total of 39 forecasts, of which 25 are new August submissions while the remaining 14 are carried over from June and July. The median August Outlook value for the September 2020 sea-ice extent is 4.30 million square kilometers, with quartile values of 4.1 and 4.5 million square kilometers. Of the 39 August 2020 contributions, 16 are based on dynamical models, 17 are based on statistical methods, 4 are based on heuristic approaches (qualitative analyses), and 2 used machine learning-based methods. The median of the August submissions is close to that from July (4.36 million square kilometers) and June (4.33 million square kilometers). The 2020 August Outlook median is higher than 2019 (4.22 million square kilometers) and lower than 2018 (4.57 million square kilometers).
Following a one day decline of 51,770 km2 JAXA/ViSHOP minimum extent is now 2nd lowest in their records going back to 1979: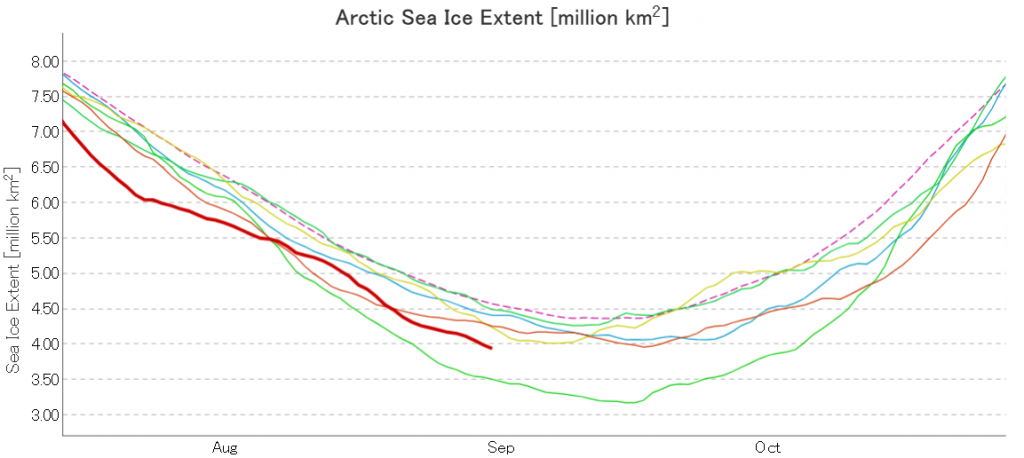 Just 2012 to beat!
The NSIDC 5 day average extent is now also lower than all previous minima since 1979 apart from 2012: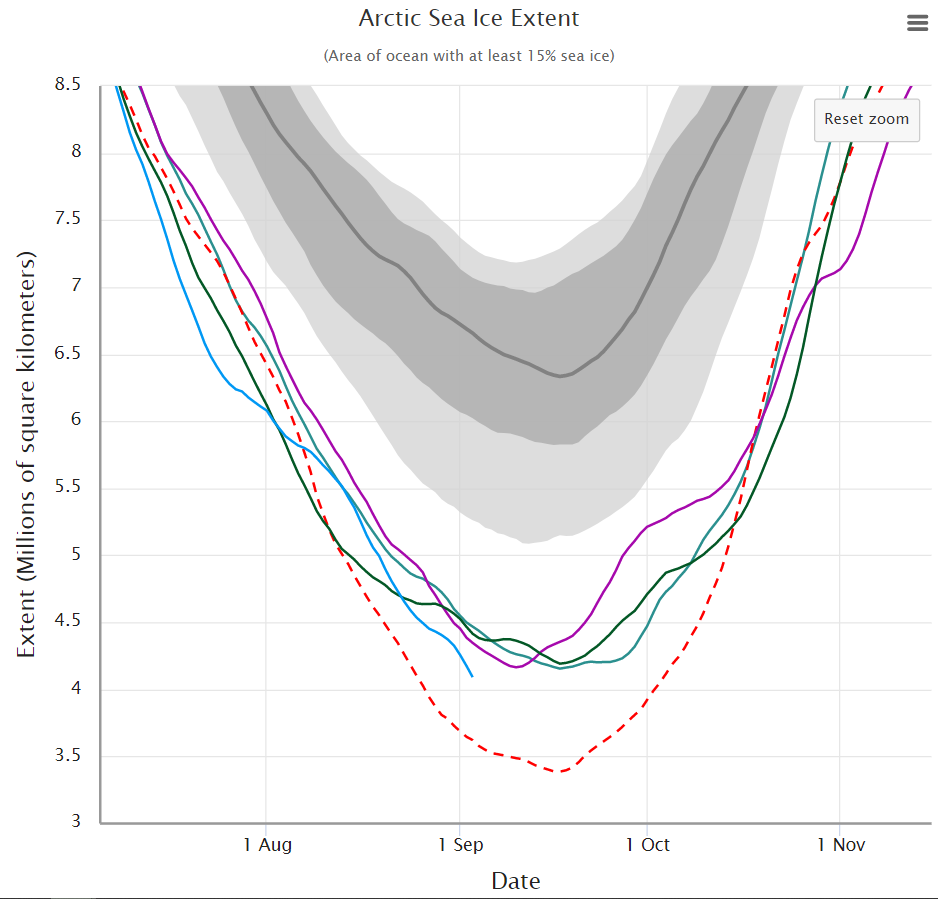 After being offline for maintenance the ViSHOP web site is up and running again this morning, to reveal: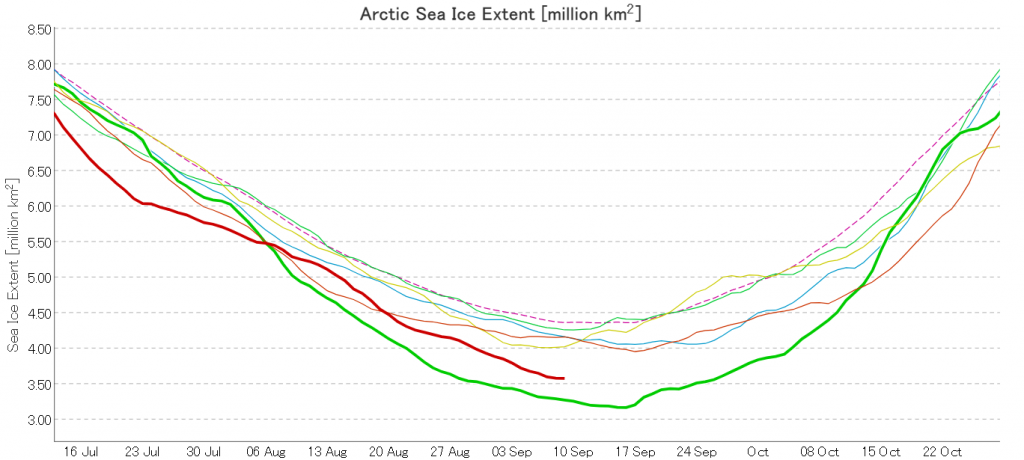 JAXA extent stuck on 3.59 million square kilometers two days running! Perhaps the 2020 minimum is here already?
A combination of central freezing with peripheral melting has resulted in high resolution AMSR2 area and extent both "flatlining" for several days: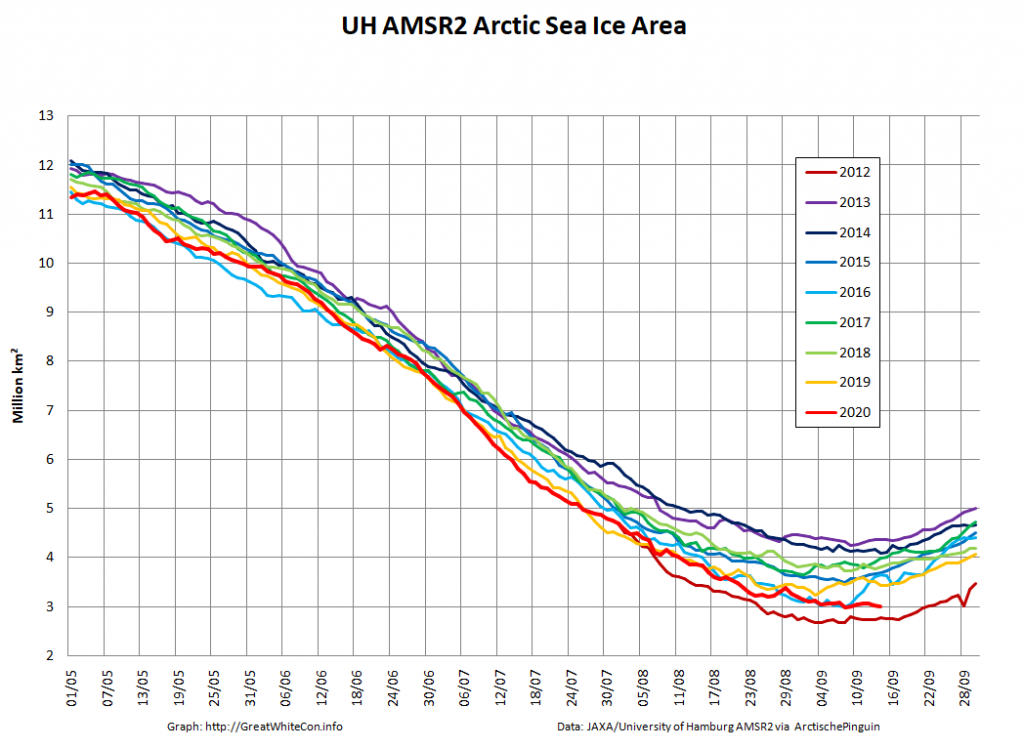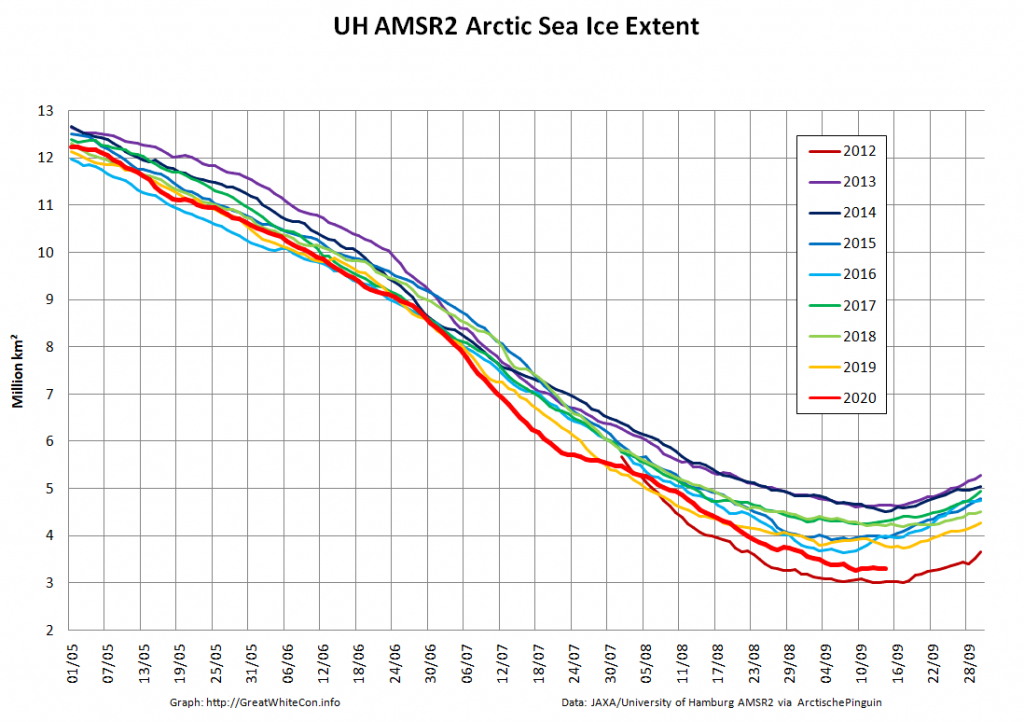 Which means it's still too early to consider calling the 2020 minimum for any of the assorted metrics!
New ice has started appearing on the Canadian Ice Service charts of the Canadian Arctic Archipelago, and JAXA extent has just posted a 100k daily increase: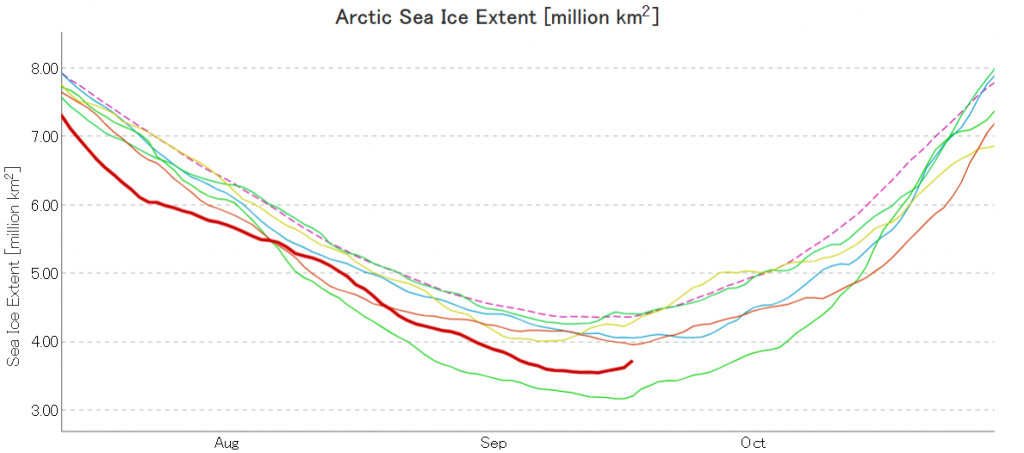 The NSIDC 5 day averaged extent is also on the increase: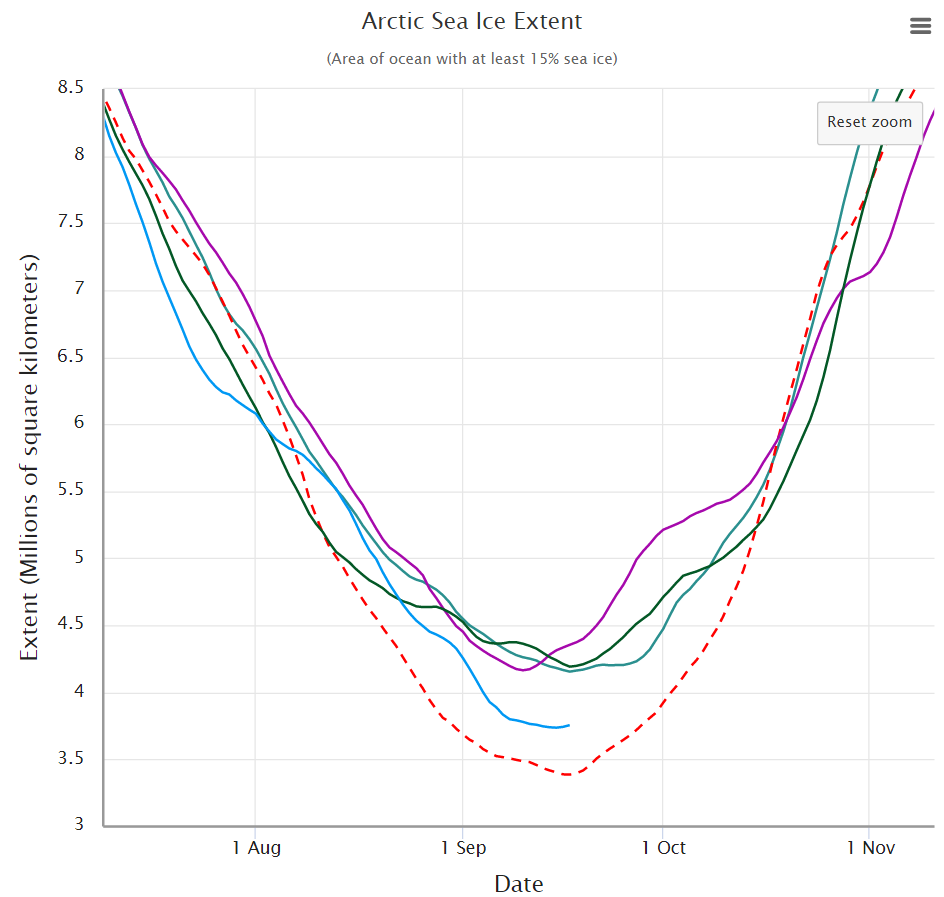 Here then are the preliminary 2020 minimum extent values for the most watched metrics:
JAXA/ViSHOP – 3.55 million square kilometers on September 13th
NSIDC Charctic – 3.74 million square kilometers on September 15th
Watch this space!