The time has come to start speculating about if, and when, the Northwest Passage will become navigable for the host of small vessels eager to traverse it this summer. Almost one month later than in 2017!
Whilst the eastern and western entrances to the assorted routes through the Canadian Arctic Archipelaga have been empty of sea ice for quite some time, the central section between Bellot Strait and Gjoa Haven and/or Cambridge Bay is still chock a block:
In the east here is a drone's eye view of Cumming Inlet, courtesy of the Polish team of Michał and Ola Palczyński aboard S/V Crystal: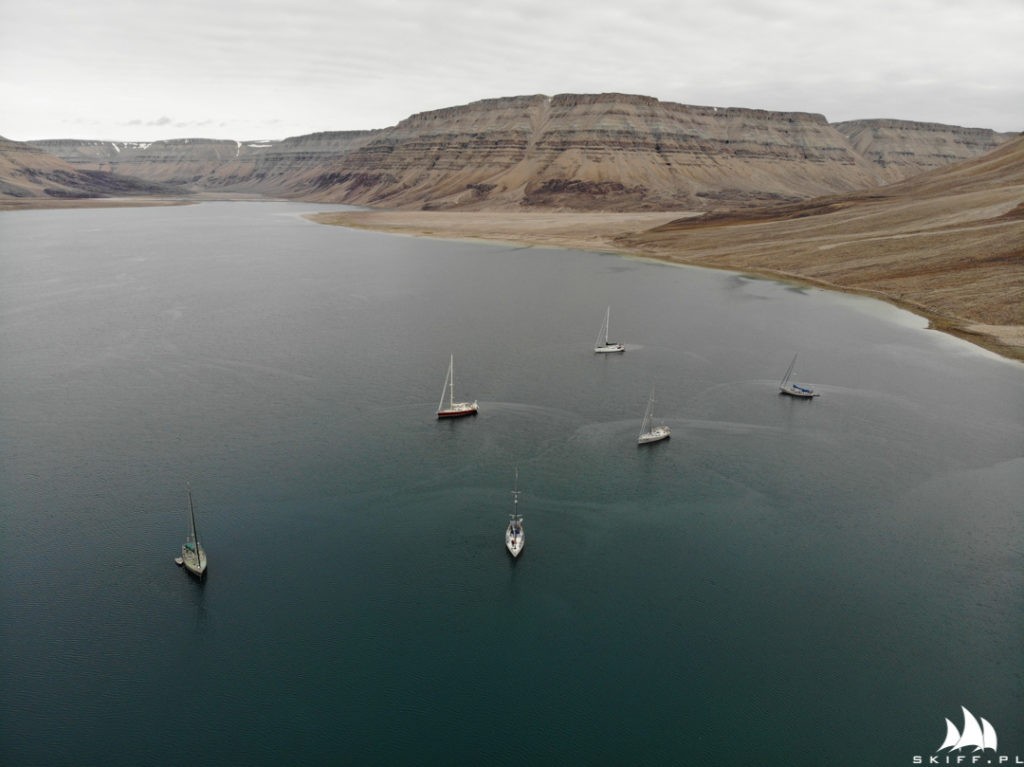 It's not entirely clear when that picture was taken, since according to Michał's blog:
The waters beyond the Bellot Strait are covered with impassable ice, and the ice in the Beaufort Sea has 90% concentration in some places and reaches up to the shore. In this difficult situation, by 15th August two yachts have already given up and turned back to Greenland (including Blue Peter from our cove).
Here's what lies ahead of Crystal and her remaining companions, according to the Canadian Ice Service: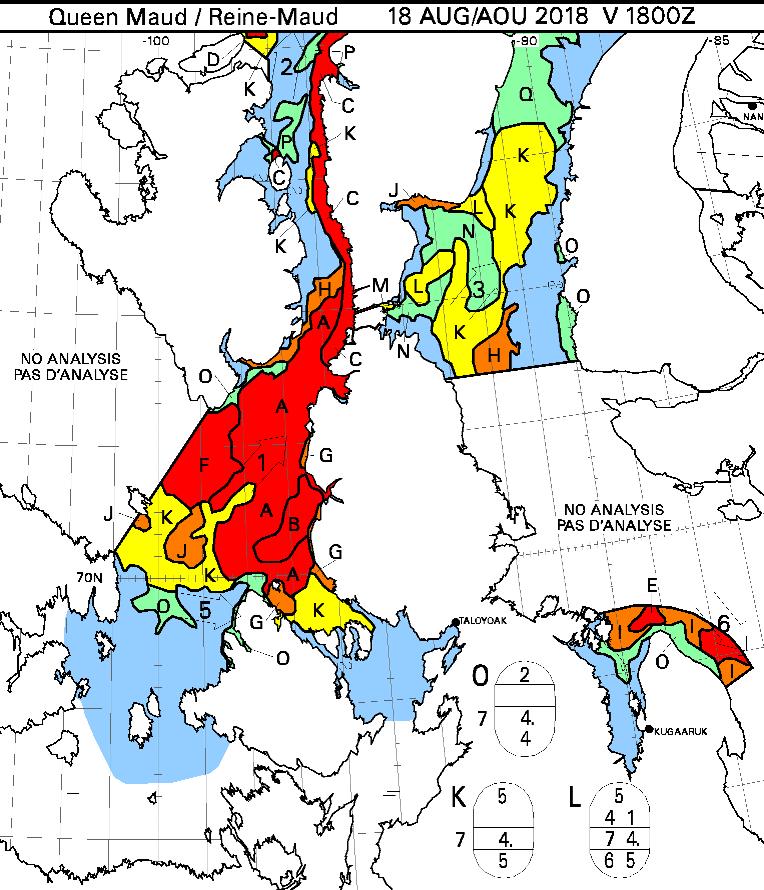 Meanwhile in the Beaufort Sea S/V Dogbark has been battling her way through that "90% concentration" sea ice. Dogbark has now made it as far as Mikkelsen Bay, just past Prudhoe Bay in Alaska: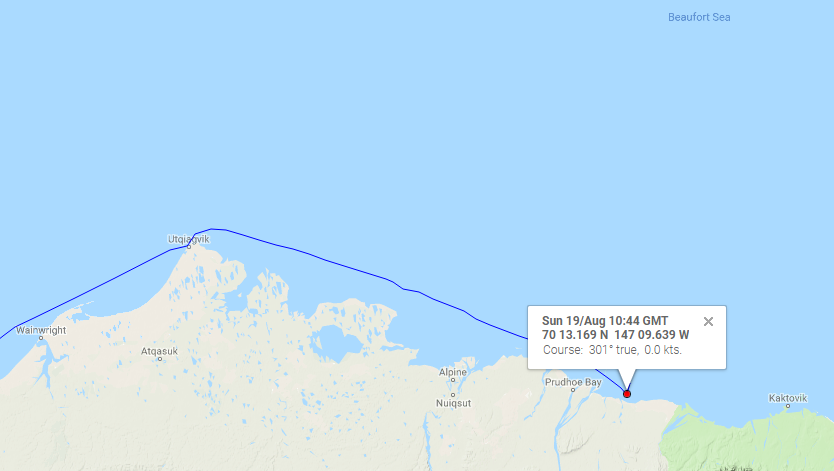 Here is the United States' National Weather Service map of sea ice concentration in the area: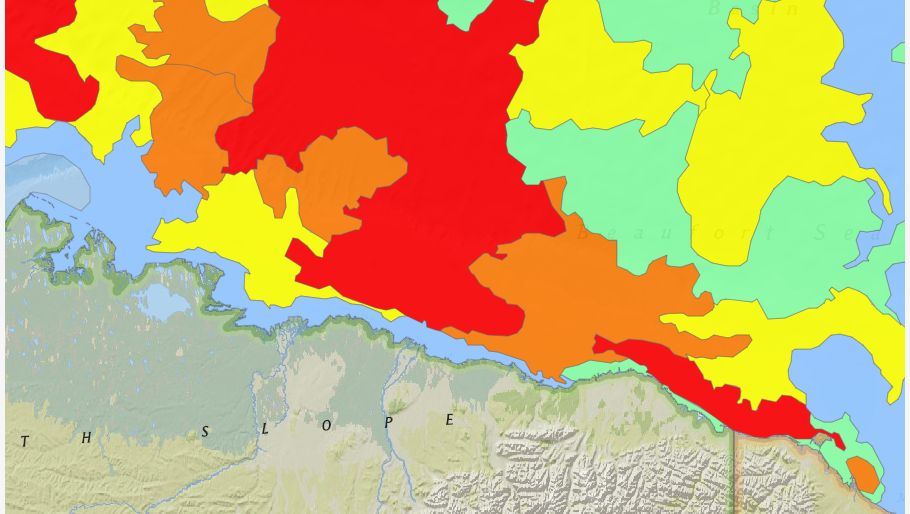 According to a recent Q&A session on the Dogbark blog:
What does 7/10ths ice mean? We don't want to know! It is more ice than we want to try and pass, that's for sure. But the ice charts we look at refer to ice by % of sea coverage, so 7/10ths would look like water mostly covered by large, immovable objects. 5/10ths was as much as we have seen, and we got out of there as fast as we could with some help from our flying eyeball. See Dogbark's Facebook page for a quick snippet of less dangerous ice.
Meanwhile the Canadian icebreaker CCGS Amundsen has sailed past Arctic Bay and Resolute: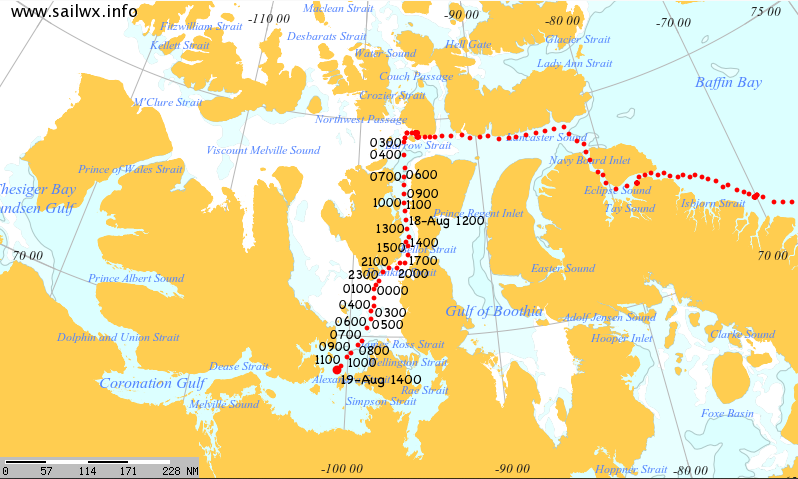 I cannot help but wonder what vessels might be closely following in his wake?
Finally there comes news that a "pleasure craft" has made it through the Canadian Arctic Archipelago from east to west as far as Tuktoyaktuk. I'd been wondering which vessel it was that seemed immobile near the western end of the Bellot Strait on the MarineTraffic maps. This one's from August 19th: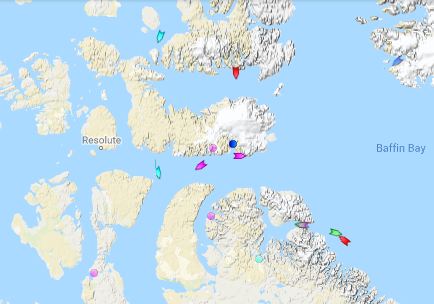 Now I know! Thanks to a heads up on the Arctic Sea Ice Forum I've discovered that it's the S/V Thor. Here's the tracking map of his efforts to get through all the old ice in the vicinty.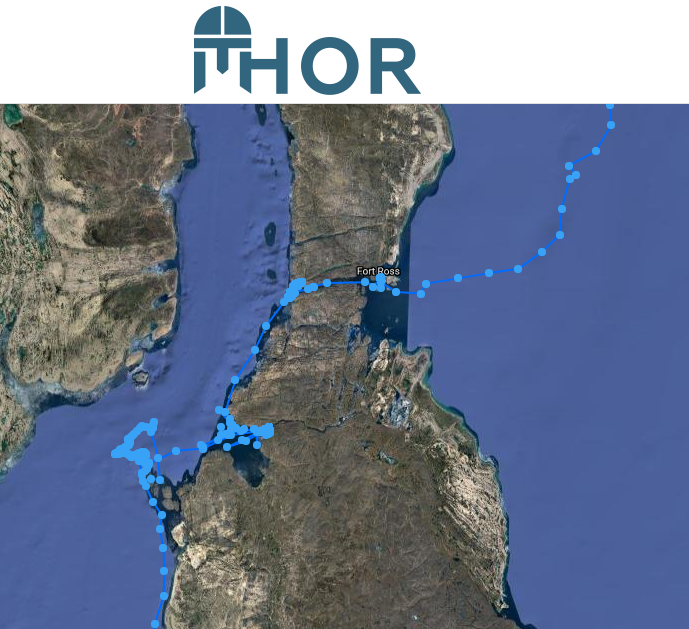 The map reveals that Thor made it through the Bellot Strait on August 6th, but didn't manage to make significant headway out of the Franklin Strait until August 28th.
Thor departed from Tuk earlier today: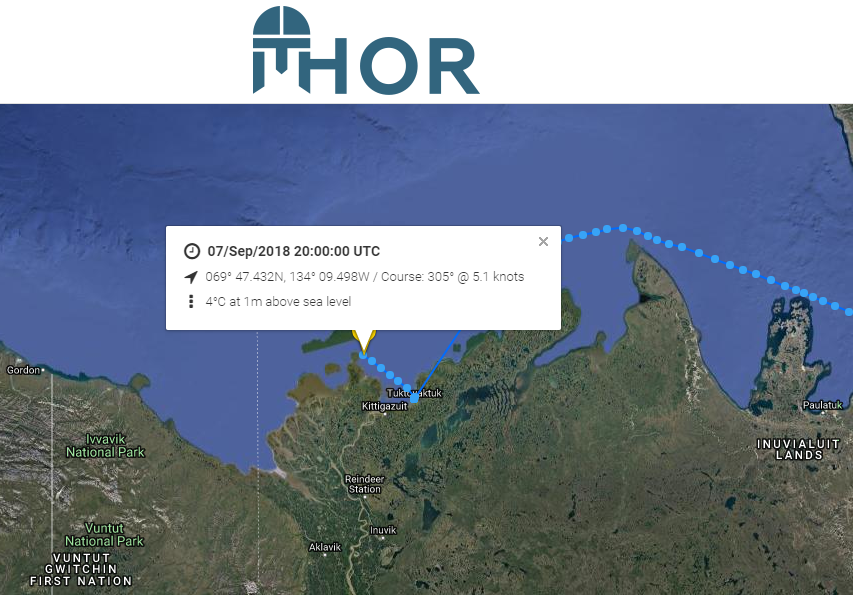 He now only has this to contend with: