The Central Arctic has of course already been battered by the Great Arctic Cyclone(s) of August 2016. The minimum sea ice extent has been called by the NSIDC, with a slight proviso:
Arctic sea ice appears to have reached its seasonal minimum extent for 2016 on September 10. A relatively rapid loss of sea ice in the first ten days of September has pushed the ice extent to a statistical tie with 2007 for the second lowest in the satellite record. September's low extent followed a summer characterized by conditions generally unfavorable for sea ice loss.

Please note that this is a preliminary announcement. Changing winds or late-season melt could still reduce the Arctic ice extent, as happened in 2005 and 2010. NSIDC scientists will release a full analysis of the Arctic melt season, and discuss the Antarctic winter sea ice growth, in early October.

On September 10, Arctic sea ice extent stood at 4.14 million square kilometers (1.60 million square miles).
Now, however, yet another cyclone is raging in the Central Arctic. According to Environment Canada this one is already down to a mean sea level pressure of 975 hPa: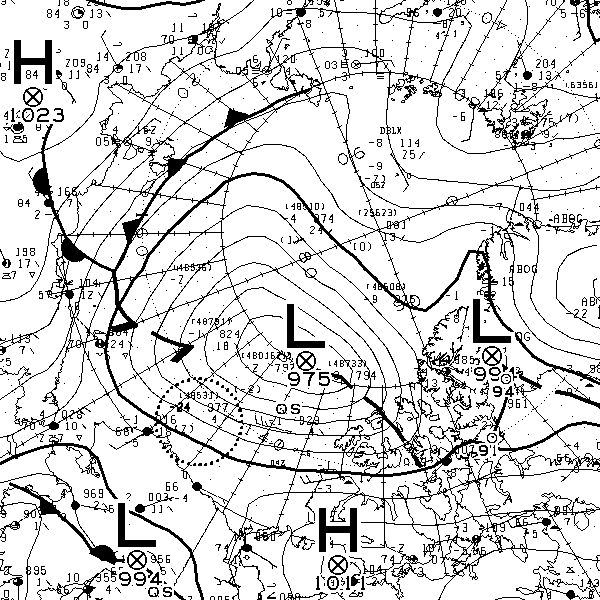 As our regular readers will be well aware, at this time of year strong winds beget large swells. On this occasion it looks as though Barrow will get another battering, as well as the remaining and refreezing sea ice. Here's the current WaveWatch III significant wave height forecast for September 18th: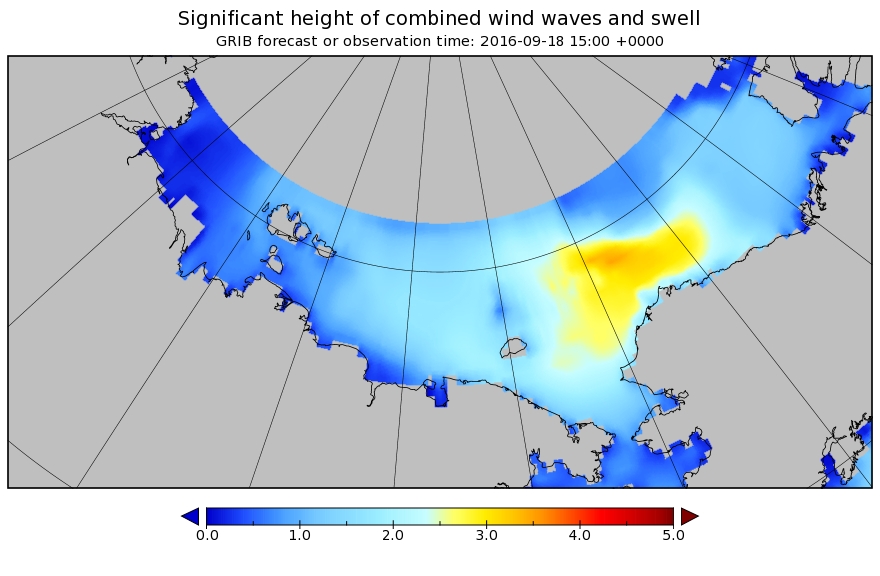 Such large swells on the surface of the Arctic Ocean don't only physically break up the sea ice. Last September scientists aboard the University of Alaska's research icebreaker Sikuliaq observed the effects of a similar storm in the Beaufort Sea. According to Jennifer MacKinnon, Chief Scientist on the ArcticMix voyage:
One of the funny things about the Arctic is that there's a reservoir of heat beneath the surface here.

So the more the wind is blowing on the ocean, the more it's mixing this heat upwards. Which is bringing warmer water to the surface at a pretty rapid rate, warming the surface and accelerating the rate at which this ice is melting.

And if storms like this continue, as there's more open water, more storms mean more exposed surface. It will not only melt the ice in the summer, but delay the onset of fall ice formation and accelerate the onset of spring ice melting.
In October 2015 the Sikuliaq was back in the Beaufort Sea observing the effect of storm swells on refreezing sea ice. Here's a report from Chief Scientist Jim Thomson:
A strong easterly wind event came through that built large waves — waves that got to almost five meters in height. And the winds were something like up to thirty knots. And these waves were coming into the newly forming ice and making pancake ice.

There was a very warm layer of water 20 meters down beneath the surface. And these waves coming in were enough to drive additional mixing and bring that warm water up from the subsurface and that warm water melted the ice and changed that balance happening at the surface.
As if all that wasn't already enough to worry about look who's waiting in the wings. Tropical Storm Ian is heading towards the Arctic Circle at a rate of knots, even as we speak: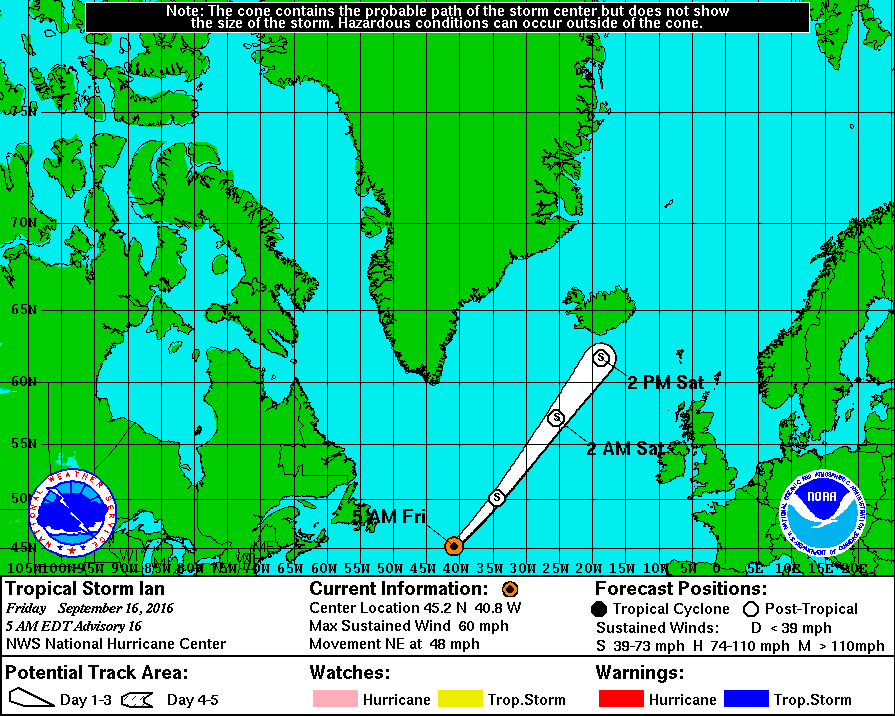 Here is the official Barrow surf forecast from the National Weather Service:
SURF ZONE FORECAST
NATIONAL WEATHER SERVICE BARROW AK
0500 AM AKDT SAT SEP 17 2016

AKZ202-171230-
NORTHERN ARCTIC COAST
INCLUDING THE BEACHES OF BARROW…PITT POINT…NULAVIK
0500 AM AKDT SAT SEP 17 2016

.TODAY AND TONIGHT…
.WIND… WESTERLY 20 TO 35 MPH.
.SURF HEIGHT… 2 TO 5 FT.
.SURF TEMP… 36 DEGREES F.
.TIDES… LOW SAT 0826 AM -0.03
HIGH SAT 0230 PM 0.38
LOW SAT 0846 PM -0.02
HIGH SUN 0250 AM 0.38
There is also a severe weather warning in place:
…HIGH SURF ADVISORY REMAINS IN EFFECT UNTIL 6 AM AKDT MONDAY…

* WAVES AND SURF…WAVES TO 10 FEET BREAKING JUST OFFSHORE COMBINED WITH TIDES UP TO 1 FOOT ABOVE NORMAL WILL CAUSE HIGH SURF CONDITIONS.

* ICE…WITH ICE JUST OFF SHORE FROM BARROW…IT IS POSSIBLE THAT CHUNKS OF SEA ICE WILL WASH UP ON SHORE EVEN WITH WINDS PREDICTED TO BE AT NEARLY PARALLEL TO THE SHORE.

* WINDS…WEST 20 TO 30 MPH FROM THIS AFTERNOON THROUGH EARLY MONDAY MORNING.

* TIMING…HIGH SURF IS EXPECTED TO BEGIN LATE THIS AFTERNOON AND CONTINUE THROUGH EARLY MONDAY.

* IMPACTS…HIGH SURF WILL WASH TO THE TOP OF THE BEACH AND CAUSE BEACH EROSION. MINOR FLOODING OF LOW LYING AREAS IS POSSIBLE AND SURF COULD WASH ONTO LOW LYING ROADS NEAR THE BEACH.

PRECAUTIONARY/PREPAREDNESS ACTIONS…

A HIGH SURF ADVISORY MEANS THAT LOCALIZED BEACH EROSION IS EXPECTED. SURF COULD WASH ONTO LOW LYING ROADS NEAR THE BEACH LIMITING TRAVEL NEAR THE BEACH. PEOPLE SHOULD MOVE BOATS AND PERSONAL PROPERTY INLAND FROM THE BEACH.
Somewhat belatedly, before: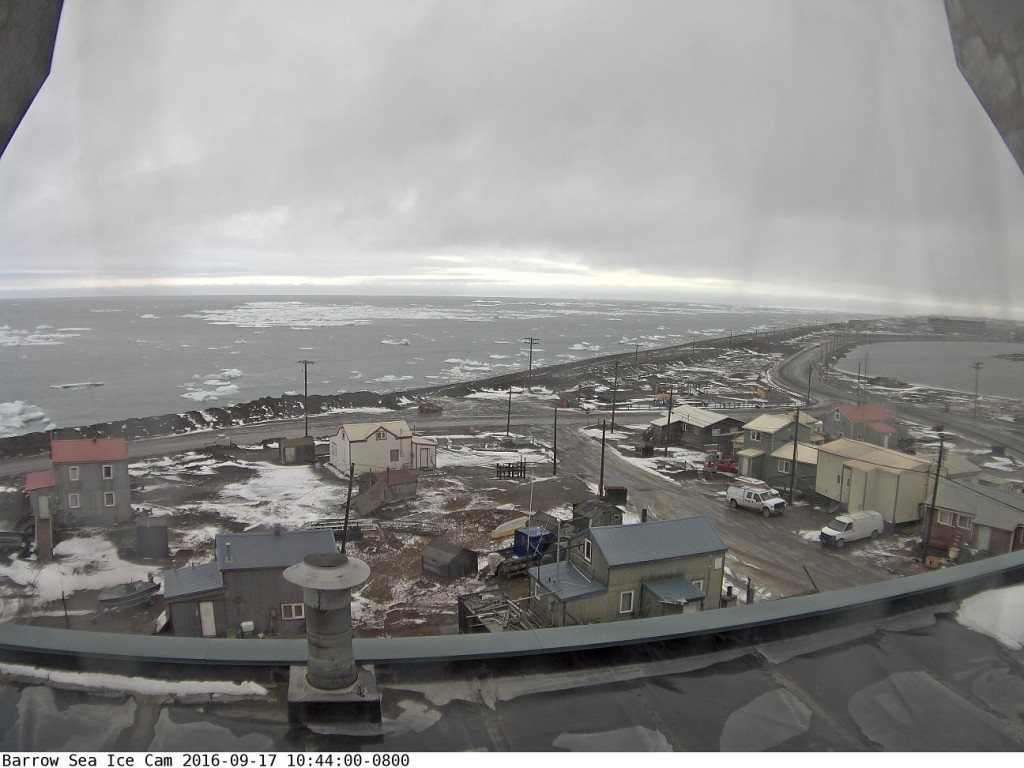 and after: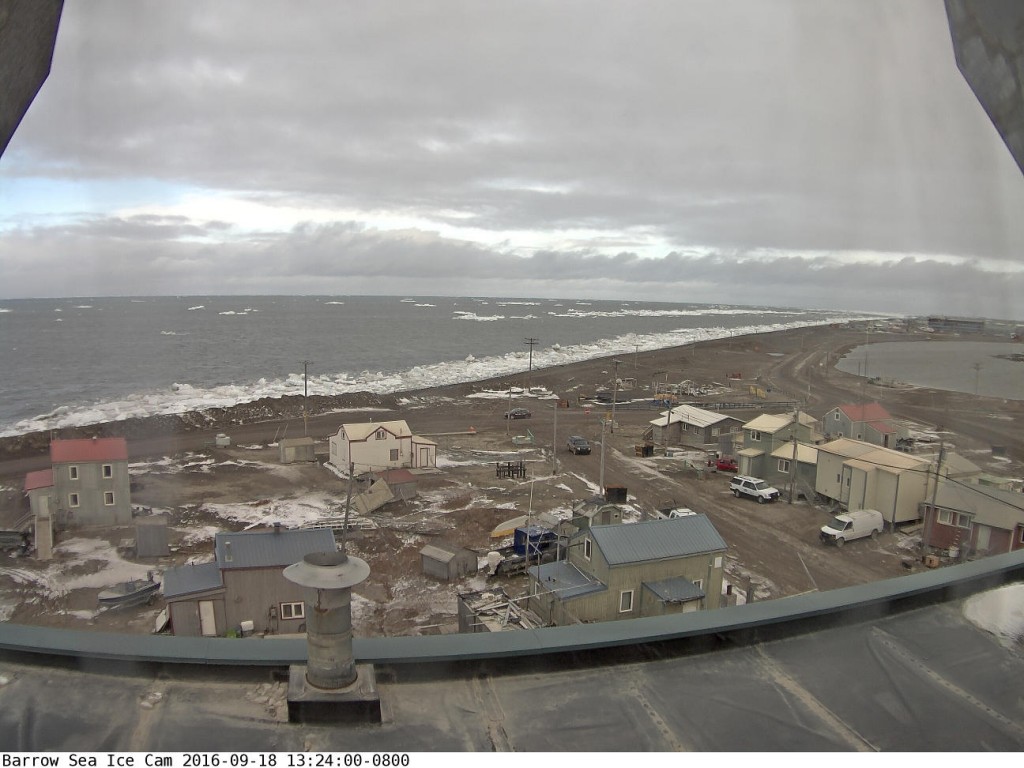 the storm images from the Barrow webcam, which has just burst back into life. Plus an image of the cyclone from on high: