Our title this morning is but a brief extract from a conversation I started on Judith Curry's "Climate Etc." blog about (believe it or not!) the effects of large wind driven swells on the "Marginal Ice Zone" of sea ice in the Arctic: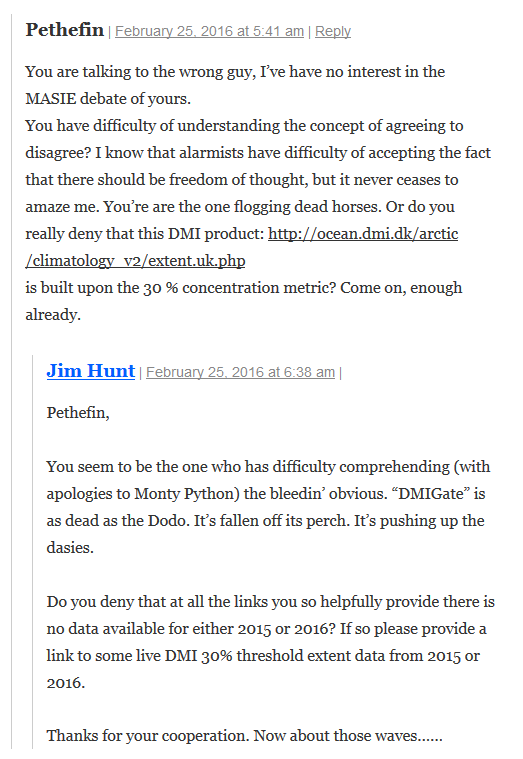 Whilst "skeptics" like Pethewin keep on flogging that particular "dead parrot" the DMI have just published an explanation of the erroneously high readings on their now deceased 30% concentration threshold Arctic sea ice extent metric. Here's an extract, together with a pretty picture for the benefit of those amongst we Cryospheric commenters who are hard of understanding:

The apparent elevated sea ice extent in the data from the old extent algorithm was an artifact, caused by a new and higher resolution coast mask.
Surely that's easy enough for even the dumbest of all the armchair Arctic analysts scattered across the internet to comprehend?
Going into more detail, the DMI article explains that:
Most of our sea ice extent followers know that the old plot includes a coastal mask, inside which sea ice was is accounted for. In summer 2015 this mask was refined and the masked region was subsequently smaller, thus leaving more area for classified sea ice and open water. The difference in masked area, before and after summer 2015, is approximately 1.4 million km2. This corresponds to difference of the blue coast lines in figure 2, showing the old and new coastal masks in the left and right panels, respectively. The difference may be difficult to detect on the figure, but the area is quite significant. The increasing sea ice extent that is caused by the new coast mask is not great during summer, because sea ice has a relative short line of contact with land during summer. But the new and finer coast mask will result in increasingly more sea ice, compared to previous years during winter, as the coast line with sea ice contact is increasing. This is the reason for an increasing sea ice extent during current freeze-up period, relative to previous winters. A comparison of the 2015/2016 sea ice extent with previous years does therefore not make sense.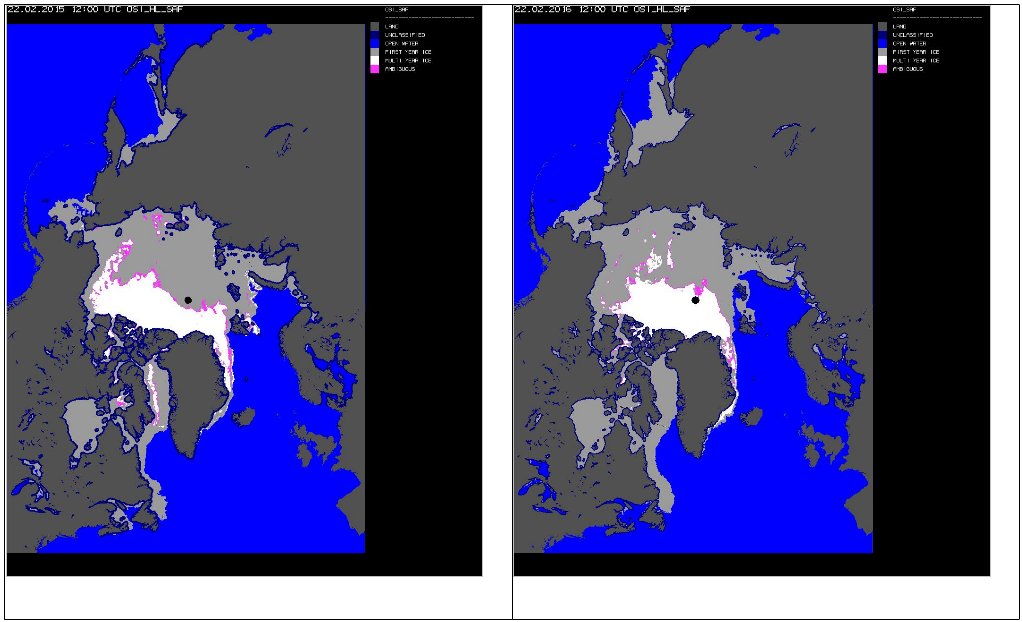 Note how the dark blue "coastal mask" in the left hand image from February 22nd 2015 is thicker than the one in the right hand image from the same date this year. DMI conclude with this apology:
Because of the deprecated status of the old plot in the past year, DMI has not been monitoring these irregularities. The old plot should, of cause, have been removed when the mask was replaced. DMI apologizes for the confusion and inconvenience this has caused.
Somehow I doubt that the assorted "skeptics" that have recently been making massive mountains out of this minor molehill will apologise for all "the confusion and inconvenience this has caused". Causing confusion and inconvenience was probably the general idea.