In case today's headline metaphor doesn't readily translate into other cultures, it refers to the popular fairground sideshow in which a couple of puppets dance on the end of some strings, accompanied from time to time by a baby, some sausages, a crocodile and a police officer.
Us:
The Great White Con was recently mentioned on the Arctic Sea Ice Blog, where the discussion turned to news of a recently published academic journal article by Marcia Glaze Wyatt and Judith A. Curry entitled "Role for Eurasian Arctic shelf sea ice in a secularly varying hemispheric climate signal during the 20th century".
In one response it was suggested that:
I always think it's terribly sad when a study is immediately condemned on the basis of not whether it has been peer reviewed, or methodology, or objectiveness, but on the basis of who wrote it. It's the classic open goal displayed by supporters of the consensus (which includes myself) to anything which may challenge entrenched beliefs.
Them:
In partial answer to that point, here's a screenshot from an article entitled "Arctic sea ice minimum?" on Judith Curry's personal blog this morning: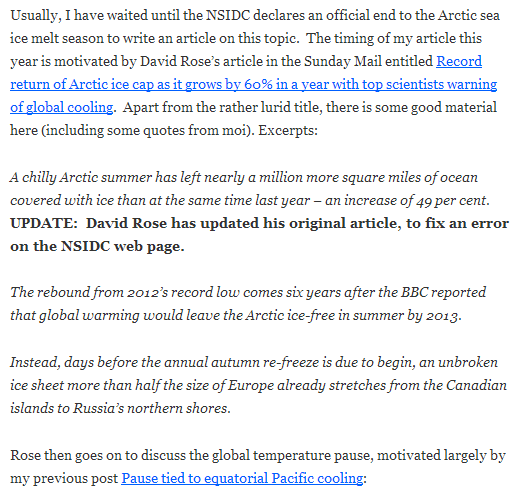 Us:
From the other side of the fence here's a couple of screenshots from the September 4th edition of the NSIDC's Arctic Sea Ice News entitled "A Real Hole Near the North Pole":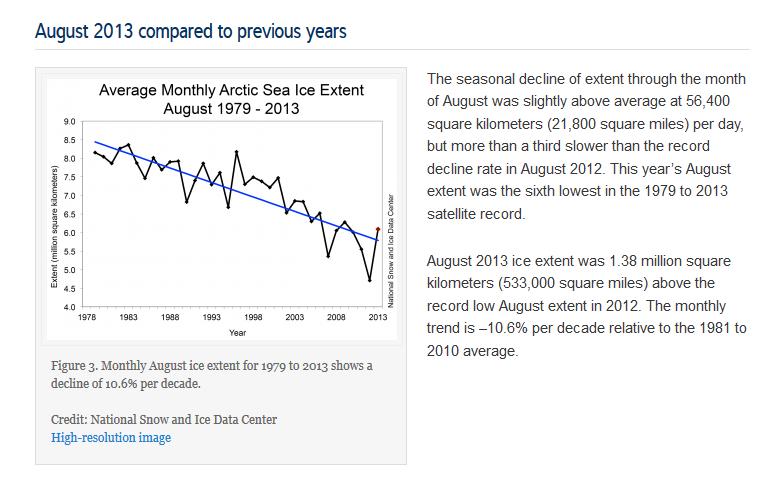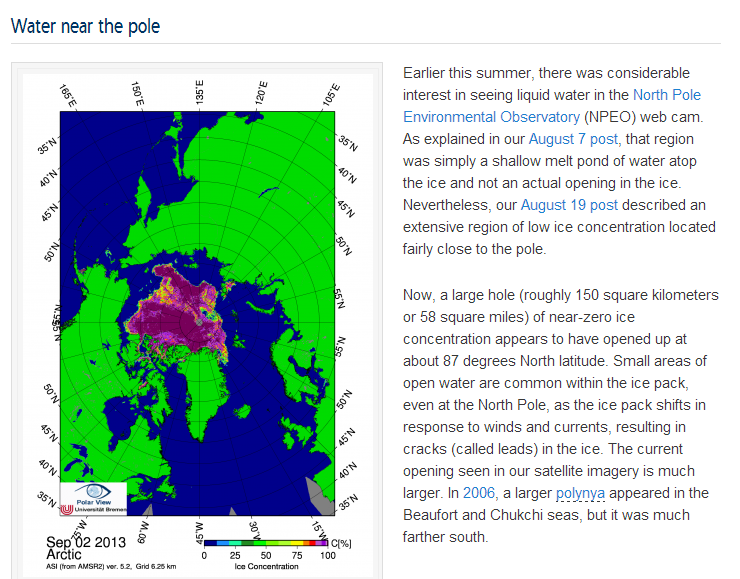 Would anyone care to play "Spot the difference" with me? If the differences between the official National Snow and Ice Data Center version of recent events in the Arctic and David and Judy's version aren't immediately obvious to you there are plenty of clues sprinkled throughout the rest of this web site to help. Does any of that help to explain my comment on the Arctic Sea Ice Blog to the effect that:
If [Judith Curry] can't even get the basics right I fail to see why anyone (apart from David Rose of course) should place any credence whatsoever in her "Stadium Waves", although I must admit I haven't read the paper yet. I fear it will be a while before it rises to the top of my "to do" list.