It's not November until tomorrow, but Andy Lee Robinson has just published the 2021 edition of his long running "Arctic ice cube" video series, based on the PIOMAS volume data. Here it is for your edification:
You may also wish to keep tabs on our deep dive into CERES top of the atmosphere energy flux data. Here's a sneak preview: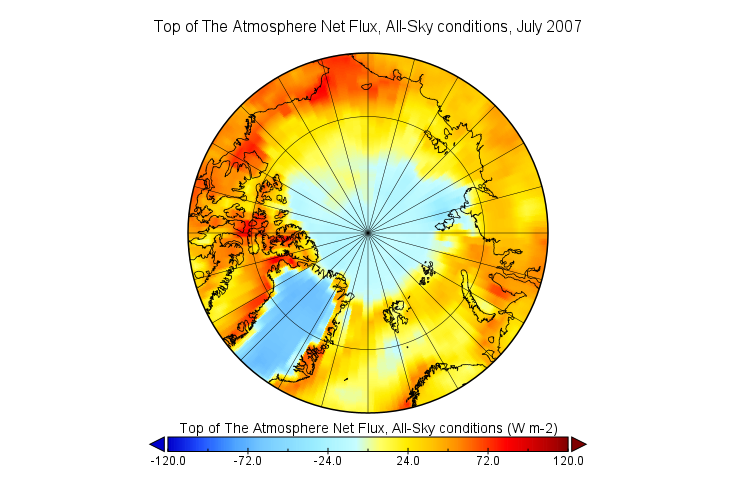 [Edit – November 3rd]
In stark contrast to other recent years, northern hemisphere snow cover is very low at the moment: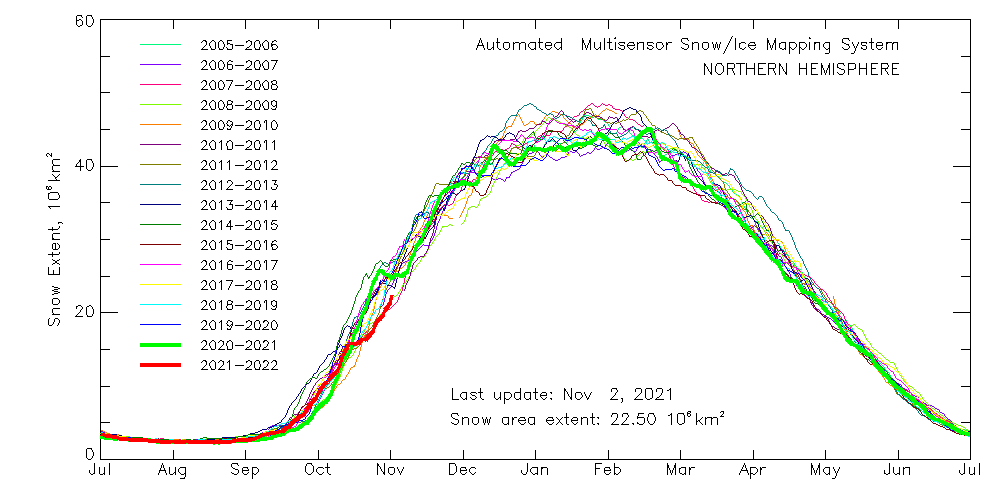 Rutgers Snow Lab data shows that this is especially the case in North America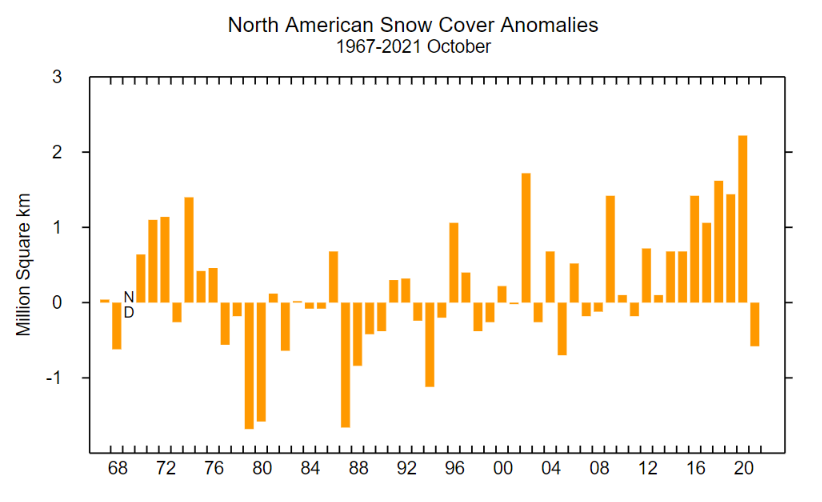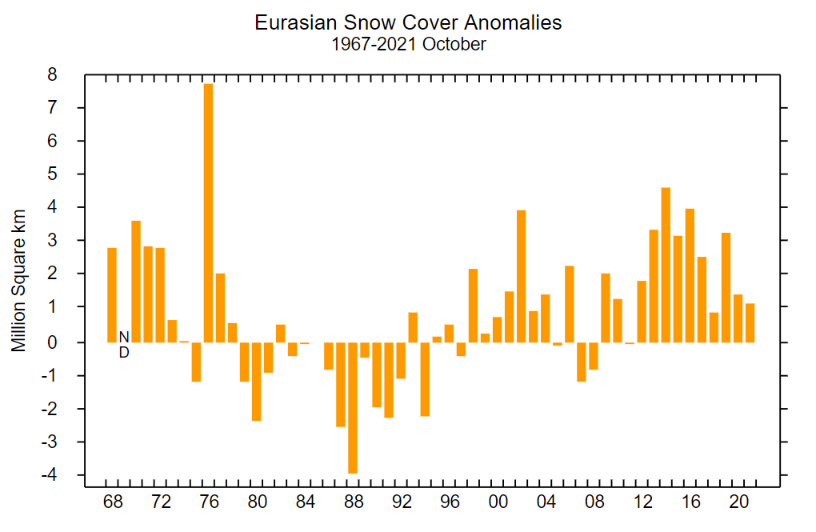 [Edit – November 5th]
An updated animation of the Northern Sea Route ice cover this year, illustrating the rapid refreeze of the East Siberian and Laptev Seas:
[Edit – November 6th]
As suggested by the animation above, now that the ESS and Laptev Sea have frozen over, high resolution AMSR2 Arctic sea ice extent has been "flatlining" for a few days: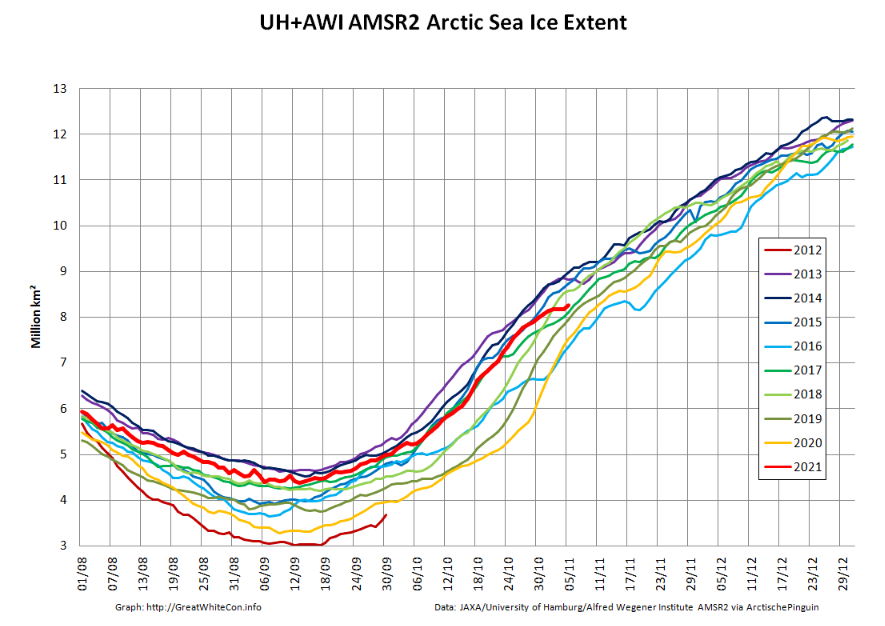 Sea ice area has even decreased slightly: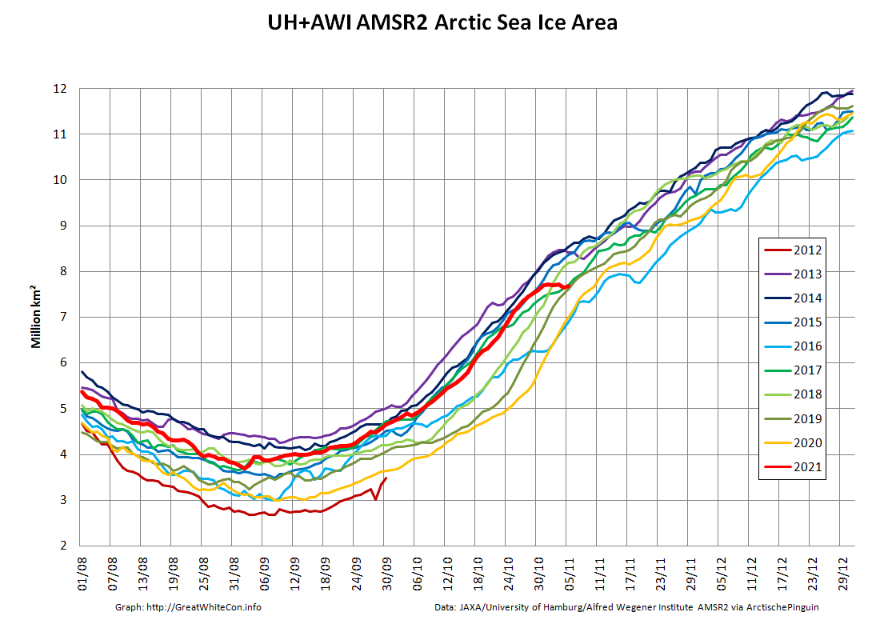 Here too are the latest CryoSat-2/SMOS thickness/volume data: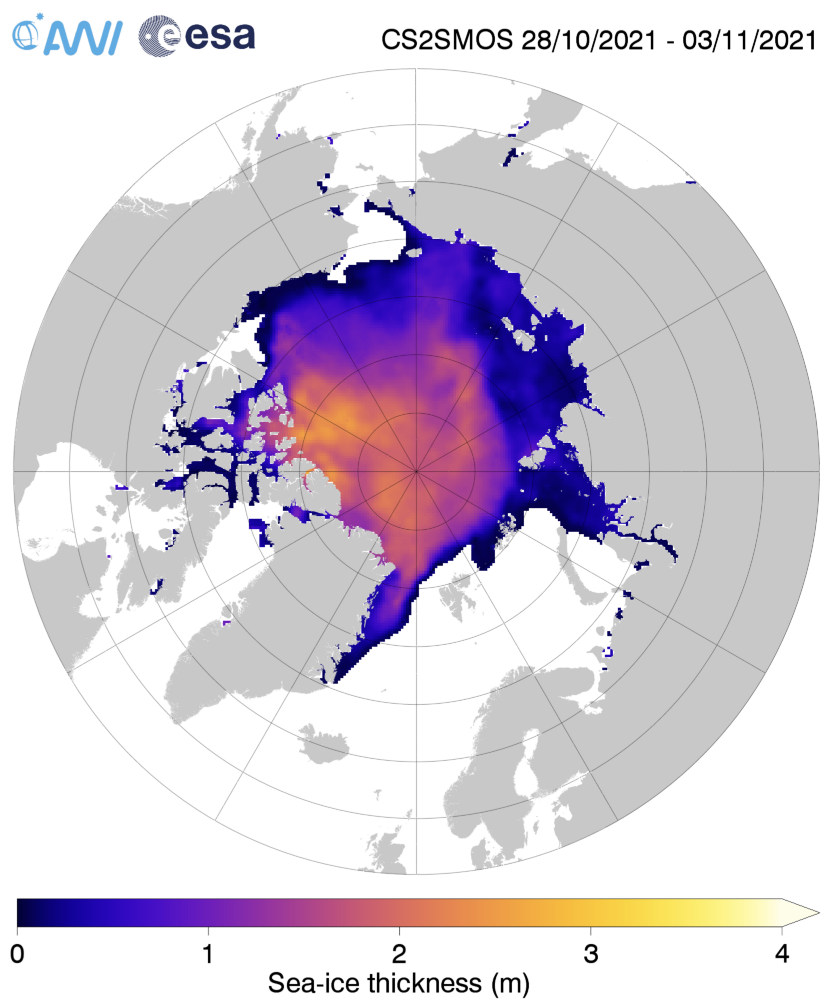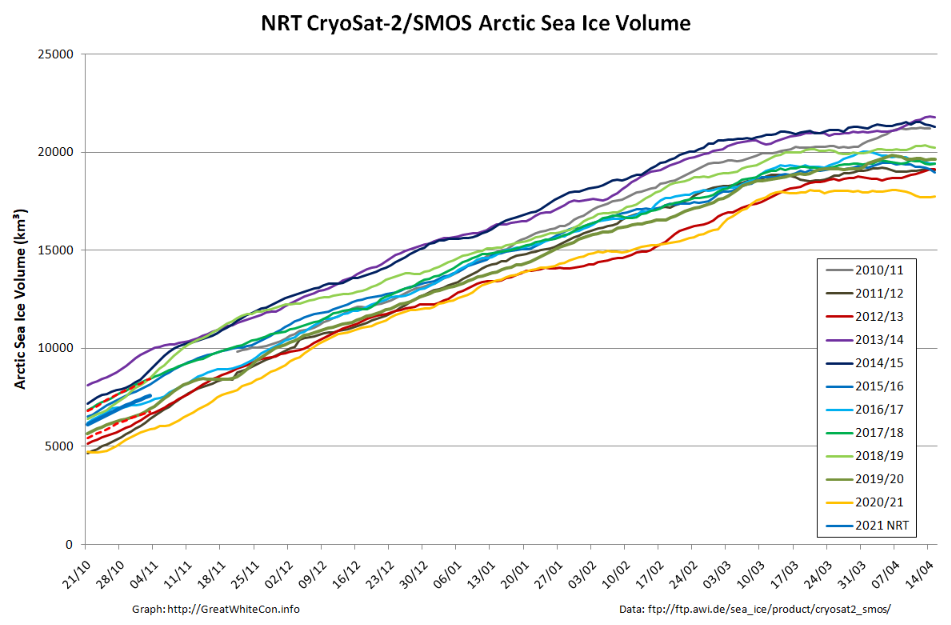 [Edit – November 15th]
As discussed below, I've been on COP26 duty for a couple of weeks. Somewhat belatedly, here are a pair of the Polar Science Center's PIOMAS model visualisations for October 2021: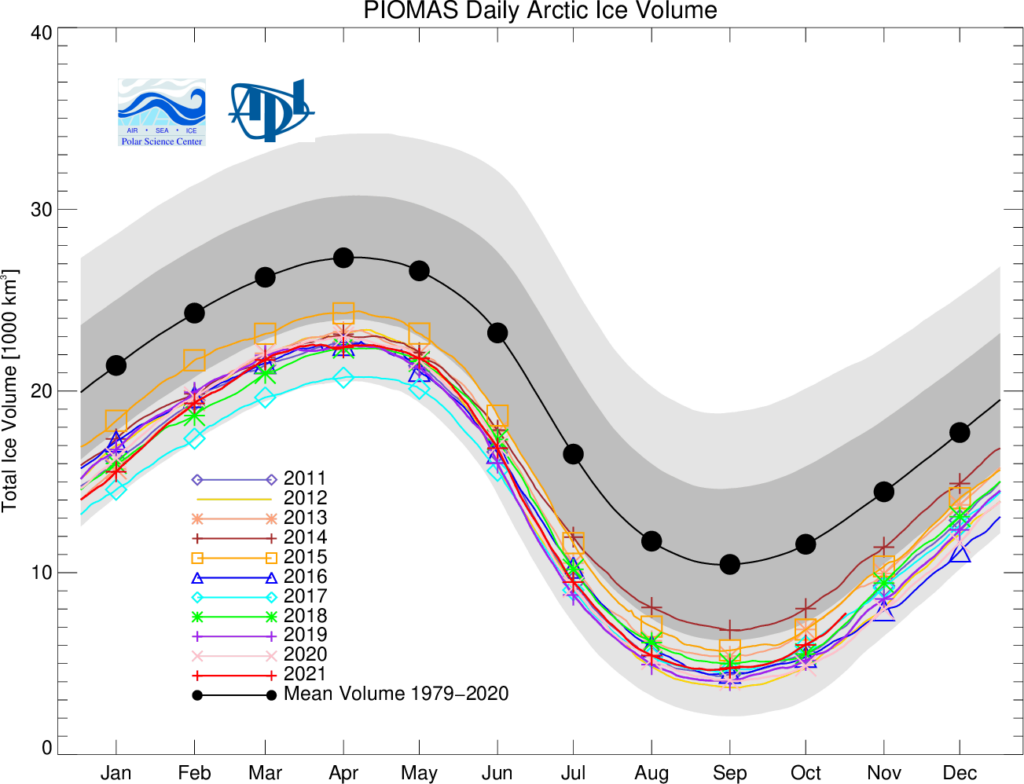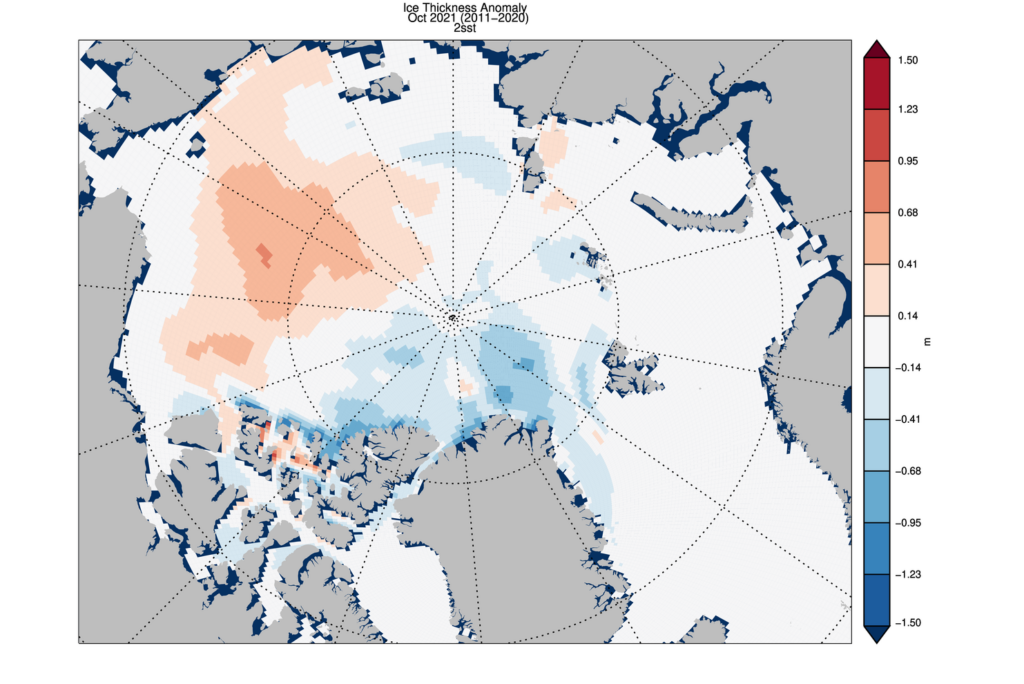 as well as their AWI CryoSat-2 thickness anomaly map: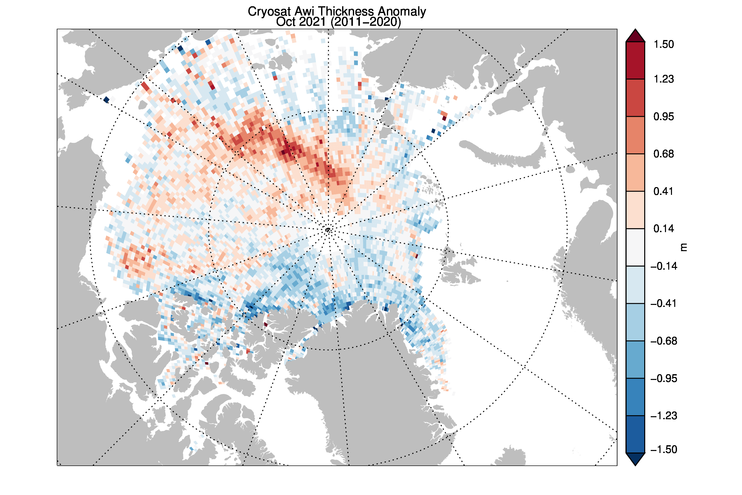 There is broad agreement between model and measurement about the so called "last ice area" being thinner than the climatology, with the Siberian side of the Arctic sporting thicker ice than "normal".

See Frozen Earth's comment below for all the accompanying text, but in summary:
Average Arctic sea ice volume in October 2021 was 6,140 km3. This value is the 8th lowest on record for October, about 1200 km3 above the record set just last year
[Edit – November 22nd]
According to a certain "skeptical" fellow "It's very cold in the Arctic today".
Let's take a look at the skeptics' favourite temperature metric shall we?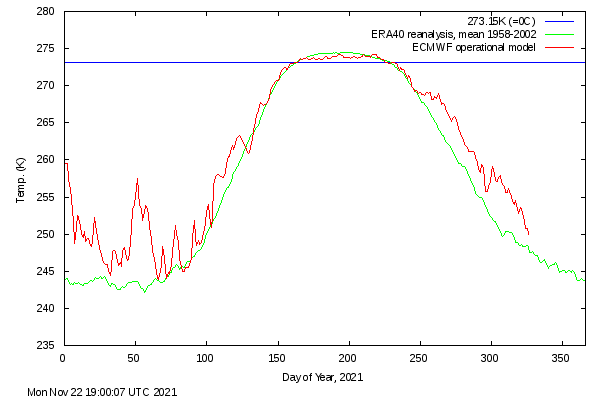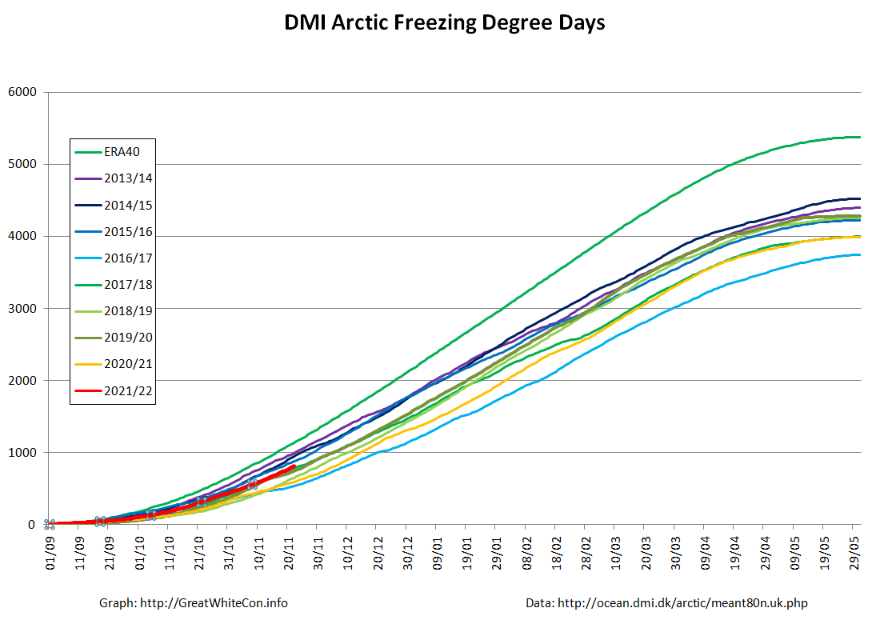 Q.E.D?
For further Arctic sea ice news please see the new December thread:

https://GreatWhiteCon.info/2021/12/facts-about-the-arctic-in-december-2021/