Earth's energy imbalance is of course a critical factor driving "global warming". According to NASA back in June:
Researchers have found that Earth's energy imbalance approximately doubled during the 14-year period from 2005 to 2019.

Earth's climate is determined by a delicate balance between how much of the Sun's radiative energy is absorbed in the atmosphere and at the surface and how much thermal infrared radiation Earth emits to space. A positive energy imbalance means the Earth system is gaining energy, causing the planet to heat up.

The doubling of the energy imbalance is the topic of a recent study, the results of which were published June 15 in Geophysical Research Letters.

Scientists at NASA and NOAA compared data from two independent measurements. NASA's Clouds and the Earth's Radiant Energy System (CERES) suite of satellite sensors measure how much energy enters and leaves Earth's system. In addition, data from a global array of ocean floats, called Argo, enable an accurate estimate of the rate at which the world's oceans are heating up. Since approximately 90 percent of the excess energy from an energy imbalance ends up in the ocean, the overall trends of incoming and outgoing radiation should broadly agree with changes in ocean heat content.

"The two very independent ways of looking at changes in Earth's energy imbalance are in really, really good agreement, and they're both showing this very large trend, which gives us a lot of confidence that what we're seeing is a real phenomenon and not just an instrumental artifact, " said Norman Loeb, lead author for the study and principal investigator for CERES at NASA's Langley Research Center in Hampton, Virginia. "The trends we found were quite alarming in a sense."
As our regular reader(s) will no doubt already be aware, Willis Eschenbach has been singularly unhelpful when it comes to assisting 3rd parties to reproduce the results contained in his 2014 letter to the editor of PNAS on the topic of "Arctic albedo":

Whilst we wait (in vain?) for Willis to explain himself, here is a preliminary look at some example CERES net top of the atmosphere energy flux maps for the Arctic: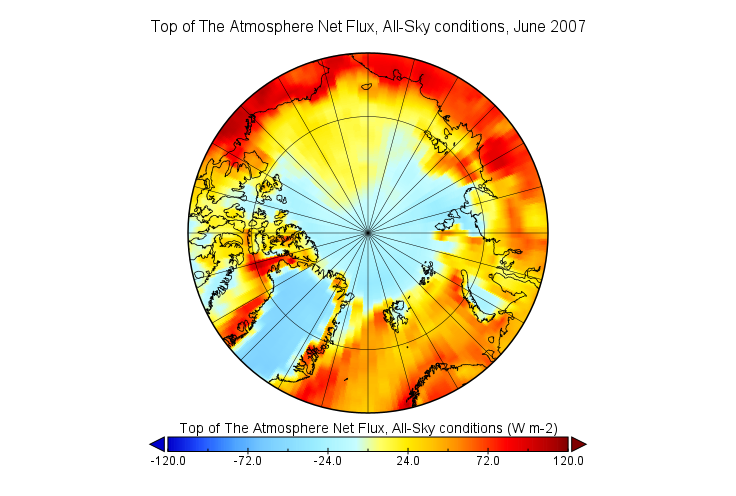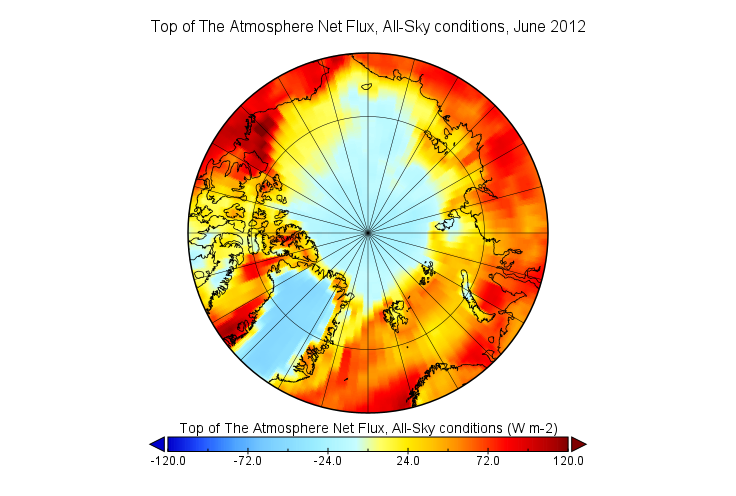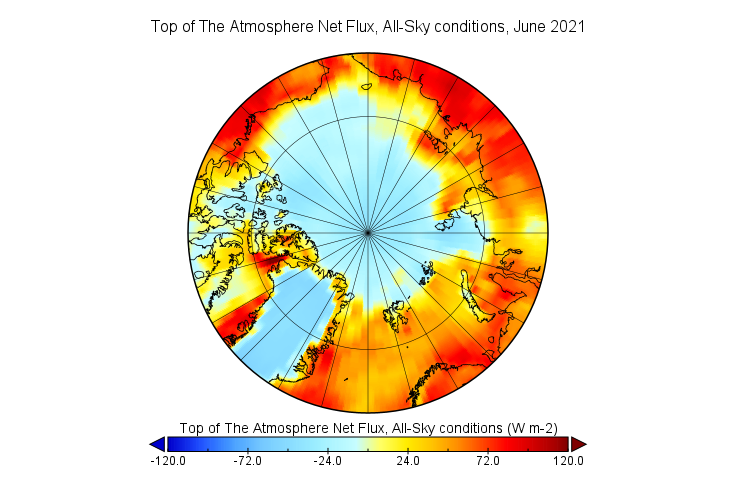 June 2021 is the latest month currently available in NASA's CERES data, and please feel to play the game of "spot the difference" in the space provided for that purpose below. Meanwhile we await the data for July and August 2021 with barely bated breath.

[Edit – November 3rd]
The CERES data for July 2021 has now been released, so first of all let's take a look at the July net TOA flux for some selected years: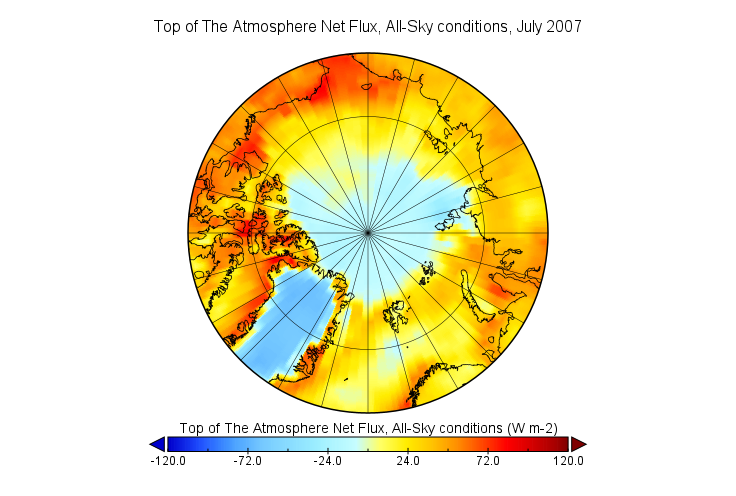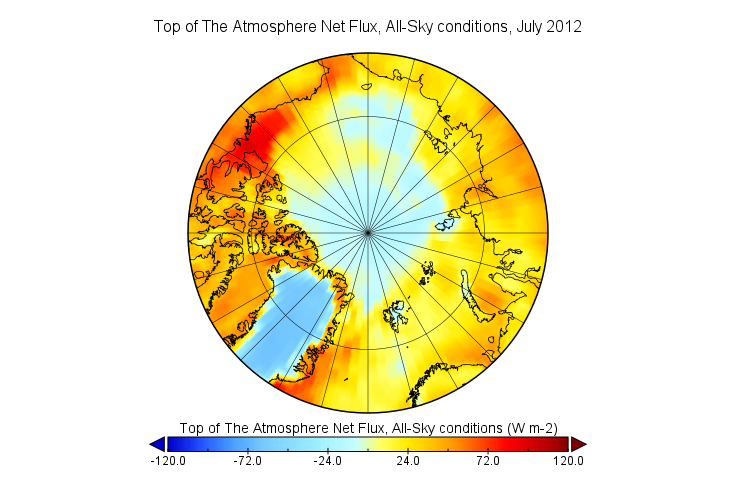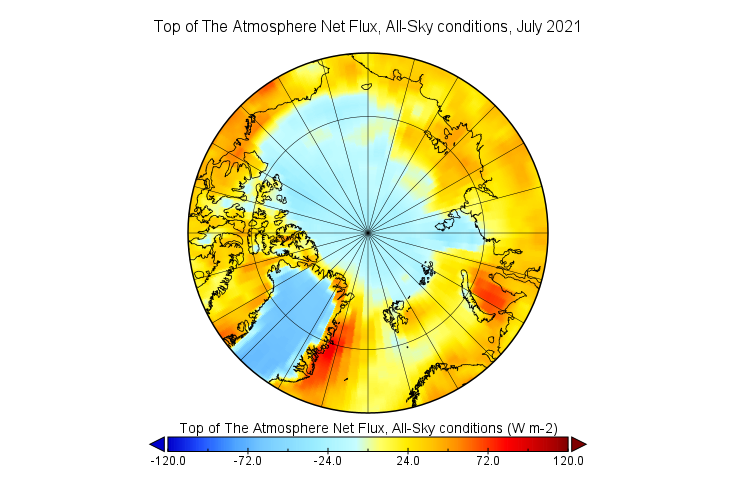 Next let's compare this year's peak insolation months with last year's: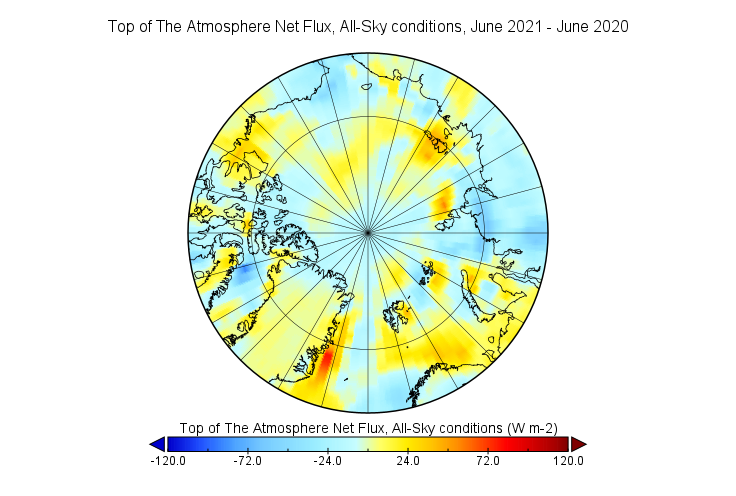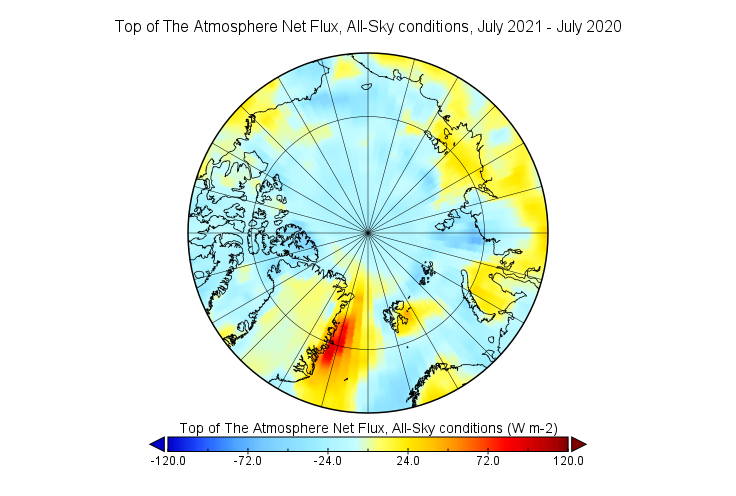 Does anything stand out yet?
[Edit – January 1st]
Here are maps of the CERES net TOA flux for August 2021 and our usual selection of other years: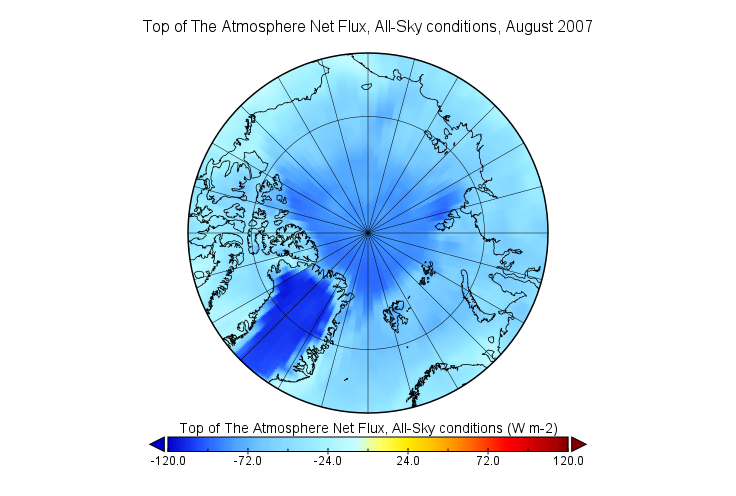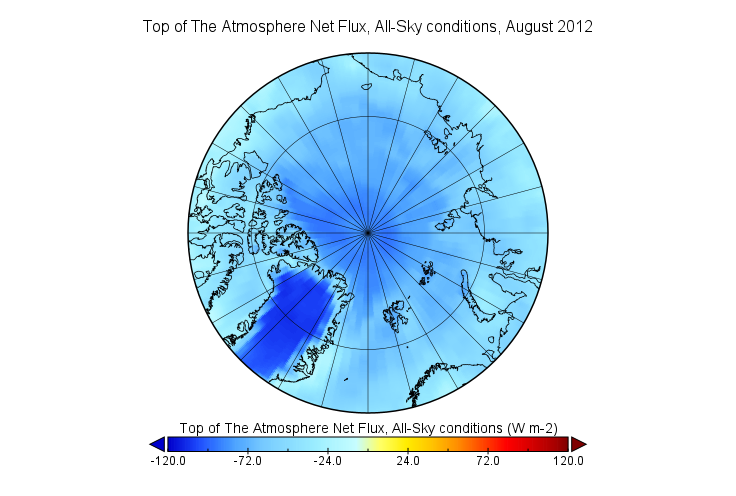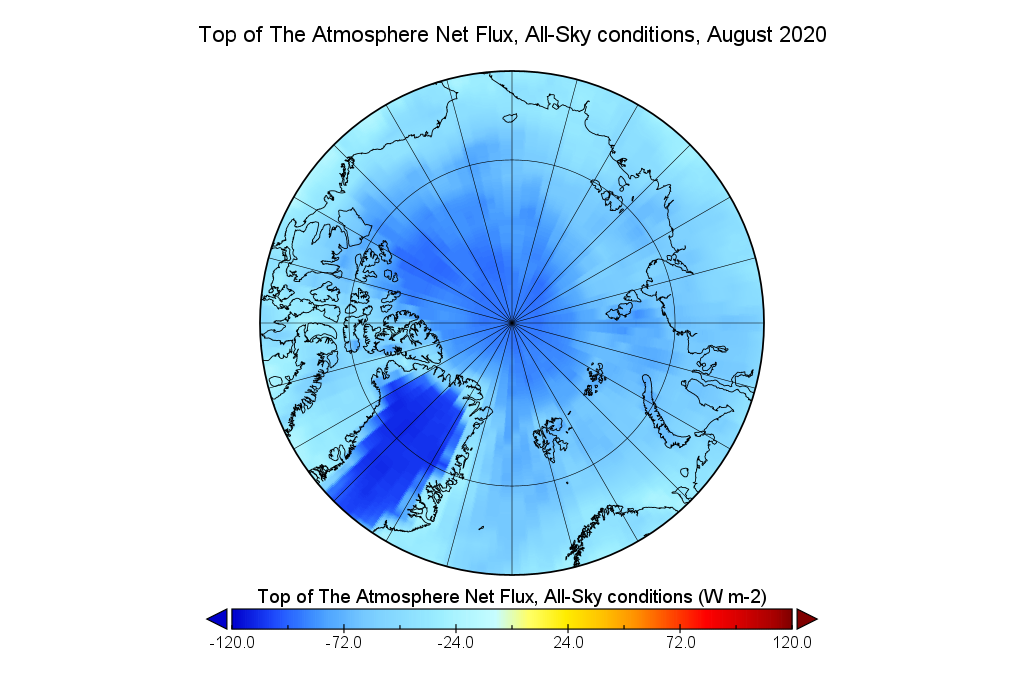 It is obvious that by August the entire Arctic is radiating energy back into space. Now let's compare August 2021 with 2020: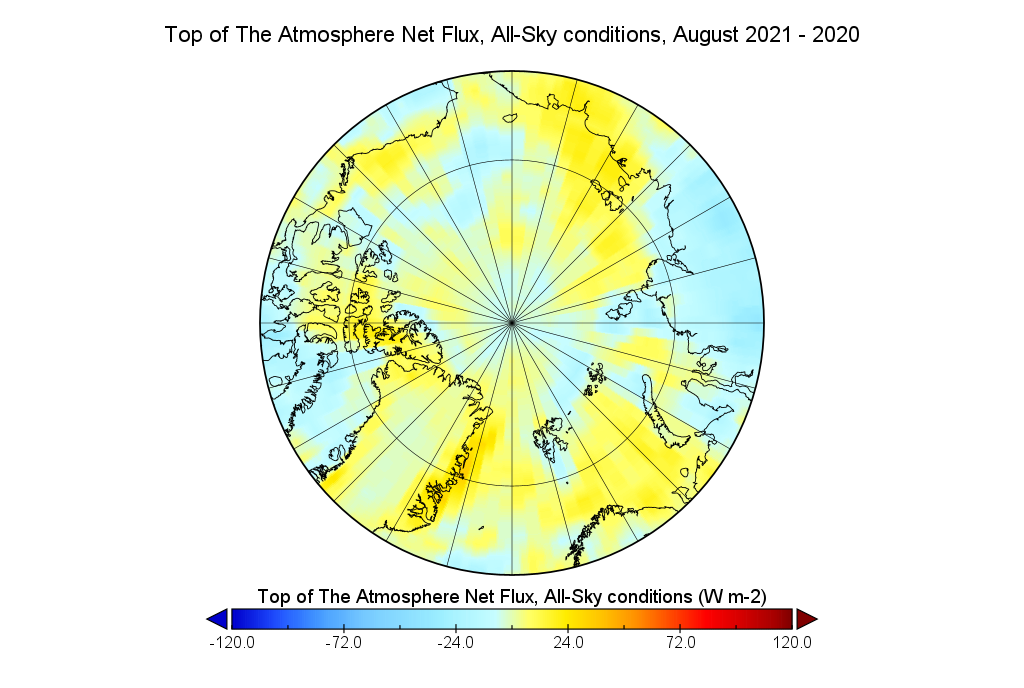 Whilst we're at it let's also take a look at how September compares to last year: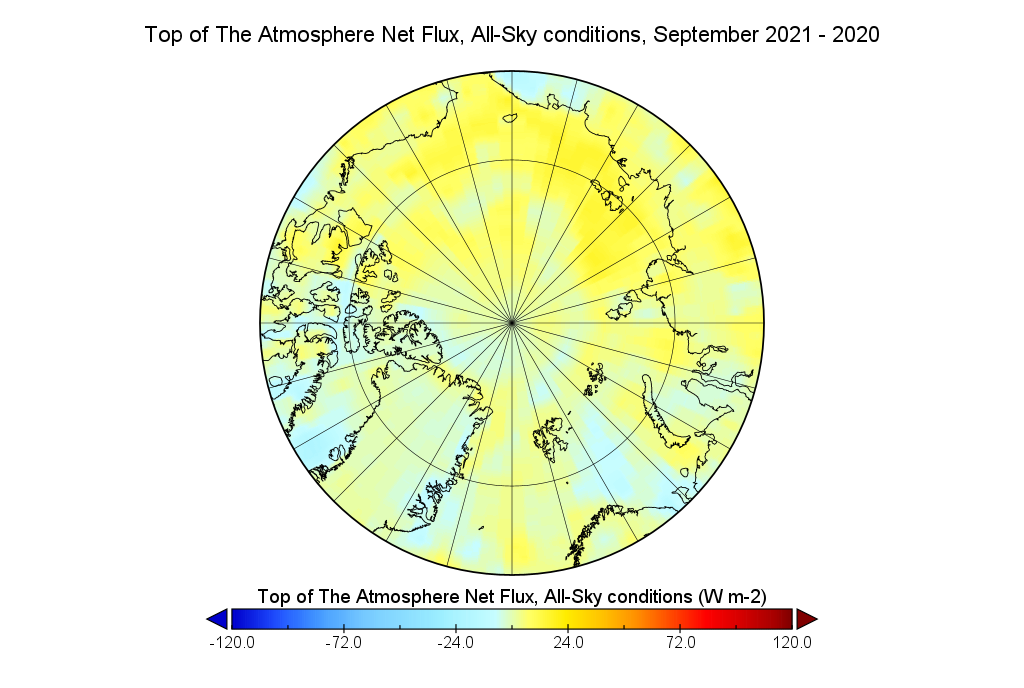 It is also obvious that the central Arctic has been radiating less energy back into space during September this year than it was in 2020.
Watch this space!