There isn't a million more square kilometers of ocean covered with ice than at the same time last year. Or is there?

For our younger readers perhaps I should point out that is a reference to the genesis of the Great White Con blog way back in the mists of time in September 2013, when a Daily Mail headline proudly, but erroneously, declared that:
And now it's global COOLING! Record return of Arctic ice cap as it grows by 60% in a year.

Almost a million more square miles of ocean covered with ice than in 2012
With the COP26 conference due to start in Glasgow on October 31st UK Prime Minister Boris Johnson had this to say to the United Nations General Assembly yesterday, amongst other things:
In the words of the Oxford philosopher Toby Ord "we are just old enough to get ourselves into serious trouble"…

It is time for humanity to grow up.

It is time for us to listen to the warnings of the scientists – and look at Covid, if you want an example of gloomy scientists being proved right – and to understand who we are and what we are doing.

The world – this precious blue sphere with its eggshell crust and wisp of an atmosphere – is not some indestructible toy, some bouncy plastic romper room against which we can hurl ourselves to our heart's content.

Daily, weekly, we are doing such irreversible damage that long before a million years are up, we will have made this beautiful planet effectively uninhabitable – not just for us but for many other species.

And that is why the Glasgow COP26 summit is the turning point for humanity.
If all that sounds unlikely, then take a look:


As we surmised at the time of the recent G7 Summit in Cornwall:
Now that The Don has sailed off into the proverbial sunset and Joe Biden is top dog all that has changed. A return to the (not so) good old days comes as no surprise, and the porky pies have started coming off the denialospheric production line once again.
Today we cannot help but think that there are those who would prefer that humanity did not grow up. Let's take a closer look at the current state of the cryodenialosphere, shall we?
First out of the blocks is our old friend Paul Homewood, who had this to say yesterday:
Arctic Sea Ice Recovers Strongly In 2021

For years we were assured that the summer sea ice in the Arctic would be long gone by now. After all, even that expert Al Gore pronounced in 2009 that it would have all melted away within four years, and many other Arctic experts concurred…

In reality, the ice has robustly recovered from its low extent in 2012, and this year has seen the highest minimum extent since 2014, and the fourth highest since 2007.

Moreover there is plenty of thick ice left in the central Arctic, in stark contrast to September 2009: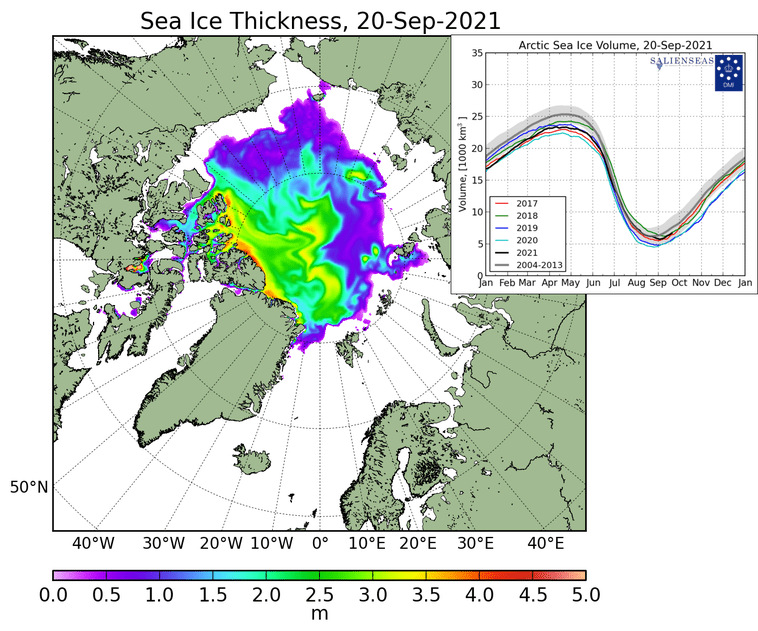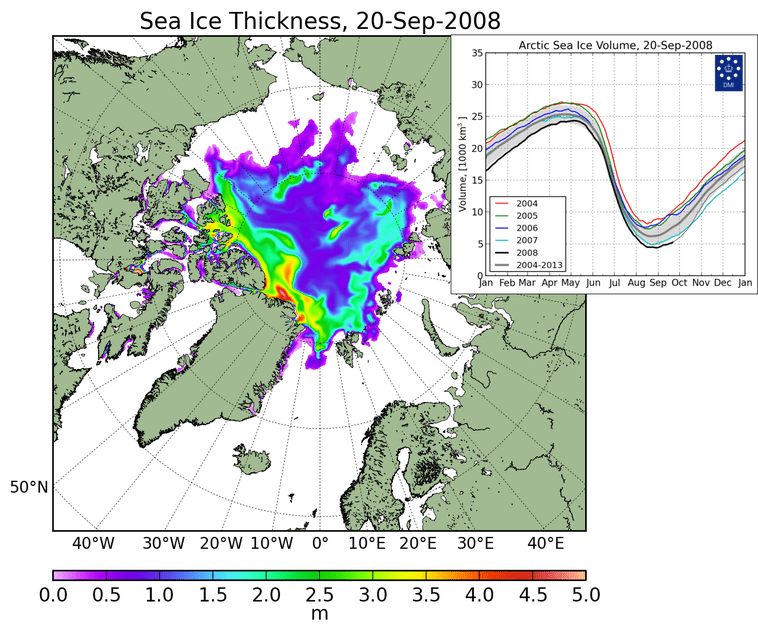 The message from the data is by now abundantly clear – Arctic sea ice is going nowhere.
Needless to say the clear message the data sends to me is very different. Not a lot of people know that my earnest attempt to bring this salient fact to the attention of Paul and his loyal readers is still lying on his cutting room floor: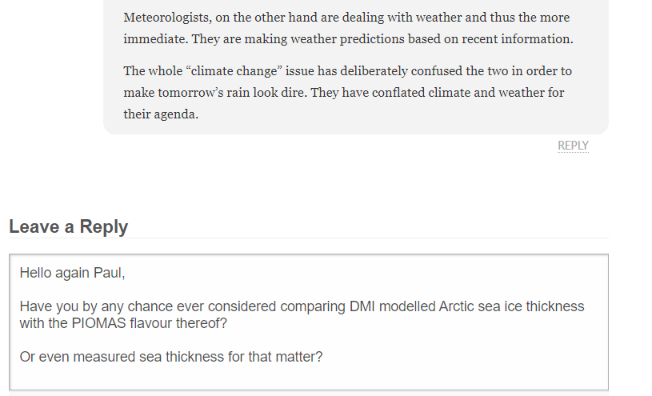 Do you suppose that Paul will fix the inadvertent typo for me?
Going back a few days another auld acquaintance of ours, David Whitehouse of the Global Warming Policy Foundation Forum, penned this rather more technical piece:
Arctic Sea Ice: Long-term decline held back

Any day now the Arctic sea-ice will cease melting and start to refreeze as the brief boreal summer draws to a close. It's been a cool and stormy summer in those parts yet this year's sea-ice minimum will be one of the highest of the past decade at around 4.73 million sq km which is greater than in 2020, 2019, 2018, 2017, 2016, 2015, 2012, 2011, 2008 and 2007.

So what is all this we read and hear about the Arctic sea-ice decreasing at an alarming rate and ice-free summers due in the near-future?

Looking at the data from the satellite era (post-1979) it's obvious it has been declining but the standstill of the past decade or so cannot be ignored. What some see as a continued decline others see as a bottoming out. But this is frequently denied or overlooked, unwisely extrapolated through or cherry-picked out of existence.
concluding that:
In a real sense the Arctic sea-ice extent is an emblem of climate change and the various forces contributing to it. Today, as the well-defined ice edge that stretches along most of the Russian side of the Arctic Ocean starts to freeze, the only certain thing is the oncoming cold and dark.
Writing from Boris's Brexited Britain we find David's final metaphor strangely apt, albeit probably not in the way he originally intended:

Last but not necessarily least for today, let's return to the opening paragraph above. It seems that the meme du jour on social media consists of posting a recent graph of DMI Arctic sea ice extent much like this one: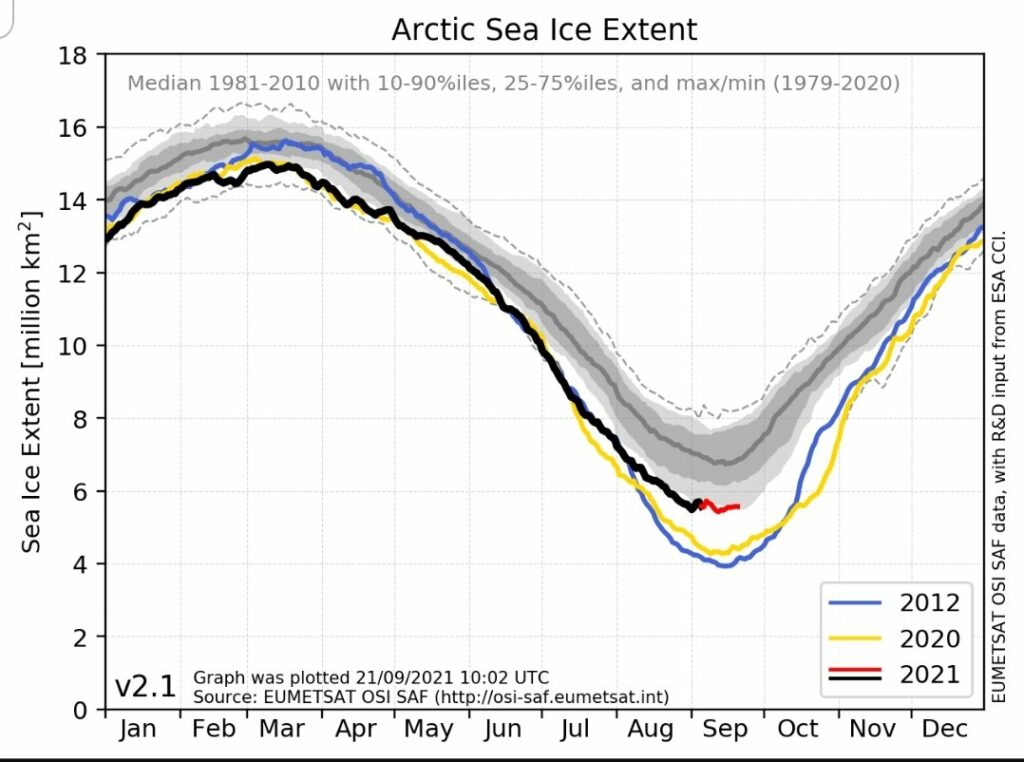 accompanied by the following claim:
[Edit – September 24th]
Whilst perusing the ways in which David Whitehouse attempts to blind his readers with science I couldn't help but notice this announcement on the other GWPF web site:
The Global Warming Policy Foundation is pleased to announce that the 2021 Annual GWPF Lecture will be delivered by:

Professor Steven E. Koonin
New York University, and former Under Secretary for Science,
US Department of Energy

Unsettled: What Climate Science Tells Us, What It Doesn't, and Why It Matters

Attendance is by invitation only
By some strange coincidence the invitation only event is scheduled for November.

Our regular reader(s) will no doubt recall that not so long ago we thoroughly debunked Prof. Koonin's unsettling "skeptical" claims about climate science in general, and Arctic sea ice in particular.
[Edit – September 25th]
Well who would have thunk it? According to almost our most ancient friendly local neighbourhood Arctic sea ice porky pie purveyor, "Steve Goddard":
[Edit – September 29th]
In all the circumstances this doesn't come as a great surprise either. A couple of days ago Paul Homewood published another Arctic article. This one was maligning our dearly beloved UK Met Office. Under this graph from the Met Office blog: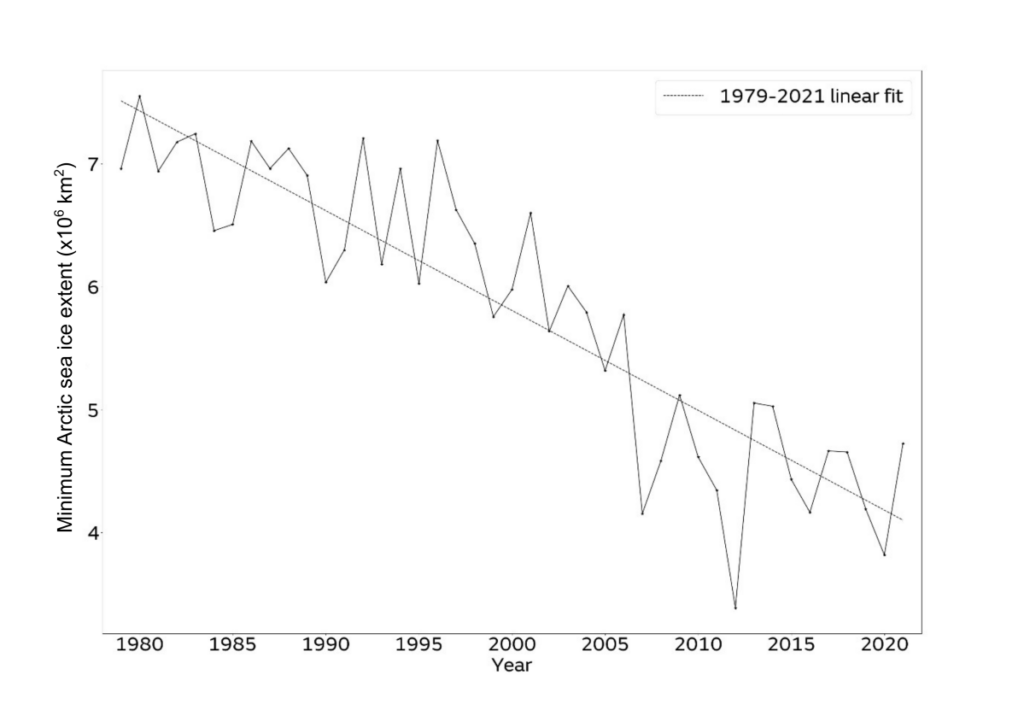 the article reads in part as follows:
Met Office's Fake Arctic Ice Claims Mislead Public

The Met Office's website describes the work they do, rambling on about forecasting the weather and world leading science. Nowhere can I find any reference to publishing fake news or disseminating misleading propaganda…

It is very easy to show that Arctic sea ice has stabilised. As their graph itself shows, there have only been three years since 2007 with lower ice extent than that year, and eleven have had higher extents. Also the average of the last ten years is higher than 2007's extent.

In itself, this is too short a period to make any meaningful judgements. But that is no excuse for the Met Office to publish such a manifest falsehood.

I have left a comment on their blog, but as is usual it is blocked. Maybe Richard Betts would care to comment!

Are the Met Office so afraid of the truth?
In actual fact it seems that Paul Homewood is afraid of the truth. He has still not published my comment on his previous Arctic article, and it probably won't come as a shock to you to discover that he has yet to publish my comment on this one: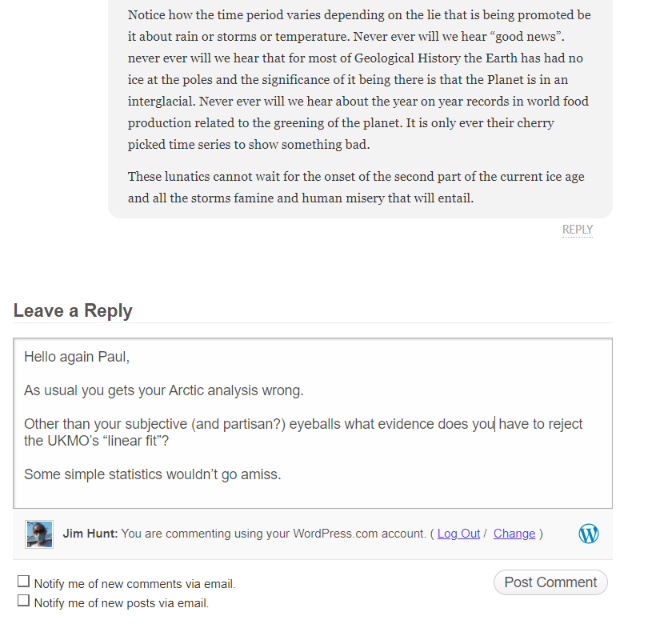 I wonder if Paul will eventually correct my inadvertent typo on this one?

You will no doubt be excited to learn that this story has a sequel, quite possibly the first of many. Yet another ancient acquaintance of ours, Anthony Watts, published a clone of Paul's article on his eponymous "Watts Up With That" web site earlier today. Hence on Twitter I felt compelled to mention that:
We have yet to receive a reply from Richard Betts. Perhaps the Met Office's legal eagles are constructing one of their own to forward to Messrs Watts and/or Homewood?
[Edit – October 2nd]
Who'd have thunk this? Paul Homewood has posted another article about the Met Office's recent article about Arctic sea ice:
The Met Office justify their claim by including data from 1979 to 2007, when ice extent did fall. But as any scientist/statistician knows, the past is no guide to the future. What happened twenty or more years ago is of no relevance to what is happening now.
It still doesn't contain even simple statistics! What's more not a lot of people know that my original comment plus two new ones today on the new article are all still invisible: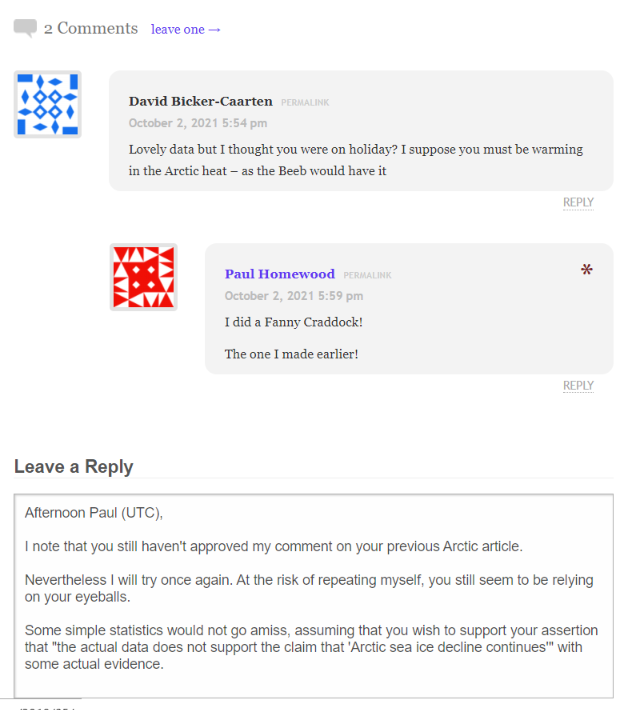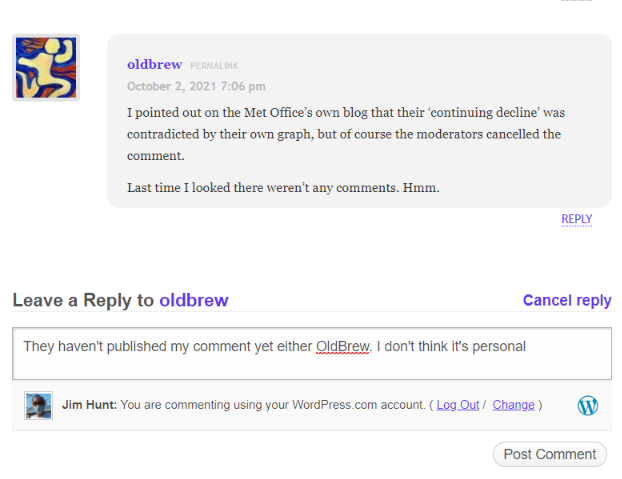 Watch this space!