It may not have come to your attention yet, but a long list of over 400 climate scientists have recently signed an "open letter" to the UK and other Governments requesting:
As academics researching climate and environmental change, we have been encouraged to see increased focus on climate in politics and society in recent years. Considering the current trajectory of planetary change, such attention is welcome, even though action is still lacking. We know that our research alone was not enough for this recent awakening to climate breakdown as an existential crisis for humanity, and recognise that protest movements around the world have raised the alarm…

But around the world today, those who put their voices and bodies on the line to raise the alarm are being threatened and silenced by the very countries they seek to protect. We are gravely concerned about the increasing criminalisation and targeting of climate protestors around the world…

With the upcoming Conference of the Parties of the UN Climate Change Convention (COP26) in Glasgow, and the urgency for global action accelerating as global warming already reaches 1.2°C, 2021 is a critical year for climate governance. It has become abundantly clear that governments don't act on climate without pressure from civil society: threatening and silencing activists thus seems to be a new form of anti-democratic refusal to act on climate.
See for example this tweet from "Scientist Rebellion", the militant academic wing of Extinction Rebellion UK?
The signatories to the open letter include a long list of well known names:
We, the undersigned, therefore urge all governments, courts and legislative bodies around the world to halt and reverse attempts to criminalise nonviolent climate protest.
Professor Julia Steinberger, Universities of Lausanne & Leeds
Dr Oscar Berglund, University of Bristol
Distinguished Professor Michael Mann, Penn State University
Professor Piers Foster, University of Leeds
Dr Leah Goldfarb, Universite Paris Saclay
Professor Catherine Mitchell University of Exeter
Dr Peter Gleick, Pacific Institute
Professor Stefan Rahmstorf, University of Potsdam
etc. etc.

On Monday the Guardian newspaper published an article about the climate scientist's open letter: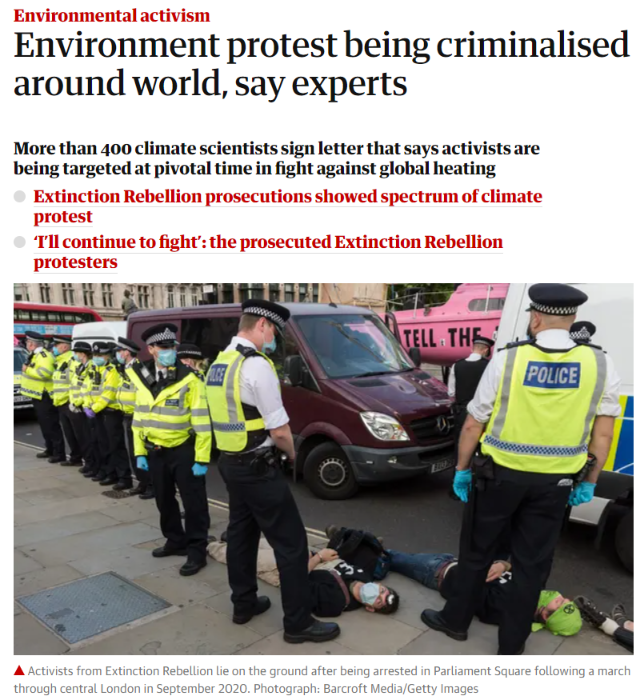 That article has now disappeared from public view:

A quick Google search reveals no such articles from the mainstream media on the first page: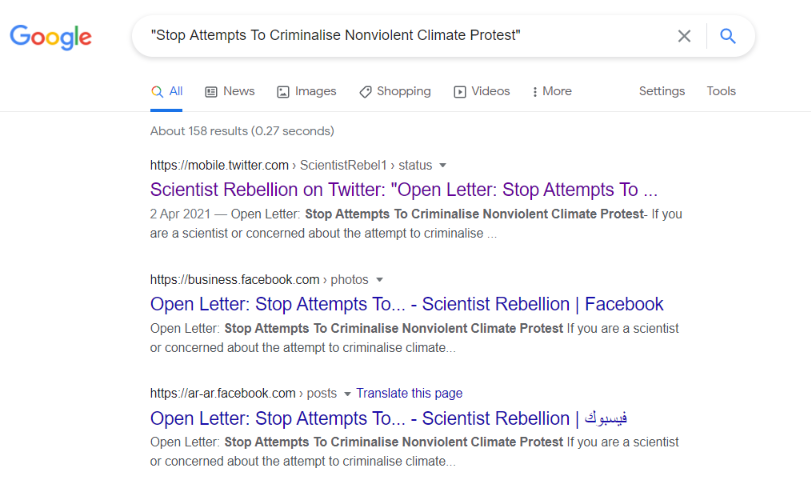 Or indeed on any of the pages of the Google search results.

My initial reaction is to wonder whether The Guardian has been under pressure of some sort?
I discovered via Twitter that a copy of part of the now absent Guardian article about the climate scientists' open letter had been published by MSN:
If you try clicking the link above you will discover that the MSN article has now disappeared as well!
The absent Guardian article about the open letter from "more than 400 climate scientists" has suddenly reappeared! Here's how I found out:
My question has yet to be answered however.
My question has received a plausible answer via Twitter: