Skeptical sorts across the cryoblogosphere are in meltdown mode at the moment. They seem to be unaware that satellites don't last forever in the harsh environment of space, and the individual scientific instruments carried by a satellite don't either. Some failures are more spectacular than others however. By way of illustration here's one recent report from Space.com:
The February [2015] explosion of an American military satellite may cause some problems for orbiting spacecraft after all, a new study reports.

The U.S. Air Force's 20-year-old Defense Meteorological Satellite Program Flight 13 (DMSP-F13) craft blew apart on Feb. 3 after experiencing a power-system faillure. Analyses by the European Space Agency and other organizations found that the cloud of space junk generated by the explosion shouldn't pose much of a threat to their missions, but the new research suggests that not all spacecraft are in the clear.
Another DMSP satellite started pushing up the metaphorical daisies earlier this year. Last month Space Flight Now reported that:
The U.S. Air Force has been unable to send commands to the service's newest weather satellite for nearly a month, and engineers are trying to determine if the spacecraft can be salvaged, officials said last week.

The polar-orbiting Defense Meteorological Satellite Program Flight 19, or DMSP F19, spacecraft stopped responding to orders from the ground Feb. 11, the Air Force said in a March 3 press release.

"At this time, it is not known what caused the anomaly or if the satellite will be recovered, and the anomaly is under investigation," the Air Force said. "There are no other known issues with the satellite."

Designed for a five-year service life, DMSP F19 launched April 3, 2014, from California atop a United Launch Alliance Atlas 5 rocket. It is the newest in the Air Force's series of DMSP weather observatories designed to help forecasters predict storms, clouds, fog and dust storms that could inhibit global military operations.
The data provided by the Special Sensor Microwave Imager/Sounder (SSMIS) instrument carried aboard several of the DMSP series of satellites is used by the National Snow and Ice Data Center to calculate their Sea Ice Index metric of Arctic sea ice extent. However suddenly Boulder has a problem. As we reported earlier this week the SSMIS sensor carried by DMSP F17 appears to be malfunctioning. This can be seen in this visualisation of the data from the European Ocean and Sea Ice Satellite Application Facility(OSI-SAF):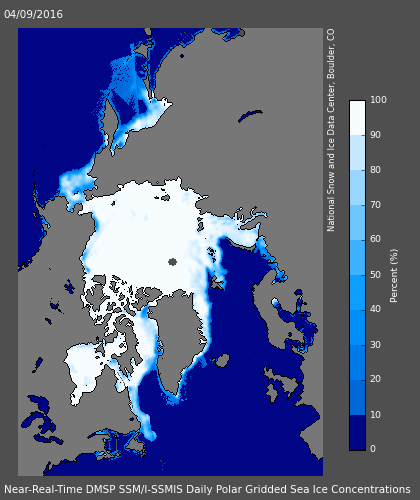 Look closely at the top centre of the image to see a large patch of spurious "sea ice". Here's the resulting SII extent graph from the NSIDC:
Anthony Watts reported this news in typically fanciful fashion:
There is this small notice on the NSIDC page:

"The daily sea ice extent images are currently displaying erroneous data. NSIDC is investigating."

It looks to be a problem with the DMSP F17 satellite.

Makes you wonder how long this has been going on and if the anomalously low readings we've seen for awhile are due to a slow sensor degradation.

Time will tell.
For a more realistic interpretation of the facts we suggest that instead of reading the propaganda perpetrated at WUWT you instead examine this graph derived using data from the AMSR2 sensor on board the Japanese SHIZUKU satellite: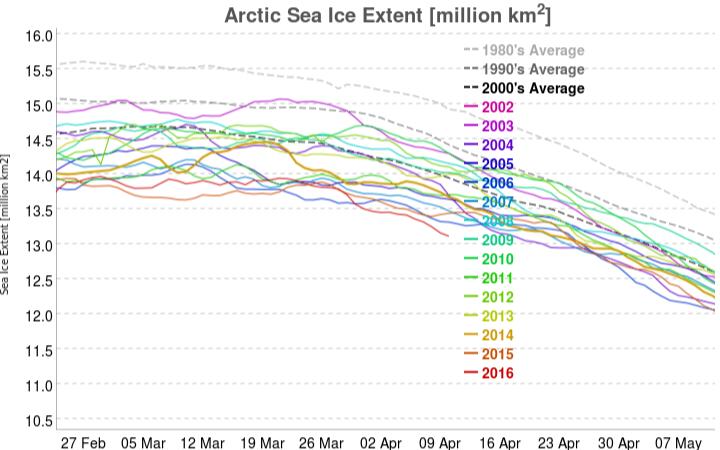 Mr. Watts evidently takes a very US centric view of these matters, since he neglected to report this timely news bulletin from the OSI-SAF:
Due to the previously reported problems with one of the channels on SSMIS onboard DMSP F17, OSI SAF is now working on replacing DMSP F17 with DMSP F18 in our sea ice products.

Currently, the switch to F18 has been implemented for the ice concentration product (OSI-401). The product dated 20160410 has been reprocessed and is available on our FTP server, ftp://osisaf.met.no/prod/ice/conc/ and ftp://osisaf.met.no/archive/ice/conc/2016/04

The ice edge and type products (OSI-402 and OSI-403) will be updated to use F18 tomorrow, 2016-04-12.
It seems Willis Eschenbach, the current Watts Up With That resident sea ice expert, is already beavering away endeavouring to prove Anthony's case for him:
We have no way to know if this has been a gradual decrease followed by a failure, so yes, it's certainly possible that the previous data is bad. Doesn't mean it is, but we'd be fools not to check.
We suggested a simple check:
Why not compare the NSIDC's SSMIS data from F-17 with JAXA's AMSR2 data from Shizuku? Wouldn't that do the trick?
Willis replied:
I meant that just from the bad reading alone, we don't know if the previous data is bad. Yes, we can check it in the way you suggest and other ways … which is why I said we'd be fools not to check.
We think that if he does his due diligence he will find that he is in actual fact engaged on a fool's errand, but time will indeed tell. Let's wait and see what Willis n Willard can come up with, shall we? Meanwhile we also cannot help but wonder what the dynamic duo might make of our own due diligence replicating the results of another collaboration of theirs: