With apologies to O'Reilly Media Inc. here's a brief history of the "DMIGate" story, viewed through Anthony Watts' distorting spectacle lenses.
0) Here is the February 14th 2016 edition of the Danish Meteorological Institutes's long "deprecated" 30% concentration threshold Arctic sea ice extent graph in question: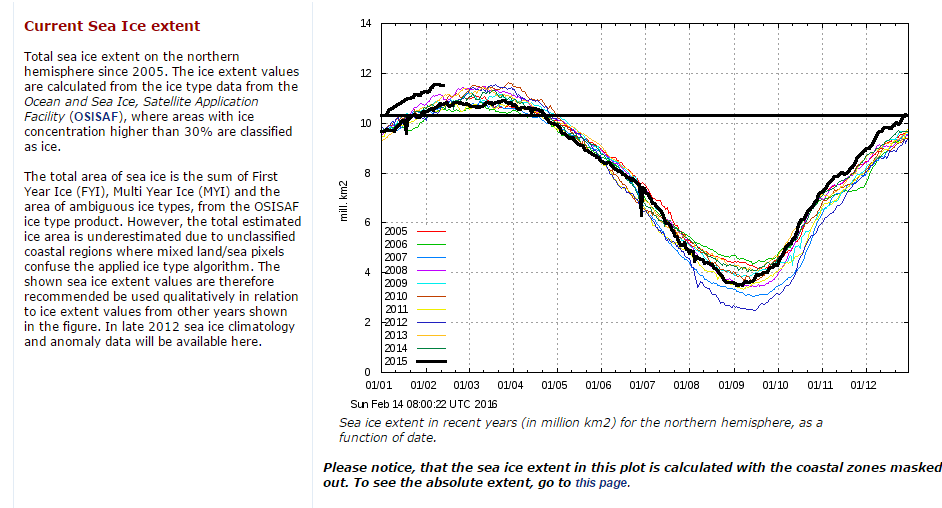 1) On August 14th 2013 Anthony Watts wrote on his "Watts Up With That" blog:
That's the old DMI plot, which DMI says we should now use this one on this page:
http://ocean.dmi.dk/arctic/icecover.uk.php
2) On February 22nd 2016 Anthony Watts wrote on WUWT:
There has been so much skulduggery going on in the climate establishment in recent years that it is hard to avoid the conclusion that this graph has been withdrawn simply because it gives the "wrong" results.
3) Anthony Watts refuses to publish any and all comments on his blog pointing out what he himself had confirmed that DMI said in August 2013.
4) Anthony Watts states on Judith Curry's "Climate Etc." blog that:
You post off topic or disrupt threads with the sort of unsubstantiated nonsense you post above, and both demand to have these off topic comments heard and then play the "look Watts is censoring me!" game when your comments don't meet our site comment policy and/or are abusive in nature.
5) Judith Curry deletes the following comment (amongst others) on her "Climate Etc." blog:
David – Are you suffering from acute snow blindness too, just like poor Paul Homewood? Try reading this if you haven't already. Try reading it again if you have:

https://greatWhiteCon.info/2016/02/gross-deception-about-dmis-missing-graph/
In view of the incontrovertible evidence why would anyone believe anything Paul Homewood, Anthony Watts and Judith Curry claim about "Climate Etc." ever again?