A few days ago we posted an article about the recent surge in the amount of disinformation being published about Arctic sea ice. Eventually one of our long list of usual suspects, Anthony Watts, published a copy of an erroneous Arctic article by Paul Homewood.

Now the Watts Up With That Arctic porky pie production line is going into overdrive, so here's an already long list of its output in the run up to the COP26 conference in Glasgow in a month or so. First up is the aforementioned clone from NALOPKT. Allegedly:
It is very easy to show that Arctic sea ice has stabilised. As their graph itself shows, there have only been three years since 2007 with lower ice extent than that year, and eleven have had higher extents. Also the average of the last ten years is higher than 2007's extent.

In itself, this is too short a period to make any meaningful judgements. But that is no excuse for the Met Office to publish such a manifest falsehood.
This comment of mine on that article remains invisible at WUWT:
This morning (UTC) I added another comment to Anthony's moderation queue:
It will probably not come as a shock to discover that my original comment is still invisible at @wattsupwiththat.

As is this missive sent to #WUWT this morning (UTC), referencing a previous comment by @TaminoClimate:https://t.co/RivLZuI1eo#Arctic #SeaIce #TruthDecay pic.twitter.com/O1ohffNgmR

— Snow White (@GreatWhiteCon) October 3, 2021
This afternoon (UTC) an Arctic article authored by our old amigo Willis Eschenbach, this time targeting the IPCC rather than the UK Met Office, hit the WUWT front page. Allegedly:
Let me return to the 2019 IPCC claim:

"Feedbacks from the loss of summer sea ice and spring snow cover on land have contributed to amplified warming in the Arctic (high confidence)."

Note that despite the IPCC claim of "high confidence", the 2007 findings of Kato and the more recent CERES data shown above demonstrate that feedback from changes in sea ice and snow cover have NOT contributed in any significant way to amplified warming in the Arctic. Cloud changes offset these sea ice and snow changes almost entirely. In short, the IPCC claim is overstated.
Needless to say my constructive comment is currently languishing on Anthony's cutting room floor:
[Edit – October 7th]
Whilst not strictly Arctic related, an interesting related development has occurred this afternoon (UTC). WUWT has just published a clone of a recent article by Judith Curry on the thorny topic of IPCC AR6 and CMIP6 climate models.

I cannot help but wonder when (if?) Anthony will publish this clone of one of my comments on the self same Climate Etc. article regarding the recent Nobel Prize awarded to Suki Manabe: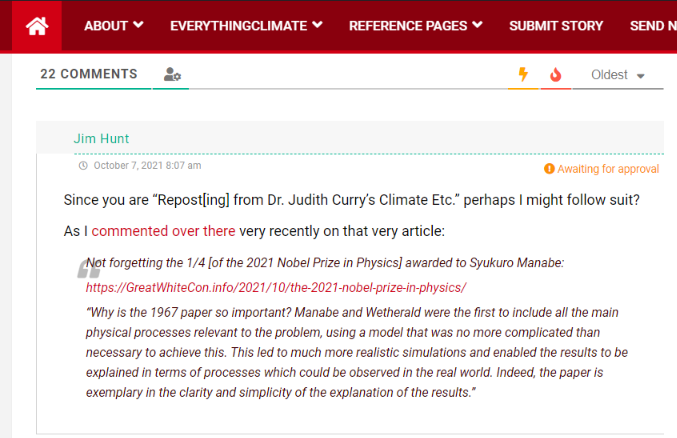 Watch this space!