Arctic explorer Pen Hadow trekked, and swam, from Ward Hunt Island to the North Pole in 2003. Solo and unsupported. He plans to return to the North Pole this summer, but on this occasion he'll be sailing with a few companions. According to yesterday's Sunday Times:
Pen Hadow launches bittersweet mission to sail to North Pole

For his new record attempt, Hadow and his nine-strong team will take two yachts on a 3,500-mile round trip from Nome in Alaska to the pole, using satellites to find a route through the ice and avoid getting stuck. He will fly to Alaska to join his team members on Saturday.

If all goes to plan, he will arrive at the pole between August 15 and early September, about 510 miles further north than anyone has sailed before.
Although the Sunday Times failed to mention it the expedition has a web site of its own. According to the Arctic Mission "About" page:
Arctic Mission sets off from Nome in Alaska (USA) in the first week of August. The expedition team will not see land again for six weeks. We will cover about 3,500 miles by the time they return to harbour at Nome in mid-September.

Our two 50 foot yachts, Bagheera and Snow Dragon II, are specially built to sail in waters with sea ice, and the four skippers, two on each boat, are exceptionally experienced in polar seas, and with navigation and safety procedures in sea ice.
The Arctic Mission team intend to do lots of science during their attempt to reach the Pole:
Our expedition is going to explore, discover and share the stories of the spectacular marine wildlife – plants, animals and even bacteria – that lives around the North Pole. Be prepared to be surprised!

We'll also be doing essential scientific studies and sharing this information, so that our international policy-makers can decide how best to #protect90North.

The more we explore this unexplored ocean, the better we will understand how it works, which means we can make the best decisions to protect it for the benefit of everyone for ever.
We've met the two yachts in question before. In 2015 Bagheera and Snow Dragon II both successfully negotiated the Northwest Passage. However this voyage will be far more difficult. During their attempt to sail to the North Pole in the summer of 2013 Sébastian Roubinet and Vincent Berthet had to be rescued by the Russian icebreaker Admiral Makarov when the Central Arctic refreeze set in earlier than originally anticipated. Unlike the ice skating catamaran Babouchka, Bagheera and Snow Dragon II both have engines which will certainly help avoiding a similar fate. In addition perhaps the sea ice in the Arctic is less of an obstacle than it was in 2013? In an interview with the BBC World Service on Sunday Pen pointed out that:
Now 40% of the international waters around the North Pole, what we call the Central Arctic Ocean, are open water in the summer time.
When asked:
Do you think you'll actually achieve this goal then?
Pen replied:
I think it's quite possible, with the assistance of a US agency that have satellites that are going to be helping us each day pick the best route through these ever narrowing cracks, and it's quite possible that we'll reach the North Geographic Pole.
I also trust that the Arctic Mission team will be keeping a close eye on the Arctic weather forecast over the next month or so. Last August the crew of the yacht Northabout feared for their lives when caught in an Arctic cyclone in a sheltered anchorage on the Northern Sea Route. There is no such safe haven anywhere near the North Pole.
Pen concluded his BBC interview as follows:
If we can produce a visual image of a sail boat at 90 degrees north I think that could become an iconic image of the challenge that the twenty-first century faces. Are we serious about running this planet, which is actually what we need to start doing, and it's biophysical resources on a sustainable basis, or are we just here for a laugh?
We wish him and the Arctic Mission team well. Watch this space for further updates, and possibly that iconic visual image! Meanwhile here's a picture of Bagheera in the Northwest Passage in 2015: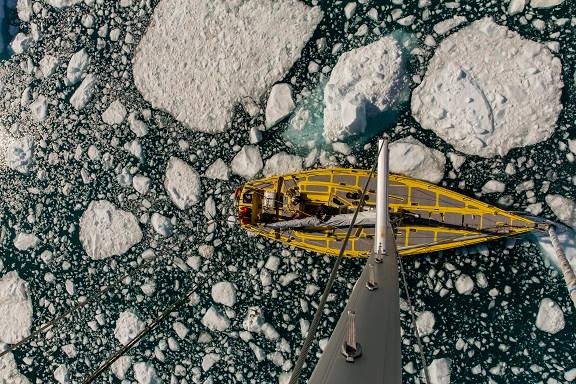 plus an image from the Sentinel 1B satellite of the current state of the Arctic sea ice on the direct route from Nome to the North Pole: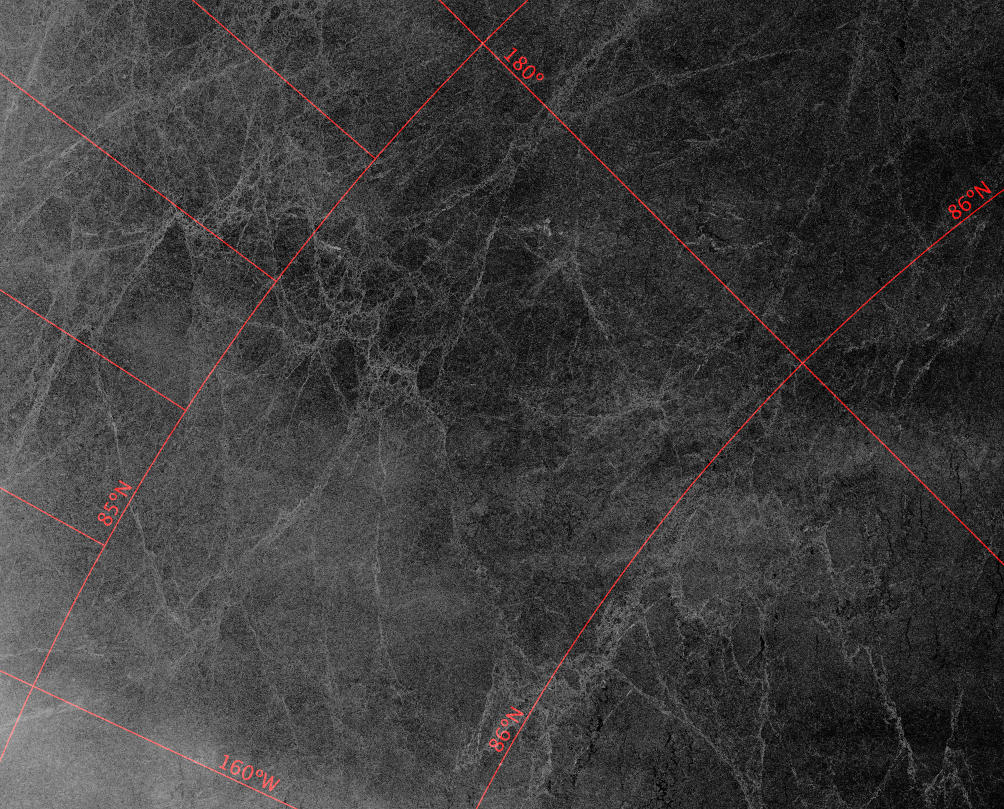 There don't seem to be many "narrow cracks" just yet.
The Arctic Mission team have a new blog! In the latest post Pen Hadow says:
[This] brings us to the summer of 2016, and an idea I was mulling over. A rather Big Idea. Had the deterioration of the Arctic sea ice got to a point where switching from Spring-time sledge-hauling to Summer-time sailing was appropriate? In my solo journey from northern Canada to the North Geographic Pole in 2003, I had spent over 30 hours swimming open water stretches, out of the total 850 hours spent hauling my sledge while walking on skis across the sea ice. It had dawned on me then that global warming was the likely cause of so much open water. Since then, it has become highly unlikely that the ski route from northern Russia to the Pole will be done again, due to the absence of sea ice for most of the year off the Severnaya Zemlya island group. And the other classic route from northern Canada no longer has an aircraft operation to provide the necessary support for sea ice expeditions, due to the worsening quality of the sea ice. Both routes have now been lost to the Arctic Ocean's fast-changing environment. And with this change, the Arctic Ocean with its hitherto frozen summer surface is now rapidly becoming open-access to surface vessels for the first time in human history.

Would it be possible to sail a small yacht to the Pole? Could that create a useful platform to share the unfolding situation with a global audience? Might this be the best way I could focus world attention on the merit of creating a new marine reserve in the international waters surrounding the North Pole?
It looks like we're just about to find out the answer to those questions. The team have also announced another livestream from Nome, Alaska. This one is scheduled for 8 PM BST tomorrow, Thursday August 10th. They say:
Ahead of our Friday departure (weather permitting – there's a nasty storm brewing over the Bering Strait that may prove problematic) we'd love to introduce you to the Arctic Mission team.
This is probably what they are referring to: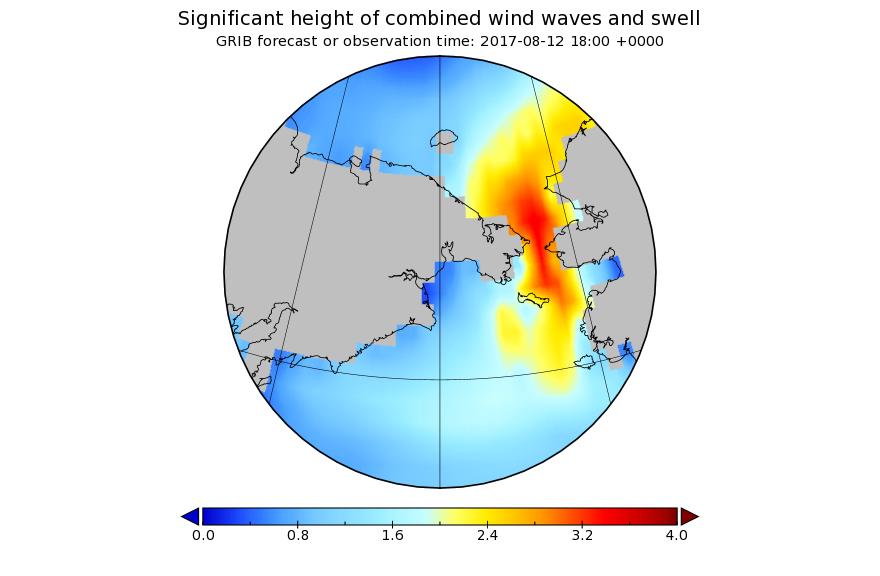 A bumpy ride for Pen Hadow et al. is in store on Saturday, and some big waves for Utqiaġvik (Barrow as was) as well.
An overly brief and (hence?) rather misleading article in the Sunday Times today. According to Jonathan Leake:
Sailing to North Pole will have to wait

Pen Hadow, the British explorer, is today due to start a sailing expedition across the Arctic Ocean to highlight the effects of climate change, including an attempt to reach the North Pole.

Scientists warned, though, that despite the rapid melting of the ice there was unlikely to be access to the North Pole via open water for some years.

Professor Mark Serreze, director of America's National Snow and Ice Data Centre, said the North Pole was still surrounded by nearly 800 miles of solid pack ice as of last week.
Jonathan appears not to have a particularly good grasp of sea ice (thermo)dynamics during the latter stages of the summer melting season!
It seems as though @Jonathan__Leake doesn't have a good grasp of #Arctic #SeaIce (thermo)dynamics: https://t.co/iO1RQBCnZY #ArcticMission pic.twitter.com/GKaZBXOrMJ

— Snow White (@GreatWhiteCon) August 13, 2017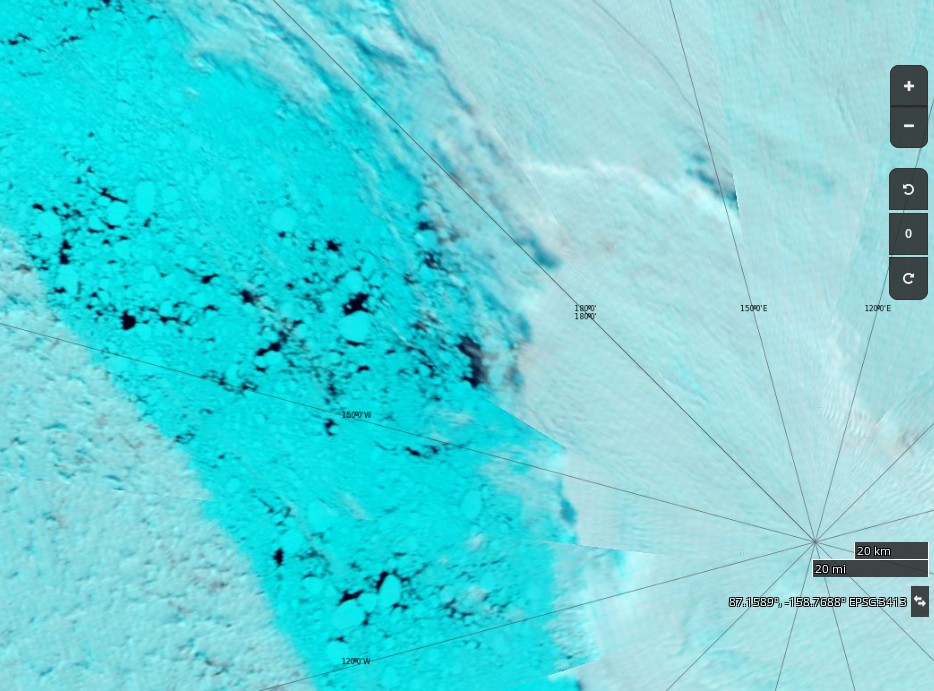 Whilst waiting for the waves in the Bering Strait to die down Conor McDonnell, Arctic Mission's photographer, has recorded a video from the top of Bagheera's mast, amongst other places:
According to Pen Hadow Bagheera and Snow Dragon II will set sail in the small hours of tomorrow morning (UTC):
Setting sail around 03.00GMT Tuesday from Nome. pic.twitter.com/trDJ9hFVZ8

— Pen Hadow (@PenHadow) August 14, 2017
We have also been promised live tracking real soon now:
Hello! Our geolocation will be live on the Arctic Mission website just before we set off. Stay tuned!

— ArcticMission (@ArcticMission) August 14, 2017
The Arctic Mission live tracking map is operational at last. Here is what it reveals so far: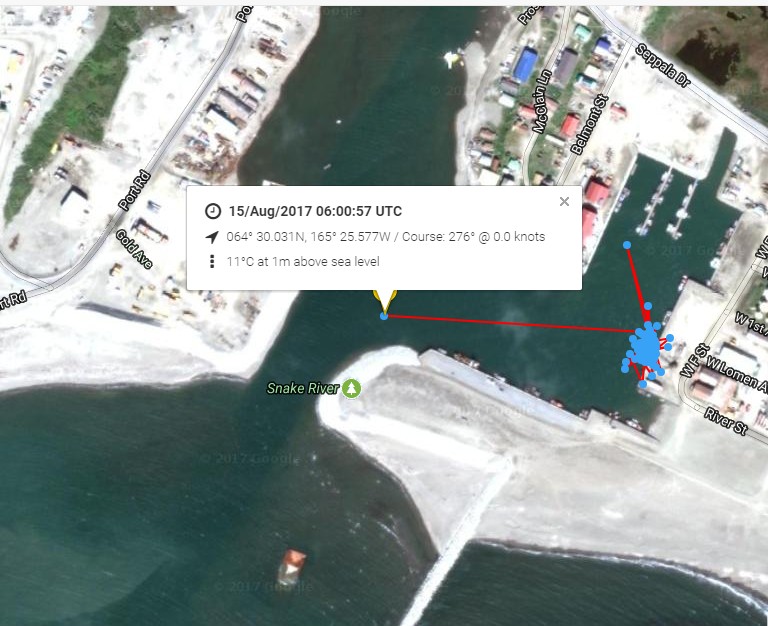 It looks as though Bagheera and Snow Dragon II left Nome on their voyage of discovery at 06:00 UTC this morning.
Point Hope is now behind the Arctic Mission team:
Next is Point Lay. Much further north, there are significant gaps appearing in the sea ice up to around 83N: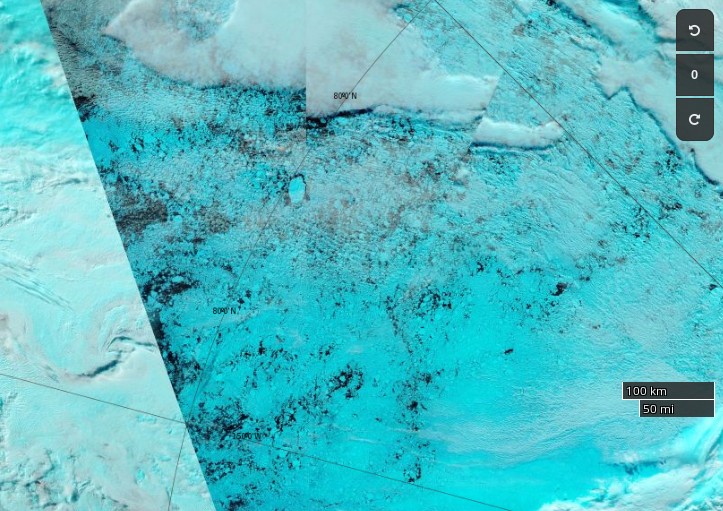 Bagheera and Snow Dragon II are obviously not heading for the Northwest Passage in 2017!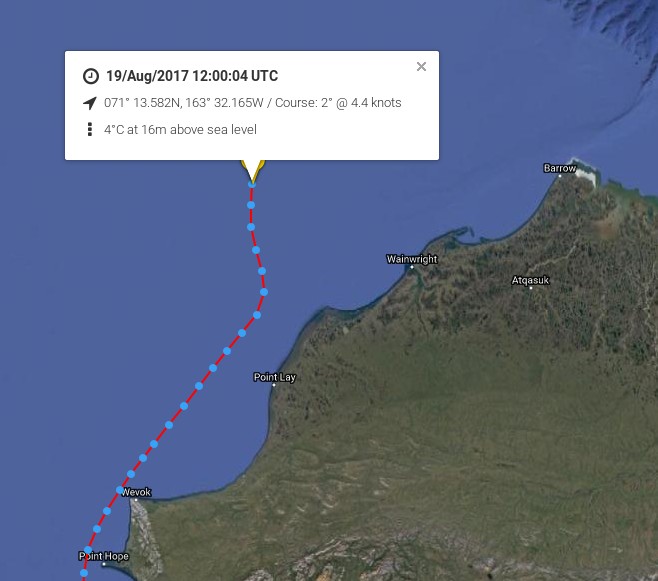 Plus further to a conversation on Twitter:
Especially for @BestInFlightLDJ & @ArcticMission – An #Arctic #SeaIce extent map based on a 60% concentration threshold. Data from @CENunihh pic.twitter.com/nL7LWn1Kq1

— Snow White (@GreatWhiteCon) August 19, 2017
Bagheera and Snow Dragon II are still heading due north:
They stopped for a few hours yesterday to perform their first round of scientific experiments: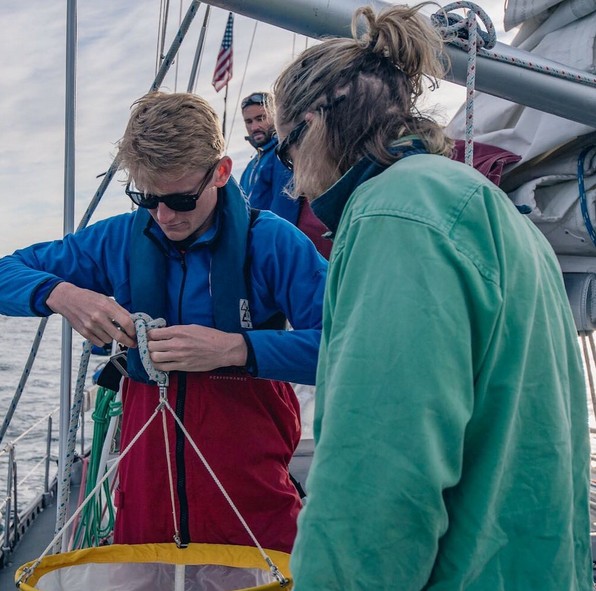 The Arctic Mission team passed 75 degrees north this evening (UTC):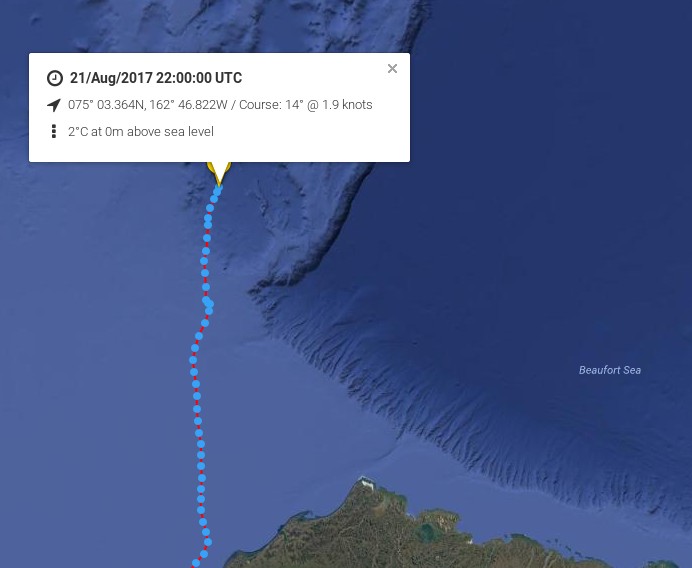 On the phone from the Central Arctic Pen Hadow reports that the Arctic Mission team are now in amongst significant amounts of sea ice.
Here's a picture of the first piece they spotted: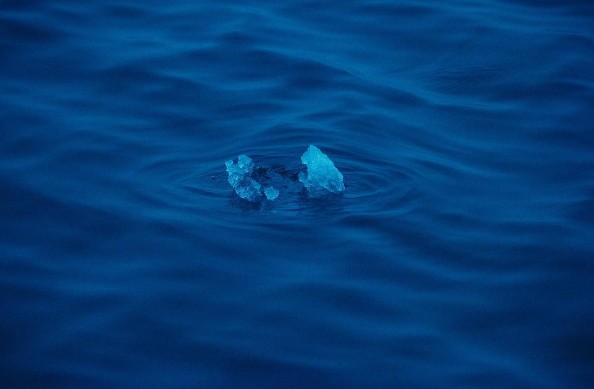 The location was recorded as 75 27N 162 46W.
Bagheera and Snow Dragon II are continuing to slowly move north along the west side of the Northwind Ridge: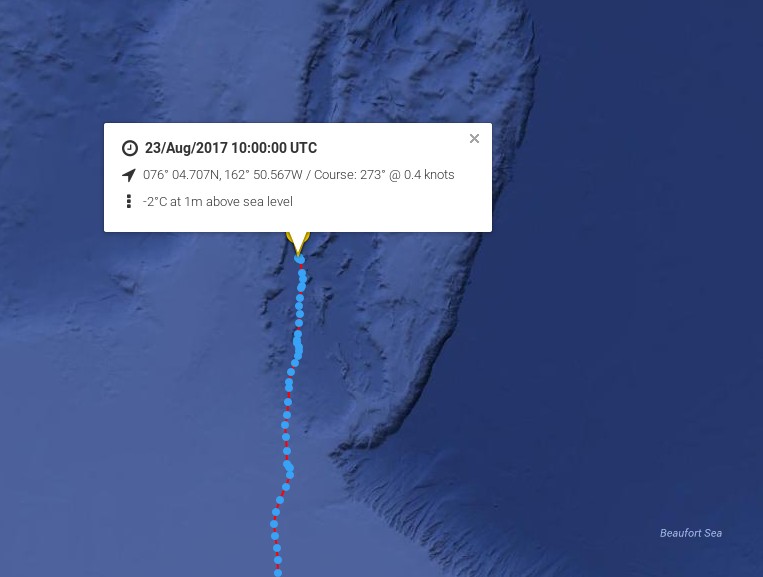 The Sentinel 1B satellite took a (not terribly clear) snap of the area yesterday evening (UTC):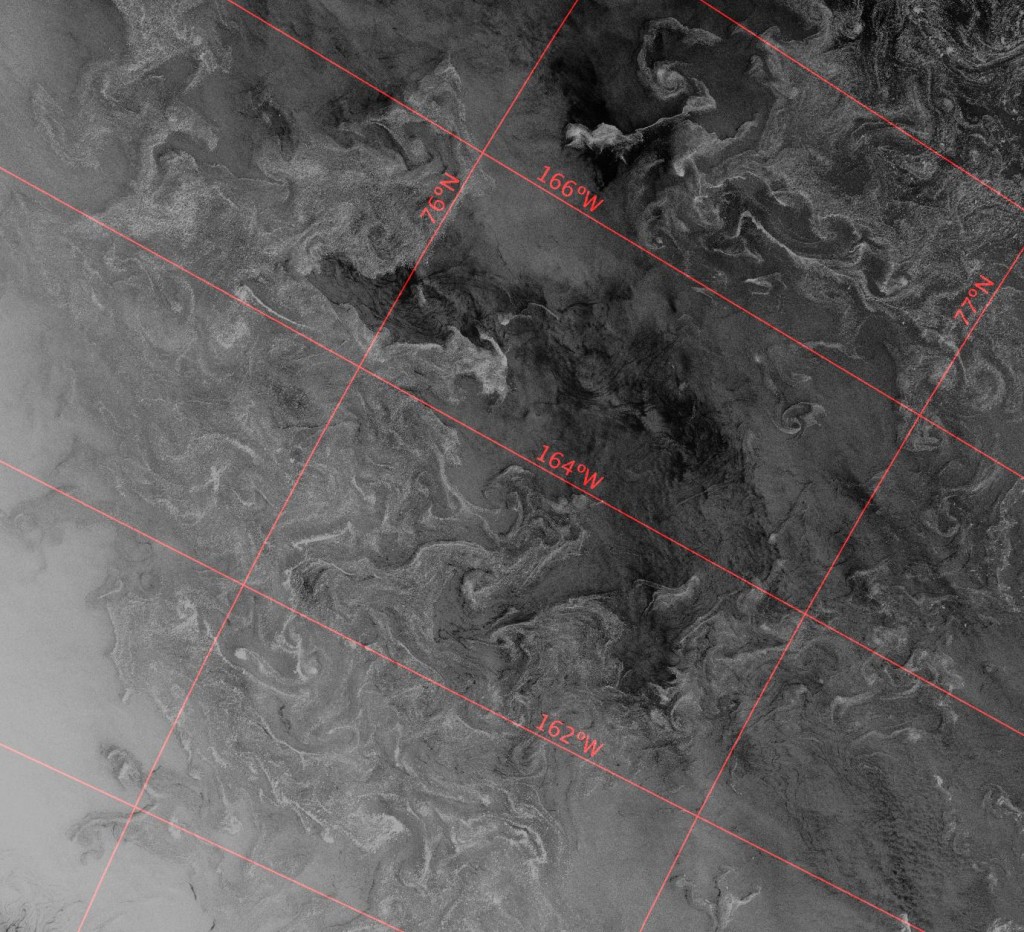 The Arctic Mission team are still following the Northwind Ridge towards the abyss of the Amerasian Basin: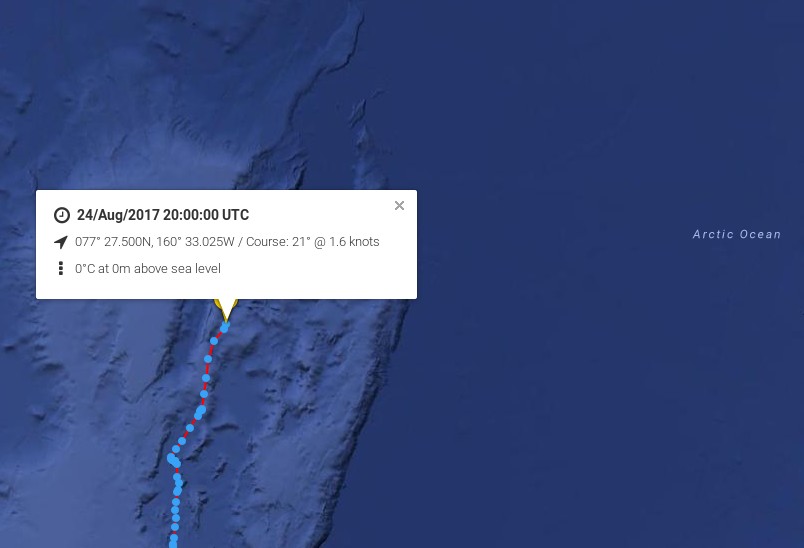 Bagheera and Snow Dragon II are currently taking a more easterly course, but have nonetheless inched past 78N: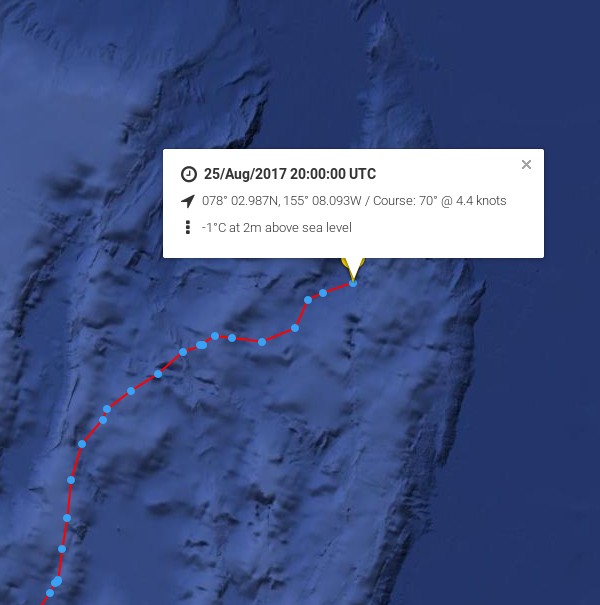 The #ArcticMission team have passed 79 degrees north: pic.twitter.com/mN693zyTY5

— Snow White (@GreatWhiteCon) August 26, 2017
Here's the latest AMSR2 extent map based on a 60% concentration threshold: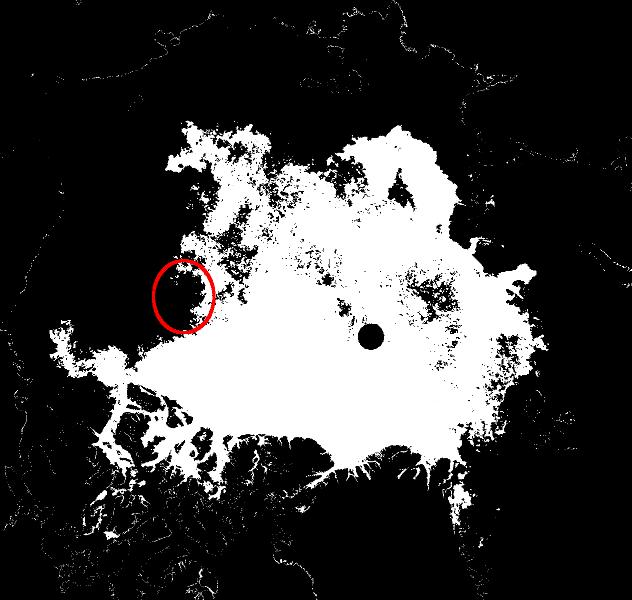 It looks as though the Arctic Mission team are heading east into the heart of the "Beaufort Bite" at around 142 degrees west: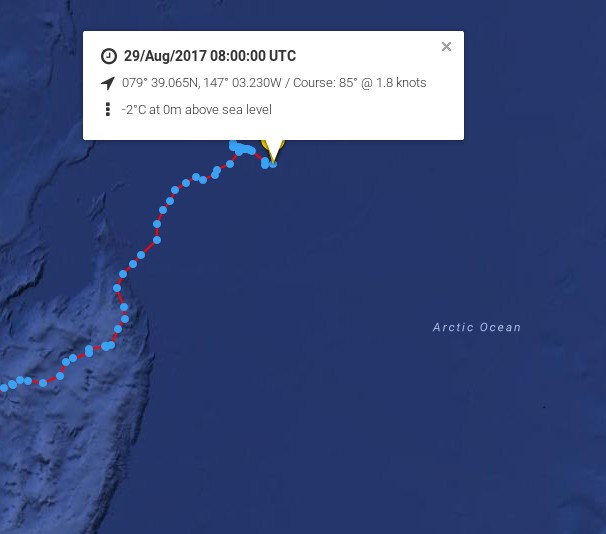 Bagheera and Snow Dragon II have breached the 80 degrees north barrier: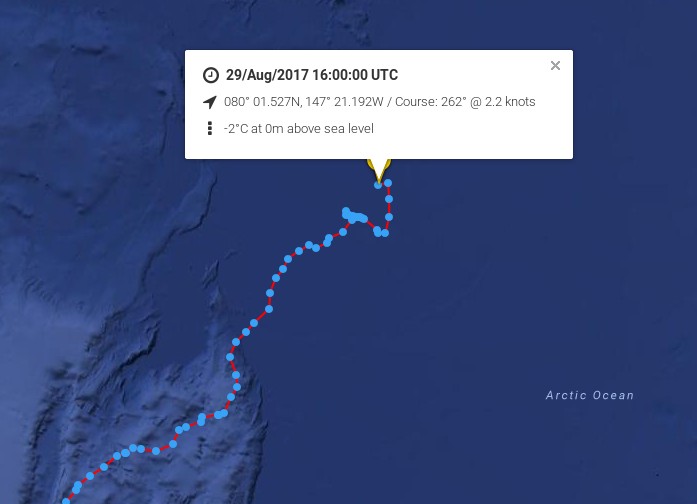 As angech points out below Pen Hadow has announced that:
Arctic Mission's furthest North was 80 degrees 10 minutes North, 148 degrees 51 minutes West, reached at 22:04:12 (Alaskan Time, GMT-9hours) on 29 August 2017 by yachts, Bagheera and Snow Dragon II.

Arctic Mission moored its yachts to an ice floe on 29 August to conduct one of its 24-hour marine science surveys, while drifting with the sea ice. The strategy for any future northward progress had been to monitor the sea surface currents, sea ice, and weather conditions (both observed from the yachts and through satellites imagery downloaded onto our computers), and decide how to proceed as we approached the end of the 24-hour survey.

A meeting of the four skippers was held led by Erik de Jong, with Pen Hadow present, and it was agreed further northward progress would increase considerably the risks to the expedition, with very limited scientific reward. The decision to head south, back to an area of less concentrated sea ice in the vicinity of 79 degrees 30 minutes North, was made at 18.30 (Alaskan time).
Here's the live tracking map from 06:00 UTC this morning: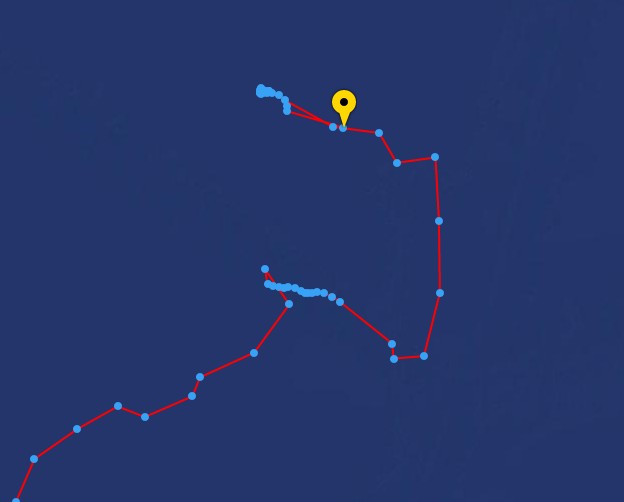 A prudent and not unexpected decision. Cue the cackling from all the usual suspects?
The cackling from all the usual suspects has indeed begun. It has even inspired a somewhat surreal modern art installation! Meanwhile according to their Twitter feed:
We are slowly making our way back to Nome now after reaching the northernmost point of our… https://t.co/GhrYYza6gk

— ArcticMission (@ArcticMission) September 1, 2017
The live tracking map confirms that, but the team don't appear to be in any desperate rush to return to Nome.
Bagheera and Snow Dragon II have made it safely back to Nome: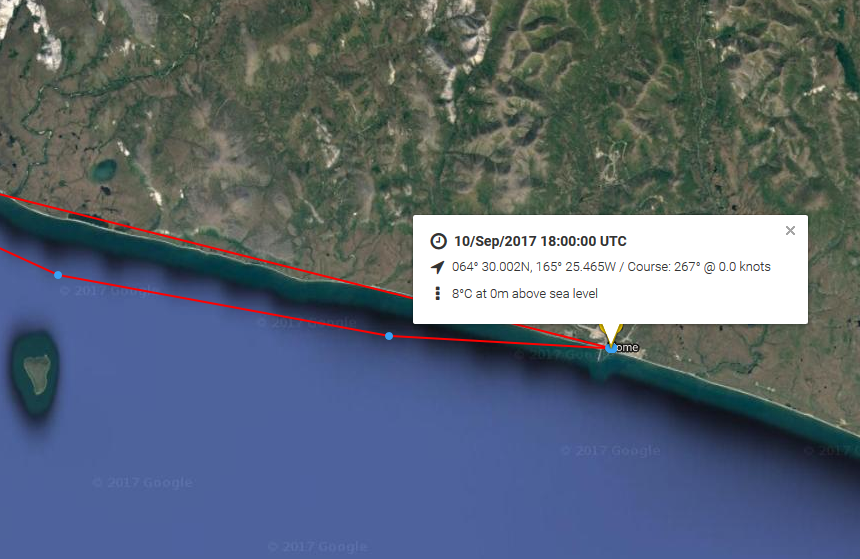 Here's the last image beamed back from the Bering Sea: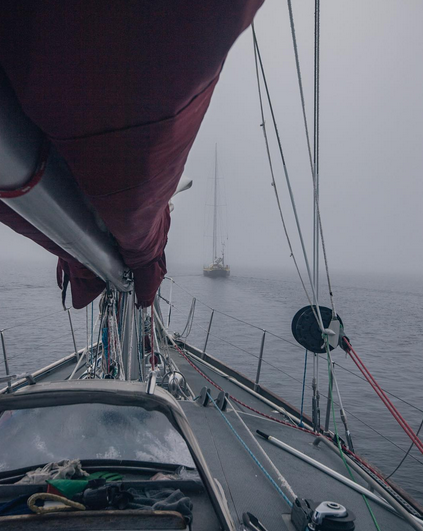 Their last message whilst still at sea informs us that:
Once we get our land-legs back, we'll schedule a Facebook Live. We look forward to talking to you all!