In our latest astonishing disclosure concerning David Rose's optimistically named "Climategate 2" campaign in the Mail on Sunday in February we can now reveal the Mail's botched attempt to cover up another "inadvertent" error in Mr. Rose's February 19th article entitled "US Congress launches a probe into climate data that duped world leaders over global warming".
In actual fact it's the US Congress that's being duped. Perhaps Lamar Smith, Chairman of the House Committee on Science, Space and Technology, would like to play "spot the difference" with us? Here's an extract from the original article:

and here's the same section of the allegedly "corrected" article.

One of Mr. Rose's "porky pies" concerning a statement supposedly made last month by Peter Stott from the UK Met Office has gone missing. There's no apology or explanation in either the online or print version of the apology for a "correction" issued by the Mail on Sunday at the weekend.
Not only that, but an entire paragraph concerning the alleged "pause" has evaporated into thin air.
Not only that, but the alleged "correction" included below the offending article is different to the "official" version published in print at the weekend. Take another look: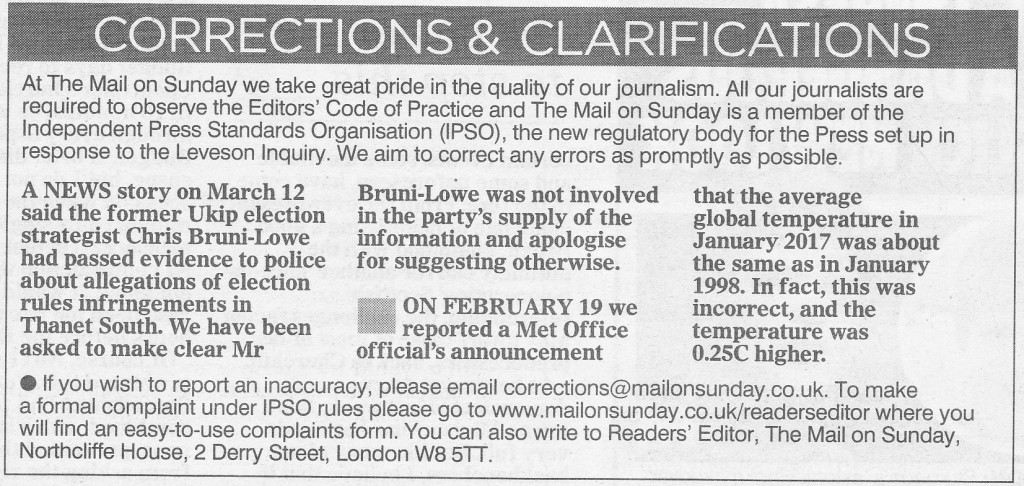 Something is rotten in the state of MayBeLand. And in the state of TrumpLand too.