Our headline today is inspired by Tony Heller, probably still better known by his nom de guerre "Steven Goddard", who excitedly tells the world:
NSIDC Busted!

Reader Chris71 has discovered the smoking gun on the NSIDC web site. Read on.

A few weeks ago, NSIDC put out this press release, claiming that 5+ year old ice is at its smallest level on record.

The press release included the map below. This is a new style map which they just started in week 39 2015. The map below is for week 41 2015. All of their previous 1984-2015 maps have been deleted from their archive.

The good news is that Chris found one of their old style maps which had not been scrubbed from their website. NSIDC has deleted the original graphs, but seem to have forgotten to get rid of the copy.
For some strange reason "Steve" neglects to mention this text that accompanied the "old style map" he so proudly displays:
Here are some graphs from the Arctic – automatically saved here, and some of them archived Enjoy! Fred aka DungeonMaster on http://forum.arctic-sea-ice.net/.
Have I got news for Chris and "Steve"? Indeed I have! If one were to bother to go to the relevant section of the NSIDC web site instead of inventing bizzare fairy tales one would be able to read this:
EASE-Grid Sea Ice Age, Version 3

This data set provides weekly estimates of sea ice age for the Arctic Ocean from remotely sensed sea ice motion and sea ice extent.

The input ice motion data used for this data set is now derived from NSIDC-0116 Version 3 data.
Checking out the detailed information provided about the NSIDC-0116 Polar Pathfinder Daily 25 km EASE-Grid Sea Ice Motion Vectors, Version 3 would also reveal:
Version 3 – February 2016.
Eliminated unrealistic AVHRR and IABP buoy velocities

Extended buoy ice motion estimates to the present

Improved browse images

Reprocessed SSMI fields using GDAL map transformations on the DMSP SSM/I-SSMIS

Daily Polar Gridded Brightness Temperatures Data Set, NSIDC-0001.

Used Ice concentration estimates greater than 15 percent from the Sea Ice Concentrations from Nimbus-7 SMMR and DMSP SSM/I-SSMIS Passive Microwave Data Set, NSIDC-0051, to indicate where ice extent is present.
Checking out the detailed information provided about the NSIDC-0611 EASE-Grid Sea Ice Age, Version 3 would further reveal:
The sea ice age data in these files are derived using data from satellite passive microwave instruments, drifting buoys, and a weather model. With these data sources, the formation, movement, and disappearance of sea ice can be observed; and these observations can, in turn, be used to estimate ice age (Maslanik et al. 2007). The ice age data are derived from a number of passive microwave imagers: the Scanning Multichannel Microwave Radiometer (SMMR), the Special Sensor Microwave/Imager (SSM/I), and the Special Sensor Microwave Imager Sounder (SSMIS). Visible and infrared data from the Advanced Very High Resolution Radiometer (AVHRR) were also utilized through 2004. In addition, International Arctic Buoy Program (IABP) drifting-buoy vectors and the National Centers for Environmental Prediction (NCEP)/National Center for Atmospheric Research (NCAR) Reanalysis Project (CDAS) are used to augment the satellite data (Tschudi 2010).

Version 3 – April 2016.
So there you have it "Steve". Thanks to the sterling (albeit uncredited!) efforts of the all volunteer members of the Arctic Sea Ice Forum and the (presumably still paid?) scientists at the National Snow and Ice Data Center you can now explain the truth, the whole truth, and nothing but the truth of the matter to your own loyal readers.
A few weeks ago the NSIDC upgraded their sea ice age product from version 2 to version 3. Here's what the latest version of 1984 week 41 looks like: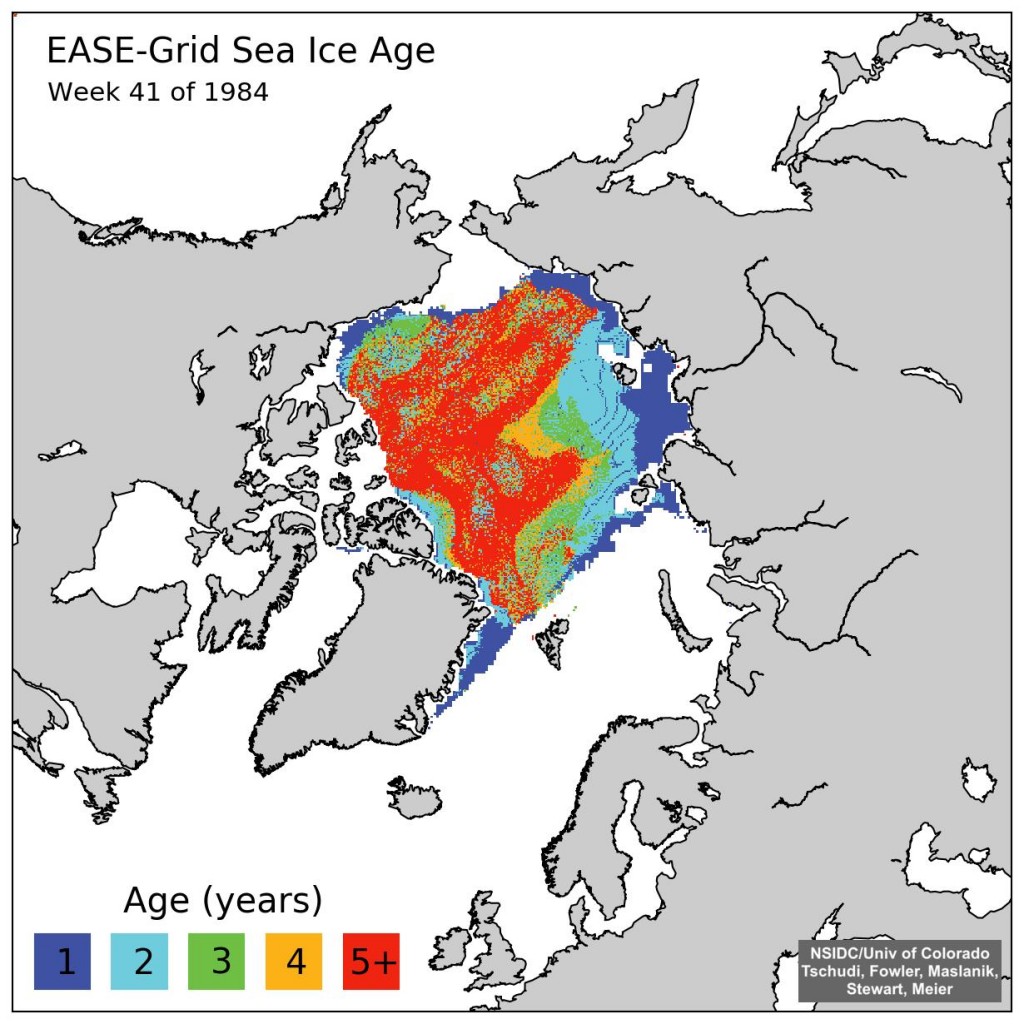 Can you spot the difference Tony?
In partial answer to a question posed below, here's an animation of Arctic sea ice age from September 2010 to May 2015. Can you see what has happened to the old ice Tony?

Original Arctic sea ice age images from: Tschudi, M., C. Fowler, J. Maslanik, J. S. Stewart, and W. Meier. 2016. EASE-Grid Sea Ice Age, Boulder, Colorado USA: NASA National Snow and Ice Data Center Distributed Active Archive Center. http://dx.doi.org/10.5067/PFSVFZA9Y85G.
Here's a "Storified" summary of my Twitter "debate" with Tony Heller and Patrick Moore: