You can of course argue that this is mere cherry picking on our part,  not to mention the slight economy with the truth in our necessarily punchy headline today. Nonetheless it is an actual fact that the IARC-JAXA Information System AMSR2 Arctic sea ice extent metric for February 17th 2015 reads 13,770,330 km² which is the lowest ever for the day of the year in a record going back to 2003. This follows a remarkably large fall (for the time of year) of  113,505 km² from yesterday's reading of 13,883,835 km². Here's our evidence: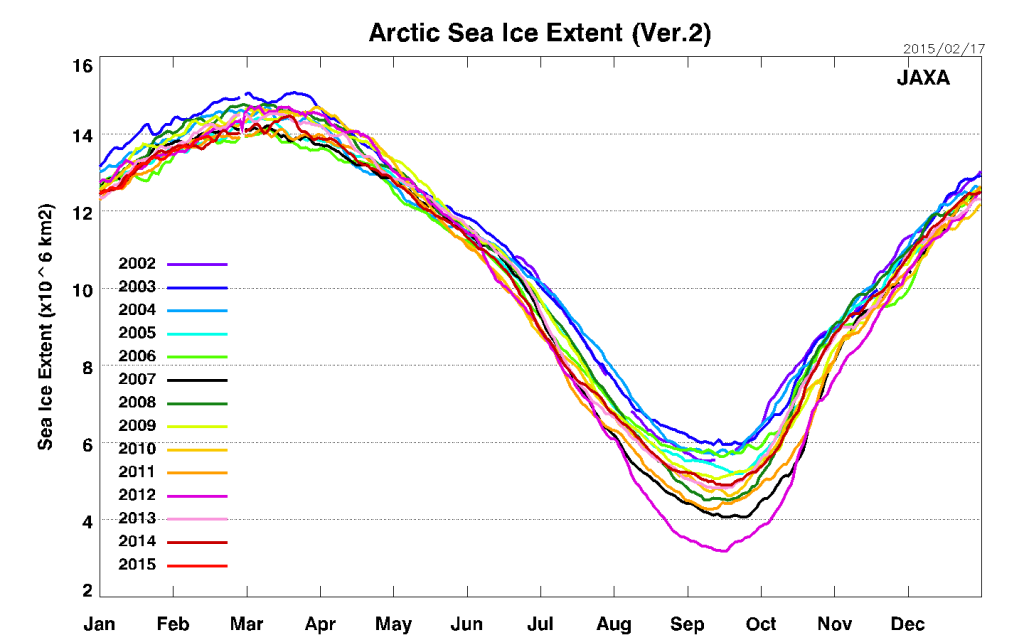 If you prefer to look at numbers instead of pictures then by all means try here instead for proof of the latest shock news from the Arctic.
If instead you prefer moving pictures, here's an animation based on high resolution AMSR2 data from the University of Hamburg that may provide a few clues about how all this came about:
Can you see how the recent storms in the North Atlantic have "pulled" and then "pushed" the sea ice to thisese new record lows?
Please also note this warning message on the IJIS "Arctic Sea Ice Monitor" web page:
Thank you for visiting our website.

This site will be closed on February 22, and might be unstable from February 15, 2015.

New sea ice monitor website will be coming soon. Stay tuned.

Meanwhile, almost equivalent information can be available at:
JAXA:
http://kuroshio.eorc.jaxa.jp/JASMES/daily/polar/index.html
http://kuroshio.eorc.jaxa.jp/JASMES/climate/index.html
NIPR: National Institute of Polar Research , Japan
https://ads.nipr.ac.jp/vishop/vishop-monitor.html?N
https://ads.nipr.ac.jp/vishop/vishop-extent.html?N
https://ads.nipr.ac.jp/vishop/data/graph/Sea_Ice_Extent_N_v2.png
https://ads.nipr.ac.jp/vishop/data/graph/Sea_Ice_Extent_N_v2_L.png