For some relevant background to this weekend's dose of "Alternative Facts" from David Rose in the Mail on Sunday you may wish to peruse this article in our sister journal "Alternative Facts Wetware™":
From the conclusions to that article on Donald Trump's rise to power:
Reflecting on the implications of this analysis for the specifics of this election, we can see that many Trump voters knew full well that their man was a reprobate, that they deplored his crudities and that they saw him as a risky choice. And yet in a world where the system is seen to be against "us" and where things appear to be driven in the wrong direction by "them," the really irrational thing to do is to vote for the conventional candidate who represents sticking with that system.
Getting back to this morning's batch of post truth alternative facts from the poison pen of David Rose, the latest porky pie fresh off the Mail's production line is entitled:
"How can we trust global warming scientists if they keep twisting the truth"
It is of course Mr. Rose who is "twisting the truth" yet again. His opening salvo:
They were duped – and so were we. That was the conclusion of last week's damning revelation that world leaders signed the Paris Agreement on climate change under the sway of unverified and questionable data.

A landmark scientific paper –the one that caused a sensation by claiming there has been NO slowdown in global warming since 2000 – was critically flawed. And thanks to the bravery of a whistleblower, we now know that for a fact.
Mr. Rose wouldn't recognise "a fact" if it hit him in the back of the head at a million miles an hour. The "landmark scientific paper" in question isn't "critically flawed" anywhere but in the fertile imagination of David Rose and the other "Merchants of Doubt". Take a look at the facts: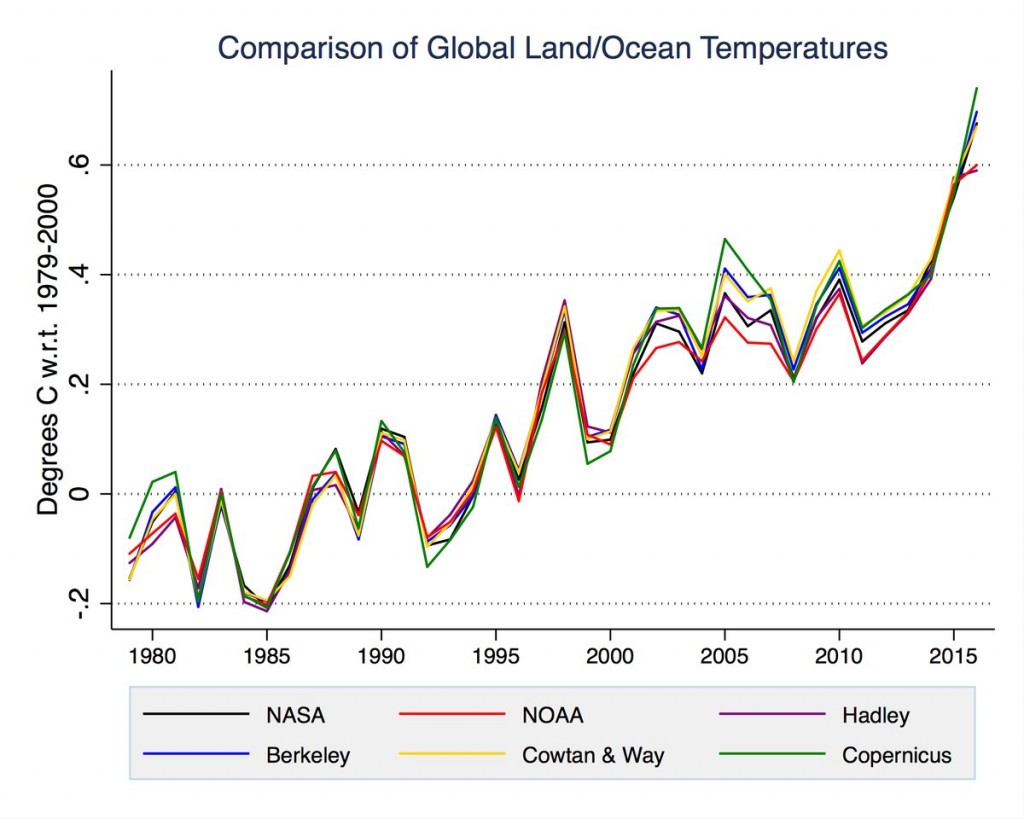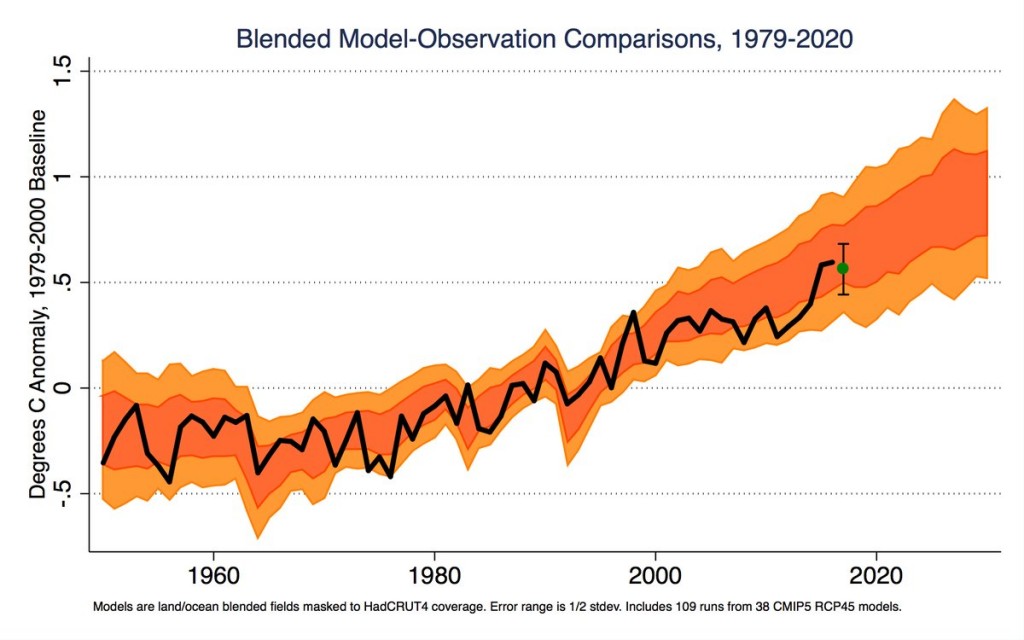 As predicted yesterday, I'm off down to the local paper shop. I wonder if there's an associated editorial this week too? I'll be back in a bit with more. As David Rose so eloquently put it this morning:
We cannot allow such a vital issue for our future to be mired in half truths and deceptions.
My pocket is now £1.70 lighter in exchange for the following information: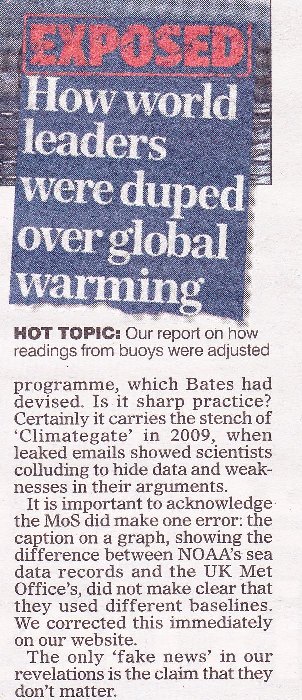 It seems that is what passes for "due prominence, and — where appropriate — an apology" in MailSpeak? Here's the actual facts once again: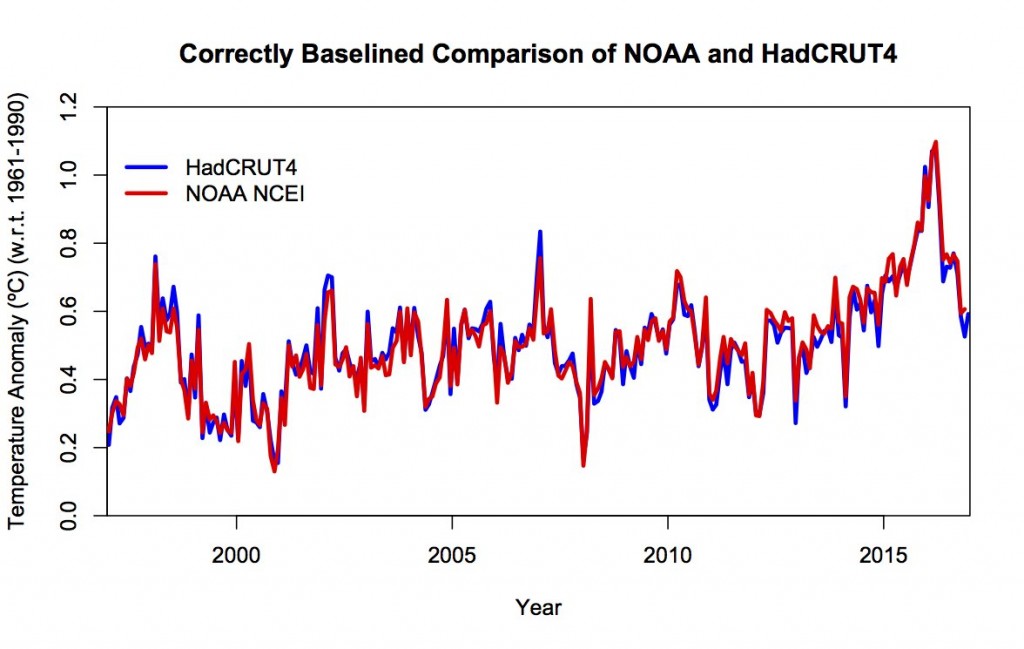 I don't see an accurate graph in Mr. Rose's profuse apology. I see no mention of "World leaders not duped, Mail readers conned again". Do you?
This will come as no shock to seasoned Lamar Smith watchers. The U.S. House Science, Space, and Technology Committee have issued another news release:
"Committee Probes Allegations of Politicization of NOAA Study"
By now you can probably guess what it says:
Lamar Smith (R-Texas) today sent a letter to National Oceanic and Atmospheric Administration (NOAA) Acting Administrator Benjamin Friedman requesting information on the Karl study following reports the study ignored NOAA standards, was rushed to publication, and was not free from political bias.

"Allegations of politicization of government funded scientific research cannot be ignored. The Committee has a constitutional responsibility to conduct oversight in instances of alleged fraud, abuse, and misconduct especially where the government's scientific integrity is called into question. Dr. Bates' revelations raise additional questions as to whether the science at NOAA is objective and free from political interference. In light of this new information, the Committee requests the below information to better understand the depth and scope of internal debate at NOAA related to the Karl study," the letter states.

Today's letter requests documents and communications related to the release of the Karl study, the datasets used in the Karl study, concerns raised about datasets used in the Karl study, and the scientific integrity of the study. The committee also requested a briefing on the independent experts NOAA is engaging with to review this matter.

The letter can be found here.
The news release continues to describe the alleged "background", but I think we're all pretty familiar with that by now? The letter itself is addressed to Benjamin Friedman, NOAA's acting administrator. It demands to see a big pile of documents "related to the Karl study". It will come a no surprise whatsoever to our regular readers that it references the leading actors in the David & Judy show!