We officially complained last week about some egregious errors in a "Daily Mail Comment". In particular:
The northern ice-cap… is NOT bigger than at any time for decades.
In an official response we were told:
I therefore cannot see that Clause 1(ii) of the Editors' Code has been breached in any way.
For those of you unfamiliar with the Independent Press Standards Organisation's Editors' Code of Practice here are Clauses 1(i-ii)
i) The Press must take care not to publish inaccurate, misleading or distorted information, including pictures.

ii) A significant inaccuracy, misleading statement or distortion once recognised must be corrected, promptly and with due prominence, and – where appropriate – an apology published. In cases involving the Regulator, prominence should be agreed with the Regulator in advance.
Without telling us,  or as far as I can tell any of their other readers apart from one other complainant, the Daily Mail have changed the wording of the online version of the editorial comment in question. Can you spot the difference? We've given you some help!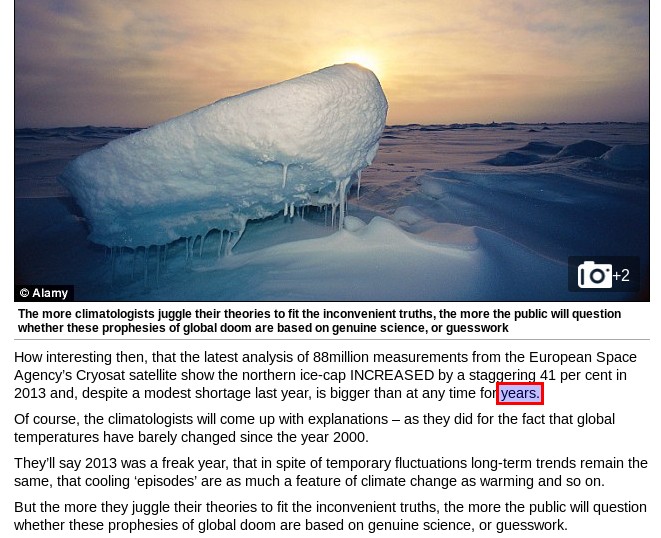 The Daily Mail evidently have trouble doing basic mathematics, so it seems necessary to point out that one decade is ten years. That is a factor of ten. Using the Mail's preferred units that makes this a 1000% mistake!
More from us on a variety of other Mail mathematical mistakes shortly. At this juncture however, we cannot help but wonder whether IPSO considers that taking no action whatsoever to rectify a print article that contains an admitted error of at least 1000% satisfies Clause 1(ii) of their Editors' Code? Here's clause 2:
A fair opportunity for reply to inaccuracies must be given when reasonably called for.
We hereby call on the Daily Mail to provide us with a fair opportunity to reply to this egregious inaccuracy and a number of others in the same article.