Thank you for your prompt reply, and my apologies for my slightly sluggish one. As you can tell from my details below I have a "day job" to attend to, and if you've clicked the links I sent in my original complaint you'll realise I've also been very busy following up on some other allegedly inaccurate articles in the Daily Mail and a number of other Great British newspapers. See for example:
https://greatWhiteCon.info/2015/07/professor-peter-wadhams-complaint-to-ipso/
Gettting back to this complaint, I have just posted my initial reply online here:
https://greatWhiteCon.info/2015/07/mail-makes-1000-arctic-mistake/
Reiterating the main point:
We hereby call on the Daily Mail to provide us with a fair opportunity to reply to this egregious inaccuracy and a number of others in the same article.
Despite your "I therefore cannot see that Clause 1(ii) of the Editors' Code has been breached in any way." below, and apart from your admittedly at least 1000% timescale error, the Guardian article linked to highlights a number of other gross inaccuracies in last week's "Daily Mail Comment" concerning Arctic sea ice volume. I fail to see how "Putting the Arctic sea ice volume record straight" for the unfortunate readers of that editorial can be achieved without prominently displaying to your print readers the Arctic sea ice volume graph extracted from Rachel Tilling's recent academic paper: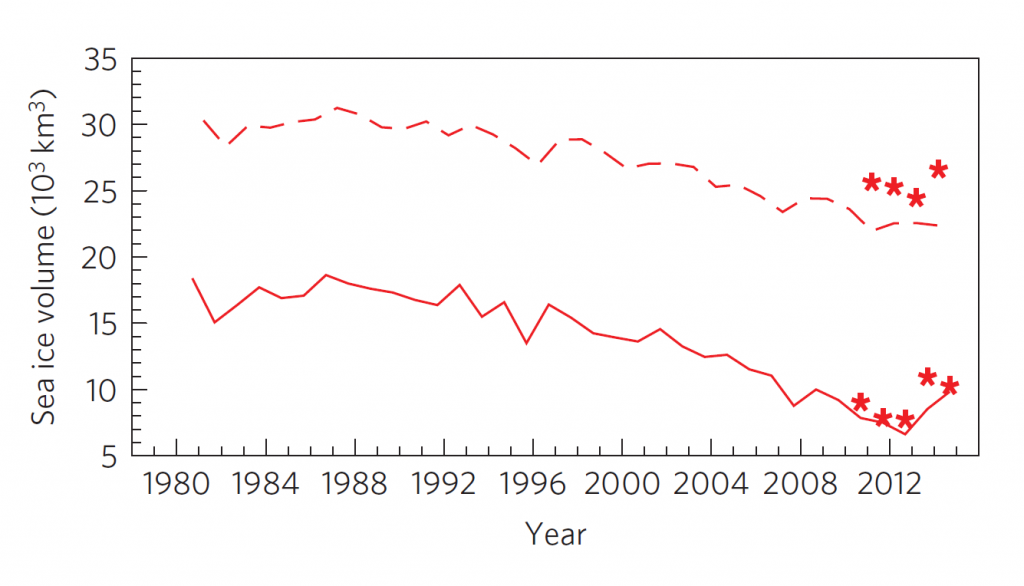 and in addition showing your online readers the "Arctic ice cube" video together with a link to it in print.
I shall have much more to say to you on that topic in the near future but I'm theoretically "on holiday" for a week from tomorrow, so it may well not arrive in your inbox until after my return.
Best wishes,
Jim Hunt