"Steven Goddard" is evidently magically turning into "Snow White's" muse. His latest fairy tale addresses her second favourite subject after Arctic sea ice, which is of course northern hemisphere snow cover. The article is entitled "October-March Snow Cover At Record High Levels", and proudly proclaims that:
Fifteen years ago, climate experts said that snow is a thing of the past. Since then, Northern Hemisphere snow cover has soared to record levels.

Rutgers University Climate Lab :: Global Snow Lab

What this tells us is that cold air is intruding further south during the snow season. It also tells us that Tom Karl at NOAA is lying about global temperatures.
Snow White and I innocently followed Steve's link, then clicked on the "Rankings" link on the left hand side, where we discovered this: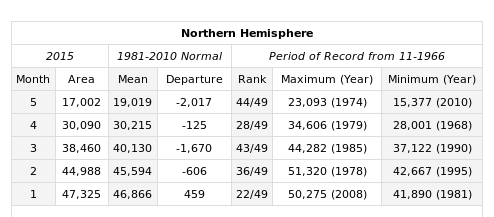 not to mention this: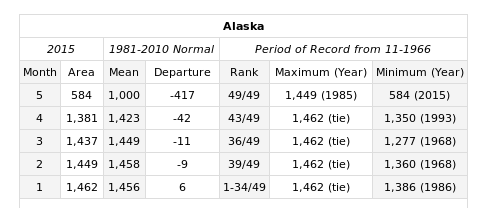 Feeling confident that all the Real Scientists would be interested in the latest data hot off the presses from the Snow Lab we showed them this picture: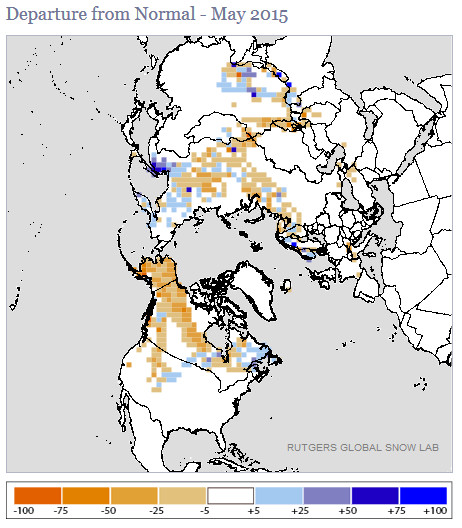 and enquired?
What does that tell us?
The initial response from "gator69"?
The fact that you refer to "normal" in climate or weather tells us that you have zero understanding of either.

When will you work to help the starving millions by confronting alarmists, and assist in diverting money to where it is desperately needed right now?
Since "Real Scientists" are apparently aghast at anomaly maps, here are the current absolute values from Rutgers: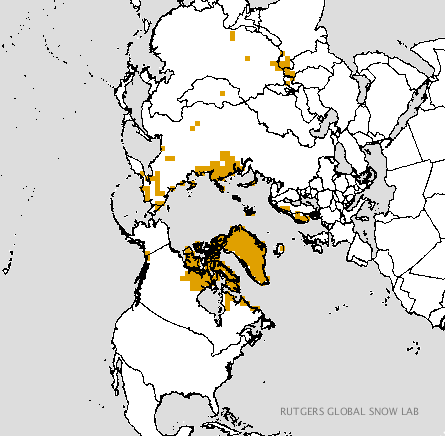 Just in case you are wondering what all this has to do with Snow White's favourite subject of all, here's the current Topaz 4 map of Arctic sea ice snow cover: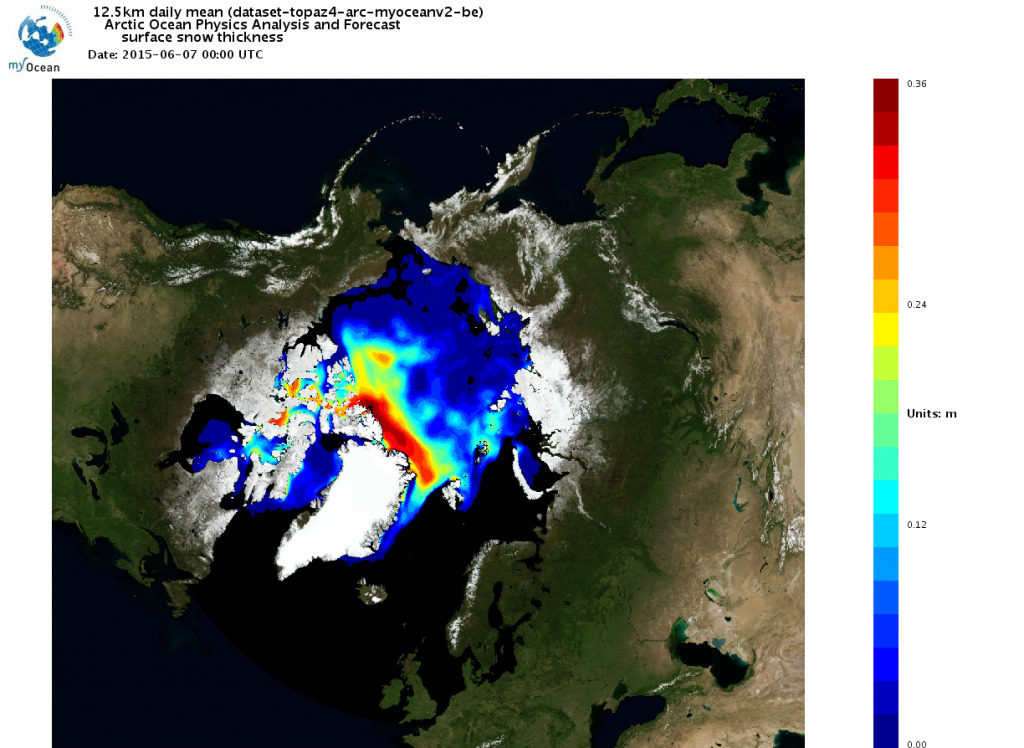 and here is the current northern hemisphere temperature forecast for Tuesday morning from the "Climate Reanalyzer"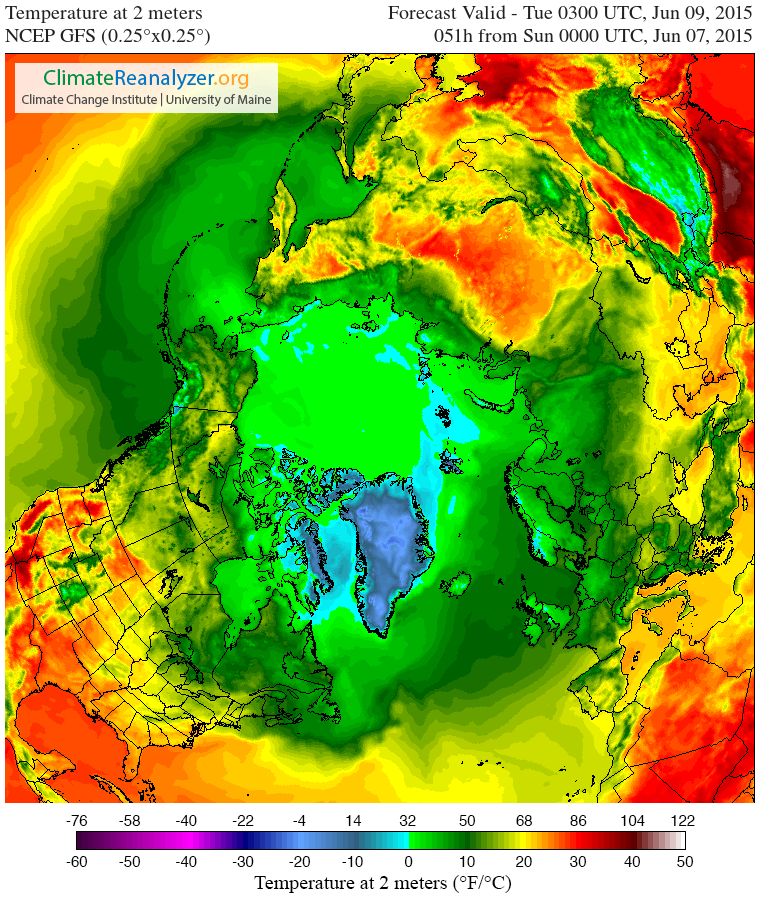 Snow White and I cannot help but wonder what effect temperatures above zero across virtually the entire Arctic Ocean will have on the snow cover that currently remains. We also cannot help but wonder whether 2015 Arctic sea ice extent will suddenly start tracking 1995 or 2006 as a consequence.
We also wondered what Tom Karl et al. of NOAA have been saying about the Arctic, and discovered this:
Since the IPCC report, new analyses have revealed that incomplete coverage over the Arctic has led to an underestimate of recent (since 1997) warming in the Hadley Centre/Climate Research Unit data used in the IPCC report. These analyses have surmised that incomplete Arctic coverage also affects the trends from our analysis as reported by IPCC.
Finally, for the moment at least, here's the Topaz 4 snow depth forecast for June 16th 2015: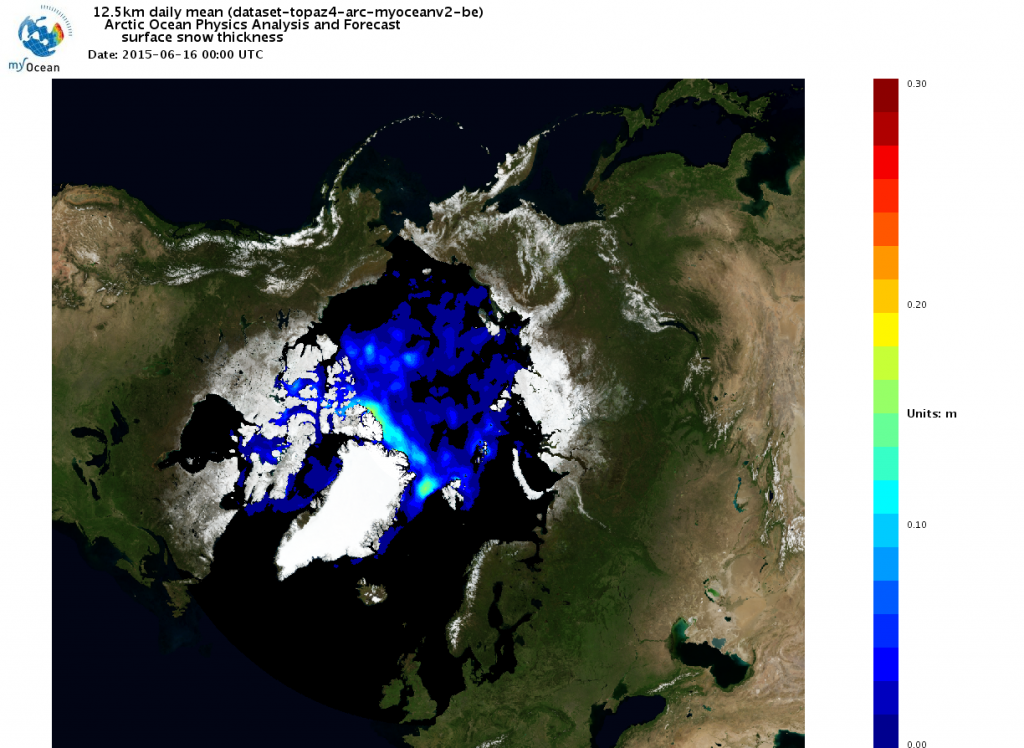 Thanks to "Nightvid Cole" and "Vergent" at the Arctic Sea Ice Forum for bringing that view of things to our attention.