The Zachariæ Isstrøm glacier in North East Greenland is in the news at the moment. Here's a recent article from The Guardian for example, which states that:
A major glacier in Greenland that holds enough water to raise global sea levels by half a metre has begun to crumble into the North Atlantic Ocean, scientists say. The calving of the glacier into chunks of floating ice will set in train a rise in sea levels that will continue for decades to come, the US team warns.

"Even if we have some really cool years ahead, we think the glacier is now unstable," said Jeremie Mouginot at the University of California, Irvine. "Now this has started, it will continue until it retreats to a ridge about 30km back which could stabilise it and perhaps slow that retreat down."

Mouginot and his colleagues drew on 40 years of satellite data and aerial surveys to show that the enormous Zachariae Isstrom glacier began to recede three times faster from 2012, with its retreat speeding up by 125 metres per year every year until the most recent measurements in 2015.

The same records revealed that from 2002 to 2014 the area of the glacier's floating shelf shrank by a massive 95%, according to a report in the journal Science. The glacier has now become detached from a stabilising sill and is losing ice at a rate of 4.5bn tonnes a year.

Eric Rignot, professor of Earth system science at the University of California, Irvine, said that the glacier was "being hit from above and below", with rising air temperatures driving melting at the top of the glacier, and its underside being eroded away by ocean currents that are warmer now than in the past.

"The glacier is now breaking into bits and pieces and retreating into deeper ground," he said. The rapid retreat is expected to continue for 20 to 30 more years, until the glacier reaches another natural ledge that slows it down.
The Guardian article includes a picture of Zachariæ Isstrøm, along with much of the rest of North East Greenland. Here it is again, together with a helpful annotation revealing the location of the calving face of Zachariæ Isstrøm in amongst all the snow and ice:
That's still not really much help when it comes to visualising the "retreat speeding up by 125 metres per year", so here's a closer look at Zachariae Isstrom using an image prepared by Espen Olsen for the Arctic Sea Ice Forum, which is based on a Landsat 8 satellite image from September 2014: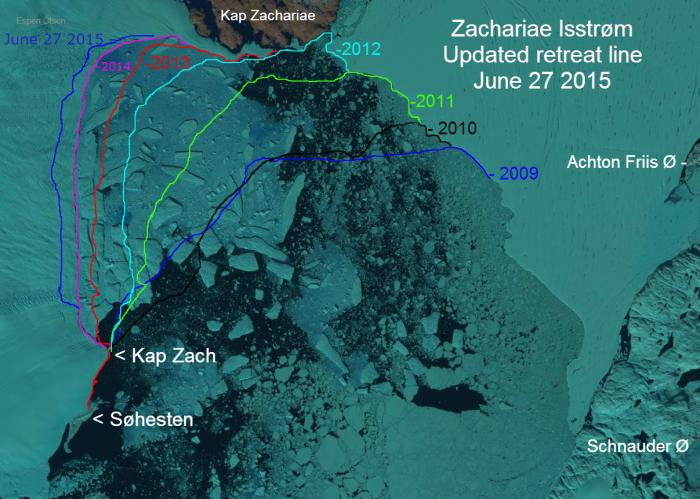 North East Greenland is in the dark at the moment, but if you want to take a closer look at recent changes to Zachariæ Isstrøm for yourself you can do so with the aid of NASA's EOSDIS Worldview web site, which allows you to scroll through images from both the Aqua and Terra satellites. Here's one from August 26th 2015: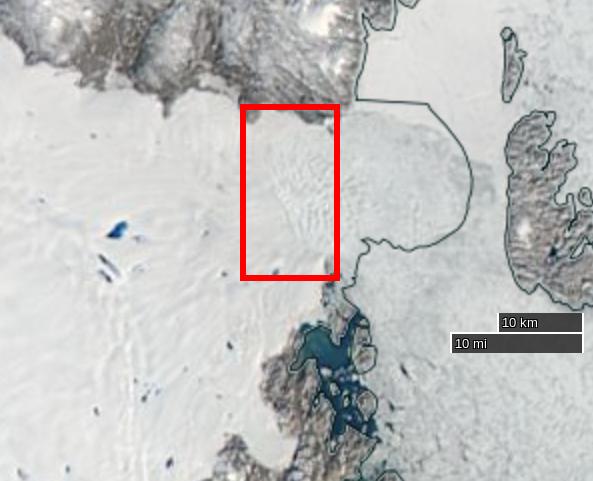 Our headline for today announces that yet another large chunk of ice has just detached itself from Zachariæ Isstrøm. You may wonder how we can be so sure of that when it's dark in North East Greenland? That's because yet another satellite can "see" in the dark, using synthetic aperture radar. Here's an animation prepared earlier today by "Wipneus" using data from the European Space Agency's Sentinel 1A satellite, once again for the Arctic Sea Ice Forum: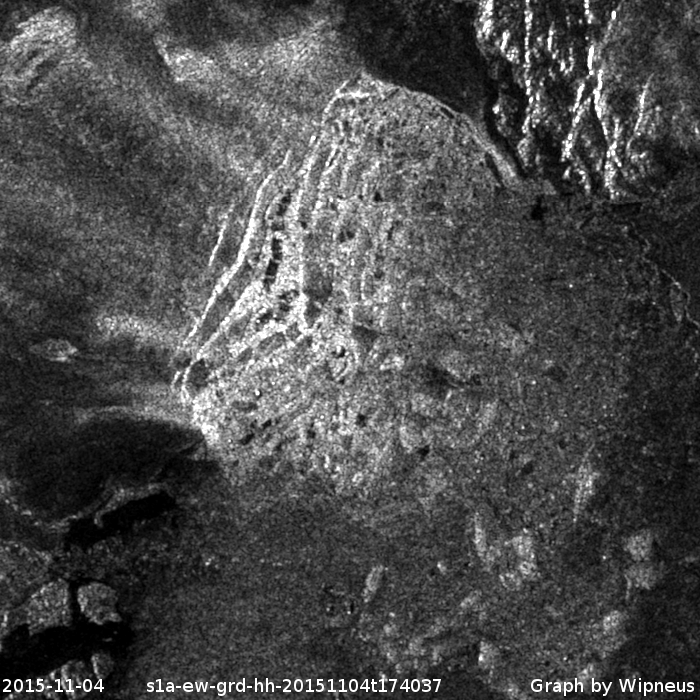 Can you spot "The new iceberg [that] seems to lie on its side"?
The conclusion to all this frantic activity, according to Mouginot, Rignot et al. at least, is that:
The Zachariæ Isstrøm / Nioghalvfjerdsfjorden sector is one of three major marine-based basins in Greenland along with the Jakobshavn Isbræ and Petermann–Humboldt glaciers, each holding a 0.6-m sea-level equivalent. Jakobshavn Isbræ started a rapid retreat (18 km in 2001-2015) following the collapse of its ice shelf and has undergone massive calving events since 2010. The central channel of the Petermann ice shelf lost 250 m of ice in 2002-2010, and the ice front retreated 33 km in 2010-2012. The Nioghalvfjerdsfjorden ice shelf will become vulnerable to break up in the near future if thinning continues. These observations combined suggest that all three major marine-based basins are undergoing significant changes at present. Jakobshavn Isbræ and Zachariæ Isstrøm have already transitioned to tidewater glacier regime, with increased calf-ice production and ice melting by the ocean. The retreat of these marine-based sectors is likely to increase sea-level rise from Greenland for decades to come.