The "Shock News" about Arctic sea ice is coming thick and fast as the 2014 melting season reaches its peak. I've been debating the meaning all of the various metrics with none other than my old sparring partner "Steve Goddard" AKA Tony Heller. The theory which is mine (in brief!) is that the ice is actually getting thinner and hence travelling faster. As regular Great White Con readers may well suspect by now, Steve/Tony has other ideas. Here are the edited highlights:
Them:
Steve/Tony's latest Arctic sea ice prophecy is entitled "My Arctic Forecast", although it's actually his fourth of the season. Here's his take:
Arctic ice extent will continue to decline for a couple of days, then a cyclone near the North Pole will begin spreading the ice, and the extent curve will turn back towards the median.

The minimum this summer will likely be close to the 2006 minimum, which was the highest minimum of the past decade.
Us:
My latest Arctic forecast is more short term than yours Tony, and rather more precise too.

https://archive.today/YpoRm#selection-3929.0-3941.25

"CT area decline of around 180 k over the next two days". I guess that equates to "CT Arctic sea ice area will reverse and then decline for a couple of days"?
Them:
Gutsy to go with a forecast, but then the great ones risk it to gain the glory.
Us:
Many thanks for your kind words Phil.
Time passes……
CT Area has just come in at 44,288 square kilometers below yesterday. The "turn on the proverbial dime" has come to pass, and there is only another 135,712 to go!
Them:
CT doesn't measure extent. This post is about extent. Stop being a moron and wasting my time.
Time passes……
I do appreciate you demonstrating so graphically the dissonance and dishonesty of climate alarmists.
Us:
The pleasure is all mine Tony.

I've asked this before without receiving an answer, but is there any way for commenters on here to include an image?

Failing that is there any way you might be willing and able to display the graph at my JAXA link here?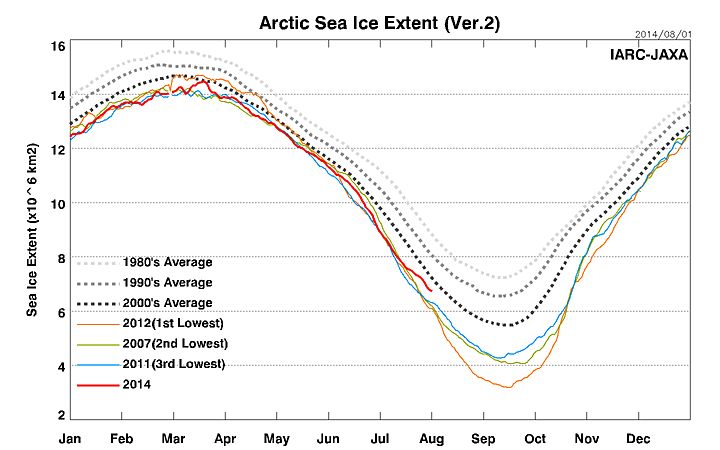 Time passes……
Whoops! The decline was a mere 129,850  🙁
Them:
DedaEda says: August 1, 2014 at 2:48 pm
You do have a working knowledge of English. Congratulation!
Thanks for your kind words DedaEda, once again.
A new month means some masks have changed, so the GWC patent pending crystal ball is cloudier than usual. Undaunted the CT oracle hoarsely whispers "Expect a couple more 100 k declines next. Around 225 k in total"
Them:
We'll keep you posted!