Tony Heller (AKA Steven Goddard) has just posted a new article on his (un)Real Science blog. I've shamelessly plagiarised the title!
"Shock News : Breathtakingly Ignorant Deranged Blogger Batting 1,000 This Summer"
Them:
I also have been forecasting for the past three years that the amount of multi-year ice in the Arctic will increase, during a time when Arctic experts were predicting an ice-free Arctic

Why I Expect MYI To Increase Over Last September | Real Science

The difference between my approach and that of Arctic experts, is that I use the scientific  method. They rely on superstition about a harmless trace gas. Real Science always beats superstition.
Steve/Tony was good enough to provide me with a link to his new post immediately following its publication, so I was lucky enough to be able to post the very first comment:
Us: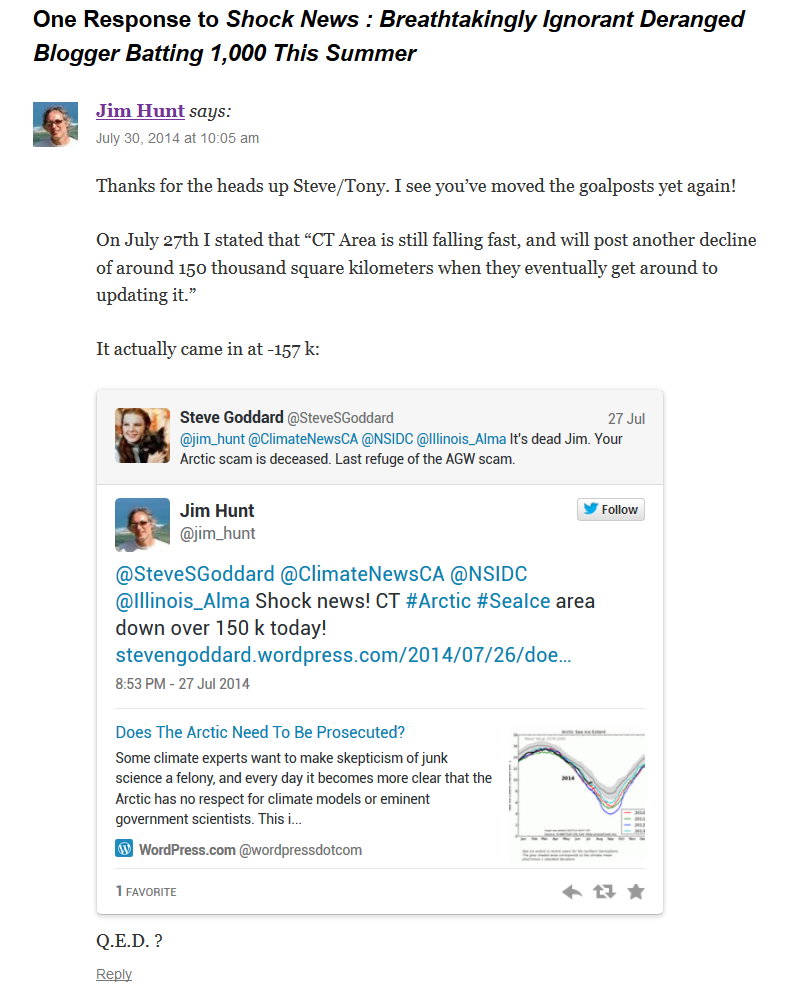 Them:
Jim, thank you demonstrating once again that you and your ilk are complete morons.
Us:
My pleasure Steve/Tony.
Them:
Take a good long look through the archive footage linked to at the top. Try not to inadvertently end up on (un)Real Science!
@SteveSGoddard @afneil @DavidRoseUK @wattsupwiththat @theresphysics @SouBundanga @AnnDanielsGB @andyextance Ditto: http://t.co/o2EErAqubh

— Snow White (@GreatWhiteCon) July 31, 2014
Them:
We'll keep you posted!