I wandered over to Twitter a couple of days ago to see if I could persuade Steve/Tony to dig a pertinent comment of mine about Arctic sea ice extent out of the "Real Science" spam folder. Whilst over there I couldn't help but notice that Andrew Neil had been passing comment on recent events in the Arctic too! According to his Twitter page Andrew is:
Chairman Spectator Magazines (London); ITP Magazines (Dubai); World Media Rights (New York). BBC presenter.
According to his C.V. on the BBC web site Andrew is:
Presenter of the Daily Politics on BBC Two and the Sunday Politics on BBC One.

In a long career in publishing and broadcasting Andrew has been UK editor of The Economist, editor of The Sunday Times, executive chairman of Sky Television and publisher of The Scotsman Group of newspapers.
Fresh from his controversial BBC interview with Ed Davey, the UK's Secretary of State for Energy and Climate Change, Andrew was "tweeting" things like:
@ret_ward Yip. Thought so. You have zero qualifications in climate scientist. But you are an indefatigable propagandist. Take a bow.

— Andrew Neil (@afneil) July 27, 2014
Andrew also expressed his views about Arctic sea ice extent:
Them:
@charliebeeman This summer's Arctic sea ice extent at 10 year record high. Polar bear numbers v strong. You don't really follow this, do u?

— Andrew Neil (@afneil) July 27, 2014
Us:
@charliebeeman Oh no it isn't @afneil! Where's your evidence? Here's mine. pic.twitter.com/TXHjCN30Er — Jim Hunt (@jim_hunt) July 28, 2014
Them:
Andrew has yet to respond to my polite enquiry, so……
Us:
@afneil @ret_ward @dana1981 Some simple #Arctic #SeaIce sums: 2014 – 10 = ?, 2014 – 2008 = ?, 7.39310 – 7.67853 = ? http://t.co/jSSDR2FlKk

— Snow White (@GreatWhiteCon) July 29, 2014
Here's the big picture: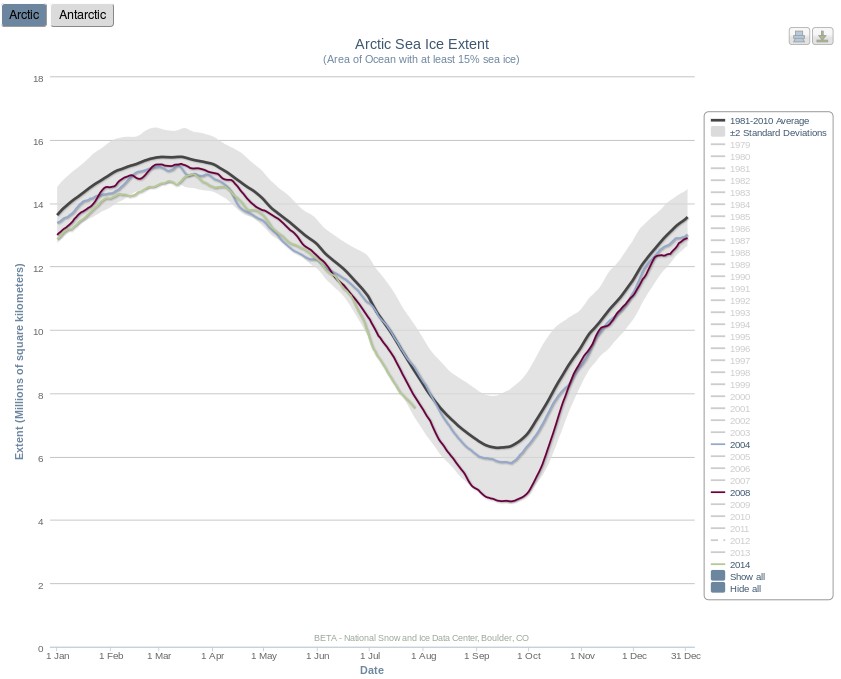 Here's the small print, and here's the ancient history.
Them:
We'll keep you posted!