There have been a plethora of headlines in the last 24 hours along the lines outlined above!

According to an article on Science.org the answer to the question posed above seems to be "yes":
An alarming crackup has begun at the foot of Antarctica's vulnerable Thwaites Glacier, whose meltwater is already responsible for about 4% of global sea level rise. An ice sheet the size of Florida, Thwaites ends its slide into the ocean as a floating ledge of ice 45 kilometers wide. But now, this ice shelf, riven by newly detected fissures on its surface and underside, is likely to break apart in the next 5 years or so, scientists reported today at a meeting of the American Geophysical Union.

The most dramatic sign of impending failure is a set of diagonal fractures that nearly span the entire shelf. Last month, satellites spotted accelerating movement of ice along the fractures, says Erin Pettit, a glaciologist at Oregon State University, Corvallis, who is part of a multiyear expedition studying the glacier. The shelf is a bit like a windshield with a series of slowly opening cracks, she says. "You're like, I should get a new windshield. And one day, bang—there are a million other cracks there."
Here's an image from the AGU abstract to illustrate the "cracks" Erin referred to: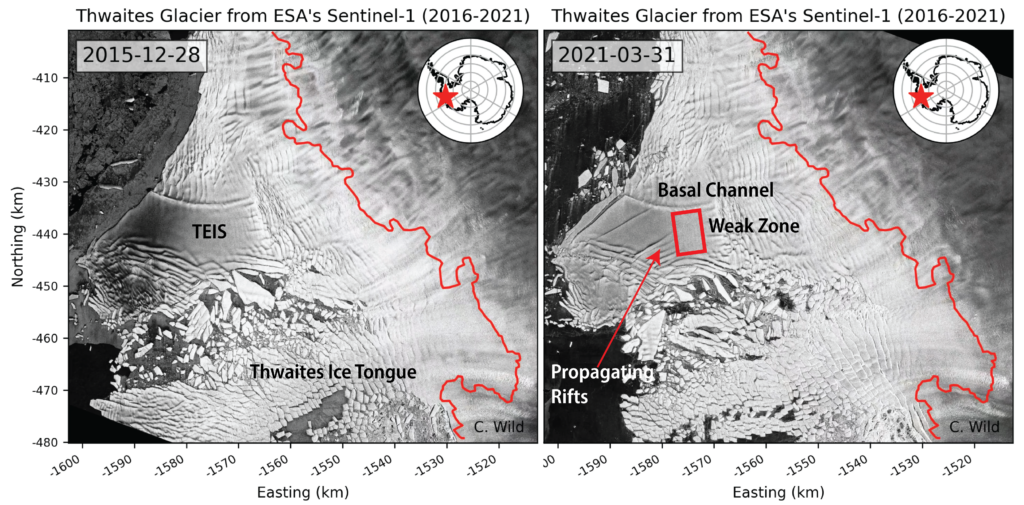 Once the ice shelf shatters, large sections of the glacier now restrained by it are likely to speed up, says Ted Scambos, a glaciologist at the University of Colorado, Boulder, and a leader of the Thwaites expedition. In a worst case, this part of Thwaites could triple in speed, increasing the glacier's contribution to global sea level in the short term to 5%, Pettit says.
Here is the AGU press conference that caused all the excitement: