I only found out about this webinar after it had already started. My Arctic alter ego somewhat cheekily suggested to the Arctic Research Consortium of the United States (ARCUS for short) that our research into waves in the Arctic was ahead of theirs, and was rather surprised when they agreed with "her"!
You are! Happening now, join us here: https://t.co/nDuhoT8LRw or watch posted recording on our youtube channel in about a week.

— ARCUS (@ArcticResearch) February 7, 2020
Fortunately the "Ocean Waves in the New Arctic" webinar was recorded, and here it is in its entirety:
See if you can spot the question "Snow White" asked?
Amongst other things, Jim mentioned in his talk coastal erosion due to increased wave action. That included a flooding event at Utqiaġvik (Barrow) in 2017. Here's what happened during a similar event there in 2015: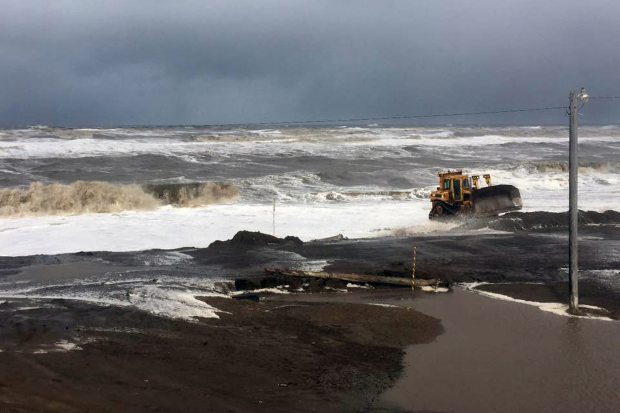 Jim also mentioned the erosion of the permafrost bluff at Drew Point, exacerbated by increasing wave action. According to a recent article on that topic:
Eroding permafrost coasts are likely indicators and integrators of changes in the Arctic System as they are susceptible to the combined effects of declining sea ice extent, increases in open water duration, more frequent and impactful storms, sea-level rise, and warming permafrost.

Our results show that mean annual erosion for the 2007–2016 decade was 17.2 m yr−1, which is 2.5 times faster than historic rates, indicating that bluff erosion at this site is likely responding to changes in the Arctic System.
Here's a video of permafrost disappearing into the Beaufort Sea in 2008:
A slightly less technical video from the University of Washington featuring Jim Thomson and some big waves in the New Arctic: