In an article entitled "Exeter University Prof: 'Debating skeptics is like mud wrestling with pigs'" a guest poster on the "Watts Up With That" blog quotes my fellow Exonian Dr. Stephan Harrison of Exeter University, whilst simultaneously managing to misspell his name:
Them:
Dr Harrison [was] asked about climate skeptics and he goes on to say that they are not worth debating their viewpoint as it's "like mud wrestling with pigs. Firstly you get covered in mud and secondly, the pig loves it" he then goes on to say he won't debate skeptics because geographers don't debate with people who think the world is flat and biologists don't debate with people who think evolution isn't happening or that the world is only 6000 years old.
Us:
Fresh from indulging in some "mud wrestling" with Anthony Watts myself, I felt compelled to contribute my own two new pence worth to the ongoing "debate":
I don't know if this counts as "mud wrestling with pigs" but here at WUWT seems to be no place to "engage in a fair public debate". By way of example see:

http://wattsupwiththat.com/2014/04/09/study-wuwt-near-the-center-of-the-climate-blogosphere/#comment-1611483

et seq.
Them:
Your comment is so cryptic it is worthy of Mosher. Whatever your comment/link means, I don't understand it.
Us:
A recent screenshot of some mud being flung at WUWT: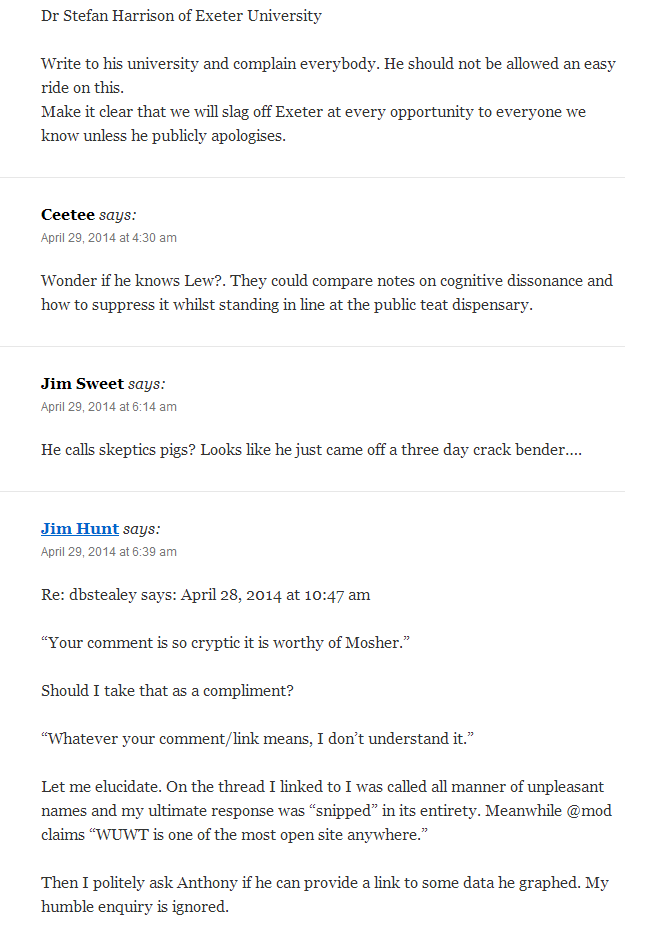 Them:
Jim,

After reading your comment on WUWT, it looks like you thought the moderator who snipped your comment was me. It wasn't.

In fact, I made the moderator's comment under the comment you made on April 12, 2014 at 10:25 am on the 'Study: WUWT near the center of the climate blogosphere' thread.

I don't like it when an anonymous moderator snips a comment without a good reason. In your case it was done improperly. I am sorry about that.

Sincerely,
Us:
Thanks for your note. I previously hadn't the faintest inkling that you are one of the moderators at WUWT, let alone a senior one. It did however seem to me that your comment on the "Mud wrestling" thread deserved to be balanced by recounting my own recent experience on the "Study" thread.

That said, my riposte to GreggB's long list of wholly unjustified accusations remains "snipped", and my request for Anthony to reveal his sources remains unanswered, so I remain an unhappy bunny!

Best wishes,

Jim
Them:
We'll keep you posted!