I left the "Self styled" bit out of today's title, which would have otherwise have been too long for comfort! With all due modesty I do in fact have lots of hard evidence to back my claim. By way of example, here's a copy of a recent conversation over at "Steve Goddard's" (un)Real Science blog, but with all the expletives and (most of the) ad homs deleted:
Them: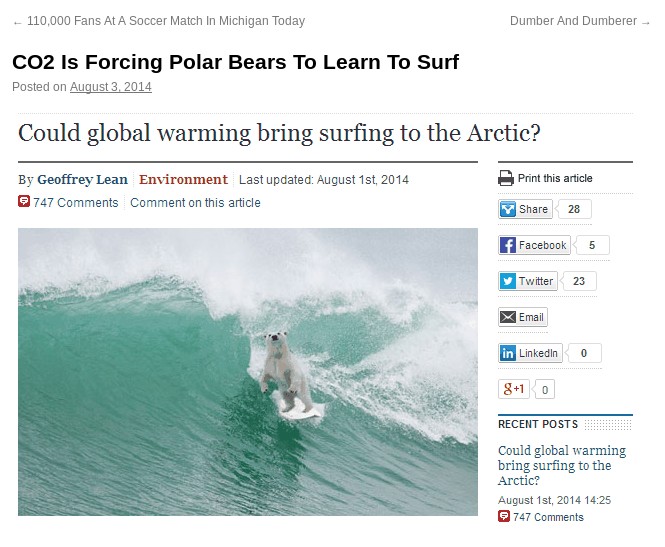 Could global warming bring surfing to the Arctic? – Telegraph Blogs
I'm afraid this by now iconic "photoshopped" image of a surfing polar bear culled from Geoffrey Lean's blog at the Daily Telegraph strikes all Arctic surfing experts,  yours truly included, as nothing more that a piss poor piss take (or PPPT for short)!
Us:
As the current "silver" surfer in residence here, perhaps I should point out that this subject is very dear to my heart. The surfing not the bears!

For a photoshopless video of things to come see Red Bull's "Surfing in Alaska":
Them:
Hats off to you guys (and beautiful girl)! I got cold just watching it!
Us:
Hats off to Maya certainly. Far more balls than most men, and (conventionally) beautiful with it.
http://stabmag.com/an-interview-with-maya-gabeira-about-drowning-at-nazare/
Them:
Numpty alert! [Etymology: Numpty first surfaced on the terraces of west of Scotland football grounds, many, many years ago. A player who couldn't hit a cow's arse with a shovel would be a f***ing numpty. "Awww Jimmy you f************ing numpty!! You couldnae score wi' ma' sister!"]

Three numpties on one thread; is this a record? Could it be due to global warming?
Us:
Cotty tames the waves that almost killed Maya. Paxo interviews him about the experience!
Numpty alert?
Time passes…..
Another surf vid. This one is much more low key. It captures the mellow vibe of a midwinter session somewhere on the North Devon coast:
The Beach – Episode 1 from Jim L. Hunt on Vimeo.
http://econnexus.org – In which Ralph Freeman, bassist for the Universe Inspectors and British big wave surfer extraordinaire, catches a short ride at Putsborough Beach 18 months after suffering a broken neck whilst surfing low tide Croyde.
It's great to see a local legend apparently back to full fitness after his injuries.
That was the first time I ever saw Ralph Freeman in action on his trademark bright yellow board, but it wasn't the last!
Finally, for today at least, here's a video that Tony Heller and his band of merry (mostly) men have not thus far been privy too. The Red Bull record of the day Maya Gabeira drowned and then Carlos Burle brought her back to life:
P.S.
@afneil @DavidRoseUK @andrew_cotton @MayaGabeira Fiddling with Photoshop in Fleet Street just doesn't cut the mustard pic.twitter.com/N1t5L8918d

— Snow White (@GreatWhiteCon) August 6, 2014
Time passes…..
In conclusion, here's the conclusion of the University of Washington paper, that for some strange reason neither Tony or Geoffrey mentioned:

"It is possible that the increased wave activity will be the feedback mechanism which drives the Arctic system toward an ice-free summer. This would be a remarkable departure from historical conditions in the Arctic, with potentially wide-ranging implications for the air-water-ice system and the humans attempting to operate there."
Them:
Translation…

Surfs up!
Us:
Quite so! Some associated technology testing:
Them:
We'll keep you posted!