Today we move on to the second sentence in David Rose's article "this time last week".
Them:
The rebound from 2012's record low comes six years after the BBC reported that global warming would leave the Arctic ice-free in summer by 2013.
Us:
As you can see, the Mail article includes no references. Surely in this day and age an online article about such a controversial subject should at the very least include a few links? Hayley Dixon's article for The Telegraph did at least manage to do that! I've asked David Rose via a number of different avenues where he got his information, and how he did his sums. I know he got at least one of the messages because he was browsing my profile on LinkedIn last week, but I have yet to receive any answer from him.
Groping in the dark I've tried to speculate about which BBC report in 2007 David is referring to. Perhaps it's this one by Jonathan Amos entitled "Arctic summers ice-free 'by 2013′". Please note the quotation marks around the date. According to this article:
Professor Wieslaw Maslowski told an American Geophysical Union meeting that previous projections had underestimated the processes now driving ice loss.

[His] latest modelling studies indicate northern polar waters could be ice-free in summers within just 5-6 years.
Instead of relying on what David Rose says Jonathan Amos says Wieslaw Maslowski said, why don't we instead take a look at what Prof. Maslowski actually said. Here's an extract from the slides he used when giving a presentation in Japan in the summer of 2008, when he'd had plenty of time to learn the lessons of the astonishing Arctic sea ice melt in the summer of 2007: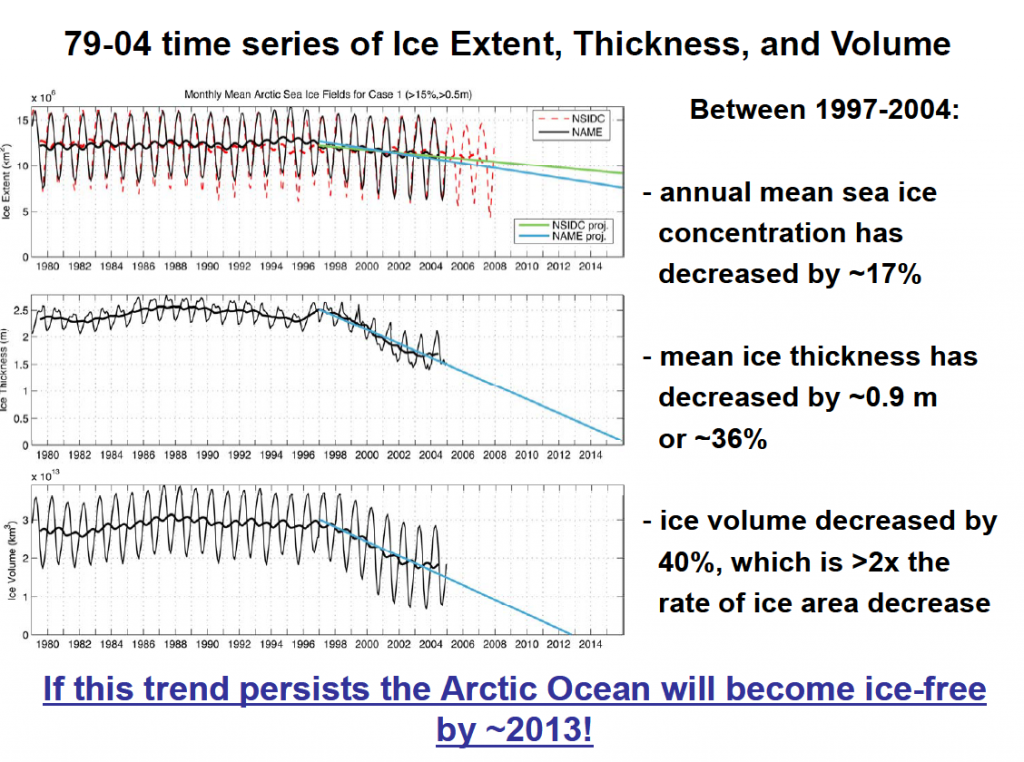 Note that he didn't say words to the effect that "The Arctic will be ice-free in summer by 2013" as claimed by David Rose. What he actually said, and converting the mathematical symbol into plain English, was:
IF this trend persists the Arctic Ocean will become ice-free by AROUND 2013!
which is a very different thing. For those of you that would prefer to actually hear Prof. Maslowski convey that message himself, here's a podcast from December 2007:
The interview lasts for about half an hour, and a full transcript is also available courtesy of Beyond Zero Emissions. You will note that what Wieslaw actually said was:
If we project this trend ongoing for the last 10 – 15 years, we probably will reach zero in summer some time mid next decade.
Verdict:
The evidence suggests that David Rose doesn't research his sources properly, doesn't understand English and doesn't understand common mathematical symbols. Alternatively he understands all of that perfectly well, but chooses to misrepresent all of that to his loyal readership instead of educating them about the facts of the matter.